Bonding plastic to mental can be particularly difficult. Not only are these materials hard for glue to bind with, but they are typically heavy. This list has the best glues for plastic to metal, helping you find a glue for you. Each of these glues is fantastic, but they also all specialise in one area.
This list provides each area in which these glues are best. Take a quick browse of our buying guide before browsing through the list. You'll find the perfect glue to bind plastic to metal in no time. Let's get into it!
In This Article We'll Discuss
5 Best Glues for Plastic to Metal
---
5 Best Glues for Plastic to Metal
---
Best Overall
Product Details:
Two part system with bottles A+B
Will take 4-6 minutes for the product to set once applied
Mix bottles together in correct proportions one minute before use
Keeps for two years if unopened
Lasts and works best between 10-25 degrees Celsius
8.5 ounce bottles
4.7/5 on Amazon
Our top tick for a glue that binds plastic to metal is this glue by C-Poxy. To activate this glue, you need to use both parts A and B of the product. Mix them together in the correct volume around one minute before you intend to use the glue. Once you apply the glue, it will take around 4-6 minutes for the product to set.
If you want to use this on two loose materials, you may need to secure them with a clamp. This will ensure that they actually dry and bind together when they are drying. They must be together until the glue fully cures. If you have any leftover or excess product, you can clean the glue with acetone. Alternatively, use another solved-based formula to clean away the glue.
You can keep this glue in storage for two years if unopened. Ideally you should store this product between 10 and 25 degrees Celsius. However, it will also last well between -5 – 27 degrees Celsius.
Before you use this two step glue, consult the safety practise handbook. To begin using the glue, open the seal of the bottle. Next, cut the tip of the bottle off to make sure both parts can freely flow.
---
Best Heavy-Duty
Product Details:
Holds up to 1,500lbs of strain
Binds to a large selection of materials
Dries in 5 minutes
4.25 ounces per bottle
Water-proof
Chemical resistant
If you're in need of a heavy-duty glue to stick plastic and metal, Devcon is for you. This glue is incredibly heavy duty. It will hold up to 1500lbs of stress once fully cured. This makes it the perfect glue candidate for large scale projects. Especially when it comes to heavy metals, this glue will bind incredibly well.
The glue is also completely waterproof once it dries. This comes in handy when working outside. If you're working on an external project, this glue has the strength and resistance to make it easy. What's more, it bonds in a matter of minutes. Within 5 minutes, the glue will dry.
The glue is also resistant to chemicals, making it a durable option on work sites. One of the best features is that you can use this glue on a variety of materials. Feel free to use it on metal, wood, glass, ceramics, concrete, plastic, and more. Each bottle contains 4.25 ounces of glue.
---
Best for Small Craft Projects
Product Details:
High-strength and permanent bond
Small tip applicator for precision
Works on a large range of materials
Dries in 5 minutes
Full strength in one hour
Humidity and water resistant
Can paint over it
Can drill and sand the glue
0.47 fluid ounces per tube
Buy in tubes of 2, 6, or 12
Loctite is one of the most popular brands when it comes to glue. That's mainly due to the fact that it is a high-strength adhesive. With this glue, you can quickly finish any craft project. The tip of the Loctite glue is tiny, making the application process incredibly precise.
What's more, you can use this glue on a variety of materials. You will only need a single application before the product begins to work. The bond the glue creates is permanent. That's thanks to the double syringe applicator. The product self-mixes as it applies, the two part formula working together to bind. This produces a tough, high-strength, rigid, and durable final product.
This Loctite glue will dry in 5 minutes. After as little as one hour, the glue will have reached maximum strength. At this point, it will be able to take weight. Considering that the glue does not shrink in hot weather, it is a useful tool in hotter locations. Both humidity and water have little impact on the strength of the glue.
If you're using this glue as a craft glue, you can paint right over it. That's also the case for sanding and drilling the glue. Feel free to use this epoxy on wood, stone, glass, tile, plastic, metal, and more! You can buy these in a pack of 2, 6, or 12. Each tube is 0.47 fluid ounces.
---
Best for Drying Clear
Product Details:
Two-part glue that mixes in 1-1 ratio
Dries clear under 15ml
Comes in 8 oz or 25ml bottles
5 minutes to set
One hour to cure
If you need a glue for binding plastic to metal that dries clear, this is for you. The J-B Weld ClearWeld glue dries completely clear. You will barely be able to tell the glue is there once it is fully dry. Be sure to only use less than 15 ml of glue if you want it to be clear. The product comes in two sizes, 8 oz or 25 ml, for you to pick from.
This glue is a two part epoxy, letting you create a strong and permanent bond. It will work on metal, tiles, plastic, glass, wood, and more! This range gives you a variety of materials you can then work with. Simply mix the two parts together in a 1-1 ratio. Once you mix, you can then apply the glue directly. It will take only 5 minutes to set, and an hour to cure completely.
The glue is heavy duty and offers a superior performance quality.
---
Best Industrial Strength Bond
Product Details:
Dries in 6 minutes
Cures in 4-6 hours
Flexible for two minutes after you apply it
Has a tensile strength of 2424 PSI
Resists very high temperatures
10 ounces of glue inside
Mix the product in a 1-1 ratio
J-B makes the list once again, claiming the best industrial strength glue bond. This glue is fast drying, making sure that you get a fast bond. It will dry within 6 minutes before fully curing in 4-6 hours. After that period passes, the glue will have a permanent bond. J-B has over 40 years of experience. Each tube has 10 ounces of glue inside.
All you need to do to make this glue work is to mix the two tubes together. Use a 1-1 mixing ratio. It will quickly be ready to use. You'll be able to use this on a variety of heavy-duty projects. Considering it has a tensile strength of around 2424 PSI, you can use it and know it will hold its strength.
The glue is incredibly strong. It can withstand temperatures of up to 300 degrees F. The glue is flexible for around two minutes one you apply it. This gives you enough time to shape and move the glue into the correct position. This flexibility is one of the best things about this product. You need to work quickly as once this dries it will be permanently bonded.
---
Buying Guide
---
There are only two main things you need to think about before you buy a glue for plastic to metal. On this list, all the glues will work with plastic and metal, so that is not one of them. What you need to work out is if you need a heavy-duty glue and how much glue you're going to need.
Glue Strength
Although all of the glues on this list are strong in their own regard, some are stronger than others. If you are working on a project with particularly heavy materials, you need a stronger glue. This is the case for heavy plastic objects and sheets of metal.
Before buying a glue, make sure it can bear the load of what you need it to take. On this list, we feature two very strong glues. You can find these in the Heavy-Duty and Industrial Strength sections.
If you're only working with light materials, then glue strength won't matter as much. All of the glues on this list will easily cope with light materials. That means you could select any you want for your project.
Glue Amount
Some of the glues on this list are specially made for craft projects. Due to how small these projects are, the glues come in smaller amounts. For example, the Loctite glue on this list is only 0.47 ounces. While this works for small projects, that will not be enough glue for anything larger.
When considering which glue to buy, estimate how much glue you are going to need. The larger your project, the more glue you will need. Due to this, pay close attention to all of the glue amounts listed in each section.
Conclusion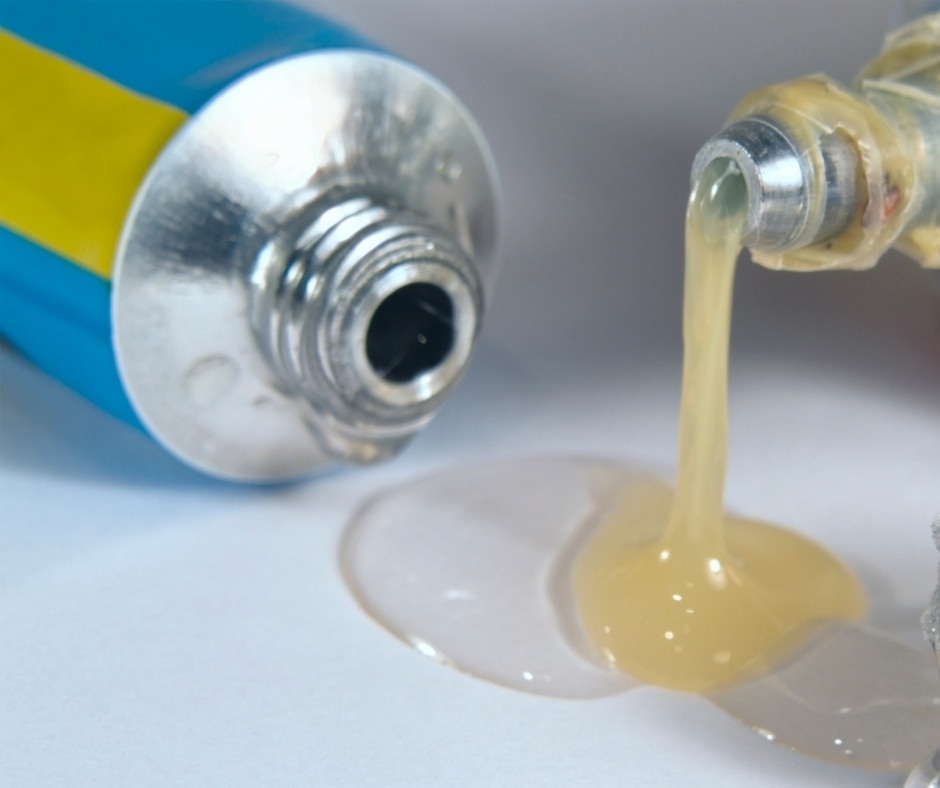 If you were looking for the best glue for plastic to metal, this list was the right place for you. We recommend these five glues based on their strength, durability, and drying time. Each of the glues on this list works fantastically. However, be sure to use the buying guide before committing to a glue. The best glue for your project will vary!