Particle board can break and fracture fairly easily. As this material is not particularly strong, you'll often need some glue to keep things together. This list will cover the best glue for particle board. We'll go through five of the best glues for particle board.
Each of these is good for different reasons. If you're not too sure which glue is the best for you, check out the buying guide at the bottom of this article. Let's jump right into it!
In This Article We'll Discuss
5 Best Glues for Particle Board
---
5 Best Glues for Particle Board
---
Best Overall
Product Details:
32 ounces (1 quart)

Use of multiple surfaces and materials
All purpose with many uses
Our best overall recommendation of glue for a particle board comes from Barge All. This brand is one of the best when it comes to professional strength glue.
You can use this glue on a variety of materials. You can use it on rubber, vinyl, leather, and more. You'll easily be able to use this for lots of jobs, not just on particle board. From patching up boots, resoling shoes, placing down plaster and other day to day jobs.
The product is one quart of glue, or 32 ounces. You'll also get an applicator brush which on the top of the all purpose cement quart.
---
Best Waterproof
Product Details:
Waterproof
Incredibly strong
Use both inside and outside
No interaction with finishes
Completely fine for indirect food contact
If you're looking for a waterproof glue for particle board, Titebond is perfect for you. When working on outdoor projects, waterproof is one of the qualities you need. Or, alternatively, if you need a little extra protection.
The product is 32 ounces, which is more than enough for any DIY project. This formula has a superior strength than previous designs. What's more, they make it especially effective for both inside and outside use.
Whatever finish you use on this product will not affect the glue. You can cover the glue in a finish without ruining either the finish or the glue. What's more, the glue has approval for indirect food contact.
---
Best for Craft Projects
Product Details:
Can bond to several plastics
Works with an activator and a glue in tandem
Weatherproof
Waterproof
Resists freezing temperatures
Four millilitres of glue per product
If you want to do some craft projects, Loctite is a great brand. This glue has a specialised bonding system. It connects easily with hard-to-bond plastics. You'll be able to use this on several different plastic forms. For example, polyethylene, Polytetrafluoroethylene, and polypropylene.
The product has a two part adhesive formular. The two parts are one part activator and one part glue. This primes any service for bonding. This will increase the strength and durability of a bond. The bond strength is incredible. It will instantly bond without a need for mixing or clamping.
The fact that it sets in a few seconds makes this product perfect for craft projects. When you need to work quickly, this glue will definitely come in handy. Alongside that, the product is weatherproof. It is completely resistant to water, chemicals, and freezing temperatures. Due to that, you'll be able to use it inside and out.
The product has.4 millilitres of glue in it.
---
Best Spray Option
Product Details:
14 ounces
Internal and external use
Durable and strong bonds
High accuracy spray
The DAP Products Weldwood Contact is our recommendation in this category. One of the main reasons for this is due to the easy to control spray. You can direct the spray in whichever direction you'd like, making it very easy to apply. The pattern is steady, making you have a high accuracy with the glue.
The product is also incredibly strong. It has exceptional bond strength, making this an easy spray on glue action. The bonds are also very durable, holding fast for a very long time. You can also use the product both inside and outside. If you need an external glue job done, this is an option for you.
The DAP Products Weldwood Contact Cement Spray comes in packs of 1, 2, 3, or 4. Each of these is 14 ounces of spray.
---
Best for Particle Board Edging
Product Details:
24 hour cure time
Gold Standard GREENGUARD Product
10 ounces per product
Strong, durable, flexible
If you need to use glue for particle board edging, Liquid Nails is for you. The product is multi-purpose. You can use it on a range of materials with ease. It's low in solvent, but still high in strength. It's fantastic if you need durability, as it will last for a long time.
The product has a great level of adhesion when you use it. What's more, Liquid Nails glue meets the GREENGUARD Gold Standard. That means the manufacturing process is low-emitting. UL Environment has certified this product.
Liquid Nails is one of the largest names in the glue business. It is both strong and durable, as well as very flexible. The container size is 10 ounces. It will take around 24 hours to fully cure.
---
Buying Guide
---
How to pick the best glue for particle board?
There are several factors to consider when buying particle board glue. You can break these down into drying time, location, aftercare, and precision.
First of all, drying time. Are your working on a project that you need to complete quickly? If so, then it's best to go for a glue that dries quickly. This will allow you to move through the stages of glueing as quickly as possible. You won't have to wait around for the glue to dry and cure. If speed isn't important, any glue will do for you.
Next, you need to consider where you're doing this project. A few of the glues on this list are weatherproof and waterproof. These are perfect if you're doing a project outside. Similarly, some glues have a harsh scent when they are drying. If you're in a confined space, that will not be ideal.
Alongside location, you need to think about potential toxicity. Some glues are toxic, meaning you shouldn't use them inside. That is especially the case if you are working in an area with food in it. Something like a pantry should avoid these types of glues.
Aftercare refers to what you can do with the glue afterwards. You can't paint over some types of glue. However, some glues do not interact with the paint, allowing you to paint on them. If you're going to be doing DIY painting over the particle board, you need to consider this. Opt for a glue you can paint over.
Finally, if you need a glue that has a higher precision, go for a smaller tip. A smaller nib or tip will allow the glue to come out in a more accurate manner. You'll be able to apply the glue delicately, wherever you want. If you need to work on something small, a more precise glue is for you.
Consider these things and you'll quickly work out which glue you need. Be sure to check the summaries of each glue for more details.
Can I use Liquid Nails on particle board?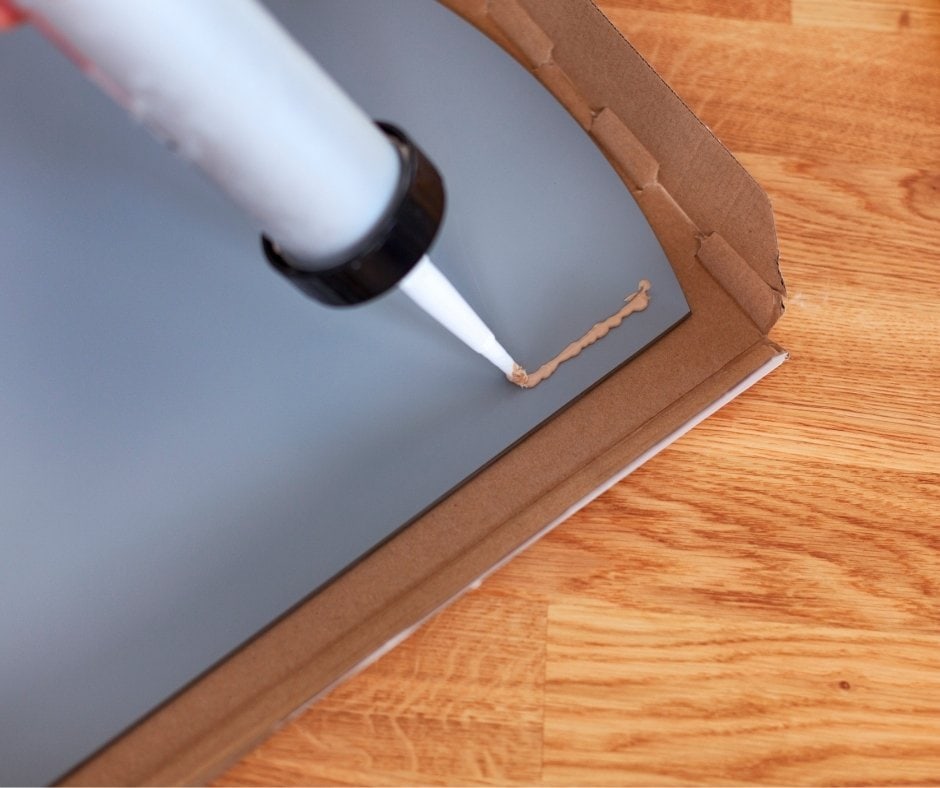 If you need to use a glue on particle board, our first recommendation wouldn't be liquid nails. Something like Barge All is better for the coverage you'll need for particle board. However, that said, Liquid Nails is fantastic for particle board edging.
When covering the edge of a particle board in glue, you will need precision. One of the best things about Liquid Nails is that the tip allows you maximum precision. This will come in handy when applying the glue directly to the sides and corners.
To summarise, you can use Liquid Nails on particle board. However, I would only use it on corners and edges.
What is the best glue for broken particle board?
Out of our list, any of the glues selected would glue together broken parts of particle board. However, if we were to recommend one, it would be Titebond. That's due to the fact that it is especially for wood. Alongside that, the small tip allows for precise application.
Combining these factors takes Titebond a perfect fix. Especially when you need to connect broken particle board pieces. From a damaged particle board to one that has missing fragments, this glue will come in handy.
Conclusion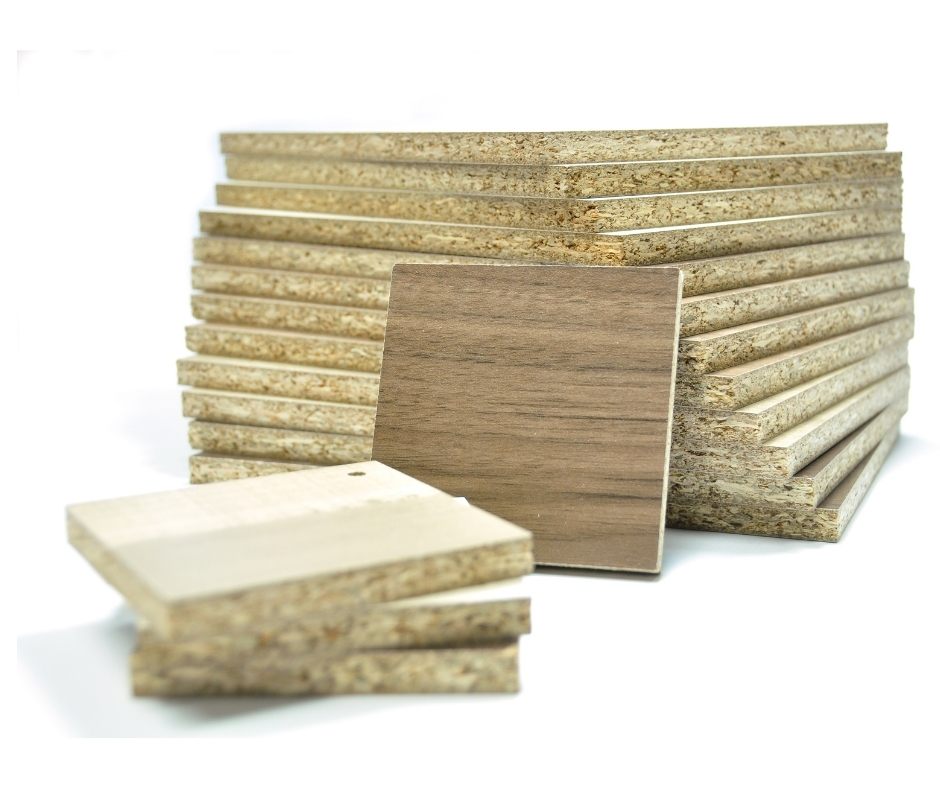 This list has compiled four of the best glues for particle board. By taking a look at the buying guide, you'll be able to work out which is best for you. Depending on the project you're undertaking, the best glue for you will vary.
If in doubt, check out our overall recommendation. Best of luck on your particle board project.