MDF frequently needs glue to adhere to other materials. This list will go over five of the best glues to use with MDF. They are all fantastic glues, but work best in different situations. I recommend that you check out the buying guide before starting the article.
Once you know what sort of thing you're looking for, you can scan the summaries of each glue. You'll find all the relevant information about best glue to use for MDF there. Let's get into it!
In This Article We'll Discuss
5 Best Glues for MDF
---
5 Best Glues for MDF
---
Best Overall
Product Details:
Operates from the U.S.A
Soluble when wet
Depending on wetness, can slow drying time
Normally has fast drying time
You can use it on a variety of materials
Non-yellowing
Acid-free
Clear once dry
One quart bottle
Our overall choice goes to Lineco. The Lineco neutral pH adhesive is perfect for glueing MDF. The product is incredibly high quality. Lineco operates from the U.S.A, producing and shipping their product from the U.S.
The product is water soluble when it is wet. That means you can thin it out if desired. This will extend the drying time, making sure you can get the positioning exactly right. However, without the addition of water, there is a fast drying time.
Lineco PVA is completely acid-free, which means it is non-yellowing. The glue will remain clear once it dries. This gives the product many uses. You'll be able to use it on MDF, paper projects, and mounting artwork.
The product comes in a 1 quart bottle. That is more than enough to finish several craft projects. This Lineco PVA glue has over 400 positive reviews on Amazon.
---
Strongest Bond
Product Details:
Very strong glue
Works on many materials
Has many functions
One quart per bottle
Barge All Purpose is an incredibly strong glue. If you are looking for the strongest bond on the list, this glue is for you. It will permanently adhere two materials together. You can use the professional strength on a variety of materials. For example, use it on paper, concrete, rubber, metal, MDF, and more!
This product is perfect if you're looking to either bind or connect. Especially when patching rubber shoes or binding paper books, it's great. Each purchase of the product will give you one quart to work with. A quart is more than enough to get any job done you need. It is likely that you'll have a lot left over if you use it sparingly.
---
Best Spray Option
Product Details:
Water-resistant
Can use on many materials
Can use for many functions
Spray on
Dries quickly
Dries clear
10 ounces
Permanent bond and durable
Acid-free
If you need a spray option for your glue, this is for you. The Elmer's Spray Adhesive will bond to a huge variety of materials. You can use it on metal, paper, foil, fabric, and wood. That's just the beginning! Due to the wide variety of materials, there are many functions of this glue.
The glue is water-resistant. That makes it a solid option if you need to work around water or outside. Alongside this, it is acid-free, meaning it resists yellowing. The glue will be clear once dry, making it seem invisible.
Speaking of drying, the glue dries incredibly quickly. When you combine this with the spray function, you can glue large areas very quickly. If you need to cover a whole surface in glue, this will spray on in seconds.
The glue is a permanent bond. It will not lose much strength over time and is very durable. The product is convenient to use and has 10 ounces inside. That gives you plenty of glue to work with.
---
Best for Big Projects
Product Details:
One gallon of glue
Clamp for 20-30 mins
Cures in 24 hours
Indoor or outdoor use
Indirect food contact safe
Good for both softwood and hardwood
Dries into a natural wood color
For a large scale project, you're going to need a lot of glue. That's where Gorilla Glue's 1 gallon bottle comes in. Alongside being a fantastic glue, one gallon of glue is more than enough to get any job done.
The glue will need between 20 and 30 minutes of clamp time one it has applied. After that, the glue will fully cure in around 24 hours. That means it's better to leave it in a clamp longer if possible.
You can easily use the glue indoors or outdoors. That's due to the fact that it passes the HPVA/ANSI. Alongside that, it has type II water resistance. This will make sure that you can easily use it outside.
The glue is very versatile, meaning that even though you have leftovers, you can use it again. You can use it on softwoods and hardwoods. Alongside that, you can use it on natural wood composites.
The glue dries into a natural wood color. This will leave behind a bond line, but one that is manageable and fine to look at. The product is also compliant with the FDA and their standards for indirect food contact. This makes the glue a good indoor glue candidate.
---
Best Plastic Resin Glue
Product Details:
Great for wood on wood contact
Cures in 7 days
Cures quicker with direct heat application
Resists solvents once cured
Resists water
Pre-catalyzed
Powdered
1 Lb of glue
If you're looking for the best plastic resin glue, that would be from the DAP Store. The Dap Resin glue comes as a powder and is pre-catalyzed. Therefore, you need to add water to activate the glue. The glue is incredibly strong. It is ideal for wood application in interiors.
The glue also has great water resistance. Once cured, it will resist rot, fungi, oil, gasoline, and other solvents. If you're looking for a glue that a craftsman usually uses, this is for you.
An additional tip is that heat increases how quickly the glue cures. If you don't use direct heat, the curing time can be up to seven days. It comes on a 1 lb pail. The Dap plastic resin glue is perfect for wood on wood contact
---
Buying Guide
---
How to pick the best glue for MDF?
When picking the best glue for MDF, you need to consider a few things. First of all, how quick do you need to finish the project? Second, are you working inside or outside? Finally, is it a large scale project?
First up, drying and curing time. Different glues will have different amounts of time it takes them to dry and cure. For example, an epoxy glue will only take a few seconds to dry. On the other hand, a plastic resin glue will take up to 24 hours. You'll then have to wait an additional week for it to cure.
Therefore, if you want to finish a project quickly, opt for a glue that dries and cures faster.
Next, let's consider your working location. If you're working inside, you should avoid toxic glues. That is both toxic to humans and also one that the FDA does not approve for indirect food contact. These will be difficult to use inside and you will have to take many breaks. Instead, opt for one that is safe to use inside. Avoid plastic resin glue indoors.
Finally, you will need to think about scale. If you only need to patch together some MDF, a faster and small glue will do. However, if you're going to be using the glue time and time again, go for a larger one. If I had a large scale outdoor project, I would go for a plastic resin glue.
Once you've considered these factors, you can then make a decision. When you know what sort of glue you're looking for, you can then browse this list.
What glue do I use for MDF?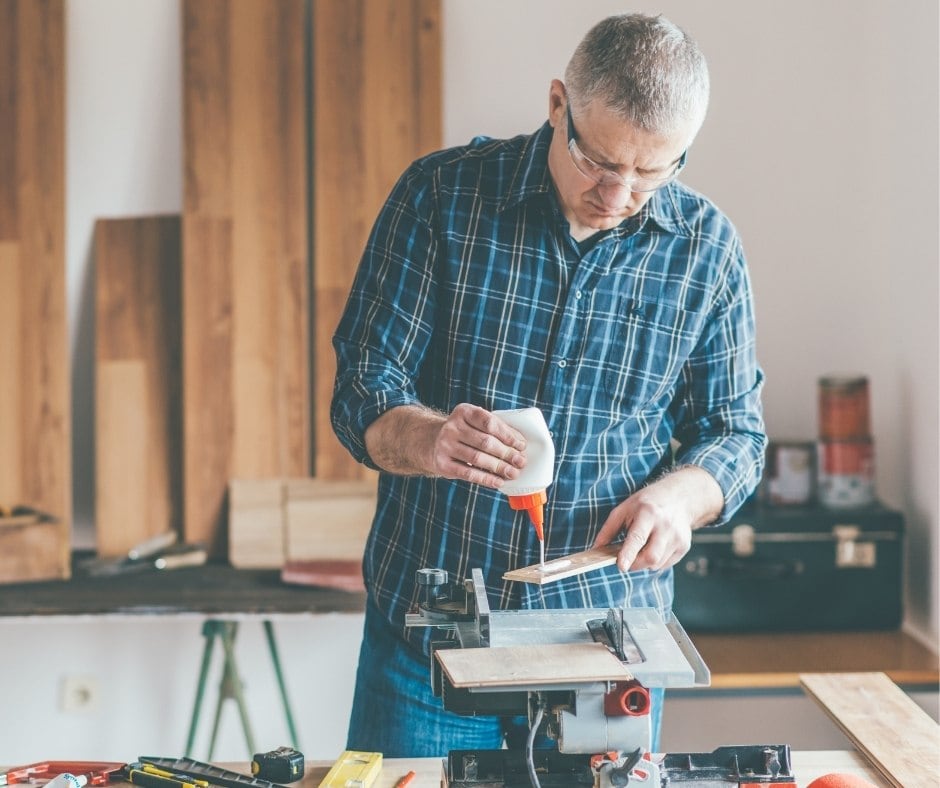 There are three main categories of glue that you use when it comes to MDF. These are PVA, plastic resin, or epoxies.
PVA Glues
First of all, PVA. PVA glue is great for indoor or outdoor woodworking projects. They are almost always cheap and easy to use. What's more, they're often non-toxic, making them easy to work with. They have a relatively quick drying time, often around 24 hours.
The problem with PVA glues is that they struggle under heat conditions. If you live in a particularly humid area, I would only use this glue inside.
Plastic Resin Glues
You use a plastic resin glue most commonly on large scale projects. Considering that the glue has a very strong bond, it is good for securing large objects. While strong, these glues are often toxic. You should protect yourself with gear before working with these. They contain urea-formaldehyde which is toxic for humans.
A plastic resin glue will come powdered. That means you have to add water to actually form the glue. While this seems annoying, it means that they will last practically forever. These glues, unlike PVA, will not dry clear. It will likely take the shade of a wood you choose.
These glues will take a long time to dry. Some will take as long as 7 days to be completely dry.
Epoxy Glue
These forms of glue only take a few minutes to dry. Most will take 10 minutes at the maximum. This is why they're good for smaller projects that need fast action. They are normally fairly expensive.
Can you glue MDF to MDF?
If you want to glue MDF to MDF, we recommend you use a more heavy duty glue. One like DAP plastic resin glue would work well. This specialises in wood on wood adhesive, so will work very well when attaching MDF to MDF. If you want to ensure a good connection, I would use the DAP plastic resin glue.
If you want to make sure that the MDF stays connected to MDF, secure it using screws. Once you have applied the glue, let it cure and bond. After that, you can further secure the MDFs with screws drilled through. This is of course a more permanent option.
Conclusion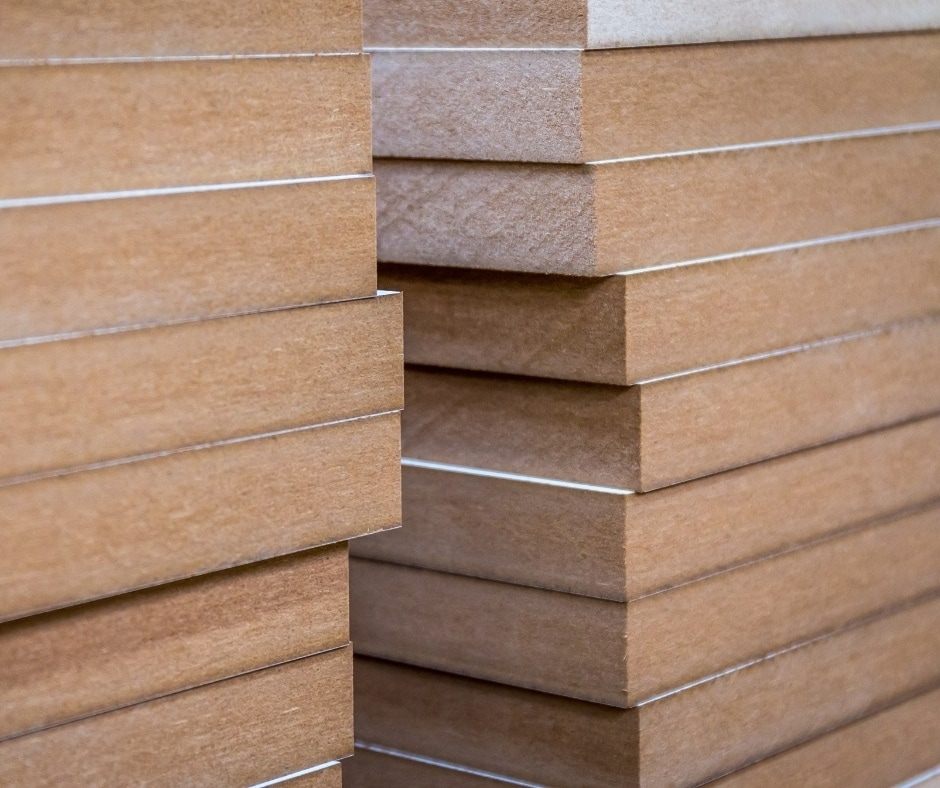 All the glues on this list will work with MDF. However, they all shine in different situations. If you're not sure which glue is the best glue for MDF for you, check out the buying guide. When you know what you're looking for, finding a glue is much easier. Best of luck on your search for the best glue for MDF!