Leathercraft or leather crafting has been around for centuries. Early men fashioned leather into pieces of clothing to protect them against the elements. Later on, leather became heavily used in accessories, with quivers, boots, and belts making leather artisans valuable artisans in the community.
Today, leather is still widely used – not only in our fashion but also in our living rooms, bedrooms, and even our cars.
Glue is one of the most versatile adhesives ever created. Leather artisans have been using glue for hundreds of years, using glue to join pieces of leather together or to connect leather to another material. A good quality glue can add to a piece's durability and longevity which is why the best glue for leather is sought by leather makers.
If you're an ambitious leather craftsman, you're probably looking for the best glue to make your job easier. Here are our recommendations for the best glue for leather this year. If you're in a rush, check out our top pick from Bargge, which has the strongest bond of the bunch.
In This Article We'll Discuss
6 of the Best Glues for Leather
---
6 of the Best Glues for Leather
Strongest Bond
Product Details:
Volume: 1 quart
Compatibility: Wood, Leather, Paper, Concrete, Plastic, Metal, Rubber
Professional strength glue for all your leatherwork.
Professional leather craftsmen are always on the lookout for a product that can offer the strongest bond. This leather glue from Barge All Purpose is not only reliable, but it also provides one of the strongest bonds we've seen.
This professional strength adhesive is incredibly versatile and can be used for cementing not only leather but also wood, paper, concrete, plastic, metal, and rubber. Aside from repairing your boots or shoes, it can also be used for creating leather belts and other accessories and is great for weather-stripping or repairing areas of your home.
The strong adhesive properties of this glue make it stick easily to any clean surface. It is easy to use, durable, and highly versatile. This product is highly recommended for those looking for a permanent bond.
---
Best Low Odor Water Based
Product Details:
Volume: 8 ounces
Compatibility: Best for veg-tan and oil tan leather
Strong adhesion without the bad smell.
Pro leather artisans will be very familiar with Aquilim as it's one of the most popular glue brands on the market today.
Although Aquilim 315 is water-based, it can form strong adhesion bonds upon contact with almost any leather project or product. In terms of bonding strength, water-based Aquilium is comparable to other solvent-based adhesives. This product is recommended for leatherworking in areas with low ventilation thanks to its low odor properties.
This leather glue is a good choice for people who do not like the pungent smell of glue and is the ideal choice for veg-tan and oil tan leather. To use, place a small amount of the adhesive on the flesh side of veg tan leather. If you need to apply on the grain side, rough it up a bit for better adhesion.
---
Best Multi-Purpose
Product Details:
Volume: 4.9 ounces
Compatibility: leather and any other materials
A leather glue, not just for leather.
If you're looking for the best glue for leather and other materials, this product from Fiebing's is a good choice. It is a water-based contact adhesive that can be used for various projects or for repairing household items like furniture, paper, and fabric.
Because it is water-based, this glue is safe and non-flammable. However, it can provide powerful adhesion for many different kinds of material. Just a small amount of the glue on both surfaces of the material will bond them together. Once it has cured, you can enjoy high-strength bonding, which will last for a lifetime.
Overall, this is a good product for beginner leather artisans looking for versatile leather glue that can be used in various craft projects.
---
Best for Light Projects
Product Details:
Volume: 4 ounces
Compatibility: leather, suede, fabric, plastic beads
Your Go-To Glue For Leather and Suede Projects.
Not all leather projects need super adhesion to make a strong bond. Small projects like leather jewelry, sewing, arts and crafts will require flexibility and a transparent color so that it won't stain leather or suede. This is where Aleene's 15594 Leather & Suede Glue comes in.
This is a fast-tacking glue that dries clear to prevent staining. It is an ideal solution for repairing leather and other fabric. The non-toxic formulation is also suitable for gluing clothing, accessories, and home décor projects.
Aside from gluing, you can also use this product for sewing through leather which is perfect if you don't have the tools to do this. Best of all, it comes with a multi-size applicator tip for adjusting glue flow, so there is no glue wasted during small projects.
---
Best To Use Without Sanding
Product Details:
Volume: 1 quart
Compatibility: leather, rubber, natural rubber, PUR, TR, PVC, EVA, and cork
The all-purpose glue that saves time.
Renia has been producing adhesives for leather artisans for many years. Their products are not only used for leather but for other materials like rubber, plastic and cork as well. Their Colle de Cologne is solvent-based and provides strong adhesion even for un-sanded surfaces.
This product is a favorite among shoemakers but is also famous for all-purpose use. In fact, it can even be used for PVC to PVC bonding.
If you're in a rush, you can use a heat gun to speed up drying time. Best of all, the product has a long working time so you don't need to rush application in fear of the product drying.
---
Easiest To Use And Best Alternative To Glue
Product Details:
Length: 5 mm x 20 m
Compatibility: leather, lacing, and other fabric
No more smelly adhesive with this handy tape.
This extremely sticky, double-sided tape can help you save time and eliminate the use of messy glue or contact cement. This tape is perfect for lining up two pieces of leather for lacing, stitching, or using punches or chisels.
This product is convenient, especially if you need perfect positioning for your leather or fabric. After your materials have been placed, you can reinforce the bond with stitching for a more permanent fix.
Overall, this is a good choice if you don't want to deal with a big mess, especially if you're inexperienced with leather glue. You can use this to stick embroidered patchwork to a leather bag for decoration or if you want to fix the seams of your leather skirt or pants.
---
Buying Guide
---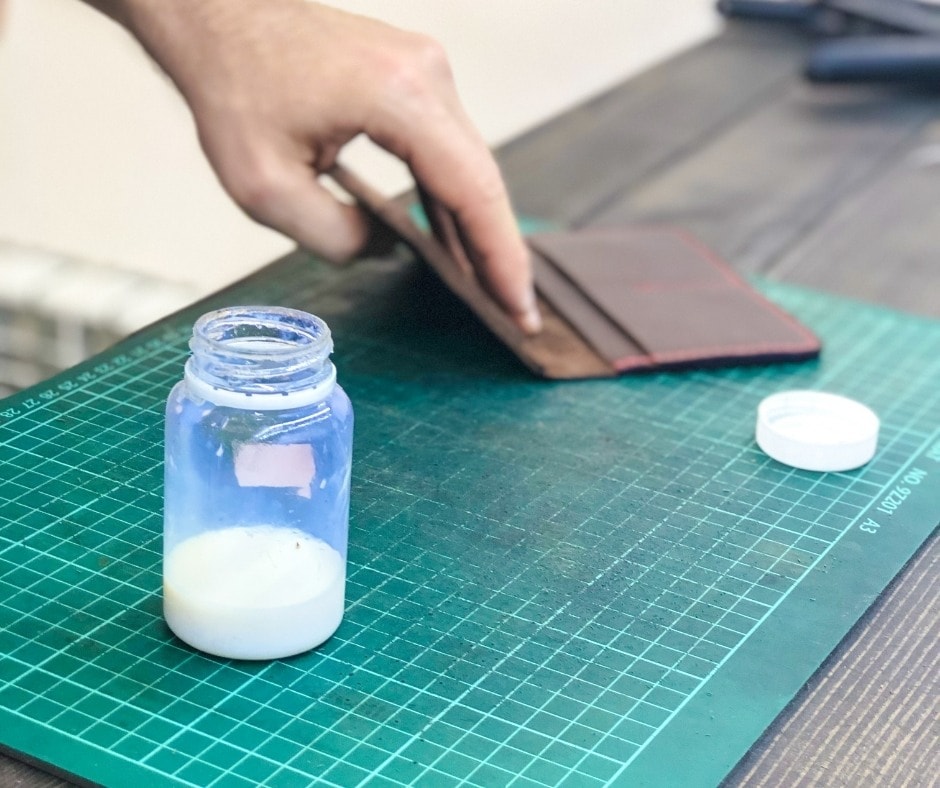 There are so many leather glues available in the market today. Choosing a glue can be daunting, especially if you're a newbie. Here are some tips on how you can choose the best glue for leather.
What type of leather glue should I use?
When buying leather glue, you should first look at the type of leather you are using. You have to examine the color of the leather as well as the weight. For example, if you are working with black leather, you need glue that will dry to that color. There are leather glues that dry to a specific color, or you can try a glue that dries in clear so that it is less noticeable.
You should also consider how heavy your leather is. You want a glue that can provide a strong bond to hold the weight of the material. For example, if you are sticking leather to leather, you can use a leather glue, but if you're sticking leather to metal, you will need something stronger like contact cement or superglue.
Drying Time
You also need to consider how fast your glue dries. If you just need to repair a small tear then you can probably do the job using a quick drying glue. However, if you need time to wriggle or adjust things into place, then consider using a leather glue that doesn't dry quickly so that you have time to maneuver fabric or materials.
There are also some glues that need to be clamped and cured for hours in order to form a proper bond. However, if you're repairing or making something that does not need to be clamped, then a quick-drying glue is good enough. Just remember that if a glue is quick-drying, positioning needs to be perfect because you won't have wriggle room for adjustments.
Work Area
Where you work should also be part of your criteria for choosing the best glue for leather. If you work in an area with poor or low ventilation, then a water-based product is the best choice for you. Leather glue can be smelly, especially solvent-based ones. Inhalation of the glue for a long period of time can cause nausea or respiratory problems.
Solvent-based leather glue is a good choice if you work in an open area or somewhere with good ventilation.
Budget
When it comes to leather glue, we all want the best value for money.
Generally speaking, an expensive leather glue will provide a better finish and increased durability. However, skill, experience, and the right curing time can also make an affordable leather glue work wonderfully well.
As a rule of thumb, it is better to pick a strong enough glue for your needs, in the right color and has the appropriate drying time.
Conclusion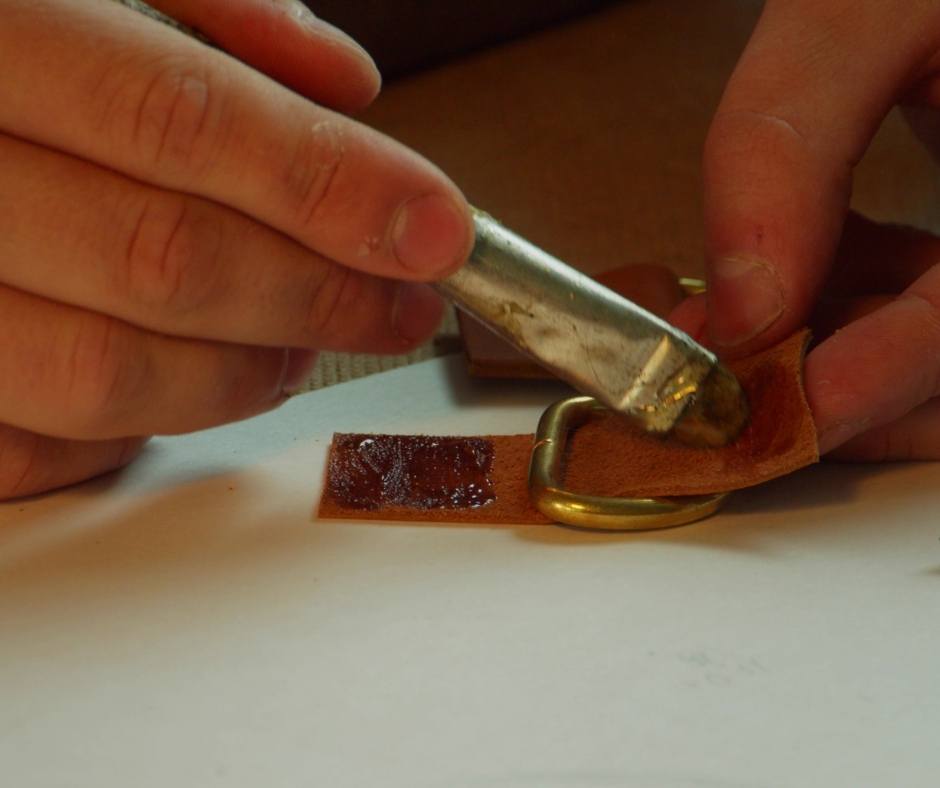 The best glue for leather can extend the life of your favorite jacket or boots. While there are many different kinds of glue available in the market, it is essential to remember that leather is flexible, semi-porous, tough, and heavy.
For that reason, you are going to need a glue that is specifically made for this material. Finding the best leather glue that is suitable for your task will not only let you enjoy your favorite jacket or shoes for longer but also make the job easier.