Have you ever had a leather jacket or purse with a seam that has come loose or a leather key fob that has come unglued? If so, you've probably looked online for ways to fix it. A lot of people swear by gluing leather to fabric using contact cement. But is it the best glue for leather to fabric?
Superglue might be the first thing that comes to mind when gluing leather and fabric together, but this isn't always the best option. Leather is shaky at best and can fall apart easily. While super glue does keep it together, it doesn't do much for its longevity. There are a few other options that work better than super glue, like contact cement and epoxy glue. Today we're going to be taking a look at the best options on the market.
If you want a high-quality product at a low price, look no further than 3M. This brand is one of the most recognizable names in the business — and for good reason. Their products are affordable, durable, and easy to use. Their glues are a favorite among professional sand amateurs alike due to their high quality.
In This Article We'll Discuss
5 Best Glue for Leather to Fabric
---
5 Best Glue for Leather to Fabric
---
Best Overall Spray Adhesive
Product Details:
Size: 16.75 OZ
Type: Spray Adhesive
Our top pick from a brand you can trust.
You've spent months perfecting your leatherwork, and now it's time to finish with a touch of class. The experts at 3M created Super 77 Multipurpose Spray Adhesive to be the ideal choice for finishing leatherwork (and all kinds of other projects, too). When you need an adhesive that dries clear and flexible, this is your go-to. Just spray it on and it's as good as done! It's the most versatile product around, which means you'll reach for it again and again.
The 3M Super 77 Multipurpose Spray Adhesive is a versatile and fast-tacking adhesive. The fact it dries clear and flexible means it can bond leather and other materials together without a noticeable change in the appearance. This multipurpose spray can is ideal for leatherwork, home repairs, arts & crafts, scrapbooking, and more.
Super 77 Spray Adhesive dries fast and will not yellow or stiffen the leather. It is also easy to apply thanks to its spray application, perfect for all kinds of projects.
---
Strongest Bond
Product Details:
When only the strongest bond will do, you can count on Gorilla glue.
Gorilla Original is a unique, waterproof super glue that provides the strongest bond when used in leathercraft, leatherwork, and other household repairs. It is strong, versatile, and can be used both indoors and outdoors. Gorilla Original is a favorite of hobbyists around the world for its strength and versatility.
This is an excellent all-purpose adhesive with the same great performance and value that you trust from the Gorilla name. It's perfect for household projects large or small, or in any job where a strong bond is needed to hold the project together. Gorilla Glue is a must for every toolbox or workbench.
If you're looking for a waterproof glue that won't break down when exposed to the elements, Gorilla Original Waterproof Glue is your best bet. It's a 100% waterproof adhesive which makes it perfect for use outside the home as well as in.
Its high-quality formula expands to form an incredibly strong bond with whatever material you're using it on.
---
Best Waterproof For Big Projects
Product Details:
The best choice for larger projects.
If you want to embark on a leather product, but hate the idea of stitching or having to nail it together, why not use this all-purpose cement? It's waterproof and flexible, so you'll never have to worry about it coming apart.
Barge Cement is a far superior all-purpose cement for all of your crafting needs. It is extremely waterproof and flexible. It's perfect for any project from leather goods to jewelry making. Barge Cement is non-staining, non-smearing, and flexible once dry. This waterproof craft cement is great for both indoor and outdoor projects where stitching or gluing are not an option.
What's more, is that it's incredibly strong and its bumper-sized can means it's great for large projects. Not only is it ideal for arts and crafts, but it's also the perfect choice for projects around the house.
---
Best Non-Toxic
Product Details:
Size: 16 OZ
Type: Applicator Bottle
The best family-friendly formula.
The perfect glue for any job! Whether you are working on a leather project, a craft project, or just want to attach something to the wall (yes, it's strong enough to hold posters too!), Delta Sobo is the all-purpose craft glue you can count on.
Delta Sobo Glue for leathercraft is an all-purpose, non-toxic, glue that dries clear and yields a high bond strength. The extra-fine applicator tip allows you to place the glue exactly where you need it. Delta Sobo is the perfect choice for leatherwork, leathercraft, and upholstery projects where precision is required. This glue is water-based and can be removed with their specially formulated Delta Sobo Cleaner without damaging the leather. Its non-toxic formulation makes it an ideal choice for arts and crafts projects with children.
Because it's water-based it is very easy to clean up with a damp cloth or sponge. The consistency is like honey and it can be spread in any direction (even upside down) It dries clear so you won't see any white on the backside of the leather after drying.
---
Best for Crafts Projects
Product Details:
Size: 4 OZ
Type: Applicator Bottle
The best family-friendly formula.
Fiebing's Quick Drying Leathercraft Adhesive is an excellent, water-based adhesive for many leathercraft applications. Fiebing's Quick Drying Leathercraft Adhesive dries clear and is instantly tacky, making it great for use on sandals or any other quick projects where time is of the essence. It has a high strength bond and won't yellow, so keep your leather projects looking new and lasting longer with Fiebing's Quick Drying Adhesive. It's non-flammable and dries in 10 minutes or less!
Leathercraft projects are a great activity for you and your kids to do together. They're also a great way for you to teach your children about the basics of leatherworking and the skills required for the craft. This glue is perfect for the job!
It is non-flammable, water-based, and easy to clean up with soap and water. Ideal for leather projects like hobby crafts, handbags, belts, shoes, or saddles.
---
Buying Guide
---
What To Look For When Buying A Glue For Leather To Fabric
Keep in mind the following points when picking your glue for leather to fabric:
The glue should be fast-drying and preferably water-resistant, that way it can be used both inside and out.
It should be strong enough to hold heavy objects together, but flexible enough so it doesn't restrict the flexibility of the materials.
It should be capable of bonding different types of materials, such as leather to fabric or fabric to fabric.
It should dry clear and odorless.
Any of the glues selected in this review are ideal for most projects involving leather and fabric.
How To Remove Leather Glue From Fabric?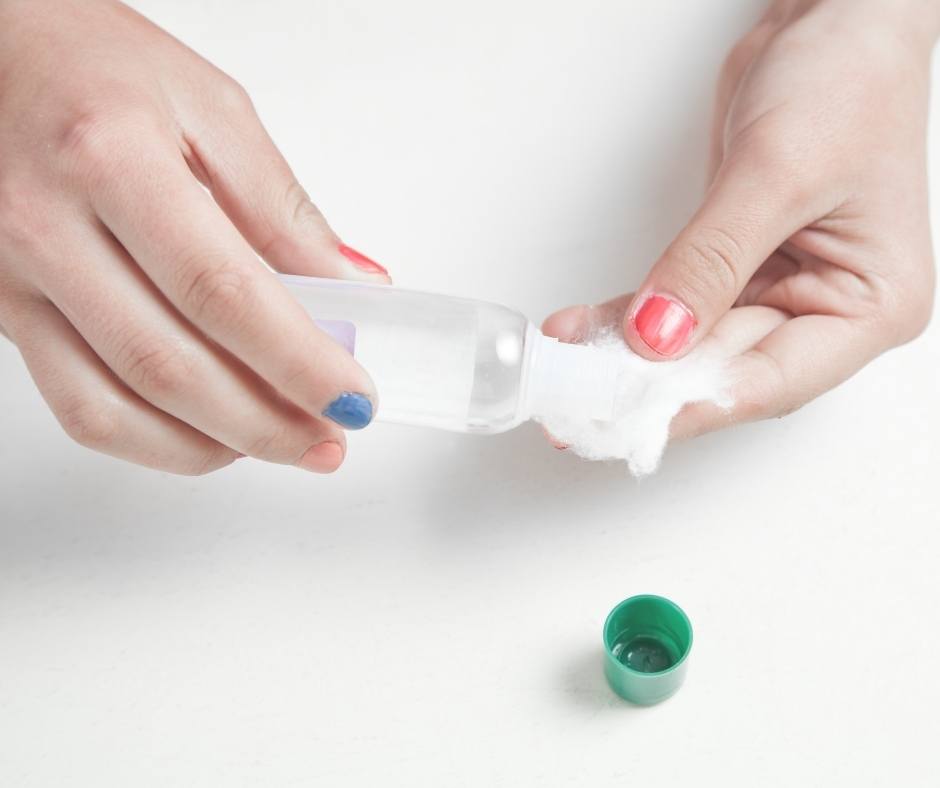 Got a bit excited with your glue? Not to worry. Most adhesives can be removed fairly easily with minimal fuss.
Acetone is a good solvent for dissolving most water-based glues. First, saturate a cotton swab in acetone and use it to soak the glue spot. Then, gently rub the acetone into the glue until it loosens. Wipe away the glue with a dry cloth.
What Are The Best Brands Of Glue For Leather To Fabric?
The best brands of glue for leather to fabric are ones that are versatile, durable, and reliable. You want to glue something that you can use over and over again, and you need to be able to trust the glue to hold strong for a long period of time.
The best brands of glue for affixing leather to fabric are Gorilla and 3M.
Best Glue For Patches On Leather
The best glue for patches on leather is Barge All Purpose Cement. Contact cement is a two-part adhesive that is applied to both the fabric and the leather evenly and then pressed together. The glue takes some time to dry before it becomes permanent. The advantage of using contact cement is that it's quick and easy to use.
Can I Use Hot Glue On Leather?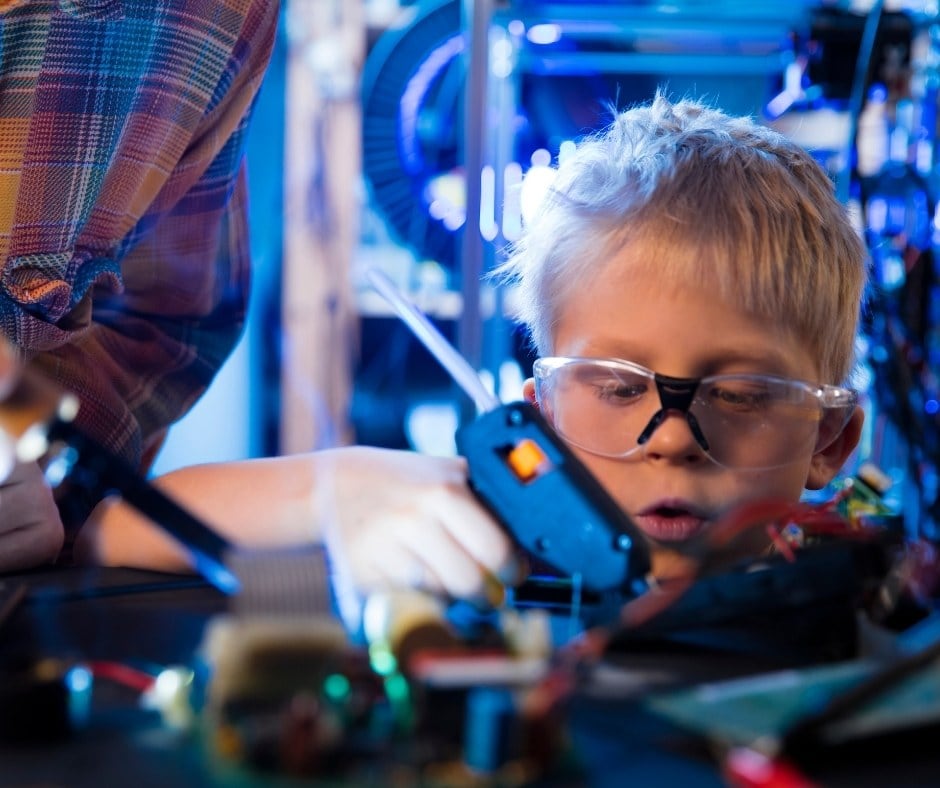 Although hot glue is a great adhesive for leather, it is not the most durable and it can cause damage to the leather. There are many different types of adhesives in this article that would be a great fit for the job.
Conclusion
We've covered all of the basics, from selecting the right leather to working with the right materials. With this information in hand, you can choose the best product for your project and get to work! No matter what you're working on or how big your project is, we hope that these tips help you complete your masterpiece.
3M's leatherwork adhesives can help you get even the most complicated leather project done. Whether you're using bonding, adhesive, or contact cement, 3M has a wide range of products to suit your needs.