When you're working with foam, glue is often a difficult thing to comes across. Don't worry because in this list we've collated the top 5 best glues for foam. Each of these is excellent in its own regard. However, we've separated each glue into a subheading, showing what it's best at.
From an affordable option to the best spray on glue, we've got you covered. Jump right into this list of the top 5 best glues for foam!
In This Article We'll Discuss
5 Best Glues for Foam
---
5 Best Glues for Foam
---
Best Overall
Product Details:
Takes 15 minutes to dry
12 fluid ounces per bottle
Plastic bottle with spout tip
Non-toxic
Water soluble
Can use of a variety of materials and for many purposes
Our overall recommendation for a glue for foam is this formula by Woodland. The glue is completely non-toxic, meaning you can use it safely inside. What's more, considering that it is water soluble, the glue won't damage any foam.
You can use this product to adhere roadbed, foam, and track easily. You could use it on a variety of materials, like wood, cork or upsom board. It will only take an average of 15 minutes to dry.
The bottle is plastic and will come with a spout for precise application of glue. The bottle contains 12 fluid ounces of glue. You may also need a putty knife of spatula foam nails for perfect application.
---
Most Affordable
Product Details:
60 millilitres
Industrial strength
Water-thin glue
Works through capillary action
Works on a range of materials and has many functions
Will enter a crack of up to 0.002″ in size
30 month shelf life
Money back policy if does not last 30 months
If you're looking for an economical option, the Starbond glue is for you! This glue is the cheapest on the list, while still packing a huge punch. Starbond tests the glue in the lab to ensure optimal performance. You'll receive a high performing industrial strength glue that works of a range of materials.
This glue is water-thin. That means that it can penetrate into materials and stabilise them. This works through capillary action, the glue forming links within the cracks of an object. With this Starbond glue, you will also get additional supplies. You will receive two applicator caps, a clog-free stopper, and some micro-tips. These micro-tips will aid with precise application.
If you need a little bit of extension, put a micro-tip onto the glue. This will add a slight bit of reach to the glue, allowing you to push the glue into an object. The glue binds with most common materials. Due to this, you can use it for fossil prep, inlays, stabilising, bonding, pen making, and more. It will penetrate into even the smallest cracks.
The glue has a viscosity of 2-3 cPs. That means that the thickness of the glue is equal to that of water. Due to this and the tip size, it will penetrate into anything of up to 0.002″ in size. The bottle contains 60 millilitres of glue.
Alongside all of this, the glue also has a long shelf life. It will last for several years in the cold without impact. If you want to ensure top quality, try to use it before 30 months. If the glue lasts less than 30 months, they offer a 100% refund.
---
Best Quick Dry
Product Details:
4 oz or 8 oz bottle
Small tip for precision
They make it in the U.S.A
Non-toxic and safe formula
Dries clear
Applies white
4.7 stars out of 5 on Amazon
When looking for a glue that dries quickly, this is our recommendation. The product comes in two sizes, either 4 fluid ounces or 8 fluid ounces. As stated on the bottle, the glue is very quick drying. In normal conditions, it will dry over the course of a few moments. Aleene's glue comes from the United States and ships across the States.
This glue has a non-toxic formula, meaning you can use it indoors without worry. It is completely safe to use. When you apply it, the color will seem white. However, when it dries the glue will slowly turn clear. With a small nib and a squeeze bottle, you can apply the glue with precision.
---
Best Spray Adhesive
Product Details:
10.5 ounces
Spray on glue
Works on lightweight materials
Extremely flammable
Allows for adjustment and reassembly over time
For an accessibly glue that you can spray directly on, try out this Krylon glue. The bottle contains 10.5 ounces of spray on glue, which is more than enough for most projects. That equates to roughly 290 millilitres in volume. Choose from a pack of 2, 3, or 4 when buying.
The glue will work well on most lightweight materials. From paper and plastic to glass and metal, it will get the job done. What's more, you will be able to adjust your material, remove and reapply the glue. As it is not of permanent strength, you can move and change furniture that you have glued.
A small warning with this product is that it is extremely flammable. As an aerosol, you will have to make sure you don't bring fire close to the product. It is under extreme pressure, meaning you will need to manage it safely.
---
Best Quick Dry Spray Adhesive
Product Details:
Fast drying spray adhesive
Activator of cyanoacrylate adhesive
Works on a variety of materials
Made in USA and uses globally sourced materials
7.5 ounces per bottle / 260 millilitres.
4.8/5 rating on Amazon
If you need to work quickly, a fast-drying spray adhesive will be perfect for you. This product is incredibly fast drying, setting in a matter of moments. This comes in handy as you won't have to leave any materials in a locked clamp over time. All you need to do is to apply this spray onto a CA glue. A CA glue is anything that works with cyanoacrylate adhesive.
The glue activator will help bond to the majority of materials. You can use it on fabric, glass, stone, metal, crafts, wood, and more! If you're working with jewellery or wood, this glue will speed up the process greatly. They make it in the USA with globally sourced materials.
Each bottle of the product contains 7.5 ounces. That equates to around 260 millilitres of product in the bottle. It currently has an incredible.
---
Buying Guide
---
When buying glue for foam, there are three things you want to consider. You need to think about the amount of glue you need, applicator, and drying speed.
Amount of Glue
Depending on your project, you may not need to use a whole lot of glue. For example, if you're only working on a wooden craft project, you'll likely need a small amount of glue. Due to this, it would be better to opt for one of the smaller options on this list.
If you're working on a large project, it would save you money if you opted for more glue straight off the bat. Consider the scope of your project before making a decision.
Applicator
The glues on this list mostly come with one of two applicators. First of all, you will find a normal tip applicator. These are narrow at the top, allowing for more control when laying down the glue. While these are great for the majority of projects, if you're working on something small, they may not cut it.
If you're working on a small piece of crafting, opt for a micro-tip. These tips have a smaller diameter tip than other nibs. Due to this, you'll have even more control., allowing you to have more precision. This will let you apply glue exactly where you want to, without making a mess.
Drying Speed
The final thing you need to consider when choosing the best glue for foam for you is the drying speed. If what you are gluing is mobile, you want to opt for a fast drying speed. That's due to the fact you want it to stay in place and not move around. One way of getting around this would be to use a clamp.
If the object you are gluing is stable already, glue speed is not important. As the object won't move around, you're more than welcome to leave it as long as it needs. If this is the case, you can pretty much disregard drying speed.
Once you've taken these three factors into account, you're ready to purchase some glue. The best glue for foam for you will vary. You'll be able to work out which glue is right by using this buying guide.
Conclusion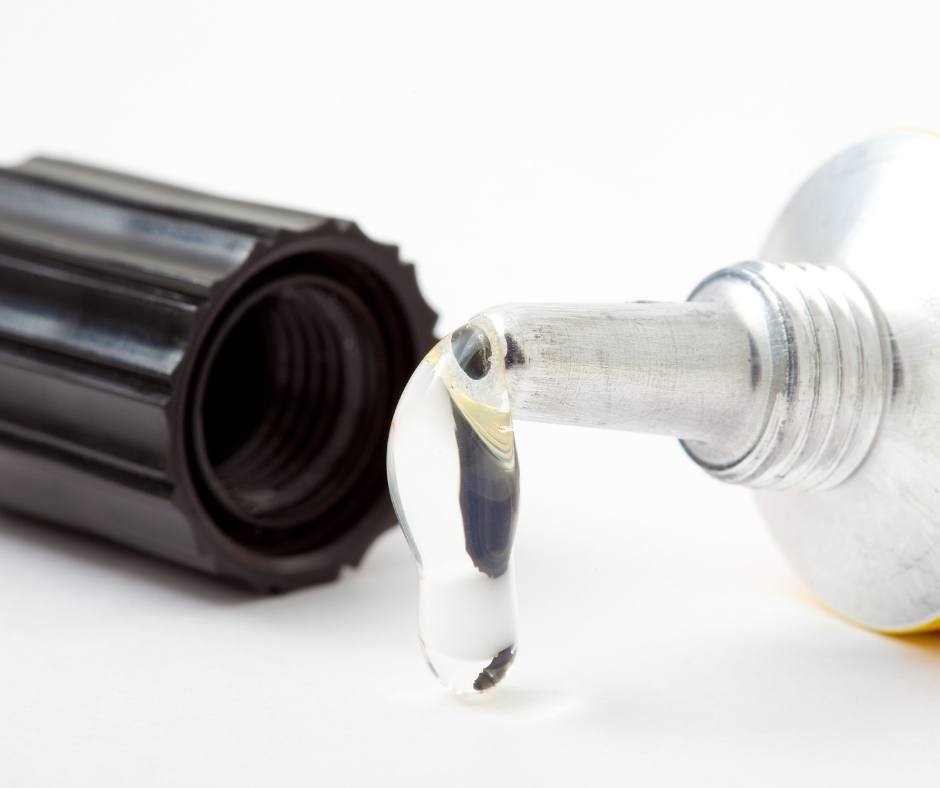 This list contains 5 of the best glues for foam. Each of them excels as a glue, and will be more than capable of adhering to what you need it to. Take a look at the buying guide to help you find a suitable glue, then browse the list above. Best of luck finding the best glue for foam for you!