Especially in the summer months, gazebos can trap heat and can get unbearably warm. One of the easiest ways to avoid this problem is to install a gazebo fan. While outdoor fans are still not as popular as their interior counterparts, we've found some of the best currently on the market.
The best gazebo fan for you will vary depending on what you're looking for. If you want a large-scale fan, then we can't recommend the Hunter Gazebo fan enough. This fan is over 50-inches in diameter, so it will cool even the largest gazebos. The fan generates a huge amount of air and will be sure to keep you cool in the summer months.
Alternatively, if you don't want to install a fan in your gazebo, you can always opt for a portable option. On this list, we recommend the Hurricane fan by AMACOOL. This fan is completely portable and uses a rechargeable battery. With over 50 hours of run time when on the lowest speed, this fan will go for days without stopping. And, when you need to recharge, simply pop in a USB charger and wait a few hours.
Let's take a look at the other best gazebo fans currently on the market. We're sure you'll find something you love!
In This Article We'll Discuss
5 Best Gazebo Fans
---
5 Best Gazebo Fans
---
Best Overall
Product Details:
20-inch diameter
3 non-reversible blades
4-inch rod
3 speeds
Tilts on its axis
Our best overall pick goes to the Allen & Roth Valdosta. This product is large enough to cool an outsize gazebo, measuring 20-inches in diameter. The fan has three non-reversible blades and it comes with a 4-inch rod that you'll use the hang the fan.
The fan has three speeds, the highest of which reaches 3030 CFM (cubic feet of air displaced per minute). The fan also tilts on an axis, allowing for a larger range of motion.
Due to its size and ability to move air, this fan is great for any gazebo.
---
Best Small Portable Solution
Product Details:
Huge 10,000mAh battery
7-inch diameter
USD chargeable
Three speeds
Tilts on its axis
12 dimmable LEDs
Weighs under 1lb
If you're looking for a smaller model, then this 7-inch fan is perfect. The fan is USB chargeable and it has a large 10,000mAh battery. To put this in perspective, it should last for around 50 hours of continual use at the lowest speed. Even at its highest speed, this fan will still last for around 10 hours before you need to recharge it.
When the fan runs out of power, all you'll need to do is plug it into a USB port. You can also use an AC adapter with a normal power supply if that's easier. However, you'll have to purchase the adapter separately.
The fan has three speeds and is completely silent. In addition, the tilting action will allow you to change its position. This will circulate air in a continual arc. The bright central LEDs will also allow you to see the area around the fan. There are 12 LEDs in total, all of which are dimmable.
Because of its small size, you can place this fan almost anywhere. You'll also be able to hang it on walls or inside tents.
The fan weighs under 1.0 lb. and is very easy to transport.
---
Best Cooling
Product Details:
3 speeds
Durable materials and 2-year warranty
360-degree rotation
Quiet motor
20-inch diameter
This fan cools more efficiently than the others on this list. The name 'Tornado' comes from the incredible 4750 CFM this fan generates, which makes it fantastic for cooling you down.
The fan is 20-inches, so it's a good size for the majority of spaces. With full 360-degree support, you can angle this fan however you'd like. In addition, the durable materials that the Tornado fan uses ensures it will last for years. The assembly will also only take a few minutes.
The fan has three speeds: 4750 CFM, 4200 CFM, and 3800 CFM. Even its lowest speed will still generate a fresh breeze. This Tornado fan also has thermal protection, which prevents it from overheating. In addition, the product has a two-year warranty for any faults.
Even at its highest speed, the new Tornado design is incredibly quiet. Therefore, you'll be able to use this fan at night without a problem.
---
Most Affordable
Product Details:
4″ or 6″ diameter
Great for small gazebos
360-degree rotation
Two speeds
This table fan is a great pick if you're looking to save some money. It comes in either a 4″ or 6″ diameter, which are both perfect for circulating air in small spaces. This tiny fan will fit neatly on your gazebo table and will help cool the area down.
The fan uses AC power or you can connect it to a USB. If you have outdoor electricity, you can use it to power this fan and stay cool in a smaller gazebo.
The fan is made from metal and has non-slip blades. The 360-degree rotation will allow you to angle the fan however you'd like. In addition, this fan has two speeds: fast and slow.
---
Best for Large Gazebos with Electrical Outlets
Product Details:
52-inch diameter
Reversible blades
Several colors
Multiple speeds
This fan is considerably larger than the others on this list and it measures 52 inches. So, if you have a large gazebo that needs cooling, this is the best fan for you. Hunter products are quality fans that offer high CFM.
The fan has multiple speeds, so you can adjust them to make your gazebo comfortable. The blades are also reversible, so it can also heat up your gazebo if necessary. This makes the Hunter fan perfect for your gazebo all year long.
You control this fan with a chain. Simply pull the chain the required amount of times to move through the speeds. This fan's large size will easily cool gazebos, patios, living rooms, bedrooms, or terraces. No matter where you place this fan, it'll get the job done.
The fan comes in a range of colors, from Matte Black and Matte Silver to Fresh White and Premier Bronze.
---
Buying Guide
---
How to buy the best gazebo fan?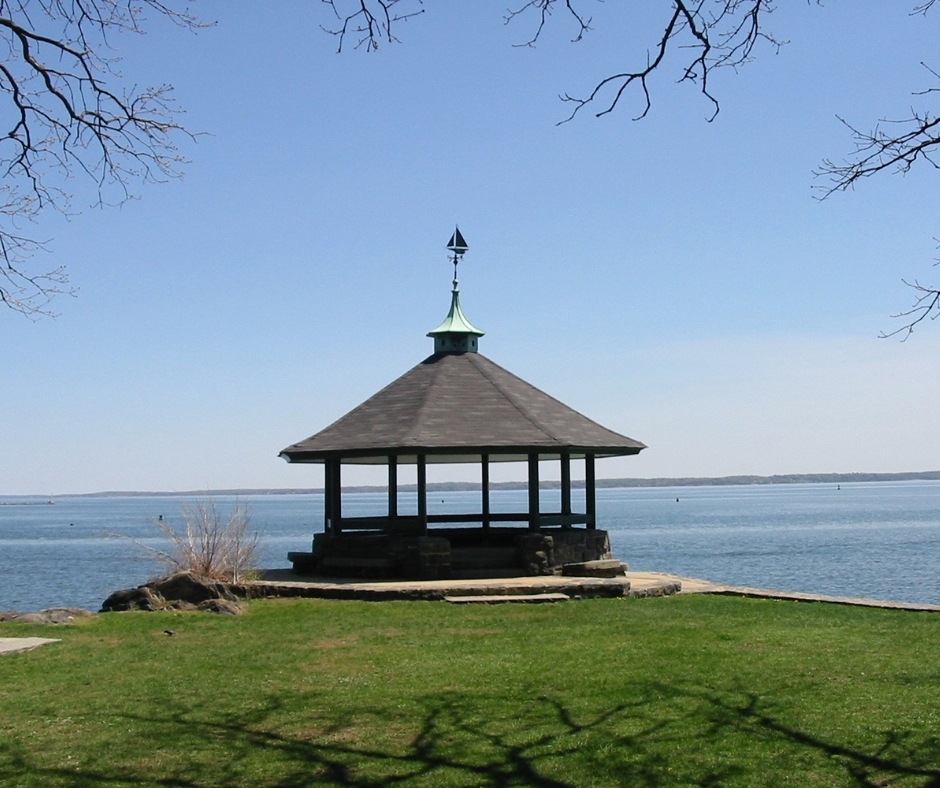 When deciding on the best gazebo fan for your home, you should consider two main factors: the size of your gazebo and the average temperature in the summer where you live.
Size
We've got an incredible range of sizes on this list. From handheld fans that are only a few inches in diameter to larger 50+ inch fans, there's something for everyone.
The central question to consider is how big your gazebo is. If you have a large gazebo that can fit several people, then we suggest buying a larger fan.
On the other hand, if your gazebo is on the smaller side, one of the medium or smaller fans on this list will suffice.
Average Temperature
Although there isn't a direct proportion between fan size and the amount of CFM it generates, the general rule is: the larger the fan, the larger the CFM.
Therefore, if you live in a particularly hot location, you're going to want to opt for a more powerful fan. Make sure you check out the fan's CFM before buying. The higher the number, the better the fan will be at keeping you cool.
Can you put a fan in a gazebo?
Absolutely! As long as you have some form of outdoor plug or extension lead, you'll be able to set up your fan. The majority of the fans on this list come with rods that help you set up the fan.
The rods will form the structure of the fan, letting it dangle from the ceiling. Similarly, you can also set up the fan on the floor. This could be an effective solution, but it will depend on the layout of your gazebo.
If you don't have outdoor electricity available, then you should opt for one of the portable fans on this list. These will allow you to take a fan outside, keep yourself cool, and then recharge the fan inside.
The portable fans on this list hold a lot of charge and will be able to keep your gazebo cool for hours.
Will a fan help keep a gazebo cool?
The purpose of a fan is to generate airflow. By circulating airflow, fans are able to move stagnant hot air, and they can create a breeze that will cool you down.
In short, yes, a fan will keep your gazebo cool!
Conclusion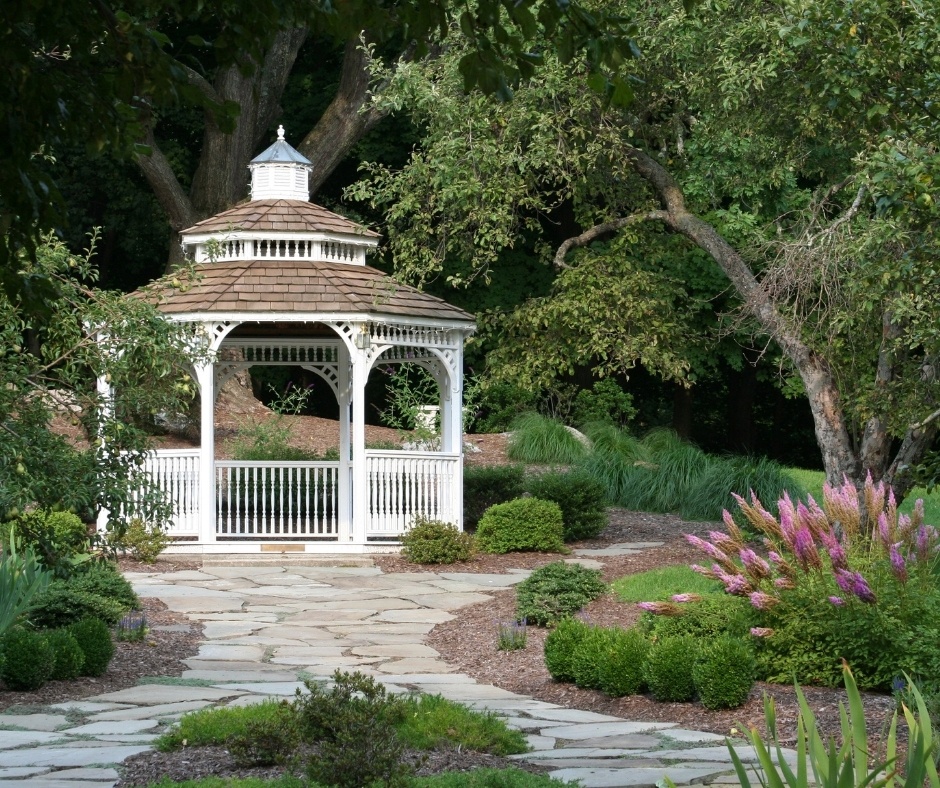 This list touches on the 5 very best gazebo fans that you can currently buy. From portable options to large-scale fans that you install in your gazebo, we've covered it all. If you're not sure about which kind of fan to buy, you should check out the buying guide included in this article. This will be sure to point you in the right direction.
If you're looking for our recommendation, you can't go wrong with the Allen & Roth Valdosta. This fan is 20-inches in diameter, so it's a medium size. Its three blades generate a great amount of CFM while also looking very stylish. The bronze finish will also look great in any outdoor gazebo.
All five gazebo fans on this list will get the job done. No matter what style or type of fan you're going for, you're sure to find the right fan on this list.