Garages are unique spaces since they often have very little insulation, so they take on external temperatures. Because of this, one of the core features we've paid attention to when crafting this list is looking for fans with reversible motors. These will let your fan create a down- or up-draft, which will heat or cool the room. Apart from this, all the ceiling fans we've selected for this list will aerate your home garages well.
If you are looking for our favorite fan on this list, we recommend the Honeywell Ceiling Fan 51473-01 Xerxes. This fan is large enough to cool down even the largest of garages. Additionally, its great range of LED functions will brighten the room, letting you see your garage space clearly. The fan blades are also reversible, and you can choose a color that will match your aesthetic, like matte black or ash wood.
Alternatively, if you're more concerned by light than the actual cooling/heating aspect of the fan, then we recommend a fan that focuses on light solutions. On this list, our recommendation is the Hunter 59244 ceiling fan. This fan comes with a LED panel, so you can choose from a large range of lighting colors. You'll be able to create interesting lighting aesthetics with this fan while it simultaneously delivers a high-quality air stream.
Despite naming the above two fans specifically, every fan on this list was selected for a reason. Each of them is fantastic at what they do and will perform excellently in your garage. If you're not sure which of these fans would work best for you, we recommend checking out our buying guide. It will give you a better idea of what it is you're looking for.
In This Article We'll Discuss
4 Best Garage Ceiling Fans
---
4 Best Garage Ceiling Fans
---
Best Overall
Product Details:
62-in diameter
LED board; 2700k and dimmable
Alexa and Google Home compatible
Reversible blades
3 speeds
Garage ceiling fans are different from regular ceiling fans because of their size. This fan excels in that department; its 62-inch diameter is more than enough to cool down your garage. This size will cover large spaces with ease, circulating air and making sure your garage is as fresh as ever.
The fan has a central LED light with an integrated LED board. This outputs 1400 lumens, 18w, and a color temperature of 2700k. In addition, you can adjust the light temperature from 10% to 100% intensity.
Also, the fan comes with a remote control that allows you to choose from three fan speeds, and you can also change the light input. If you have a Google Home or Alexa, you'll also be able to operate your fan from there.
The fan blades are double-finished and completely reversible. Therefore, you can choose the style of the fan by rotating the blades. One side is matte black, while the other has an ash wood finish. Whichever looks better in your garage is the one you should go with.
---
Best Color Options
Product Details:
LED light kit
9.8W LED bulbs
Reversible motor
44-in diameter
2,997 CFM
If you want to brighten up your garage, then opt for a garage ceiling fan with a whole host of color options. This fan has an integrated LED light kit, allowing you to choose from a range of interesting colors. The central light holds 9.8 watt LED bulbs.
The motor of this fan is also completely reversible, letting you cool down or heat up your room. With a diameter of 44-inches, this fan is great if you have a small or medium garage; it won't cover a large room. This is especially true considering the CFM (cubic feet/minute of air displaced) is under 3,000.
The fan is completely white, so it should fit in with the majority of rooms. The WhisperWind engine ensures the fan runs quietly, even when at full speed.
---
Best for Large Garages
Product Details:
96-in diameter
6 speeds
9 metal blades
Remote control
Industrial design
This ceiling fan has a diameter of 96-inches, so it can easily cool down most spaces. That makes it great for even the largest industrial sized garages. The 9 blades work in tandem to move the air at 6 different speeds, depending on your needs.
The fan looks industrial and it has long, flat metal blades that will give your garage a workshop aesthetic. This fan is definitely only for large garages or industrial settings since the size is far too big for normal garages.
You can operate this fan with a remote control that will let you select from the speed ranges. Also, you can use it to put your fan on a timer. The remote control is included with the fan.
---
Best for Small Garages
Product Details:
20-in diameter
Four LED bulbs
Three speeds
Double aged bronze cage design
If you don't have much space in your garage, then this 20-inch fan will be perfect. It's a very small fan, so it's perfect for small garages. It has a double cage design with aged bronze, and its three blades give it a distinguished style.
The fan also has three different speeds, so you can control the extent of cooling in your garage space. Additionally, it comes with four 4W LED bulbs. Although these will provide some light, they should not replace a primary light source.
---
Buying Guide
---
If you're not sure which of the garage ceiling fans would be best for you, then take a quick look at our buying guide. This guide contains some tips and tricks for picking the best fan for you. Let's jump right into it.
How to pick the best ceiling fan for your garage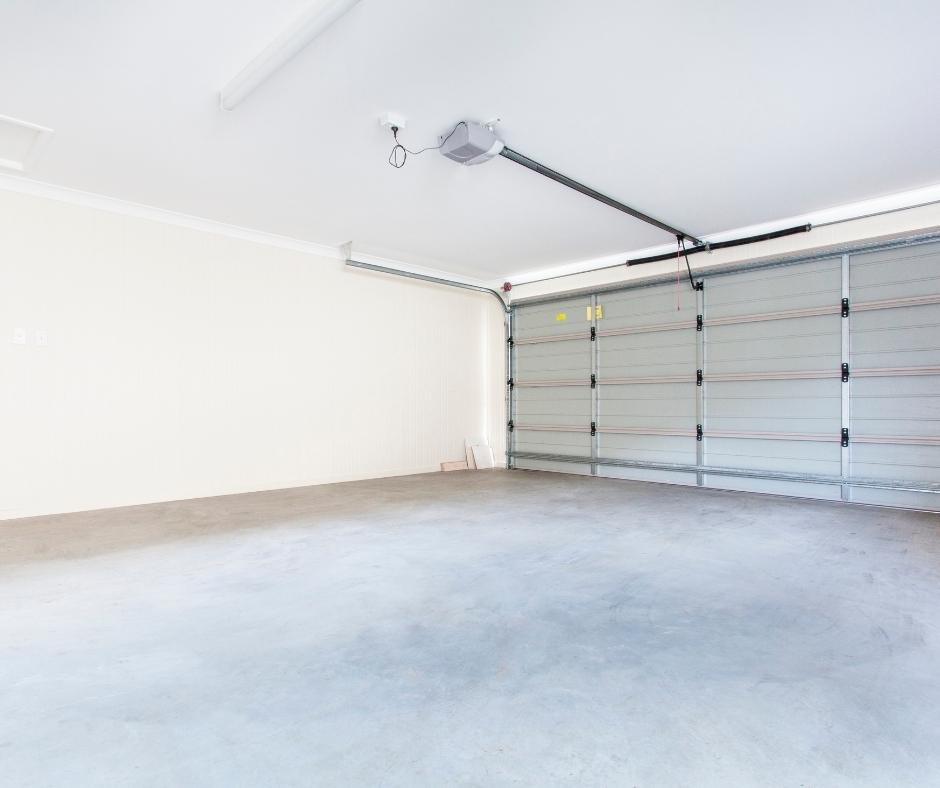 When deciding on the best ceiling fan for your garage, you should consider the dimensions of your garage and your ceiling.
Size
Garages can come in a huge range of sizes. From small units to large garages that are big enough to fit several cars, you'll need to pay attention to your garage's size before buying a fan. If you buy a fan that is too small for your space, it will look strange and will be inefficient at cooling down the room.
That's why you should try to find a fan that is proportionally right for your room. If you have a larger garage, then look for ceiling fans with diameters greater than 55-inches. Alternatively, if you only have a small garage, then we recommend looking for a ceiling fan with a diameter under 50-inches.
Fitting the size of your fan to your garage will ensure it can effectively cool your space. Try not to go too big or too small!
Ceiling
In addition to size, you'll need to consider if your garage's ceiling already has other fixtures on it. If you're building the garage from scratch, then you can replace the light fixtures in your garage with a fan with lights.
The majority of the fans on this list come with light fixtures, so you can find one that will light up your space while keeping it cool.
However, if your garage already has light fixtures, then buying a fan with this addition is much less important. Before committing to a fan, be sure to take note of what you already have.
What size ceiling fan is best for a garage?
The correct size ceiling fan for your garage will vary depending on how large your garage is. Generally, a medium fan is around 50 inches and they work well in medium-size garages.
If your garage is a little on the smaller size, then look for one that's around 20-40 inches.
Alternatively, if you have a very large garage, then you should be looking for ceiling fans that are 60-inches or above.
Conclusion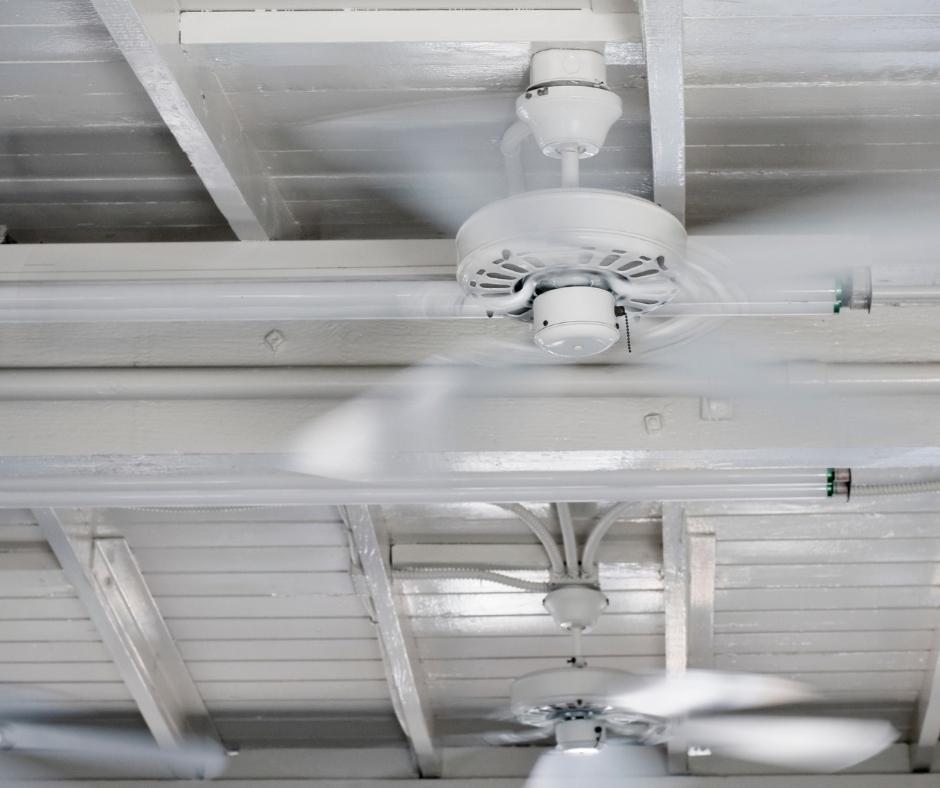 This list has a selection of the best garage ceiling fans currently on the market. We've taken a range of brands and selected our favorite models, creating a list that has all the best garage ceiling fans. From various styles to distinct price points, we've attempted to include a little bit of everything. That said, you can be sure that every fan on this list will work well in your garage.
If you want our quick recommendation, we'd point you towards the Honeywell Ceiling Fan 51473-01 Xerxes. This ceiling fan is large enough to cool down spacious garages. Additionally, it also comes with a nice light profile that's dimmable from 10-100%. You'll also be able to select from three distinct speeds, so you can control the temperature of your garage. Also, the fan looks beautiful, with matte black or ash blade designs.
In addition to the previously mentioned fan, all the other models we have selected will work great in your garage. From brightening up the room, to cooling it down or heating it up, these fans will ensure your garage is exactly how you like it. Take a look through the list to find the perfect garage ceiling fan for you!