Futons are a versatile addition to any home. Not only do they do the job of a sofa or couch, but they also make an ideal place to catch up on some sleep. For that reason, they are perfect for homes limited in space or for households who have regular guests looking for somewhere to crash.
Confused about where to begin? Check out the Nirvana futon, our top pick on comfort and cost. On a budget? The twin tufted futon from Wayfair ticks all the boxes, as well as being incredibly affordable.
In This Article We'll Discuss
10 Best Futons for Every day Sleeping
---
10 Best Futons for Every day Sleeping
Best Overall Comfortable Futon for Everyday Sleeping
Product Details:
Dimensions:

Full Sofa: 80"W x 32"D x 33.5"H
Full Bed: 80"W x 54"D x 22.5"H

Materials: Hardwood
Available Colors: Microfiber Sussex Fudge, Microfiber Sussex Khaki, Twill Black, Twill Burgundy, Twill Hunter Green, Twill Ivory, Twill Khaki, Twill Navy Blue, Twill Red, Twill Royal Blue
Our top pick and best all-rounder is the Nirvana, which steals the show when it comes to striking the perfect balance between comfort and cost.
Nirvana takes the top spot in our competition for several reasons.
Its three-position frame allows you to switch positions between fully upright, slightly reclined, and a full lay-flat bed. The addition of a reclining function is a nice touch that some of the best futons have missed and makes for an excellent couch to read a book or relax in front of the TV.
A great thing about the Nirvana is that, when converted, it's a full-size sleeper. Many cheaper options on the market provide the bare minimum when it comes to sleeping space. Your guests will be genuinely thankful they can relax on a full size futon at the end of a busy day.
It's 100% solid hardwood frame offers incredible durability. Hardwood is famed for its long-lasting properties and a strong and sturdy aesthetic. Although this is not the cheapest option we are taking a look at today, the quality of materials means this is guaranteed to last a long time.
The mattress consists of four layers of high density foam that promotes unbeatable comfort levels, perfect for sleeping. But it's the artisan aesthetic of this futon that catches our eye. Available in a ton of different colors, you'll have no trouble finding a shade that works for your home.
---
Most Affordable Futon for Sleeping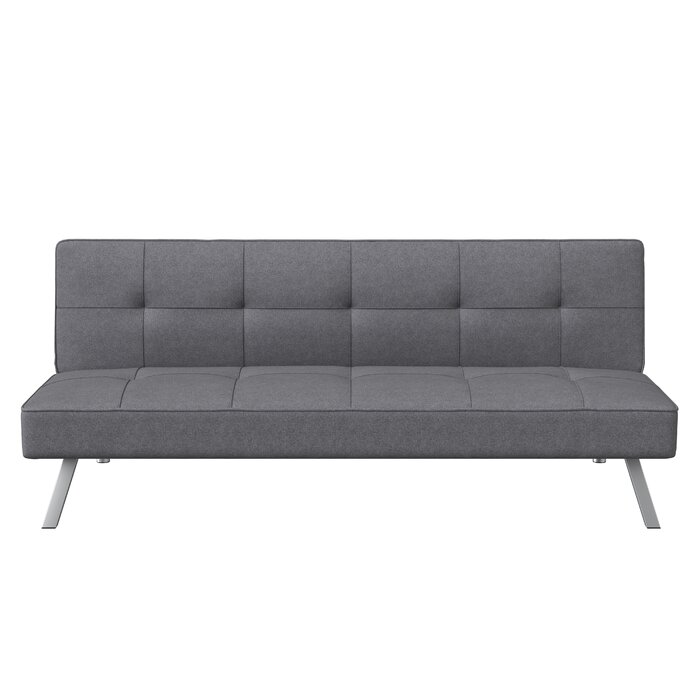 Product Details:
Dimensions: 29.5″ H x 66.1″ W x 33.1″
Materials: Foam
Available Colors: Black, Java, Navy Blue, Comfort Gray, and Light Gray
Working with a small budget doesn't mean you have to make sacrifices on comfort.
In a close second comes this twin tufted convertible sofa, which converts to reveal a full-size bed. What amazes us about this futon is how affordable it is, so even if you are on a tight budget, you can still find nice futons for your home. Despite its superior construction and levels of comfort, it's very affordable.
Constructed from kiln-dried solid hardwood, this sofa is guaranteed to stand the test of time. It also features a plush, high-density foam for complete relaxation, for sitting and sleeping.
We found these futons incredibly easy to put together, making it perfect for those not too handy with DIY. Even when converted, it is pretty compact, which is ideal for small rooms or studio apartments.
We did find that the mattress can be a little firm, so it's one for those who prefer a harder mattress for sleeping.
---
Most Stylish Futon for Everyday Sleeping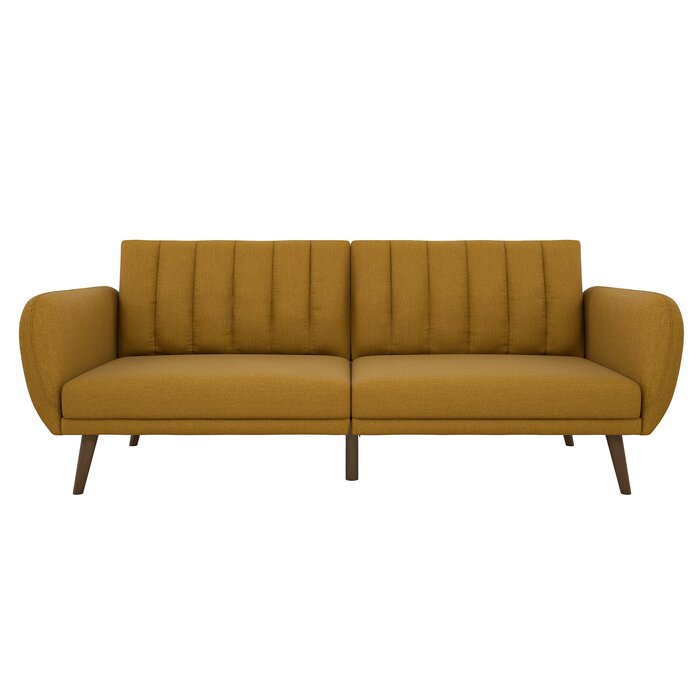 Product Details:
Dimensions: 31.5″ H x 81.5″ W x 34.5″
Materials: Foam
Available Colors: Dark Blue, Dark Green, Mustard Yellow, Dark Gray, Light Gray, Persimmon Orange, Light Pink. Light Blue
Futons can have a dull and seen-it-all-before image. The Novogratz Brittany is here to change that.
The Novogratz is the perfect choice for the style-conscious buyer. This excellent futon is covered with durable linen upholstery, which is comfortable to sleep on and easy to clean. Its sturdy wood frame makes it an excellent long term investment.
Despite its vintage appeal, this futon offers a contemporary touch, which would fit nicely in with modern apartments. The slim armrests are a neat addition, which only works to increase the comfort it offers.
When it comes to sleeping, the 7.5-inch mattress offers a level of comfort that exceeds most of the others on this list. Once again, it can be a little firm, so it may not suit all tastes.
---
Best Memory Foam Futon for Daily Sleeping
Product Details:
Dimensions: 33.5 x 83 x 32.5 inches
Materials: Fabric
Available Colors: Blue Velvet, Gray Velvet, Green Velvet, Light Green Velvet, Mustard Yellow Velvet, Pink Velvet
Regularly using your futon for sleeping? Look no further than the Tallulah.
Another futon with a vintage design, the Novogratz comes with an attractive bonus – a fantastic memory foam mattress. Memory foam is praised for its comfort, as it works to mold to the shape of your body, providing unbeatable levels of support while sleeping.
Memory foam is also preferred by the elderly or those suffering from back and spine issues. It can work to ease some of the aches and pains caused when sitting on unsupportive futons.
Even better is that this elegant futon is easy to assemble, meaning you can have this one sitting pretty in your home in one afternoon. The button-tufted arms and back make a real eye-catching centerpiece to any living space.
One drawback of this futon is its slim armrests, which we would argue may be too narrow. Although they certainly complete the futons aesthetic, their actual utility is questionable.
---
Best Futon with Classic Design for Sleeping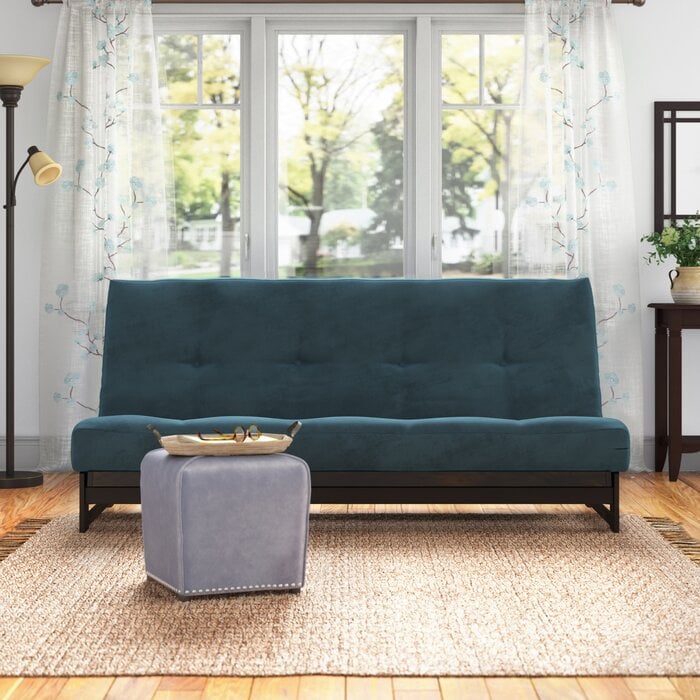 Product Details:
Dimensions: 76″ side to side
Materials: Foam; Cotton
Available Colors: Suede Gray, Linen Charcoal, Suede Navy, Suede Black, Suede Chocolate, Suede Peat, Linen Cocoa, Suede Black, Suede Navy, Linen Aqua, Peter's Cabin, Canadian, Mossy Oak, Marmont Thunder, Marmont Mocha
Designs like the Peninsula never go out of fashion. If you're after a timeless piece of furniture, we have just the choice for you.
Sometimes you just can't beat a classic design, which is the mantra behind the Peninsula Futon from Wayfair.
We love this futon because, when converted to a bed, it is incredibly low to the floor. While this may not matter to most people, for the elderly, young children, or those with mobility issues, having a low bed makes getting in and out much more manageable.
Although this futon converts to a full-sized bed when in its sofa form, it takes up an incredibly small amount of space. It also comes in many different colors, from the classic Navy to the patterned mossy oak design.
While the futon makes perfect infrequent use as a bed, users may find this a little uncomfortable to use on a long term basis for sleeping. Still, it does the job incredibly well and would make a worthwhile addition to any home.
---
Best Futon for Every Day Sleeping with Storage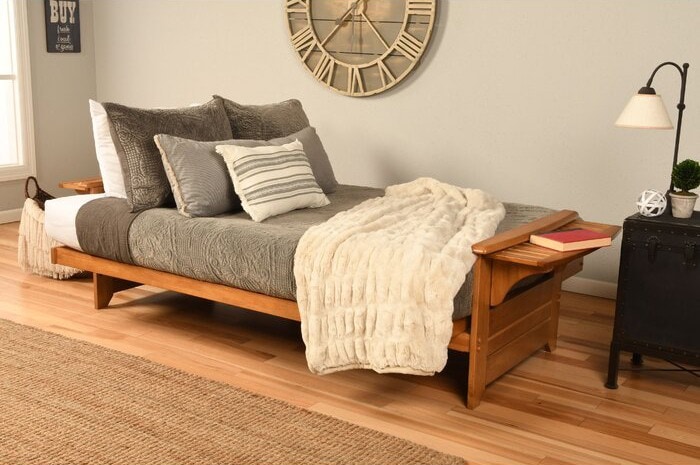 Product Details:
Dimensions: 33″ H x 82″ W x 54″
Materials: 100% Polyester
Available Colors: Barbados, Butternut, Espresso, Antique White, Black
Maximize your storage space at home with a 2-in-1 futon/storage combo – ideal for every day sleeping.
Futons are super useful for saving space in your home. Not only can they do the job of a sofa and bed, but some, such as the Lebanon, even have built-in storage to help to make your home neat and tidy.
The built-in drawers sit on rollers to allow them to slide in and out of the futon with ease. While these work great on solid wood floors, if your room is carpeted, you may find them a little difficult to access.
Now Lebanon doesn't cut any corners when it comes to durability. With a long-lasting solid hardwood frame and high-density foam, you'll get many years of use from this futon with little ongoing maintenance.
The downside of using such durable materials is its weight. The futon, once assembled, is incredibly heavy, so if it's likely you're going to be moving your futon around your room a lot, you may prefer to look elsewhere.
The frame is heavily featured in this design, making it certainly look a lot less comfortable than it is. Still, we are prepared to look past this given it's almost sure to last for many decades.
---
Best Bunk Bed Style Futon for Sleeping
Product Details:
Dimensions: 78″W x 56.5″D x 61.5″H
Materials: Foam
Available Colors: Black, Blue, Pink, Silver, White
Looking for an option for the kids? The DHP is perfect.
If you're looking for something for the kid's room, we have precisely the thing for you. This awesome looking bunk bed futon is both stylish and practical, allowing your children to host sleepovers, or simply give them some extra space in their room.
The DHP comes with two ladders to conveniently access the bed that sits over the top of the built-in sofa. And while up there, you don't need to worry about your child's safety, as the guardrails help keep them secure while sleeping.
The sofa below conveniently converts to an additional bed, making it a handy piece of versatile furniture indeed.
Do note that some assembly is required to put this futon together, and it is not the most straightforward of instructions. Given its design, it's more or less solely suited to bedroom use, making it less versatile than some other models.
Children will love the futon's metallic look, but it also comes in blue and pink shades for a more vibrant appeal.
---
Best Modern Futon for Sleeping
Product Details:
Dimensions: 42 x 35 x 13 inches
Materials: Foam
Available Colors: Black
This convertible futon looks great in contemporary homes.
This modern futon does it all, complete with a beautiful contemporary design in environmentally friendly black leather. It's chrome legs helps to top of the design aesthetic nicely.
We love the section of this sofa that raises to become a headrest, even when the futon itself isn't fully converted. It's small touches like this that help set this futon apart from its competition and is a favorite feature of the customers who purchased it. It also boasts of a split-back design, meaning each side and be raised and lowered independently of the other.
One of the benefits of modern faux leather is that it is easy to clean, perfect for a home with pets or young children. The downside, of course, is that it's not as breathable as some other materials. Therefore in warmer months, it may be a bit uncomfortable for sleeping.
---
Best Leather Futon for Sleeping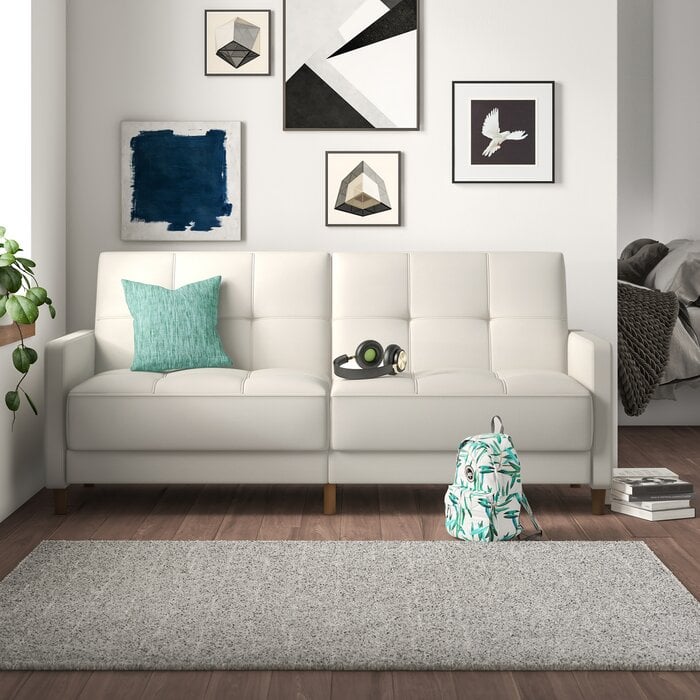 Product Details:
Dimensions: 33.5″ H x 76″ W x 33.9″ D
Materials: Modern Faux leather
Available Colors: Black Faux Leather, White Faux Leather
Leather is a classic choice that never goes out of fashion. This beautiful futon combines classy leather with a luxurious futon sleeper for unbeatable comfort.
While the thought of sleeping on a leather sofa may leave you hot and bothered, the Benitez is here to change that. Its high-density foam filling is super soft and comfortable, which makes it more comfortable than most beds. In actual fact, it's innerspring coil support help to make this one of the best futons we tested – especially for sleeping.
Design-wise, the silhouette on this futon makes for a contemporary and stylish touch to any room.
While the bed doesn't flatten to form a full-length sleeper, it is the same size as a Twin XL, ideal for infrequent use and ideal for two adults or teens. The futon itself is easy to assemble and comes in a rich brown, black, or white modern faux leather finish, exuding class.
Each side operates independently from one another to allow you to customize your sleeping experience completely. While the armrests are a nice touch, taller individuals may find sleeping on this recliner a little uncomfortable.
---
Buying Guide
---
How To Pick A Futon For Every Day Sleeping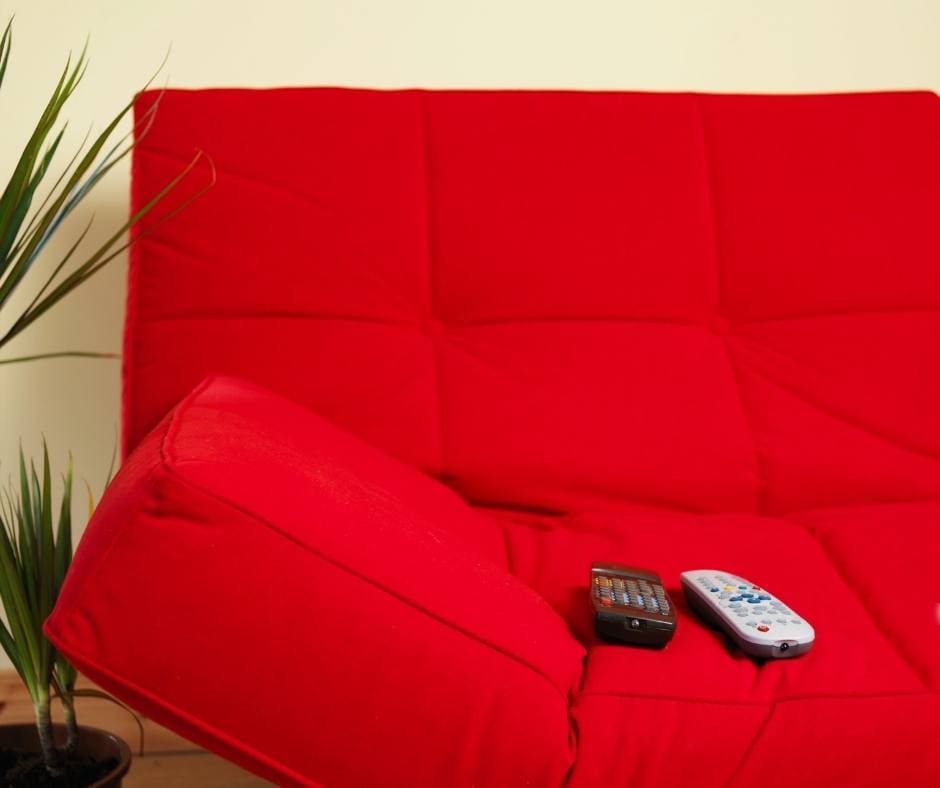 Picking your new futon for sleeping can be challenging. With all the choices on the market, how do you know where to start?
In all our buying guides, we recommend our readers to start with the basics. Understanding what you're looking for before you begin shopping helps you make a much more informed decision.
Things To Consider
How often will it be used for sleeping? – Is your new futon going to be used for emergencies, or will it be used more frequently? For infrequent use, a cheaper model is often perfectly adequate. However, if you're going to be using it more than a few nights a week, investing in a high-quality futon makes much more sense. Your guests will thank you.
Design – Think about the room where you are placing your new futon. Does it have a contemporary design, or perhaps you've chosen a more classic look? Picking a futon that matches your decor is essential to help the furniture blend in with your existing design choices.
Size – If you have a small home or compact apartment, you may not have the luxury of choosing a large futon. Smaller homes should opt for smaller models. You can also consider a futon with built-in storage or a unique design such as a bunk-bed to save on more space.
Durability – Prioritising well-made futons that use high-quality materials guarantees your product will last. Opt for hardwood where possible or durable steel construction. We know that cheap alternatives are attractive, but they often don't last very long.
Can You Sleep In A Futon Every Day?
This is a difficult question to answer, as it depends on the type of futon you have purchased.
Pretty much any futon on the market can be used everyday, but one that uses high-quality materials such as hardwood and memory foam will be far more comfortable in the long term.
Cheaper materials can often lead to aches and pains, so spending a bit more upfront often makes more sense. Still, if you don't plan to regularly use your futon for sleeping, you can afford to make some sacrifices here.
Generally, if your futon will be in use for many years, we always suggest spending as much money as possible to ensure you get a durable and comfortable product. After all, it will save you money in the longer term.
How To Make A Futon Comfortable For Use As A Daily Bed
Some ways you can make a futon more comfortable for sleeping include:
Place a topper on the futon
If your mattress is thin or could do with some extra padding, adding a cover is an inexpensive way to dial up the level of comfort. Covers, including memory foam options, are readily available from Amazon and can be added to your futon to increase its plushness.
Invest in comfortable bedding
High-quality bedding can often help to achieve an excellent night's sleep. Natural materials, such as cotton and linen, are ideal for bedding as they are breathable and will facilitate a nice, comfortable snooze.
Buy a quality pillow
We are huge advocates of investing in decent pillows. Low-quality pillows can lead to a plethora of aches and pains, and they are a relatively easy way to get a good night's sleep. Pillows are very subjective. What works for you may not be someone else's taste, so you may want to have a few varieties in case of fussy guests.
Heated blanket/undersheets
Adding a heated sheet or blanket, especially if your futon is in a cooler room, is a fantastic way to increase comfort. Your guests will be warm and cozy and forget they are even sleeping on a futon.
Conclusion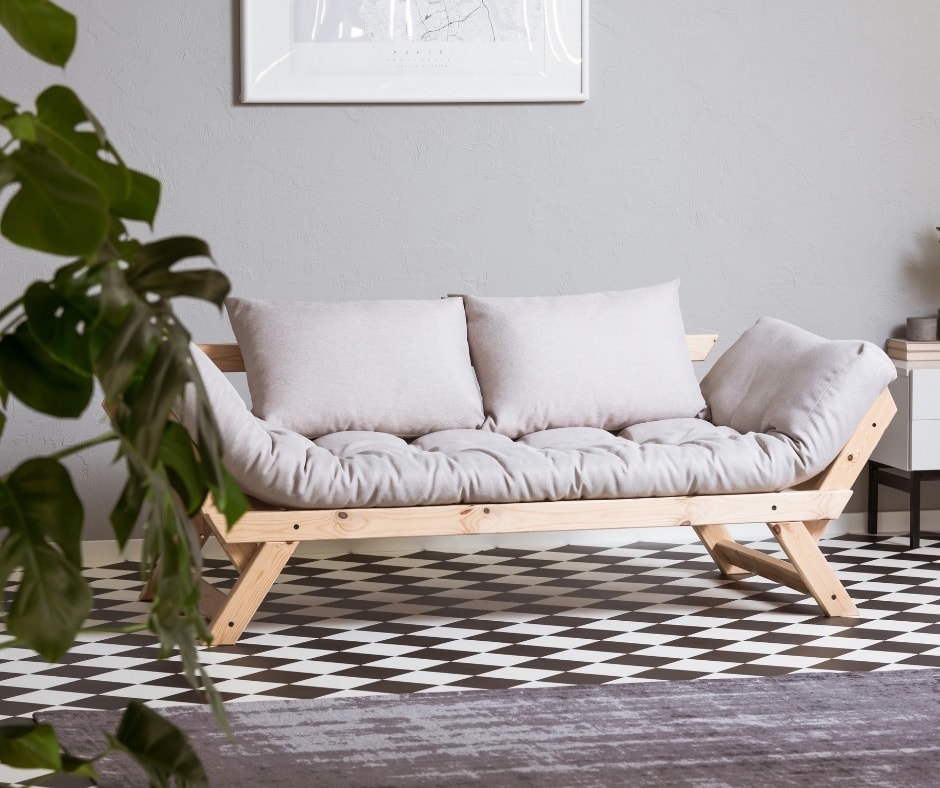 Whether you're looking for a futon to allow guests to stay over or simply a versatile piece of furniture you can use for lazy Sunday afternoons, there's something on the market for you.
Our favorite, the Nirvana, is an inexpensive yet incredibly comfortable convertible futon that will leave you or your guests on cloud nine.