Futons are a fantastic mixture of seating space and a place to sleep. Doubling up as two designs in one, a futon can save you a lot of space. If you're a bit pushed for room, not needing both a bed and a sofa is a great idea. Futons really do solve a lot of problems! But, which one is the best?
Well, in this article, I'll break down the best futons under $200. By the end, you'll know exactly which futon is best for you. As I said, these will be the best futons under $200, so you won't need to break the bank! Let's get into it.
In This Article We'll Discuss
The Best Futons Under $200
---
The Best Futons Under $200
Best Overall
Product Details:
Faux leather and chrome materials
30.5″(L) x 65.25″(W) x 31″(H)
3 back-rest positions
Fold away central armrest with cup holders
500lb weight limit
Converts into a bed
Our overall pick for the best futon under $200 goes to Best Choice Products. Their faux leather futon sofa bed is fantastic as a sofa or a bed. It comes in black, brown, or white, so you can customise it to fit in with your aesthetic. It's affordable, beautifully designed, and will fit amazingly into your home.
The futon has three adjustable positions you can use. The moveable backrests mean that you can change the seating to fit any purpose. If you want to sit upright, no problem. If you want to lounge backwards, again, no worries! Or, you could put the back completely down to open up the futon completely.
The futon has a 500lbs weight limit, which will be more than enough for two. You'll be able to lounge around on the sofa in company. If you have a beverage, this also has you covered. They have a central armrest with cupholders. If you don't need to use it, it also folds away to create space.
If you have a guest staying over, this futon converts easily into a sofa bed. It only takes a few seconds to put away the central armrest. Next, put down the back and your bed is ready to go.
The futon is also made with durable and high-quality materials. The futon is faux leather, giving a fantastic touch sensation to the futon. Each of the four legs is chrome, built to last and aesthetically appealing.
Finally, the futon is also great if you're in need of some space-saving furniture. Measuring: 30.5″(L) x 65.25″(W) x 31″(H), you'll be able to slide it in anywhere.
---
Most Affordable
Product Details:
Modern style, close to the ground
Comes in four colors and is wooden
Converts quickly from futon to bed
Measures 69(L) x 32(W) x 28(H) inches
Coming in for our most affordable futon pick is the Dorel Home Kebo Futon. This chic design will look fantastic in any home. It comes in four distinct colors: black, charcoal, chocolate brown, and red. An incredibly modern design, this will catch the eye of anyone who walks through your door.
The Kebo style is low set, and close to the ground. This gives the design a modern feel, which suits the block color stylings. The futon also has a microfiber cover, making cleaning as easy as can be.
You can convert the Kebo futon from upright to flat in a matter of seconds. Whether you want to sit or sleep, this futon has got you covered. The futon has a wood base and a distinct style. This is definitely one of the best futons under $200!
When it comes to size, the Dorel Home Kebo futon is a little larger than our last entry. This futon measures 69(L) x 32(W) x 28(H) inches.
If you're looking for an affordable futon for your home, you can't get better than this!
---
Most Comfortable for Gaming
Product Details:
Measures 32.48 (l)x 71.65 (w) x 33.46 (H) inches
3 back positions
Converts to sofa bed quickly
Memory foam
Wood and plastic base
If you're a gamer, our top pick would be the Mainstay Memory Foam futon. This futon comes in several different sizes, so check the link for specifics. However, the most common size is 32.48 (l)x 71.65 (w) x 33.46 (H) inches. This is more than enough room to relax into. This is a fantastic futon if you're going to be spending a lot of time sat down.
The Mainstay Memory Foam futon comes in 6 different styles. You can pick from black faux leather, brown, grey, dark brown, vanilla, black leather. The upholstery has tufts, giving an interesting final product look. The futon comes with four sturdy stainless steel legs. This gives a modern feel to the futon.
The futon is just small enough to fit into all sorts of places. You can adjust on either side due to the split-back design.
You can move between three positions. You can sit, lounge, and sleep. That's right, this futon also converts into a sofa bed. If you've got an overnight guest, this is the perfect futon for a good night's rest. Converting between positions only takes a few seconds and is as easy as can be.
The upholstery is faux leather, looking great while also benefitting the environment. They make the base from sturdy wood with black plastic legs. This design looks great, while also using memory foam. A fantastically comfortable material, this really will go a long way.
---
Best Minimalist Faux Leather Design
Product Details:
Measures 69 (l) x 33 (w) x 30 (h)
Three back positions to choose from
Converts to bed
Lumbar support
Modernist style in three colors
Coming in for our top pick for minimalist design is the Convertible Lounge Futon. Best Choice Products makes it to the top once again! This beautiful minimalist design comes in 3 distinct colors. You can choose from white, black, or brown.
Measuring 69 (l) x 33 (w) x 30 (h) inches, this design looks effortlessly chic. Made from artificial leather, this design looks and feels great. It's also wide enough to fit up to three people, making it great for company.
There are three adjustable back positions to pick from. You can move from sitting, lounging, or right down to lying. If someone needs to stay over, you can always convert the sofa into a bed. The ergonomic design will be comfortable and give support.
Finished with straight lines with clean cuts, this modern design is incredibly stylish. The wooden legs give excellent contrast against the three main colors. Whichever you go for, you can bank on this futon looking elegant.
---
Best for Dorms
Product Details:
Comes in black
Modern furniture design
Measures 77 (l) x 35 (w) x 34 (h) inches
The ideal pick for a dorm room is something compact and trendy. This design definitely fits the bill, easy to install and aesthetically pleasing. Measuring 77 (l) x 35 (w) x 34 (h) inches, this will be perfect for a smaller dorm room.
The design is compact and stylish, using modernist furniture ideas. The all-black color moves across from mattress to base, creating a modern decor. The curved metal looks chic, and will fit into any room. This is definitely one of the best futons under $200!
Another fantastic design from Mainstay!
---
Best Split Back Design
Product Details:
Measures 61.5″L x 30.5″W x 32″H.
Split-back and customisable back rest positions
Comes in 8 colors
For our top pick for split back design, we're going to give it to Emily Futon by DHP. This design comes in 8 colors of linen, matching any decor you want. You can choose between black, grey, pink, vanilla, grey, green, burgundy, or navy.
The split-back design makes sure you have every option possible when customising. You can choose from many positions. If you want to sleep, simply put the back down and drift off. It'll only take a few seconds to completely convert the design from upright to laying down.
The design is shipping in one singular box. You'll be able to assemble it quickly, without any hassle. The DHP Emily futon measures 61.5″L x 30.5″W x 32″H.
This futon is has a chrome metal leg finish. It includes square tufted backrests for some added perceptive depth. If you're looking for a design that has a split back, you won't go wrong with this design.
---
Best Memory Foam
Product Details:
Measures 6ft (l), 3ft (w), 2.5ft (h)
Black modern design
Memory foam
Different back positions
Holds up to 600lbs
Mainstay coming in with another top ranking on the list. This Mainstay Wooden Frame Memory Foam Split Seat is the best on the market. Coming in a black suede design, it looks elegant and is incredibly comfy. The black design is very modern, and has ergonomic supports.
One side of the Mainstay futon can rise up, providing room to rest your head. Feel free to choose from 3 different back positions. It measures 6ft long X 3ft wide X 2.5ft tall. This design is big enough to sit up to two people, or up to 600lbs.
The black wood and polyester design fit in with the suede, giving you a beautiful final product. The memory foam is the finishing touch on this design. Sitting down, the futon will instantly begin to shape to your body.
Comfort and style, what more could you want!
---
Best Microfiber
Product Details:
Measures 66.5 (l) x 33 (w) x 30 (H) inches
Four possible color choices
Extra padding
Easy clean microfiber
Sits three people, or up to 600lbs
Coming in for our top choice for microfiber futon is this design by DHP. This is DHP's second addition to the list, showing they really know their stuff. This design comes in four colors. You will be able to pick from black, brown, charcoal, or red.
This neat design is suitable for small spaces. It converts easily from upright to flat, only taking a few seconds. It measures 66.5 (l) x 33 (w) x 30 (H) inches. You won't need any tools to assemble this design, fitting together.
It uses a 'Click-Clack' mechanism. This means that things slide and bind together. You won't need to use any tools.
They make the futon from microfiber and give it extra padding. This will definitely be comfortable to sit down on. What's more, it'll fit two or three people! This has a weight limit of up to 600lbs.
If you're looking for something easy to clean, microfiber is your best bet. This will be as easy as using a damp cloth, making upkeep as easy as can be! We love the DHP lodge convertible futon!
---
Best for Small Spaces
Product Details:
Unfinished tulip poplar wood
5-year warranty
Does not come with a mattress
Measures only 41(L) x 37(W) x 10 (H) inches
If you don't have much space to spare, look no further. This KD Frames Twin Futon is the perfect addition to your home. Measuring only 41(L) x 37(W) x 10 (H) inches, this will fit into the smallest of spaces. Don't waste space, get yourself a KD Frames Twin Futon!
This design is smooth, with a beautiful tulip poplar wood. The stylish product converts between futon and bed, providing you a sleeping space. The manufacturers also offer a 5-year warranty, which gives you peace of mind.
The only thing I would want to note is that the futon mattress is not included. Make sure you take this into account when buying! But, if you're looking for a fantastic futon frame, this is for you!
---
Buying Guide
---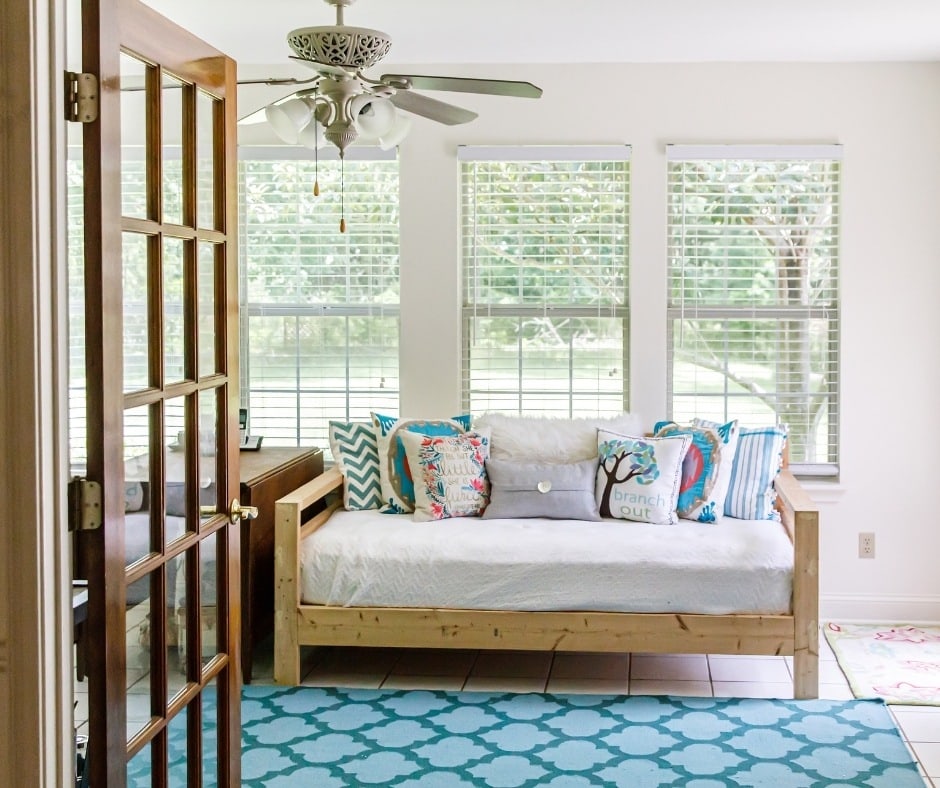 Although we've given you a list of the best of the best, there is still a lot of decisions to make. Depending on what you're looking for, the best futon for you will change. You've got to take into account several key things.
First of all, how much space do you have? Make sure you measure your area to ensure you've got enough space to house a new futon. If you don't have much space, maybe go for one of the smaller designs.
Second of all, think of materials! All of the futons on this list use a range of different materials. If you're looking for a specific material, like faux leather, make sure you browse the list. Similarly, look for the colors a design comes in. You're going to want to match the color of your futon to the rest of your room.
Finally, think of the purpose of the futon. If you're looking for one to lounge in, maybe go for one that has a memory foam mattress. Or, if you want one that will be easy to clean, go for microfiber.
Conclusion
Futons are fantastic additions to any home. Doubling up as both a sofa and a bed, what's not to love! Our top choice of futon is stylish, affordable, elegant, and practical. If you're looking for the best futon out there, look no further. We love the Best Choice Products Faux Leather!