A futon is a no brainer if you have regular overnight guests. They are also incredibly versatile, performing the jobs of two pieces of furniture all wrapped up into one neat and stylish package. But if you or your guests are on the heavier side, you may be worried that your choices may struggle to support their heavier weight.
The good news is there are some excellent, heavy-duty options out there. Take, for example, the Nirvana Eastridge, with an impressive 400-pound capacity and tonnes of color choices. It's our top futon for heavy people.
If you're working with an awkwardly sized space, check out the DHP sectional with an ottoman that can be configured to fit the quirks of your home.
In This Article We'll Discuss
11 Best Heavy Duty Futon For Heavy People With Frame And Mattresses
---
11 Best Heavy Duty Futon For Heavy People With Frame And Mattresses
Best Overall Futon for Heavy Person
Product Details:
Materials: Poly-cotton, foam
Colors: Microfiber Sussex Fudge Cover, Microfiber Sussex Khaki Cover, Microfiber Sussex Fudge Cover, Twill Burgundy Cover, Twill Hunter Green Cover, Twill Ivory Cover, Twill Khaki Cover, Twill Navy Blue Cover, Twill Royal Blue Cover, Twill Red Cover.
Dimensions: Queen Sofa: 86″-101″W x 32″D x 36″H
Queen Bed: 86″-101″W x 60″D x 23.25″H
Weight Capacity: 500 lbs
In a rush? Buy this futon – you won't regret it.
First up is this wonderful futon set from Nirvana, featuring a 100% hardwood frame and solid construction that will last you a lifetime.
The futon frame is made right here in the USA. One of the best parts is that the frame comes with a 5-year warranty, offering you the ultimate peace of mind.
When you're ready to relax, you can easily convert the futon into a lounging or lay-flat position. When flat, the bed is queen-sized, perfect for two adults to rest comfortably. The futon also comes with an 8″ mattress made of plush layers of high-density foam.
An excellent addition to this futon is that it has built-in side tables, which can be completely stowed away when not in use.
The sofa comes in a bunch of attractive colors, making it a fantastic addition for any room in your house.
---
Best Memory Foam Heavy Duty Futon
Product Details:
Materials: Leather
Colors: Black
Dimensions: 42 x 35 x 13 inches
As Sofa 70.5″(L) X 33″(W)X29″(H)
Weight Capacity: 600 lbs
Comfortable, stylish, and affordable, this futon is tough to beat.
Our top pick for the best heavy duty futon is this beautiful piece of furniture available on Amazon. This furniture is truly versatile and would work well in a home or even office.
We love this futon for this aesthetics. The black, faux leather covering is incredibly classy. Combined with the stylish chrome legs and button-tufted back, it makes a beautiful addition to any room. The leather upholstery also means it's effortless to clean.
When it comes to comfort, this futon takes some breathing. It has a 2.5″ memory foam base for outstanding comfort levels, perfect for sitting or sleeping.
Not only that, but the setup is simple. Straight from the box, you can quickly put this futon together in under 15 minutes, with little to no DIY skills needed.
One of the standout features of this futon is that it is convertible. One side of the futon features an adjustable headrest, perfect for lounging. When it's time to sleep, the futon can be converted into a fully flat sleeper by lowering the backrest. Since there are no removable cushions, this futon is incredibly efficient when it comes to saving space.
---
Most Versatile Heavy Duty Futon
Product Details:
Materials: Linen, Wood, Foam
Colors: Light Gray, Dark Gray, Black and Brown
Dimensions: 75.5″(L) x 28.25″(W) x 33″(H)
Weight Capacity: 550 lbs
Living room, bedroom, or office, this versatile futon works well in all.
If you're looking for something a little more from your futon, this incredibly versatile sofa from Best Choice is an excellent option. Its contemporary design means it will fit in well with existing decor. We think it works equally well in a living room, study, or even office.
The futon comes with a unique and convenient split-back design. This allows both sides of the sofa to operate independently – one side can be raised while the other is in a lay-flat position. The futon is constructed from solid wood and features 6 sturdy legs for added support, increasing its durability.
If you suffer from allergies, this futon is ideal. The sofa's filling, as well as being incredibly plush, is hypoallergenic, supporting a comfortable night's sleep. And when it comes to sleeping, this futon effortlessly converts into a wonderful bed for two people.
For such a versatile piece of furniture, this sofa is priced incredibly well and definitely won't break the bank. It also comes with a very generous weight capacity of 500 pounds, ideal for heavier users. It also means it can support up to 3 people at any one time.
---
Most Stylish Heavy Duty Futon
Product Details:
Materials: Wood, polyester, foam
Colors: Green, Grey, Mustard, Navy Blue, Dark Gray, Gray, Grey Linen, Light Blue, Light Gray, Orange, and Pink
Dimensions: Futon Dimensions: 81.5"L x 34.5"W x 31.5"H
Sleeper Dimensions: 70.5"L x 43.5"W x 16"H
Weight Capacity: 600 lbs
Looking for a statement piece to brighten up your room? Look no further.
The Brittany futon is effortlessly stylish. Featuring a gorgeous tufted cushion back and durable hardwood legs, if you're looking for a statement piece, this is it. The curved armrests help to complete this futon's aesthetics. Better still, it is available in a ton of vibrant and eye-catching colors, ideal for those who are looking to make a break away from black, brown, and grey.
The upholstery on the Brittany is also incredibly plush and stylish. Not only that, the linen fabric is effortless to clean and maintain. Spills can be taken care of quickly with a damp cloth, keeping your sofa looking good as new.
When it comes to comfort, Brittany doesn't cut any corners. The polyester/foam filling provides ample support, whether you are seated or lying down. The sofa itself is also very long. We think it's more than enough to support 4 average people to sit comfortably side by side.
To convert to a sleeper, simply lower the backrest to a fully-flat position, and away you go. Each side of the sofa can be raised and lowered independently for ultimate convenience.
---
Best Heavy Duty Futon for Small Spaces
Product Details:
Materials: Linen
Colors: Grey
Dimensions: 34 x 71 x 32 inches
Weight Capacity: 350 lbs
Short on space? The Emily is the perfect compact sofa for your studio, RV, or motorhome.
Those of you who have checked out a few of our guides will know that the Emily Futon from DHP features heavily, and that's a testament to how great it is.
The Emily has a contemporary design, with chrome slanted legs, which help to complete its aesthetic. Its low profile design accentuates its modern appeal, which is why we would think this would look great in a contemporary apartment or bachelor pad.
The best thing about the Emily is that it's incredibly compact, without sacrificing any of the features you would want to see in your new futon. It's small, yet comfortable design makes it the perfect choice for smaller rooms.
Like most of the choices on this list, the Emily features a split-back design. Straight from the box, it's effortless to assemble, leaving you more time to enjoy the futon for its intended purpose.
If you are working with a bit more space, you can even pair this futon with some of the other matching furniture in the range, including a chaise and ottoman.
When it comes to comfort, it's true that we would like to see the chair padding be a little thicker. Still, as a sleeper for infrequent use, the Emily is an ideal choice.
---
Best Dark Wood Frame Heavy Duty Futon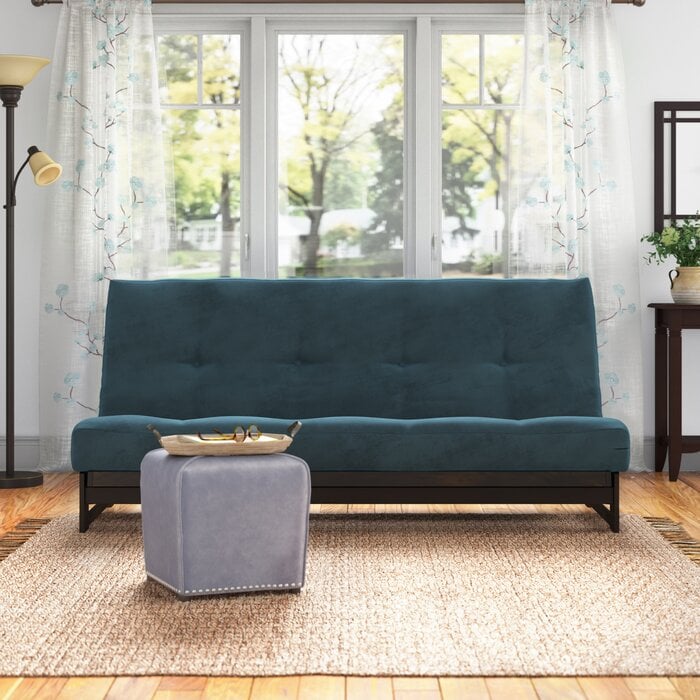 Product Details:
Materials: Wood, Polyester, Innerspring/Coil; Foam; Cotton
Color: Mocha
Dimensions: Sear 21″ H x 21″ D
Mattress 54″ W x 75″ D
Weight Capacity: 500 lbs
Light wood is everywhere. Why not mix it up with a unique, dark wood futon.
While light wood works to bring an airy and bright feel to a room, dark wood is often overlooked as a fantastic way to introduce a touch of class to your home. One of the benefits of dark wood is its ability to accentuate pieces of furniture, which is exactly what it helps to do on this wonderful piece from Peninsula.
Not only does it look incredible, but the sofa also converts to a full-size bed to accommodate guests. The mattress itself features high-quality springs that help to provide support to your body, whether you're seated or sleeping.
The sofa also is packed with layers of plush Certipur-US foam. This material is certified to meet strong safety and environmental standards, helping to give you peace of mind.
Another great thing about the Peninsula is that it is made right here in the USA. When purchasing this sofa, you can be comforted that you are supporting local businesses.
The only downside we can mention is the lack of arms. While this may not bother some, it can sometimes cause pillows to fall over the edge when it's being used as a bed.
---
Best Faux Leather Heavy Duty Futon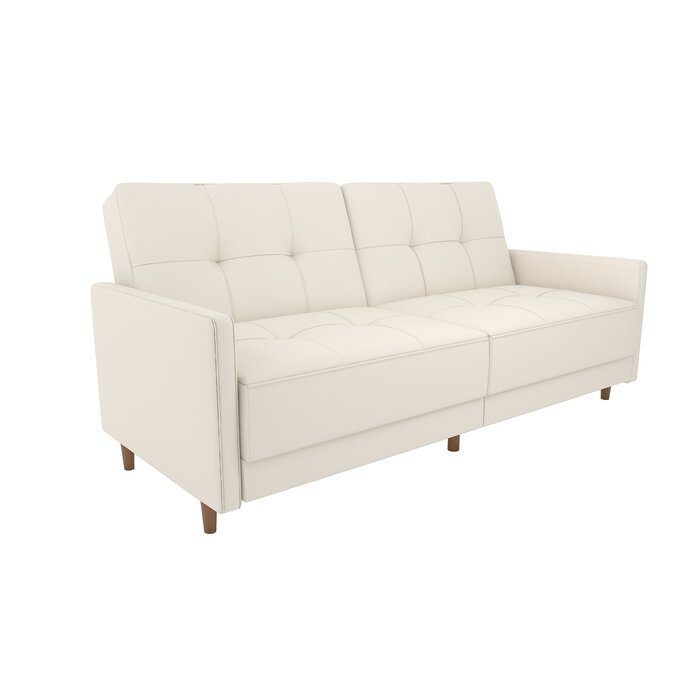 Product Details:
Materials: Faux Leather, Wood, Innerspring/Coil
Colors: Black Faux Leather and White Faux Leather
Dimensions: Overall 33.5″ H x 76″ W x 33.9″ D
Seat 17.5″ H x 23.5″ D
Mattress 70.5″ W x 43.5″ D
Weight Capacity: 600 lbs
Love leather but not keen on its cost? This faux leather sofa is the perfect alternative.
This wonderful squared off futon is definitely an eye-catching piece. With a mid-century aesthetic and simple design, it would make a wonderful addition to any home.
The faux leather upholstery is both comfortable and easy to maintain. We also found the material relatively breathable, unlike some other cheap faux leather materials on the market. The sofa comes in two fantastic color options, black and white. While we often shy away from white sofas because of their ability to show up dirt, the Benitez looks effortlessly classy and can easily be cleaned with a damp cloth.
The sofa frame itself is a mix of solid and manufactured wood. The sturdy legs allow it to support an impressive 600-pound weight, making it one of the most heavy-duty sofas on our list.
When it comes time to sleep, effortlessly convert the sofa into a lay flat bed that comfortably accommodates two adults.
---
Best Heavy Futon Futon with Linen Mattress
Product Details:
Materials: Wood, Polyester
Colors: Antique White, Barbados, Black, Butternut, Espresso and Natural
Dimensions: Mattress Dimensions 75L X 54W X 8H
Frame dimensions 82L x 37D x 33H.
Weight Capacity: 500 lbs
Looking for something for the summer? The Kodiak's linen mattress will keep you cool.
Linen is famed for its comfort and cooling properties. If you live in a warm climate or simply tend to get warm at night, a linen mattress will prove to be an excellent investment.
Another great feature of the Kodiak mattress is that it is made right here in the USA. Not only are you supporting local businesses by buying, but you're also helping the environment too. Buying locally means that the mattress doesn't have to be transported halfway around the world to your door.
The solid hardwood frame helps to make this one of the most durable sofas we tested. The downside of this is that it does make it a cumbersome sofa. Assembly is simple, and you won't need any special tools to put this together from the box.
We love that the arms can be adjusted to your preference, but one of the most useful features of this sofa is that it comes with a set of storage drawers underneath the couch to help maximize your space.
The 8″ mattress is wonderfully plush and will ease you into a great night's sleep on the futons full-size bed. One thing we did notice about the mattress is that it does give off a smell when new. However, if you leave it in an aired room for a few days, it should dissipate.
---
Best Heavy Duty Futon Sectional
Product Details:
Materials: Microfiber
Colors: Dark Gray Linen
Dimensions: 55.5 x 83 x 31.5 inches
Weight Capacity: 500 lbs
Odd shaped room? Consider a sectional for the ultimate in customization.
Sectional sofas provide the ultimate in versatility. Their design means they can easily adapt to rooms with awkward shapes or short in space. Not to mention they offer that coveted corner spot that you and your family will be fighting over.
This fabulous sofa is simply designed yet offers a beautiful mid-century look, complete with a tufted back and chunky black legs that blend in with the rest of the couch. The futon is easily transformed into both lounging or seating configurations, and the chaise that accompanies the sofa can be placed on either side to suit your room.
This futon is also as durable as it is stylish, making it a tremendous sectional for heavier individuals. It does this through its superior construction, a sturdy solid wooden frame, and hard-wearing (yet comfortable) faux leather upholstery.
While this couch is without a doubt comfortable, it's definitely on the firmer side, so make sure you keep that in mind before purchasing.
---
Best Heavy Duty Futon with Storage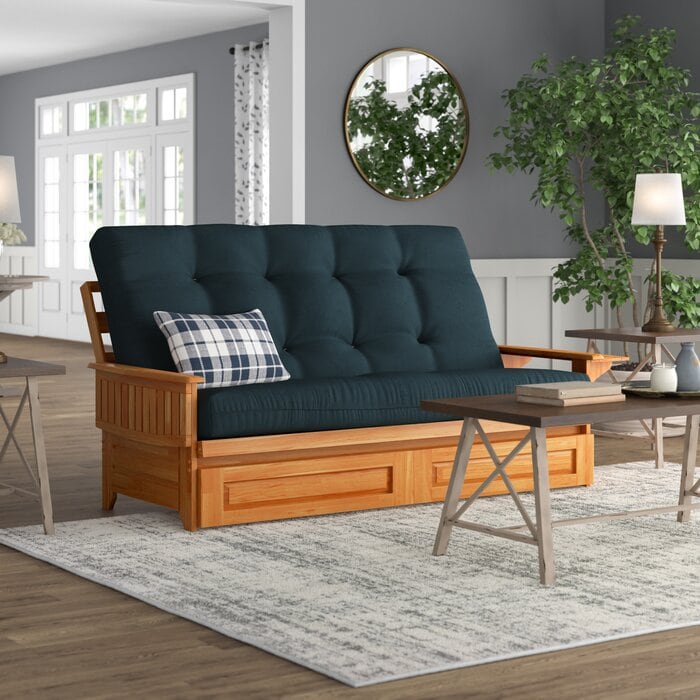 Product Details:
Materials: Innerspring/Coil; Foam, Cotton, Wood
Colors: Fabric – Suede Navy, Suede Black, Suede Peat, Suede Chocolate, Suede Grey
Frame – Butternut and Espresso
Dimensions: 44" x 31" x 87"
Weight Capacity: 500 lbs
Sofa, bed and storage? You really can't go wrong with the Merrifield.
You'll never hear anyone complain about having too much storage space. This is just one of the reasons why we love the Merrifield futon, complete with built-in drawers. One of the best uses of the storage is, of course, to store the bedding when you convert your futon into a sleeper.
The hardwood frame provides a durable and hard-wearing base, supporting a total weight of up to 500 pounds. As well as a practical feature, the wooden frame also gives off a classic aesthetic and is a timeless design choice that will work well in any room in your home.
The futon can be transformed into 3 comfortable positions: sit, lounge, and sleeping, so no matter what you are up to, you'll be able to relax in a position that offers ultimate comfort.
It's when converted into a bed that this sofa really shines. The Merrifield easily transforms into a queen-size bed, perfect for two adults to share. Its mattress features hinged coil springs for added support.
This futon comes in a few finishes and fabric choices, so you're bound to find something to suit your tastes.
---
Best Heavy Duty Futon on Wayfair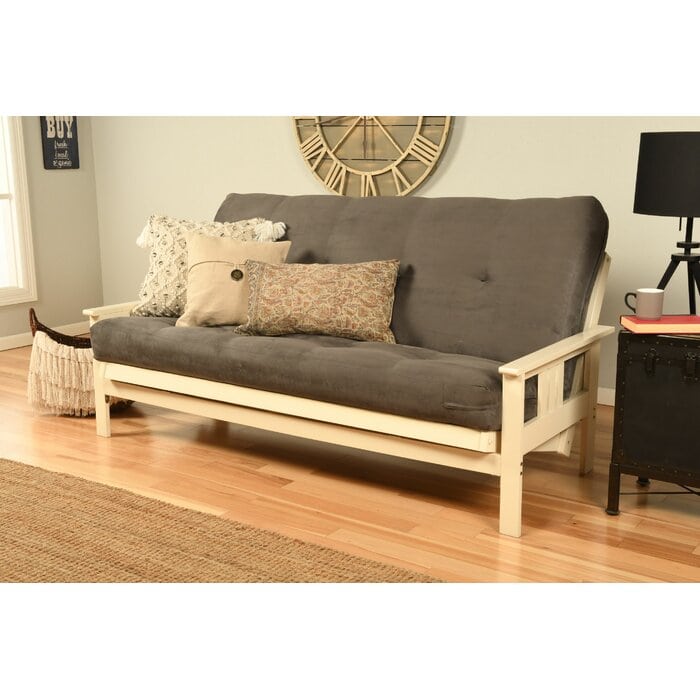 Product Details:
Materials: Polyester, Innerspring/Coil cotton, Foam, Wood
Colors: Grey, Navy, Linen Charcoal, Black, Linen Stone, Marmonth Thunder, Marmonth Mocha, Chocolate, Peat, Linen Cocoa, Linen Aqua, Mossy Oak, Canadian, Peter's Cabin
Dimensions: Overall 37″ H x 81″ W x 37″ D
Seat 22″ H x 31″ D
Mattress 81″ W x 54″ D
Weight Capacity: 500 lbs
If you've decided it's Wayfair or nothing, the Molina is a fantastic heavy duty futon you need to check out.
Wayfair is renowned for its fantastic furniture selection, excellent pricing, and helpful customer service. So it makes sense that when buying such an essential piece of furniture, its one of the first places you look.
The Molina features a hardwood frame and sleek silhouette that would look great in a studio apartment or college dorm. Although the design may be a bit basic for some, it's the perfect low-cost and practical choice if you're looking to save a bit of money.
The mattress is filled with coils and covered in a breathable polyester fabric, which guarantees you'll be comfortable, whether you use it for sitting or sleeping.
The futon can be figured into a sitting, lounging, or sleeping position. At the same time, the frame comes in a choice of 6 wonderful finishes so you can find something to fit with your existing decor. Whether it's a nordic vibe or a retro, dark wood aesthetic, the Molina offers it all.
A great feature of this sleeper is that the material upholstery can be removed from the cushions for washing. This makes the sofa effortlessly easy to maintain.
Please note that some assembly is required, so keep this in mind if you're not too handy with DIY.
---
Frequently Asked Questions
---
How To Pick A Heavy-duty Futon For A Heavy Person?
If you're on the heavier side, you'll know you have to be selective about which type of furniture you buy. Check out our top considerations when it comes to buying your next futon.
Weight Capacity
The most obvious feature to look out for is weight capacity. Look for something that can support your weight comfortably.
Just in case you're not familiar with the term, this is the maximum weight the futon can safely support. Luckily, most manufacturers will advertise their maximum weight capacity on the product page, but if you can't see it, you can always take a look at the manufacturer's manual.
A point worth making is just because a sofa advertises it can support 300 pounds, it does not mean a 300-pound user can expect to use it without issue. The weight capacity works on the assumption that the weight is evenly distributed over the couch, so if you buy something too close to the user's weight, you could run into trouble.
Frame Material
Opting for a futon made from high-quality material is a no brainer as it will help to guarantee the durability of your new purchase. While most options are limited between wood or metal, a wooden frame is usually the better and more cost-effective choice in the long term.
Price
Because futons fulfill the role of two pieces of furniture, they offer incredible value for money. Still, it's very easy to get carried away on a futon with all the bells and whistles when an average futon would do the trick just as well.
Our top tip would be to decide what features you will prioritize, decide a budget, and stick to it. Generally, the more features your futon comes with, the more expensive it will be. If you're also looking for a named brand, you should expect to pay more for that benefit.
What Materials Are Used In Heavy-duty Futons?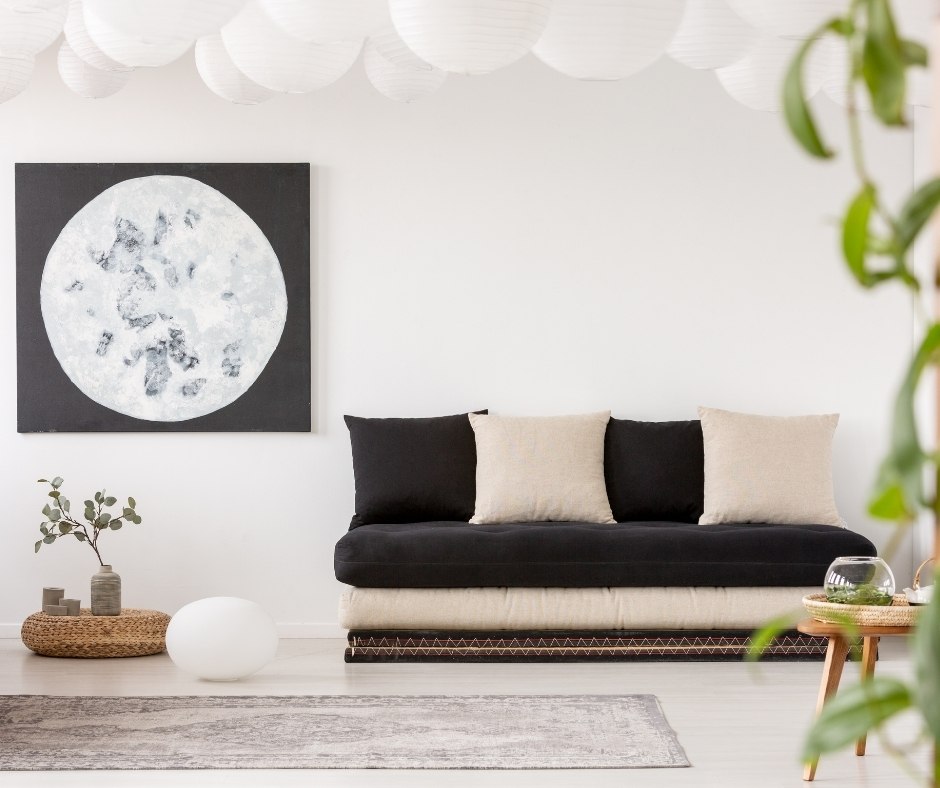 When it comes to the frame, the most durable, long-lasting futons will be made from either wood or metal. While some newer sofas use plastics or laminated boards on their construction, we would advise against these sofas if you're looking for something long-lasting.
Kiln-dried hardwood is by far the most durable and long-lasting material you can find for your futon. Here, hardwood, such as oak, walnut, or beech, is dried in a kiln fire, which hardens it and increases its durability.
While metal is cost-effective, it could warp or break over time, especially if you're on the heavier side.
When it comes to the mattress, there are many options available on the market today, and what works best for you may not be the best option for the next person. Generally speaking, at a minimum, you will want to invest in a high-density mattress foam for added support and comfort.
What Is The Most Heavy-duty Futon?
Any of the sofas we have reviewed are a fantastic choice if you're shopping for a heavy-duty futon. If you want something that can support the most amount of weight, opt for the Novogratz, Benitez, or Memory Foam futon. These futon sofas each support up to 600 pounds, the largest amount on our list.
How Much Weight Will A Futon Hold?
Always consult the manufacturer's description when it comes to determining the maximum weight your heavy duty futon will support. It is worth remembering that the maximum weight capacity is based on an even weight distribution across the sofa. For that reason, it's always worth buying a futon that will support more than the users who intend to sleep on it.
Conclusion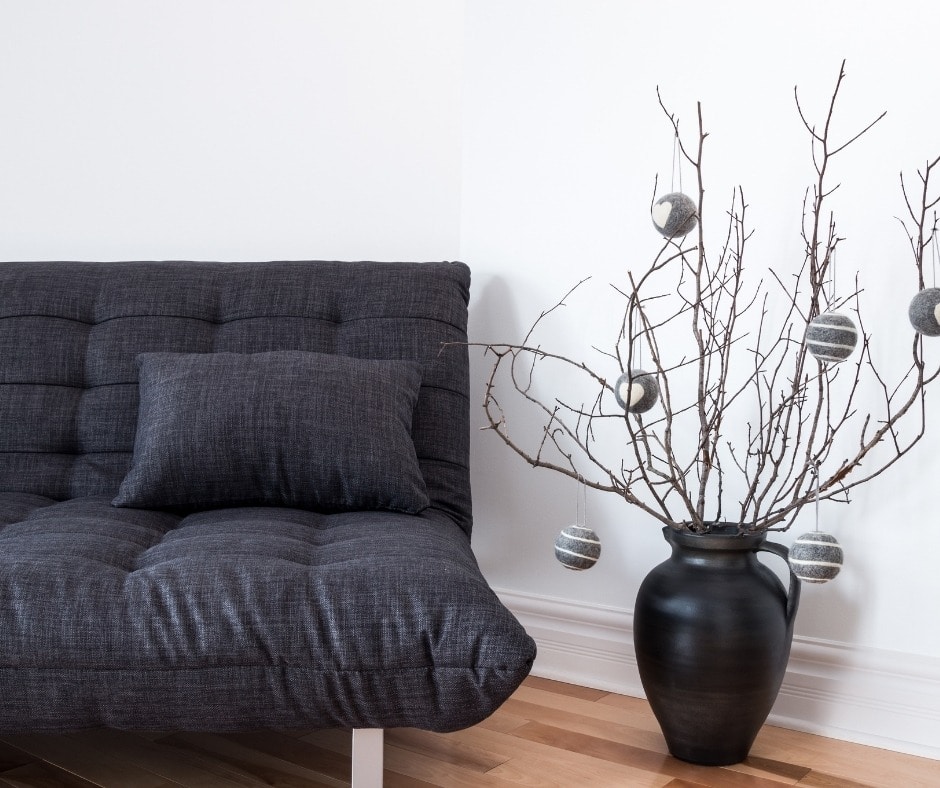 Futons are a great way to maximize space and cut costs. They're also incredibly convenient when having guests stay over by offering them a wonderful place to sleep.
The Nirvana is our top choice, boasting an incredible design, comfortable experience, and a welcoming relaxing experience after a busy day.