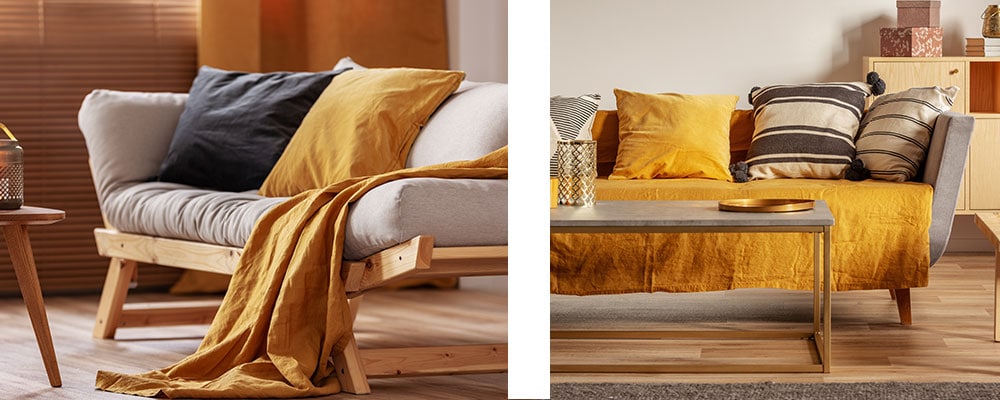 A futon sofa by itself can be a comfortable addition to your living space. However, if your futon sofa shows signs of wear and tear, you may be looking for an inexpensive way to spruce up your couch.
A futon cover is an affordable way to rejuvenate your favorite futon without having to replace it entirely. We've tested the most popular futon covers on the market to help you decide on a stylish yet comfortable futon cover for your home.
Short on time? The H.VERSAILTEX Armless Futon Cover is our pick for the best overall futon cover as it comes with high-quality jacquard knitting that enables it to fit almost any sofa snuggly.
In This Article We'll Discuss
9 Best Futon Covers
---
9 Best Futon Cover Reviews
The H.VERSAILTEX is a high-quality cover that gives your sofa an extra layer of protection as well as an extra layer of comfort.
Material: Polyester & Polyester Blend (Stretch Jacquard Knitted Fabric)
Colors: Black, Chocolate, Dove, Dusty Blue, Grey, Ivory, Natural, Navy, Off-White, Sage, Sand, Taupe, and Burgundy
Dimensions of Suitable Futons: 10" x 54" x 85"
The H.VERSAILTEX's jacquard knitting blends both polyester and spandex to give it a near-infinite stretchability that allows it to fit a wide range of sofa sizes – from a 65-inch-wide sofa to as long as an 85-inch. This one-size-fits-all feature is made possible by its thick elastic cord that secures the H.VERSAILTEX to your sofa, making sure that it won't slip off.
But the H.VERSAILTEX provides a lot more than being easy to use. The stretchy fabric also helps increase comfort, turning your couch into something you can relax on for hours on end.
Cleaning the H.VERSAILTEX is simple too. You'll be relieved to know that you can toss it in the washing machine along with your other laundry. The easy-to-clean nature is one of the most significant benefits of owning a futon cover, as you can take care of spills and stains easily.
If you're looking for a comfortable and durable slipcover for your futon, the H.VERSAILTEX ticks all of our boxes, and we are sure it will tick all of yours too.
---
Futonfurnitures Futon Mattress Cover
The Futonfurnitures is the best futon mattress cover thanks to its irresistibly smooth and comfortable knitted fabric.
Material: 100% Polyester
Colors: Black, Chocolate, Burgundy, Grey, Lime, Blue, Orange, Pink, Red, White, Yellow, Light Blue, and Beige.
Dimensions of Suitable Futons: 6" x 54" x 75"
With a smooth yet stretchable upholstery, the Futonfurnitures Futon Mattress Cover can fit snugly onto a standard futon mattress of a sofa, up to 8" in depth. What's different about the Futonfurnitures Futon Mattress Cover is how it attaches to your couch. With its three side zippers, you won't have to worry about this mattress cover sliding off, perfect for restless sleepers.
Besides being stretchable, the Futonfurnitures futon mattress cover also offers an extra layer of comfort, thanks to its smooth polyester upholstery.
As it is made purely of polyester, the Futonfurnitures futon mattress cover is both highly durable and easy to clean. Like most futon covers, the Futonfurnitures Futon Mattress Cover washes up nicely in your machine and can be added to the rest of your laundry.
---
---
The Easy-Going stretch sofa slipcover offers an abundance of color options as well as impressive levels of comfort.
Material: Polyester Blend, Cotton, Fabric
Colors: Beige, Black, Bluestone, Brown, Camel, Chocolate, Christmas Red, Coffee, Dark Blue, Dark Grey, Dark Green, Greyish Green, and 25 more.
Dimensions of Suitable Futons: 6" x 54" x 75"
The Easy-Going Slipcover is woven in the same jacquard knitwork as the H.VERSAILTEX futon cover, which gives it a stylish and comfortable appeal. However, the feature that we love about the Easy-Going Slipcover is its wide range of colors to pick from. With so many colors to choose from, you will surely find the right one that complements the rest of your furniture in your living space.
The Easy-Going Slipcover works flawlessly to protect your futon sofa from daily wear and tear by adding an extra layer of protection between you and the couch. That means it can work effectively to catch spills and stains, all of which can be cleaned away easily in your home washing machine.
However, it doesn't just provide protection. The Easy-Going Slipcover also adds a layer of comfort too, perfect if your futon is showing signs of aging.
At such an affordable price, there is no reason why you can't pick up a few different colors of this futon cover to give an instant cosmetic change to your living space.
---
A resilient slipcover made from faux suede, the Easy-Going futon sofa slipcover is built to withstand everything your kids and pets can throw at it!
Material: Faux Suede Fabric & Foam
Colors: Black/Beige, Blue/Ivory, Brown/Beige, Camel/Ivory, Chocolate/Beige, Chocolate, Chocolate/Ivory, Christmas Red/Ivory, Coffee/Ivory, Cyan/Ivory, Dark Blue/Light Blue, Dark Grey/Beige, Grey, Grey/Ivory, Grey/Light Grey, Greyish Green/Beige, and 8 more.
Dimensions of Suitable Futons: 6" x 85" x 70"
Not only is the Easy-Going Futon Sofa Slipcover durable, but it's incredibly comfortable thanks to its quilted knitting and foam filling. Its hardy upholstery means don't have to worry about stains penetrating this slipcover, as it's water-resistant too.
Although the elastic straps that help secure the futon cover to your futon are a little unsightly, these can easily be hidden beneath the futon cover so they can't be seen. These straps play an important role as they prevent the Easy-Going Futon Slipcover from sliding off, making it great for your rowdy little ones.
Most importantly, the Easy-Going is a breeze to clean. It's machine-friendly and doesn't require ironing, so you can chuck it back on your sofa as soon as it's dry.
---
The Royal Heritage is a luxurious cotton futon cover, perfect for adding an extra breathable layer of comfort to your sofa.
Material: Cotton-Twill (100% Cotton)
Colors: Black, Bluebonnet, Brown, Burgundy, Cobalt, Hunter, Khaki, Kilarney, Natural, Navy, Olive, Orange, Purple, and five more.
Dimensions of Suitable Futons: 6" x 54" x 75"
Made from 100% cotton in a cotton-twill weave, the Royal Heritage truly focuses on giving you an extra layer of luxury. Besides comfort, the Royal Heritage Home Futon Cover helps provide a classy accent to your living space, thanks to its array of different color possibilities.
There's no need to worry about the Royal Heritage sliding off, as it will snugly fit your futon mattress. The Royal Heritage comes with a three-sided zipper that makes it incredibly easy to put on and helps keep it in place.
Royal Heritage uses 100% natural cotton to create a natural, breathable layer that helps to keep you comfortable when relaxing. Do keep in mind that cotton does tend to show wear and tear faster than man-made fabrics such as polyester, so it may need replacing sooner.
---
Channel your inner royal with the Younar Velvet Futon Cover – a futon cover truly fit for a King or Queen.
Material: Polyester (Velvet)
Colors: Black, Camel, and Silver Grey
Dimensions of Suitable Futons: 11" x 50" x 80"
The Younar is one of the softest futon covers we tested, all thanks to its luxurious-looking velvet covering. The Younar blends both elegance and comfort to form a wonderful futon cover for your sofa.
It may not be able to compete against the Royal Heritage regarding color options (it only offers three choices), but it can hold its own when it comes to comfort and style.
The Younar is especially comfortable in cold weather because of its thickness. This also helps to increase its durability and keep it looking great over time.
Cleaning the Younar is as easy as removing it and chucking it into the washing machine. Another great benefit of velvet upholstery is that it's water repellent. This means cleaning spills or stains only requires a damp towel and some elbow grease.
---
The OctoRose is a beautiful futon cover complete with intricate floral designs that add a summer vibe to your living room.
Material: Chenille
Colors: Canvas Blue, Chenille Grey, Chenille Navy, Chenille Sage Spots, Leatherlike Black, Leatherlike Brown, Linen Brown, Linen Dot Silver, Linen Coffee Leaves, Linen Print Brown Birds, Linen Print Yellow Birds, Oxford Camo, and Velvet 3D Animal
Dimensions of Suitable Futons: 8" x 54" x 75"
The OctoRose boasts one of our favorite fabric designs we tested. In a host of different colors and designs, this futon cover is one for those wanting to invite the outdoors into their home.
In addition to its unique floral designs, the OctoRose also has a unique feel because of its chenille fabric. Chenille, French for caterpillar, is a fuzzy fabric that gives it a soft and comforting texture. This quality fabric also makes the OctoRose durable, helping to withstand wear and tear.
As with most futon covers, the OctoRose is machine washable without any special detergents required – just treat it as you would a regular piece of laundry.
The OctoRose futon cover also comes with a long zipper covering three sides which allows for easy installation and removal. And like most futon covers, the OctoRose can snugly fit any standard-sized futon.
One thing that customers love about the OctoRose is that it doesn't attract pet hair. One of the most common reasons people install a futon cover is to protect their beloved couch from wear and tear associated with their pets, so having a futon cover that doesn't collect hair and dander is a real plus point.
---
Looking to jazz up your living room bedroom or office? The MIFXIN features a selection of colorful patterned covers, perfect for introducing a vibrant touch to your home.
Material: Polyester
Colors: Coffee, Grey, Purple, Dark Blue, Black, and Flower 01 to 35
Dimensions of Suitable Futons: 11" x 25" x 82"
Made from a combination of polyester fiber and spandex, the MIFXIN is both soft and elastic. This helps it fit snugly into any sofa futon while also providing an extra layer of comfort and protection.
And with over 35 different patterns to choose from, you will surely find one that complements your living room décor perfectly.
The MIXFIN also gives your futon sofa a layer of protection from spills and stains, helping in prolonging the condition of your couch by shielding it from daily wear and tear that your kids and pets will put it through.
When it comes to cleaning, the MIXFIN is easy to maintain. Like most of the futon covers in this list, it is machine washable and quick to dry.
---
The Magshion futon slipcover is one of the easiest to install, thanks to its three-sided zipper and uber-stretchy fabric.
Material: Polyester & Polyester Blend (100% Polyester)
Colors: Baby Pink, Black, Burgundy, Cherry Blossom Pink, Cinnamon, Coffee, Dark Grey, Grey, Hot Pink, Khaki, Light Blue, Lime, Navy Blue, Olive, Pumpkin Orange, Purple, Red, Sky Blue, Sunshine, Teal Green, Yellow, Aqua, Hunter, and Royal Blue
Dimensions of Suitable Futons: 7" x 54" x 75"
Just like changing the sheets on your bed, changing a futon cover can be a chore. The Magshion has simplified this process thanks to its three-sided zipper. What that means is you no longer have to jimmy your futon mattresses into the cover. Instead, you can easily slide the cover on without it snagging.
And with the Magshion being made of polyester, this means that it's both smooth and elastic. It is this elasticity that allows the Magshion to fit on almost any futon mattress. Polyester is renowned for being hard-wearing and durable, helping to add an extra layer of protection to your futon, helping to prolong its life.
You'll be happy to know that the Magshion is machine washable and can be combined with the rest of your laundry, requiring minimal fuss.
---
Best Futon Cover Buying Guide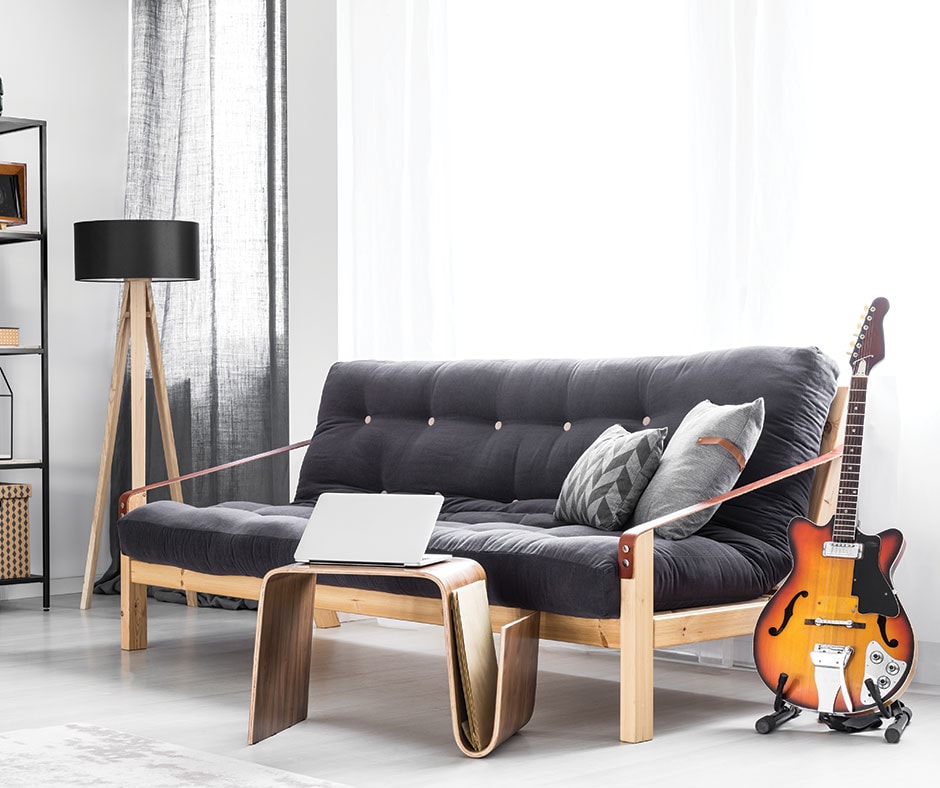 ---
What should you look for in a futon cover?
The main features to look for in a futon slipcover are comfort, durability, and ease of installation.
A good futon cover will help increase your sofa's durability without taking anything away from your couch's appearance. By using high-quality, soft fabrics, your futon cover should help to make your couch more comfortable to use.
Make sure your futon cover is machine washable so you can keep your futon clean and free from dirt and stains.
Pros and Cons of Different Futon Cover Materials?
Polyester is the most common material used in futon covers. It's a comfortable fabric that is both durable and easy to clean. However, static can build up easily on polyester, which can sometimes result in small shocks.
Another popular choice for futon covers is cotton. Cotton covers add a natural, high-quality layer that helps to increase comfort and softness. People often prefer cotton as it is a natural fiber that is breathable and sustainable. The downside is that cotton is usually more expensive.
Velvet is often made from a few different fabrics, with cotton or synthetics being the most common. Velvet certainly adds a touch of class to a futon and is incredibly smooth to the touch. Its short pile also means it does a great job in deterring pet hairs from sticking to the fabric. The downside of velvet is that it does require more regular maintenance than other materials.
Are Futon Covers Comfortable?
Futon covers are designed to be comfortable, as they add an extra layer to your futon. The choice of fabric will have a significant effect on how comfortable your slipcover is, with cotton and linen choices being firm favorites among futon owners.
Conclusion
Adding a slipcover to your futon is a great way to increase comfort, enhance durability or simply change up the aesthetic of your living space. We spent a lot of time testing the best futon covers on the market to come up with this top list to help you to make a smart buying decision.
We love the H.VERSAILTEX as it effortlessly blends style and comfort into a futon cover that is also incredibly affordable.
But if you're looking to jazz up your living space, why not consider one of the MIFXIN's vibrant colors to transform your room instantly.