Have you been fighting against dust build-up in your home? If so, you'll want to take a look at our list that includes 5 of the very best furniture polishes to repel dust.
If you're not sure what you're looking for, consult our buying guide. We've set out some key questions you can work through. Let's take a look!
In This Article We'll Discuss
5 Best Furniture Polishes to Remove Dust
---
5 Best Furniture Polishes to Remove Dust
---
Best Overall, Most Versatile
Product Details:
Can use on a wide range of surfaces
Won't leave fingerprints
Doesn't require buffing out
Won't cause a wax build-up
Can clean dust and quickly restore color
Won't leave a greasy feel
Three bottles of 50.61 ounces each
Our overall recommendation for the best furniture polish to remove dust is Bee's Wax. This brand gets the job done, and is also one of the cheapest on the list. They come in a pack of three, so you can use them for extended periods of time without having to repurchase.
Original Bee's Wax works on most surfaces. You can use it on marble, granite, wrought iron, stainless steel, wood, leather, and more!
Also, the product has a subtle lemon scent which will leave your home with a pleasant aroma. And, you won't have the buff the product out because it settles naturally. This product also won't cause a build-up of wax over time, and it won't leave a single fingerprint mark!
This furniture polish will restore your furniture's color. Also, it won't leave a greasy feel behind. Your furniture will be completely clean of dust and will look as good as new.
---
Best Scented
Product Details:
Citrus lemon scent
420 millilitres
3, 4, or 5 pack of productRemoves dust and traps allergens
You can't overlook this scented brand. This Pledge polish comes in a citrus lemon which will leave behind a wonderful aroma. So, in addition to repelling dust, Pledge Lemon will keep your home smelling fresh.
The new, larger design is now 420 millilitres. That's over 45% more than the previous 9.7-ounce size! You can opt for a 3 pack, 4 pack, or 5 pack.
---
Best Furniture Polish Wipes
Product Details:
Four packs each containing 25 wipes (total of 100 wipes)
Use on a range of surfaces
Reseal packs
Citrus scent
This polish is another product from Pledge because time and time again they demonstrate their efficiency. This product comes in a pack of four, with a total of 100 individual wipes.
As its title suggests, you can use Pledge multi-surface wipes on an array of surfaces. For example, you can use it on wood, granite, leather, and stone. Also, the wipes have a subtle citrus scent, so they'll leave your home smelling clean.
Once you open a pack, you can reseal them. Pledge recommends re-sealing the packs to maintain the wipes' moisture.
---
Best with UV Protection
Product Details:
Sun protection
No silicone
Repels dust
Shines wood
Woodland fresh scent
Are you looking to keep the natural beauty of your wooden furniture? If so, Guardsman Clean & Polish is for you! This spray polish will repel dust and enhance your furniture's shine, instead of dulling it.
Guardsman doesn't use artificial gloss in their product. Also, it helps protect your furniture from the sun and will hide minor surface scratches. The product doesn't contain harmful silicone and it will leave your home with a fresh woodland scent.
---
Best for Wood Furniture
Product Details:
All-natural
Chemical-free
Great for wood
Leaves a water-tight seal
5 different scents
If you're going to be applying polish to wood furniture, we recommend Z's. While removing and repelling dust, this product increases the beauty of your wood. With ingredients like tung oil, this all-natural beeswax polish will condition and repair the quality of your wood.
The product doesn't contain harsh chemicals, so it's completely food safe. So, using this on a dining table will never cause a problem. It will even seal out water, making your table water-tight. This will reduce the possibility of mildew and mold over time.
Also, Z's Wood Nectar is easy to apply. It only takes a few seconds to coat your wood furniture. The product is handmade in America . And, you can from 5 distinct scents: Cedar wood, Citronella, Citrus, Lemon Pine, or Tung Aroma.
Each tin of wax is 6 fluid ounces. That's more than enough to give your furniture a healthy coat.
---
Buying Guide
---
How to pick the best furniture polish to repel dust
There are three main things you should consider before buying polish: the scent, silicone content, and position of your furniture.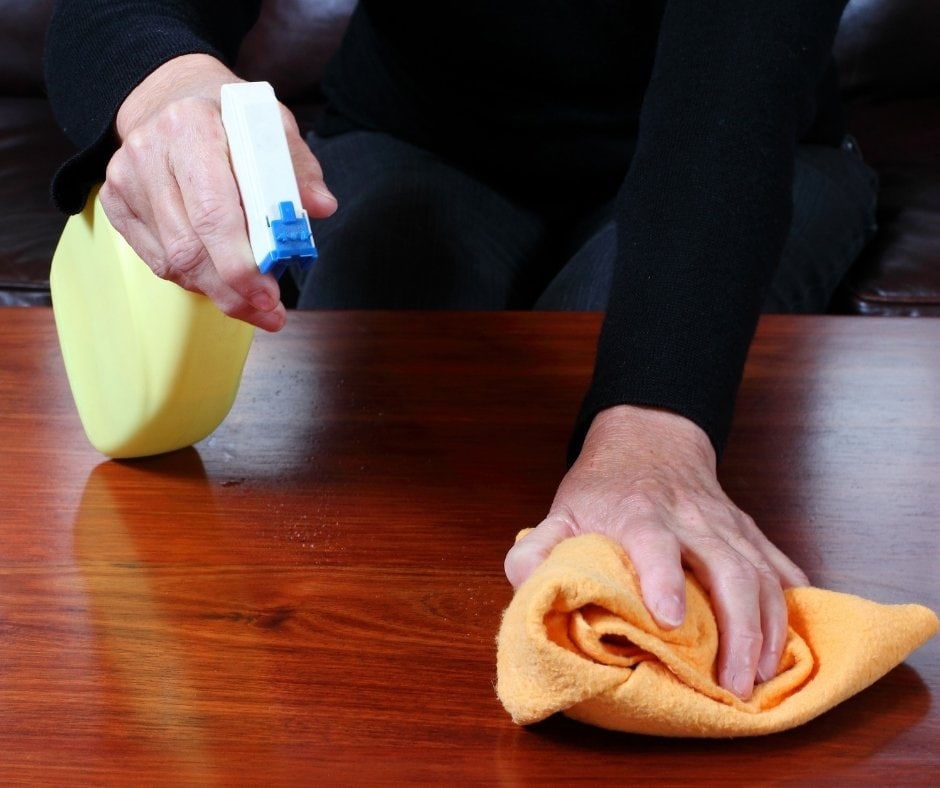 Scent
First, you want your furniture polish to smell good. Although its main purpose is to repel dust, you don't want to leave your house smelling strange. So, if you don't like a particular scent, then you may have to choose a different polish. We've provided a range of scents you can choose from on this list.
However, don't let scent be a complete deal-breaker. The polish aroma will only linger for 20-40 minutes after use.
Silicone
This might be the most important thing to consider when buying furniture polish. Products with silicone in them will damage furniture over time. They'll leave a residue on your furniture and will alter the color. Silicone products will darken furniture in an irregular pattern.
Also, silicone solvents can interact with wood and break it down. This can cause furniture to warp and degenerate over time.
It's important to consider how long you're going to have a piece of furniture. Silicone products are fantastic in every other way. So, if you don't care about the longevity of a piece of furniture, they would be fine.
However, if you want to keep your furniture for a long time, don't use silicone products. The Pledge products on this list contain silicone.
Position of your furniture
Finally, you should consider where your furniture is in your house. If it's is close to an open light source, it may need UV protection. Sunlight can lighten the color of furniture over time. If you want to protect your furniture, either keep it away from windows, or use a UV polish.
From our list, we recommend the Guardsman's polish for complete UV protection.
Does furniture polish attract dust?
Some kinds of furniture polish attract dust, but the ones on this list have ingredients that won't attract dust. However, a lot of cheaper furniture polishes use a high percentage of oil that can attract dust. It can also cause the dust to stick to the furniture.
Do different types of furniture polish attract dust?
Yes, some types of furniture polish attract more dust than others. Polishes with oil as a primary ingredient will make the wood slightly sticky. This will cause dust to stick to furniture more. Although it's not technically attracting dust, it has the same impact.
On the other hand, surface wax will make the surface smooth, so dust cannot adhere to the furniture. It will simply glide off.
If you're worried about dust, go for products that use wax over oil.
Why does furniture get dusty so fast?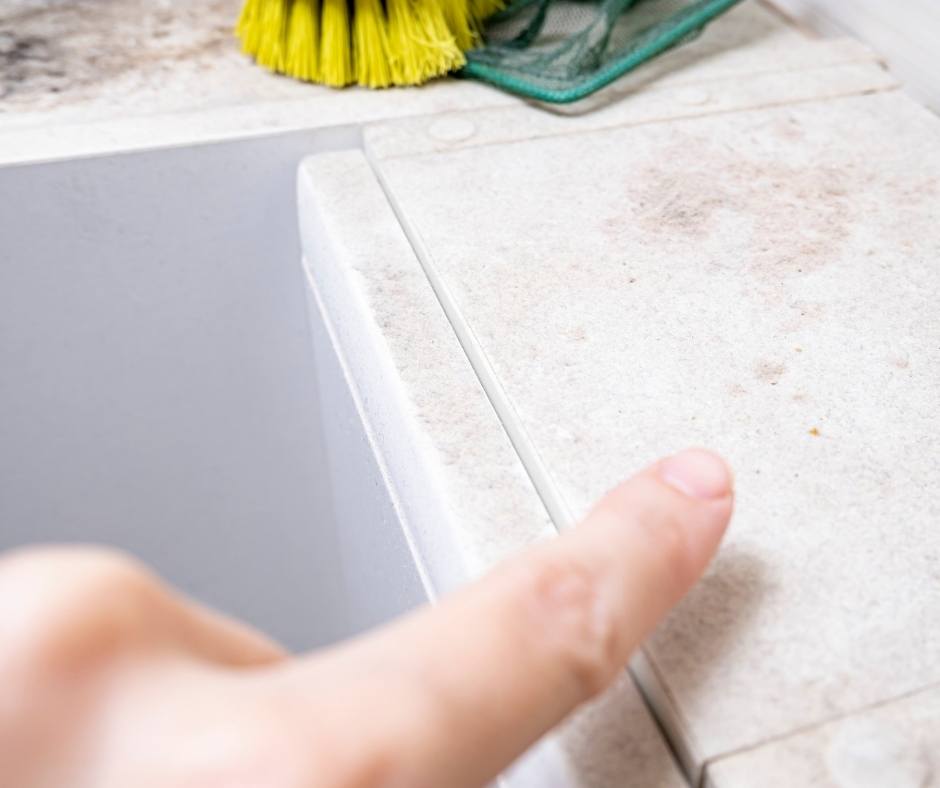 There are two main reasons why furniture gets dusty so fast.
First, furniture is stationary most of the time, so, dust can easily collect on it. As humans, we aren't constantly covered in dust is because we are mobile. Furniture sits in one place, allowing dust to gather and collect on its surface.
Second, your ventilation system could also be the problem. Over time, your air conditioning can begin to break down. That will allow dust from the attic or outside to come into your house. Once it's in your ventilation system, this dust can be blown throughout your home.
If you constantly find dust around the house, your vents may be the culprit. To check this, check for dust on the vent slats. You might be surprised to find a lot of dust. Regularly clean your vents to keep that from happening.
To clean them, you can use dusting spray and a wet microfiber cloth. Run it along the vent slats to collect all the dust. Also, you should take off the vent cover if you can. Start by cleaning the inside of the vent, then use the spray and cloth for the outside.
Once you've done this, your furniture should take a little longer to become dusty.
Does furniture polish help protect wood furniture from dust?
Some types of furniture polisher protect from dust. However, if you're using a liquid polish or an oil polish, they won't last as long. After a while, they won't prevent dust from collecting.
Also, liquid polishes can contain solvents which can turn your furniture brown or yellow. If you can, stick to semi-solid polishes when working with wood furniture. The Z's brand on our list is semi-solid.
We recommend semi-solid polishes because they will brighten your wood and protect from dust. The polish will keep the surface slick, so dust will slide right off. Polish also creates a barrier between the outside world and your wooden furniture. This keeps your furniture looking better for longer.
You only need to apply semi-solid polish every few years. You can use a buffing test to know when it's time to reapply. If you can't get it to shine, then it's time for more wax!
Conclusion
This list contains the best furniture polishes to repel dust. These products get rid of dust and will make your furniture look as good as new. Check out our buying guide if you need help selecting a polish. We've tailored the guide to make sure you know which questions to ask yourself before buying.