Wood floors are beautiful, but they can be a constant source of aggravation. Furniture can scratch, dent, and scuff your hardwood floors, and you can see the battle scars every single day. But you don't have to live with those scars if you don't want to, and adding a protective furniture pad could be a great solution.
Given the many choices out there – tap-on, nail-on, self-adhesive, and slip-on – it can be hard to choose the best one for your needs. The good news is you don't need to, as we've done the heavy lifting for you.
Check out the six best furniture pads for hardwood floors to save your precious floor. Topping the list is Waxman's nail-on felt pads, a heavy-duty product that offers long-lasting scratch protection.
In This Article We'll Discuss
6 Best Furniture Pads for Hardwood Floors
---
6 Best Furniture Pads for Hardwood Floors
Best Overall
Product Details:
Color: Brown
Size: 1 inch
Pack Quantity: 8 pieces
The ultimate choice when it comes to long-lasting protection, Waxman's nail-on pads can keep your floors protected for years to come.
Self-adhesive and slip-on pads, while helpful, can easily separate from your furniture legs when under constant use. If you're looking for the best furniture pads for hardwood floors that last longer, then this nail-on version from Waxman is your best choice.
As the name implies, these pads are affixed directly to the legs. This means that even if you move your furniture repeatedly, you don't have to worry about them coming loose. This way, you can keep your hardwood, ceramic, or linoleum floors protected for a long time.
Although Waxman furniture pads are nailed on, they're easy to attach. All you need to do is to center the pad on the furniture leg and tap it well with a small hammer to secure it in place.
The downside to this product, however, is that each pack only contains eight felt pads. Compared to Yelanon's 261, each set is only enough for at least two pieces of furniture.
---
Best To Keep Sliding Furniture
Product Details:
Color: Dark Brown
Sizes: 1, 1.5, and 2 inches
Pack Quantity: 136 pieces
With its wide variety of shapes and sizes, Furnimate's self-adhesive pads are ideal for homeowners with lots of furniture.
If you want pads that you can easily attach to your furniture legs, this product from Furnimate is perfect. These self-adhesive pads need little effort, as you only need to clean the legs, peel off the covering, and press the pad in place for 10 seconds – that's pretty much it!
While Furnimate pads are significantly thinner (only 0.2 inches) than Waxman's, they do come in a higher quantity. Each pack features products in standard sizes: 1, 1.5, 2, 1×1, and 4×6 inches. It also comes with 30 pcs. of 0.4-inch clear rubber bumper pads for additional scratch protection.
Do note that you will need to leave Furnimate padded furniture unmoved for 24 hours for best results. So if you want the best pads for hardwood floors that you can use right away, you're better off with the Waxman nail-on variety.
---
Best Non-Slip Pads
Product Details:
Color: Brown & Black
Sizes: 2 inches
Pack Quantity: 16 pieces
With its non-slip feature, your X-Protector pads help stabilize your furniture while maintaining a long-lasting grip.
While it's no secret that self-adhesive furniture pads are easy to use, they can easily slip away from the legs if used continuously. This, however, is not a concern if you opt for X-Protector's non-slip grippers.
Non-slip pads are a great way to improve your home's safety and protect your floors from damage. Non-slip pads are an excellent option for senior citizens because they can make the surface underneath furniture a lot safer. They're also great for young kids because they can prevent accidents and injuries.
This non-slip benefit is made possible by the product's tenacious adhesive feature – coupled with its 1/5-inch thick felt and soft rubber construct. By adding all these in the mix, X-Protector pads can keep your vinyl, laminate, and hardwood floors free from scratches – and those ear-bleeding grating sounds.
Compared to the Waxman product, X-protector pads are an inch bigger (2 inches vs. 1 inch). This makes it perfect for bigger or heavier furniture, such as sofas and couches. Should you need to use it for something with smaller legs, you can simply cut the pad to suit your furniture.
---
Best for a Custom Fit
Product Details:
Color: Beige
Sizes: 8 by 6 inches
Pack Quantity: 8 pieces
Looking for the best furniture pads for hardwood floors that you can customize to fit? This is the product for you.
Placing too big (or small) a furniture pad on the legs of your furniture completely removes its protective abilities as the pad is more likely to come off easily.
This is why it's essential to have various pad sizes, perfect for different types of furniture. With the X-Protector's heavy-duty premium felt pads, you can create the ideal size for your table or furniture with a simple snip. Thanks to X-Protectiors' superior adhesion, you can rest easy knowing that your table is protected from scratches.
Not only do these furniture protectors keep your floor safe from scratches, scuffs, and spills — but they're also eco-friendly too. Made with recycled materials, these little pads are doing your floors and Mother Nature a huge favor.
---
Best Variety Pack
Product Details:
Color: Black
Sizes: 3/8, ¾, 1, 1.5, 2, 3×4, 1×1, 6×1/2, 2×2, and 5×6 inches
Pack Quantity: 261 pieces
Yelanon comes with 261 different sized felt pads in its set, so it's the best furniture pad for hardwood floors if you want to cover a lot of ground.
Yelanon's felt furniture pads are a great alternative to the X-Protector heavy-duty pads. This jump-sized pack offers 261 different felt pad sizes, which is perfect if you're looking for cushioned furniture protection without having to cut your own pads to size.
You don't need any tools to install Yelanon pads, so it's super easy. Just clean the legs of your furniture, then stick the pads on for ten seconds or more, and it's done. Yelanon made installation super straightforward, so you can protect your furniture and move on with your day.
Like the Furnimate Furniture Pads, you must leave Yelanon pads on for 24 hours before they are ready to use. If you want to move your furniture immediately, then Waxman's nail-on pads might be better suited for your needs.
---
Best for Heavy Duty Furniture
Product Details:
Color: Brown
Sizes: 3×3 inches
Pack Quantity: 16 pieces
Not only is Yelanon the best furniture pads for hardwood floors, laminate, and tile surfaces, it's made with a durable rubber that keeps your furniture protected for years to come! The perfect gift for yourself or someone you love.
If self-adhesive pads don't seem to 'stick' to your furniture, fret not, as Yelanon's slip-on pads are sure to do the trick. All you need do is put the leg on the coaster, and you're done!
A great thing about these furniture cups is that you don't have to worry about the shape of your furniture feet. Whether round or square, it will easily fit in the 3×3-inch furniture coaster.
Yelanon Floor Grips have been designed specifically to handle heavy-duty furniture. These furniture feet are suitable for a range of heavy-duty items, including beds and armoires, as well as for pianos and large couches.
The best part is Yelanon offers a 100% guarantee on all products, so you can trust that this item will exceed your expectations for quality.
---
Buying Guide
---
How to pick the best furniture pads for hardwood floors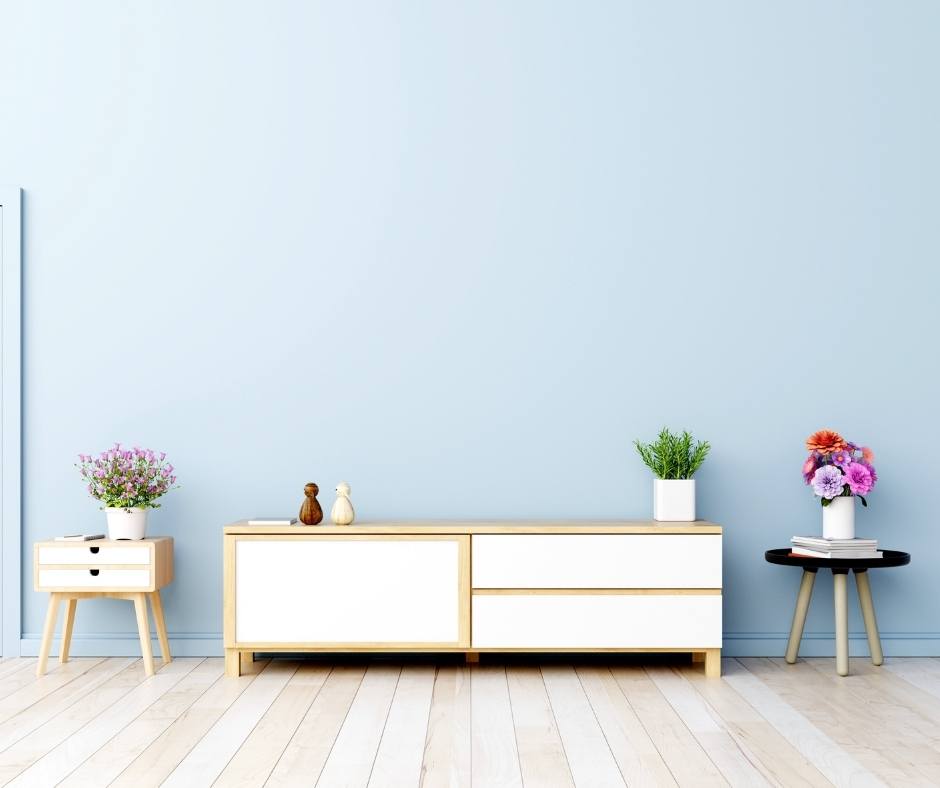 There are two things you need to consider when buying the best furniture pads for hardwood floors:
Type
There are four types of furniture pads.
A tap-on pad needs to be installed ('tapped on') with a hammer.
A nail-on product, such as the Waxman pads, will require you to drill a hole (the Waxman variety is pre-drilled, though) to attach the pad to the leg.
Both of the above options are more durable since they are 'installed' on the leg.
Self-adhesive pads, like the Furnimate and X-Protector brands, are something you stick to the legs.
Slip-on models like the Yelanon pads, slip directly on the furniture legs.
Although both of these options are easier to use, they're not as durable as the two types above.
Size
Don't forget to measure your furniture legs before you buy the protective pads – keep in mind that you'll want pads that are the same size as your furniture's legs. Alternatively, you'll need to grab some scissors and cut them to size.
How to make sure your felt pads stay on
If you have wooden furniture, you need to clean, scrub, or sand the leg bottoms before applying the pads. This is because the rubber pads will stick better if they adhere to clean wood.
Once you're done, make sure to remove any sanding dust. Clean the leg with rubbing alcohol and let it dry thoroughly. Once they're smooth and clean, use pads to stick legs to the surface of your table. If you don't want your table legs to peel off when someone bumps into them, make sure you let them dry before moving.
If it still doesn't do the trick, a nail-on product may help. For that, we suggest checking out Waxman.
Will felt pads completely protect hardwood floors from furniture?
No. Furniture has to be cared for just like any other piece of the home. However, felt pads are a great way to protect hardwood floors in high-traffic areas and are a great way to add extra cushioning.
How often should you replace furniture pads to keep hardwood floors safe?
We recommend that you replace your furniture pads every couple of years. To protect your hardwood floors, you should make sure that the pads underneath your furniture don't have any wear or tear. If they are showing signs of damage, it's a good idea to get them replaced.
Conclusion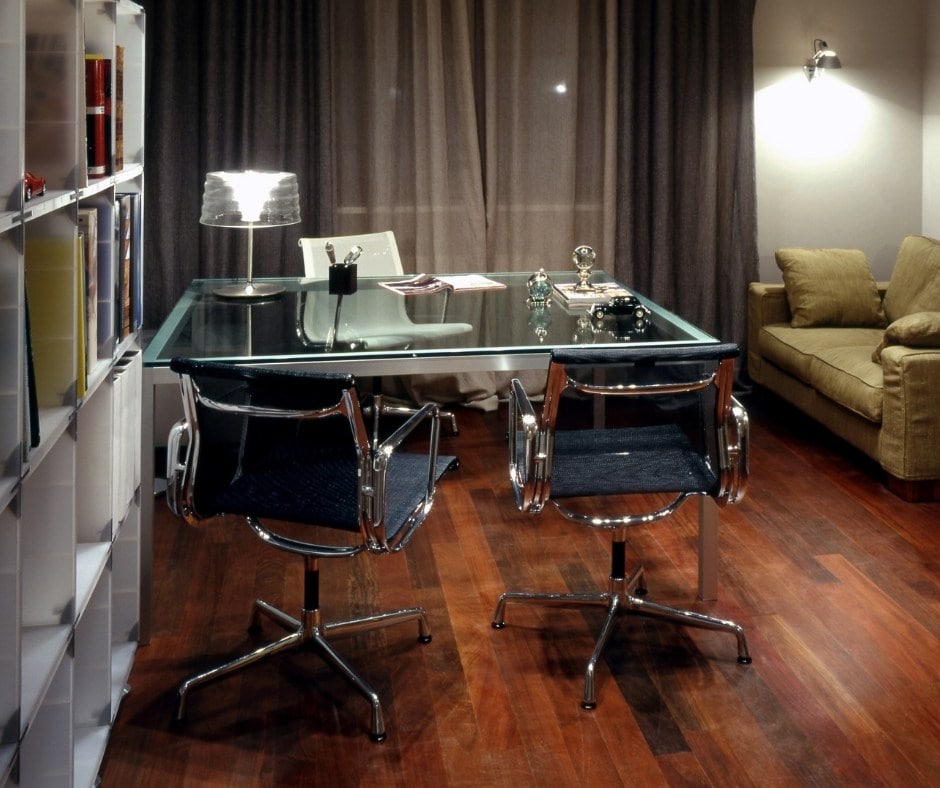 When it comes to the best furniture pads for hardwood floors, the clear winner is the nail-on Waxman pads. They can be used right away and don't need a 24-hour wait time required with self-adhesive pads.
If you're not a fan of nail-on pads, try the Yelalon rubber slip-on pads. These pads are easy to apply, durable enough for heavy furniture, and don't require any glue or nails.