Did you know that the average person spends around 12 hours sitting on their sofa every day?
Whether you're watching TV or reading a novel, it pays to sit on a comfortable couch. And for that, you need to pay attention to your sofa cushions.
Over the past week, we've put some of the most popular foam choices to the test. Check out the results of our head to head battle to determine the best foam option for you and your family.
In This Article We'll Discuss
Best Foam for Sofa Cushions Table
[hfe_template id='6181′]
Best Foam for Sofa Cushions Reviews
Best Overall Foam For Indoor Sofa Cushions
Are your tired couch cushions adding to your posture problems? Consider making a switch to FoamTouch upholstery foam. With a plush depth enough to guarantee superior comfort, the thickness makes this foam the perfect choice for seat and back cushions.
Given its high-density, this firm yet comfortable cushion is perfect for your spine. The density works by preventing you from sinking too much into the sofa. This helps you to keep your head, shoulders, and hips well-aligned. But make no mistake. Firm doesn't need to mean uncomfortable.
The FoamTouch has a density of 1.8 and a compression rate of 44 pounds. If that doesn't mean much to you, jump to the end of this article, where we discuss these measurements in detail. What this does mean is that the FoamTouch toes the line between soft and firm very well. This is why its a popular all-round choice for most customers.
In short, the FoamTouch provides a fantastic blend of soft cushioning and supportive firmness.
One of the great things about this foam is that it boasts a 100% recovery rate. So even if it put under the stress and strain of prolonged use, the foam guarantees to spring back to its usual density.
With due care and attention, this foam has a lifespan of up to 7 years. This makes it an excellent choice for long-term comfort.
Top Tip: Should you buy this foam, remember to let it breathe for 2 days! This gives the material ample time to 'inflate' back to its standard shape. Once it's restored, you can start your cushioning project.
Best For DIYers
Do you want to enjoy the same degree of memory foam plushness you have on your bed, on your sofa cushions? Look no further than the Amazon Basics memory foam mattress.
This 1.8 density foam comes with a soft middle layer and a hard bottom foam for durability. This design helps the foam distribute your weight evenly. As such, it can keep you comfy even with prolonged use. Losing a few hours watching TV or reading a book can now be more comfortable than ever!
This fantastic material also helps to regulate your body temperature. Thanks to breathable air holes that allow air to circulate freely within the foam, it's perfect for use in warmer climates. At the same time, the foams' sturdy construction provides excellent support for people with back issues.
With its twin mattress size (75 by 39 by 8), it's thicker and longer than the top FoamTouch choice. As such, it provides endless possibilities for DIY cushioning projects.
While testing, many of our experts did find this product very soft, so make sure you have an idea of what you are looking for before diving in and buying. You may also need to pick up some extra tools to ensure your DIY project runs smoothly.
Best Semi-Firm Cushion
While it's not as popular as high-density foam, a semi-firm cushion has its merits. Firstly, it helps distribute your weight evenly. As such, it could reduce painful pressure points on the body. With this kind of support, GoTo Foam makes for the best semi-firm cushion on this list.
With a density of 1.8 and a compression rate of 36 pounds, this foam is extremely versatile. In fact, it's suitable for sofas and a lot of other uses around the home. Should you have some spare, you can use it to fill car or boat cushions, or even to rejuvenate your prized poker table.
One of the best things about GoTo foam is its durability. With careful use and maintenance, it can last for 7-10 years.
If cost is your main concern, investing in foam that will stand the test of time is a no brainer, and GoTo foam is a widely praised choice.
Best Sofa Filling to Keep Shape
If you're perfectly happy with the firmness of your existing cushions but want to make them a touch comfier, consider Mybecca padding. The great thing about this padding material is that you can use it for a variety of upholstery projects around the home.
Measuring 36 by 15 inches, this batting is 100% polyester dacron. Compared to other fibers, this material is non-absorbent and mildew-resistant. It's also hypoallergenic, making it perfect for a 'sensitive' household.
It's also easy to cut, so you don't need professional tools to begin your project. Layering it on is also very easy, as you have the options of gluing, stapling, or using a spray adhesive. Covering your foam in Mybecca padding helps add that extra bit of comfort, which will welcome you after a long day at work.
If you're looking to save a few dollars, choosing to add padding is cost-effective and can achieve fantastic results.
Best Foam for Outdoor Sofa Cushions
If you spend more time lounging outside than in, you need to check this out. But, is it us, or is outdoor furniture always so stiff and uncomfortable? Well, it's time to consider adding foam cushions on your trusty patio chairs. With the AK Trading foam cushion, you can enjoy the great outdoors without hurting your backside.
There are several reasons why we love this choice for outdoor use. The biggest, however, is that it's fire-retardant – a quality that suits outdoor chairs well. Use this foam around BBQs and fire pits safe in the knowledge that you and your family are well-protected.
But although these features lend themselves to outdoor use, there's no stopping you from using this in your indoor furniture as well.
While it's not as dense as the others, it has a 'give' that makes this foam super comfortable. Despite a low-density rate of 1.4, it has a reasonable compression force of 33 pounds. With its 100% recovery rate, it's sure to retain its shape even with years of use.
Top Tip: Use this with the MiracleMist protectant to keep your outdoor couch safe from mold or mildew.
Best for Softer Sofas
Similar to the firmer 6-inch Goto foam, this variant comes with a density of 1.8 and a compression rate of 36 pounds. The only difference is its thickness, making this the ideal foam for sofas, cars, or boat cushions.
Many of our customers use this GoTo Foam to rejuvenate their sofas. It's especially useful if your cushions have begun to sag and make for a less than pleasant seating experience. During our testing, we completely replaced the cushions on one of our sofas, and the outcome was remarkable.
Not only does this foam offer superior comfort, but it worked to make our somewhat tired sofa look as good as (almost) new.
.
Despite being soft, this foam is as durable as the others on this list. It's also easy to use, as you can simply glue several layers together if you want a thicker cushion. With an impressive lifespan of 7 to 10 years, this foam gives you the ultimate bang for your buck.
Cheapest Foam for Sofa Cushions
Good news! You can update your aging sofa cushions without burning a hole in your wallet. With the 72 by 24 by 1-inch IZO cushion, you can enjoy a lovely yet inexpensive seating experience.
Despite its affordability, the IZO cushion comes close to some of the top performers on this list. With a compression rate of 44 pounds, it goes toe to toe with FoamTouch. However, with a density of 1.5 pounds, those who prefer a firmer couch may struggle with the 'softness' of the IZO.
The density makes this foam suitable for dining room chairs, car seating, and boat cushions, which you tend to use for shorter periods.
There's no denying that the IZO foam is a cost-effective option for your sofas or any other upholstery project around your home.
Best Value for Money
Although replacing the foam on your sofa can be relatively easy, its important not to overlook any safety implications. After all, our sofas need to meet strict safety requirements, so it makes sense foam should too.
One of the leading US certifications is CertiPUR. This guarantees that the foam meets strict US safety requirements.
And while such certifications are great to have, they also come with an added cost. Thankfully, there's the AKTRADING rubber foam to help balance things out.
While the foam itself is inexpensive, you do need to make some sacrifices. For one, it has a relatively low compression rate of 33 pounds. It also comes with a relatively low-density rate of 1.2, which is not ideal for those with back issues.
Despite this drawback, this foam has something that others don't: a black hue. If you live in a household that's prone to spills and stains, this foam will work in your favor.
Firmest Foam Cushion
Firm foams are incredibly durable because of their high compression rates. Such is the case with Isellfoam, which is one of the top perfomers on our list. In fact, it's made to last for 7-12 years. Even with its 1.5 density, it can help re-shape even the floppiest of cushions.
Measuring 80 by 30 by 6 inches, this product is one of the longest in the list. It offers excellent value for your money since it goes a long way. It's also very versatile and is convenient for many uses around the home. Heck, you can even use it for golf car seats, cots, and workout benches! Like the Aktrading foam, this product is CertiPUR US-Certified as well. That means it's devoid of heavy metals or ozone, making it an excellent choice for sensitive households.
The Best Foam for Sofa Cushions Buying Guide
How To Choose The Best Foam For Sofa Cushions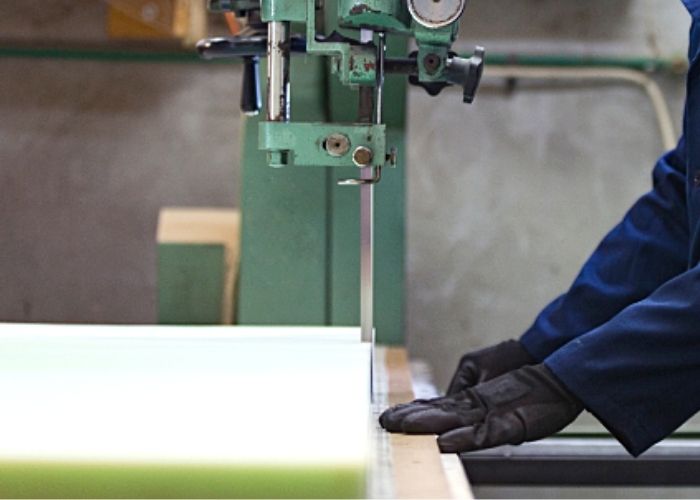 Keep in mind the following when choosing foam for your sofa cushions:
Density
This refers to the foam amount per cubic foot of material. The two most common types of foam used in cushions are:
High-Density Foam
When it comes to understanding the density rate, know that the higher the number, the denser the foam.
The average density of most sofas falls between 1.5 and 2.5. The offerings from GoTo Foam come in around 1.8, making it the perfect balance between not too soft or too hard.
However, most furniture pieces come in the 2 to 2.5 range. In essence, high-density foams are best for individuals with posture or mobility issues. This is because they provide extra support.
Soft Foam
As the name implies, 'soft foam' comes at a lower degree of density, giving it more 'give.' As such, low-density models, such as the Aktrading option, can feel softer.
Although soft sofas are great for reclining and lounging, they are less suitable for those with back problems or weight issues. Soft foam is best used for furnishings that require a more plush feel, such as pillows and sofa linings.
Compression Rate
To put it simply, the 'compression rate' refers to the amount of force required to 'compress' the foam by 25%. This means that the higher the number, the firmer the foam. Sometimes you'll see the compression rate referred to as the Indentation Load Deflection (ILD).
In the case of Isellfoam's 46-pound compression rate, a 46-pound individual, when seated, would compress the foam by a quarter.
Tip: Four numbers represent your sofa's density and compression. For example, a couch rated 2735 means that it has a density of 2.7 and a compression rate of 35.
Weight
Apart from your preferred level of comfort, you should factor in weight. This includes yours – and the other people who will use it. Remember, a higher ILD, such as that of GoTo Foam, is suitable for heavier users.
Wrapping
Some cushions contain more than just foam. If you struggle to achieve your desired level of comfort, you could make use of something like Mybecca padding to soften the feel of your cushion.
The thickness of wrapping usually ranges from 0.5 to 1.5 inches. The thicker the wrapping is, the more plush your cushion would be.
While this sounds mighty comfortable, wrapping could eventually flatten over time.
Longevity
How long your couch cushions lasts depends on how you use it, and how well you take care of it.
But density of your cushions can also have an impact. Generally speaking, the denser the foam, the more durable and long-lasting.
Foam with a density 1.8 can last for about 5 years. A couch with a density of 2, on the other hand, could last for about 10 years. Higher-density models such as Isellfoam last for about 12 years.
How to Maintain the Foam of Your Sofa Cushions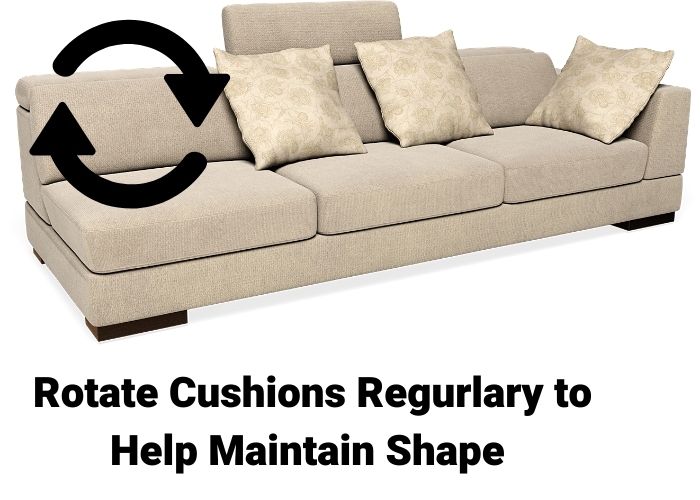 What's great about foam is that it requires little maintenance. Long gone are the days when you need to plump your feather cushions. Instead, all you need to do is rotate each cushion regularly. This rotation helps prevent the cushion from becoming compacted through repeated use.
How to Clean Sofa Foam Cushions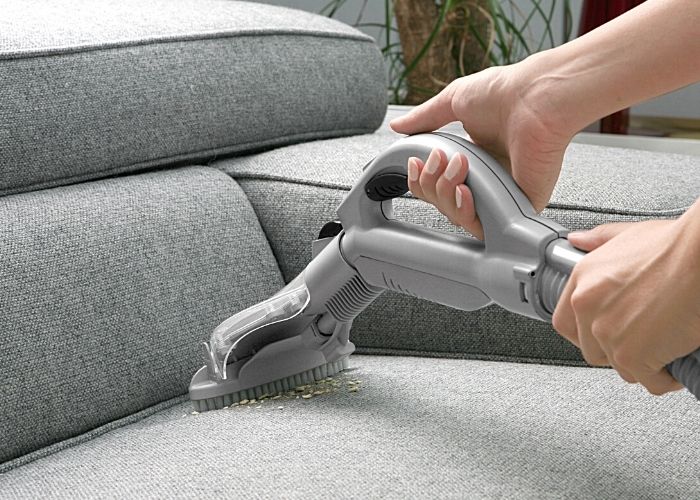 If only the surface of the foam is dirty, remove the cushion cover first. Clean the area with upholstery shampoo or white shaving cream. Next, wipe the suds away with a dry cloth.
Should you need to clean the entire cushion, submerge it in warm water. Add detergent and press the affected areas firmly. This will cause a suctioning effect that cleans the inside of the foam.
Rinse the foam by applying weight with a downwards motion, pressing down. Like washing, this action will help rinse the foam layers inside.
Wrap the foam in dry towels and push down to drain the water. Do this repeatedly until the cushion feels dry.
For best results, let the foam dry out under the sun.
Wrapping Up the Best Foam For Sofa Cushions
Foam cushions offer comfort and support without the need for much maintenance.
While it's hard to get the best of both worlds, you could do so with FoamTouch foam. With a density of 1.8 and a compression rate of 44 pounds, it won't lose shape even after years of use.
If you want a memory foam experience, then you should set your sights on the Amazon Basics foam. While it's pricey, it has a good density and a plush feel.