A bad back is a problem for many of us. Unfortunately, it can be made worse by the wrong type of sofa. While a soft couch might be comfy, it can throw your body off its natural alignment.
Well, the good news is you don't have to suffer in silence any longer. We've spent the past week putting these firm couches through their paces. Read on for our top picks!
If you're one to sit and while away the hours in front of the TV, your lower back will love the Novogratz Brittany sofa. It has firm cushions made with polyester and foam – designed with a ribbed tufted cushion back. With these materials, the couch remains plump and plush – even with prolonged use.
Feeling the need to stretch out and catch 40 winks? This beautiful futon can be converted to a sleeper. All you need to do is adjust the back for some well-deserved shut-eye.
Want somebody else to join you? That's entirely possible with Brittany's sturdy frame and legs. Made of oak, it's guaranteed to support you and your family for years to come. As it can carry a max capacity of 600 pounds, it makes for a good lounging chair with friends and family.
More than just being back-friendly, the Brittany futon is easy on the eyes as well. In fact, it's one of the most beautiful looking couches we have tested this year. Available in 8 shades, you can choose from a classic blue or dark grey – to a more vibrant mustard or persimmon.
Are you looking for a sophisticated sofa for back support? If you have a bigger budget, then set your sights on the Stone & Beam Bradbury couch. An updated version of the Chesterfield, it can add a wonderful sense of style to an otherwise dull room.
While the price may scare you, this tufted sofa proves to be a worthy investment. It has firm cushions that help promote a proper posture. As it minimizes slouching, it can help reduce lower back discomfort as well.
Construction-wise, the Stone & Team Bradbury couch has a durable frame and sturdy legs. Constructed with wood, it can carry a tremendous amount of weight with relative ease. With its sturdy upholstery, it can resist the usual wear and tear. It's also effortless to clean and maintain.
While it may be the most expensive on the list, it has something that others don't: a 3-year warranty. This is a far cry from the usual 1-year offers, with some having no warranties at all.
With this peace of mind, this couch is a worthwhile investment for those who have a little extra to spend.
The River Sloane mid-century couch, hands down, is one of the best sofas for back support. After all, it comes with firm cushions that conform with your body's shape. As they help distribute your weight evenly, they could even help to ease existing back pain.
Another useful feature of this sofa is its seat height. At 20 inches, it is designed to provide support without making you feel uncomfortable.
With its wooden legs and frame, you can really put this sofa through its paces. A sturdy construction is essential for back pain sufferers, as a sagging couch is a no-no. This can bring you discomfort, especially if you like lounging.
More than just being an ergonomic sofa, the River Sloane is a lovely design piece. After all, it's available in 8 classic colors that can complement any room decor. Made with durable upholstery, it can resist visible signs of wear and tear, while cleaning is insanely easy.
Oh, and with its 1-year limited warranty, you can be confident any issues will be dealt with swiftly.
If you're looking for a compact sofa with back support, then the Serta Copenhagen couch is another great choice. With a compact length of 78 inches, it can fit any small apartment, dorm, or office.
Despite its portable size, this sofa comes with features that can significantly help your back. For one, it has seat cushions with individual coils and high-density foam. This prevents the couch from sinking too much, even if being used by two. It can help promote spine health by keeping your head, shoulders, and hips well-aligned.
Its pillowed back cushions, on the other hand, meet the recommended seat height of 21 inches. As they are designed to retain their plumpness, they won't let your back sink, which could lead to further problems.
Even with its economical price, its quality is comparable to more expensive sofas for back support. After all, it is made of a hardwood frame designed not to warp or aggravate your spine.
With its plush upholstery and wide array of color choices (15!), this comfortable sofa proves to be a cost-effective buy.
As the old saying goes, "you get what you pay for." This statement is more than applicable to the River Aidan sofa. Its many high-quality features give you the best value for your buck (and back).
To start, it is made with luxurious leather upholstery – a durable material as it is beautiful. Since leather is famed for its hard-wearing properties, this sofa can keep looking elegant for years to come. Besides, we think leather sofas truly come into their own once they start showing signs of wear.
Another good thing about this leather sofa is that it's easy to clean. All you need is soap and water, and you're good to go! The back cushions are also removable, making ongoing maintenance effortless.
While the River Aidan is known for its attractive aesthetics, its insides are just as good. After all, it comes with firm cushions that support perfect posture. It also has a wooden frame and legs that won't get deformed even with prolonged use. With its 1-year limited warranty, the River Aidan sofa is worth every penny.
If you want a space-saving loveseat that can support significant weight, choose the Modway Engage. With a seating capacity of 1300 pounds, it's one of the certified heavyweights on this list.
Its sturdy design is made possible by its superior construct. With its solid wood structure, it can support your body with ease. This quality also means you don't have to worry about the sofa sagging. This unfortunate event can trigger back issues.
Comfort-wise, this loveseat is equipped with supportive cushions. They meet the recommended thickness (6 inches) and are filled with firm foam. This material keeps your body aligned as it prevents you from 'sinking' into the seat.
While this is more of a sofa for back problems, the Modway Engage loveseat serves as beautiful decor. With its mid-century design and tailored lines, it can invoke a retro-modern look. Available in 12 colors, it can help you achieve a classic look or vibrant, modern style.
According to WebMD, a 135-degree recline puts the least amount of stress on your back. For this, you need a product that offers maximum support. Enter the Homelegance Resonance couch, a reclining sofa that cups your back correctly. With its lever mechanism, you can easily adjust the chair to support your torso and alleviate soreness.
Stuffed with high-density foam, it can handle a high degree of compressive force. With that being said, this couch keeps your body aligned, even through prolonged use. You also don't have to worry about sinking in, which is a bad trigger for people with back problems.
Despite its bulky appearance, this sofa could add a touch of modern elegance to any room. You can opt for a black/brown leather upholstery model known to be sturdy and wear-resistant. Another option is microfiber, which is stain resistant. Both styles are relatively easy to clean, making this an ideal couch for families with kids and pets.

Last but by no means least is the reasonably-priced Zinus Jackie sofa. Despite its affordability, it is considered one of the best firm sofas for bad backs.
For one, it comes with durable foam cushions that help promote a good posture. It can prevent you from hunching, a habit that harms your lower back.
One of the biggest bonuses of this couch is its tool-free assembly. Once delivered, you can set this couch up in under 20 minutes. Yes, we timed it!
Removal of the back cushions to plump or clean them is simple. Although the seat cushions are non-detachable, their polyester upholstery is easy to take care of.
As the sofa is made of a wooden frame, it is relatively durable. Wood, after all, is more robust and sturdier than a metal frame. With its 1-year limited warranty, your mind (and body) can rest well on this sofa.
Best Firm Sofas for Bad Backs Buying Guide
What are the Benefits of Buying a Firm Sofa for your Back?

A firm sofa helps correct bad posture, which is the most significant cause of back pain. It also reduces the pressure on your hips and tailbone, leading to lower back problems.
They can also facilitate proper blood flow, in contrast to a soft cushion. The latter may hinder circulation, which could lead to a pooling of metabolic wastes. Consequently, this could lead to more pains and aches in the body.
Things to Look for When Buying a Firm Sofa for your Bad Back

If you continue to suffer from constant back pain, it's time to make a switch for the better. But before you make you purchase, do consider the following factors:


Cushions
While a soft cushion is undoubtedly comfy, it is terrible for your back. The best way to minimize the pain is to opt for a firm cushion. Ideally, it should be made from high-density foam and measure about 4 to 6 inches in depth. A sofa that meets these specifications magnificently is the Modway Engage couch.
Seat Height
Slouching can aggravate your back pain. It's important to sit straight, which means you should pick a couch with 20-21-inch seat height. This is higher than the norm, as the average is 17 to 18 inches. However, a Cornell University report says that this provides better trunk weight support. The best couch that fits the recommendation is the River Sloane mid-century sofa.
Seat Depth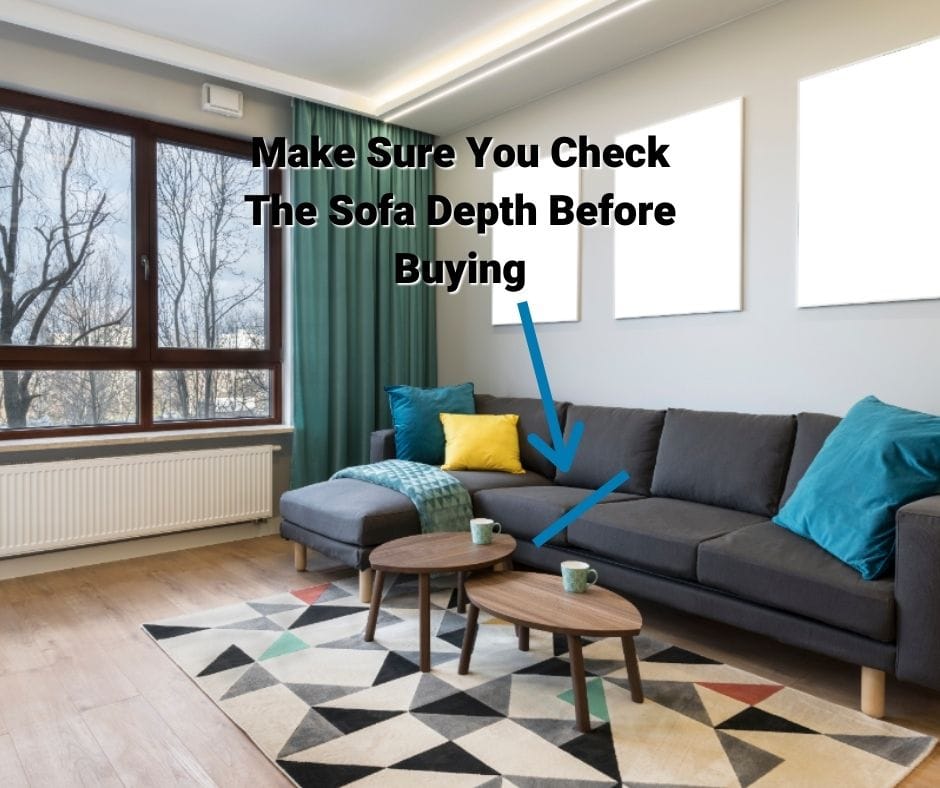 The recommendation is 16.5 inches for fixed seats. As for adjustable ones, the measurement should range from 14 to 18.5 inches. This will prevent you from slouching as this depth will allow you to use the backrest comfortably. At 19 inches, the Homelegance Resonance sofa is closest to the ideal seat depth.
Armrest
While an armrest is meant for your arms, it could do wonders for your back as well. Such is the case with the Stone & Beam's pad-style armrests. They help relieve the stressful load on the back brought about by the arms and hands.
Frame
You don't want your sofa to lose its shape after a few years of ownership. It is terrible for your back because once the frame sags, it won't adequately support your body. This could lead to aches and pains, even if your cushions remain perfectly firm.
With that being said, it's best to choose a sofa made from kiln-dried hardwood, just like the Rivet Aidan sofa. Since the kiln process eliminates unwanted moisture, it can keep the frame stable for the years to come.
Good examples include maple, cherry, oak, walnut, ash, and oak.
Position
You need a couch that vertically aligns your head, shoulder, and hips. At the same time, you should be able to put your feet flat on the floor – even if you lean your back against the sofa.
As you do so, your knees should be on a 90-110 degree angle to your hips. There should be some space in between the back of your knee and the chair, though. This will prevent undue pressure on your vessels, according to Dr. David Rempel of UC Berkeley.
What is the Ideal Sitting Position for People with Bad Backs?
Apart from getting a decent sofa, you should be conscious of your position as well. The best way to avoid discomfort is to place your feet on the floor while resting your back. This keeps your head aligned with your shoulders and spine. At the same time, it maintains your hips in a neutral position.
Although this position is recommended, small reclines can work wonders. This featured is best offered by the Homelegance Resonance sofa.
Conclusion
There are many choices when it comes to firm sofas for bad backs. While all on this list are reliable options, nothing comes close to the River Sloane mid-century sofa.
With firm (yet comfortable) foam cushions, as well as the ideal seat height of 20 inches, your back will be thankful you decided to make the purchase.
If the River Sloane's price tag is too much for you, your next best option is the Modway Engage sofa. Even with its reasonable price, it has a solid wood frame and firm foam seating. It also has a 1,300-pound capacity, which is rare for loveseats.


FAQ For Firm Sofas For Bad Backs
Is a firm Couch better for your back?
Yes, as it can provide maximum back support. It can also reduce discomfort by equally distributing the force throughout your body.
What kind of sofa is good for a bad back?
A sofa with firm cushions, a 20 to 21-inch seat height, and a seat depth of 14 to 18.5 inches is good for your back. It should also keep your body vertically aligned, as this will prevent you from slouching.
Why does my couch make my back hurt?
This may be due to the nature of your sofa. If you have soft cushions, chances are they may be the reason behind your back problems.