Have unpleasant smells infiltrated your home? If so, look no further than this list of fabric deodorizers. Each of these is one of the best fabric deodorizer sprays for furniture. Each of them performs exceptionally. They neutralize odors and replace them with fresh scents. You can use all of the products on this list on furniture.
This article will break down a variety of fabric deodorizers. Each of these excels in a specific category. Browse through the categories until you find one that aligns with what you're looking for. By the end of this list, you'll know exactly which fabric deodorizer to go for!
In This Article We'll Discuss
5 Best Fabric Deodorizer Spray for Furniture
---
5 Best Fabric Deodorizer Spray for Furniture
Best Commercial Strength
Product Details:
Comes in many sizes and pack options
Works in 60 seconds
Kills up to 99.99% of bacteria
Comes in citrus, lavender, fresh linen, or eucalyptus
Works as concentrate, providing up to 32 gallons of disinfectant per 1 gallon bottle
If you need a commercial strength fabric deodorizer spray, look no further. The OdoBan 1 Gallon Concentrate will provide everything you need. It comes in a 2 pack, 4 pack, or 5 pack. You could also opt for 128 fl. oz pack of two or a 128.15 fl. oz pack of 4. The product comes in citrus, eucalyptus, lavender, or fresh linen scents.
Every gallon of this product makes up to 32 gallons of disinfectant. It will eliminate odors, clean, disinfect, sanitize, and deodorize surfaces. It will also leave behind a fresh scent, which is exactly what you're looking for.
The product has a wide variety of uses. It will leave absolutely no residue, meaning it's very easy to use. It works in 60 seconds, killing up to 99.99% of germs. It is excellent for fire and flood restoration. If you have water damage, it would be a good idea to use this product.
---
Best with Antibacterial Properties
Product Details:
Kills 99.99% of bacteria
Comes in. a pack of two
22 fl. oz spray
If you are looking for a spray with antibacterial properties, this is the product for you. Tide has produced an exceptional product. Each purchase comes with two 22 fl. oz sprays.
The product will kill 99.99% of all bacteria. It will also help to sanitize and freshen fabrics. It fights the bacteria which cause odors, helping your clothes stay fresh. You can also apply this to furniture. It'll keep all furniture smelling clean. No matter clothes, car seats, couches, towels, dog beds, and more!
The product is fast working. You'll only need a few spritzes to get that fresh smell back. Make sure your home is as clean as can be with this product!
---
Best for Pets
Product Details:
Use directly on pet odors
You can use this in a variety of situations and pet related incidents
Powerful and works quickly
8 oz bottle
Makes up to a gallon of product
Eliminating pet odors doesn't get better than Angry Orange Pet Odor Eliminator. This product is specifically designed with pets in mind. All you need to do is pour 2 tablespoons of concentrate into 32 oz of water and shake. Next, your product will be ready to go. Apply directly to the area or into the air to get rid of any hard to manage odors.
Angry Orange is a commercial grade product. It will get rid of tough pet odors. The bottle is 8 oz. This will make a whole gallon of cleaning solution. That's a lot of bang for your buck!
You can use the product on litter boxes, pet odors, kennels, and more! You could even use the product in barns and stables. The product is powerful and will eradicate odors quickly and effectively.
---
Best to remove scents and protect
Product Details:
From a very established brand
Comes in a 27 fl. oz bottle
Two bottles per purchase
Perfect for tough stains and odors
Eliminates odors, rather than just masking them
Forest scent
Febreze is one of the most known brands on the scene in the odor prevention world. Due to this, you'd be hard pressed to get through a list without them. If you're looking to remove scents and protect your furniture, these will go a long way for you.
The product comes in a pack of two. Both of these bottles measure 27 fl. oz. The product works by eliminating fabric odors. Instead of just covering them up, it gets rid of them completely. Simply spray the area that is producing the odor until it is damp. Next, let it dry. After this, the spot will be as fresh as ever.
The product is excellent for harder to wash fabrics. If you have a tough stain on a couch, pillow case, stuffed animal, or more, this is the product to use. The product has a lush garden scent. They name this 'Botanical Breeze'. The scent of the forest used is a mix of aloe, bergamont, and mulk.
You can even use this to top up the freshness of your home. Adding it into your weekly cleaning routine will keep your house smelling amazing.
---
Best with Natural Ingredients
Product Details:
All natural ingredients
No toxic ingredients at all
5 fl oz bottles. Range from 1-3 bottles per purchase
Uses plant oils and extracts
Neutralises odors and replaces them with a fresh scent
Attempts to create the scent of nature in their bottles
Finally, we come to the best fabric deodorizer spray for furniture with natural ingredients. This product comes in a range of scents. You can choose from lavender blossom, bamboo, black current rose, or citrus. Alternatively, you could select pine forest, sea salt, or a variety pack!
The product comes in 5 fl. oz bottles. You can select either one, two, or three bottles per purchase. Glow fragrance is completely non-toxic. It is a safe alternative to other air fresheners. Their product is 100% plant based. They only use plant extracts and essential oils. They attempt to capture the essence of nature in their product.
Glow fragrance is toxin free and completely safe for your home. The product does not contain toxins, parabens, aerosols, or harmful chemicals. Feel at ease when using this on couches, carpets, and curtains. You could also use it on bed sheets, pillows, upholstery and more.
The product will eliminate odors, neutralizing them completely. They smell clean, and will control any unpleasant odors.
---
Buying Guide
---
When buying a fabric deodorizer, there are several common questions that people ask. We'll go through some of them now, to put you at ease.
How do you pick the best fabric freshener spray for furniture?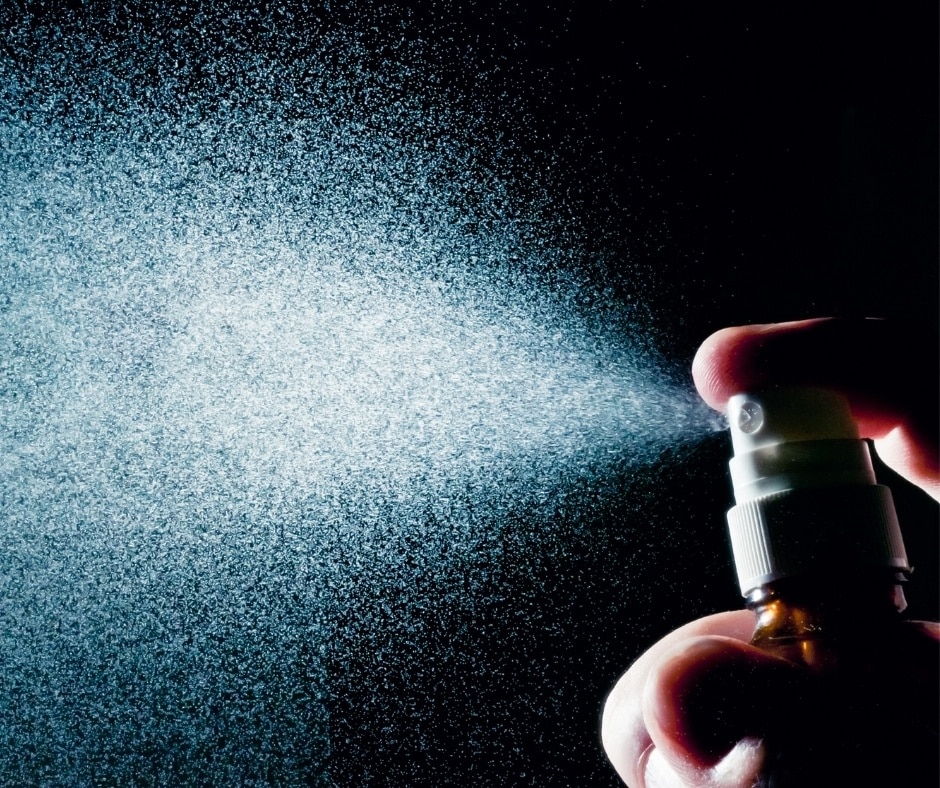 First of all, you need to split this question down into several parts. When buying fabric freshener, there are 3 questions you need to ask. One, do you want a scent or neutral? Two, how much fabric freshener do you need to buy? Three, are there any special functions I need?
First up, scent or neutral. If you buy a fabric freshener, it's a good idea to know which scent the product has. Some of the products on this list are neutral, meaning that they just eliminate the scent. This will remove scents, and leave a neutral smell afterwards.
Alternatively, you can opt for a scented cleaner. Take a browse through the list to find the products that have certain smells. It's a good idea to go for one that you enjoy. Especially remember that you'll be smelling this a lot, so you really need one you like. If you're not completely sure about a scent, it's a good idea to just go for neutral.
Second of all, how much do you actually need? Many of these products come as a concentrate. That means you will mix a little of the product with water to produce the fabric freshener. These products will last you an incredibly long time. Although there may only be a small amount of initial product, they will produce a lot.
If you want the product for commercial uses, like cleaning a hotel, it's better to go big. You'll want lots of the fabric cleaner. Therefore, you should go for a concentrate that you can make into lots of product. If you only need the fabric freshener now and again, get a non-concentrate product. These will function quickly and effectively.
Finally, consider if you need any special functions from your freshener. By this, I mostly mean pet odors. If you have an animal, it's a good idea to get one of these products that is for pet scents. You'll be able to neutralize the scent and leave your home clean as can be. If you don't have any special freshener needs, you can opt for any of these.
After asking yourself these three questions, you should have a better idea. This will help you to make the right choice when deciding which fabric freshener to buy. Best of luck!
What can I spray on my couch to make it smell better?
Any of the products on this list will make your couch smell better. Most of them work at a microscopic level. They eradicate the bacteria that produce bad odors. When they eliminate these bacteria, they will no longer be able to produce the smell. This will keep your furniture smelling fresh.
What is the best fabric freshener for furniture?
This question completely depends on your own personal needs. As stated in the buying guide, you need to ask yourself three main questions before buying. These questions will help orientate you towards knowing exactly what you need. Once you know that, you'll be able to make an educated choice and buy the right product for you!
Conclusion
This list has the best fabric deodorizer sprays for furniture. We've gone through the top 5 products, giving a breakdown of each of them. Once you've established what you're looking for, use this list to find yourself a product. Happy hunting!