Do you constantly have lower back pain? Do you feel uncomfortable when you sit for long periods of time? If so, you might need an ergonomic recliner. This article has a list of all the best ergonomic recliners currently on the market.
From the best options for back pain, to the best recliners for gamers, this list has everything you need to know. You'll walk away knowing the best ergonomic recliner for you in no time!
In This Article We'll Discuss
5 Best Ergonomic Recliners
---
5 Best Ergonomic Recliners
---
Best for Back Pain
Product Details:
Measures 36 inches L x 40 inches D x 39 inches H
Adjustable back and footrest
Hard back with soft cushioning for ergonomic support
Large cushions provide comfort
Thick padding
If you need back support while watching television, this recliner is for you. AIZYR's sleek design is both beautiful and ergonomic. Also, the recliner's fabric is double-padded. It has thick padding across the backrest, armrest, and seat, so you're sure to be comfortable.
You can easily adjust the design to fit your back's needs. It has a dual-function footrest and backrest that will help you find the most comfortable position. As you sink into the thick pads, they'll support your back and keep it in the right position. The product is 36 in L x 40 in D x 39 in H.
In addition to its back support, the chair is also a fantastic recliner. You could use it in your bedroom, study, living room, or anywhere you need to be comfortable. Because of its ergonomic design, this chair is perfect for long or short periods of sitting.
Once the chair arrives, you'll only need 15 minutes to set it up. So, you can order it ASAP and you'll be able to set it up the day it arrives. An ergonomic recliner with extra comfort is only a click away!
---
Best Ergonomic Recliner for the Office
Product Details:
Measures 24 inches L x 24 inches W x 45.2-48 inches H
Supports up to 300 lbs
Sturdy design
Mesh fabric allows air flow
Customize the angle of your head, feet, and back
Adjustable lumbar support
If you need an ergonomic recliner for the office, this design by Hbada is perfect. Hbada makes well-crafted recliners that are great for the office. If you have lower back pain, these chairs will help you feel your best. You'll be able to sit and work for hours without back pain because the chair will keep your lower back in position. Embrace the natural curve of your spine with this amazing recliner!
Also, the recliner is completely adjustable, so you can shape and change the chair into the best position for you. That feature makes it great for lumbar support. In addition to the movable back, you can also extend the footrest. That will allow you to elevate your feet and it will keep you comfortable during your workday.
The seat cushions are also completely adjustable. You'll be able to move them into position which will take the weight off your feet. The recliner's wheels are also resistant to wear and they're are silent as they move across the floor.
This recliner's headrest adjusts 30 degrees, giving you the perfect head position. Also, the 10cm thick cushions make it even more comfortable.
Since the product is made with mesh, the chair is breathable. This help you stay cool even during the hottest days of summer. In addition, the air circulation on your lower back will help you stay sweat-free.
The reclining mechanism on this ergonomic recliner is excellent. You can tilt and lock at any angle between 90 and 150 degrees. 90 degrees is best for when you are working. Then, if you need to take a short break, you can tilt back to 150 and rest. Hbada uses materials that are sturdy and will last a lifetime.
You can currently choose between two colors — either black or white. In total, the design measures 24 inches L x 24 inches W x 45.2-48 inches H. Also, it can support up to 300 lbs, even when reclining.
---
Best for Gamers
Product Details:
Measures 127 cm H x 81 in W
90-145 degree reclining back
Has a massage pillow for your lower back
High-density pillow and headrest
Adjustable footrest
Artificial leather
5 movable wheels
If you're looking for the best ergonomic recliner to sit in for hours at a time, look no further. The CO-Z gaming chair is the perfect recliner for someone that spends a lot of time sitting. The product measures 81 cm W x 127 cm H. That makes it the perfect size for sitting back and relaxing.
The product has a multi-functional reclining design. You can change your reclining angle from 90-145 degrees, so you can customize the chair exactly how you like it. From 90 degrees while gaming to 145 when wanting a quick rest, this chair does it all.
CO-Z also gave the chair an adjustable lumbar cushion with a massage function. Also, the cushion adjusts via USB, so you'll be able to move it to where your back aches. Then, simply start the massage and let the chair ease your lower back pain!
This ergonomic recliner also has a comfortable head rest. The chair uses high-density foam padding that is incredibly soft and will support your head. You'll be very comfortable every time you lean back into this chair.
This chair also has an extendable footrest. While not in use, the footrest will lay against the chair to save space. However, with just a little push, you can extend it outwards. This will give you a firm place to lay your feet while you play.
CO-Z uses durable, high-quality artificial leather which allows them make the product cheaper. Because of that, the Gaming Chair with Lumbar Support is one of the cheapest recliners on this list. Also, the artificial leather they use is very easy to clean.
The chair comes with 5 movable wheels that will let you easily move the chair anywhere you'd like. Also, it comes in red, blue, or black and white.
---
Diverse Designs
Product Details:
Ergonomic support from the cushions in the recliner
Deep and heavy-duty padding to provide comfort
Overstuffed appearance of cushions
Reclines between 90 and 140 degrees
Measures 34.65 in x 30.31 in x 25.59 in
Headrest and armrest use a lot of cushions
If you need lumbar support and also want something stylish, check out this product. The ergonomic recliner is from Harper&Bright and it comes in 6 distinct colors. You can choose from Chocolate, Caramel, Brown, Carob, Dark Grey, and Smoky Brown.
The product measures 34.65 in x 30.31 in x 25.59 in. Its size will allow you to nestle into the recliner while it supports your back. Also, the product weighs a total of 85.98 lbs.
In addition, the back of the ergonomic chair can recline from 90 to 140 degrees, which gives you a large range of seating options. If you want to sit upright and read, stay at 90 degrees. Or, if you want to rest or nap, tilt the chair backwards. The high-density foam will ensure that the chair supports your back the whole time.
They stuff the cushions to the brim so that the chair looks, and is, immensely comfortable. You can sink into the cushions and help alleviate your pain. Also, the leather design is easy to clean and is suitable for a wet cloth.
Harper&Bright use air streel, foam, and hardwood in this design. So, the product is durable and bound to last! The product comes already assembled, so make sure your doorways are wide enough.
---
Best Swivel Recliner
Product Details:
Weight limit of 250 lbs
360-degree swivel capabilities
90 to 150 degrees back recline
One-year warranty
Retractable footrest
Heavy-duty padding in chair and headrest
Measures 27.1 in x 26 in x 44.8 in
Looking for a design that can swivel around? If so, this design by Allezola is perfect for you! The chair has a complete 360-degree swivel, allowing you to easily control the direction of the chair. It measures 27.1 in x 26 in x 44.8 in and the package will weigh 44 lbs. It also has a maximum weight capacity of 250 lbs
The chair comes in a grey color, which makes it perfect for any modern aesthetic. It also has an ultra-high backrest which will support your entire back and allow it to curve naturally. The ergonomic recliner has thick, raw cotton in the cushions that will protect your neck and back from bad posture.
In addition, you'll be able to adjust the height and angle of your chair. Depending on what your back needs, you can change between 90 and 150 degrees of tilt. There is also a tilt lock, so you can lock in at any position. The retractable footrest is also useful because it will support your feet as you recline.
The cushioned feet will also ensure that the chair doesn't scratch your floor. You'll never have to use fabric feet protectors. Its materials are sturdy and will last a lifetime. And, with only a 20-minute assembly time, you can get started today!
Allezola offers a one-year warranty for the product. So, you can rest easy knowing that your ergonomic recliner is under protection.
---
Buying Guide
---
When buying an ergonomic recliner, there are three main things you need to consider— function, location and style.
Consider these three focus points, then you're ready to buy! Let's jump right in.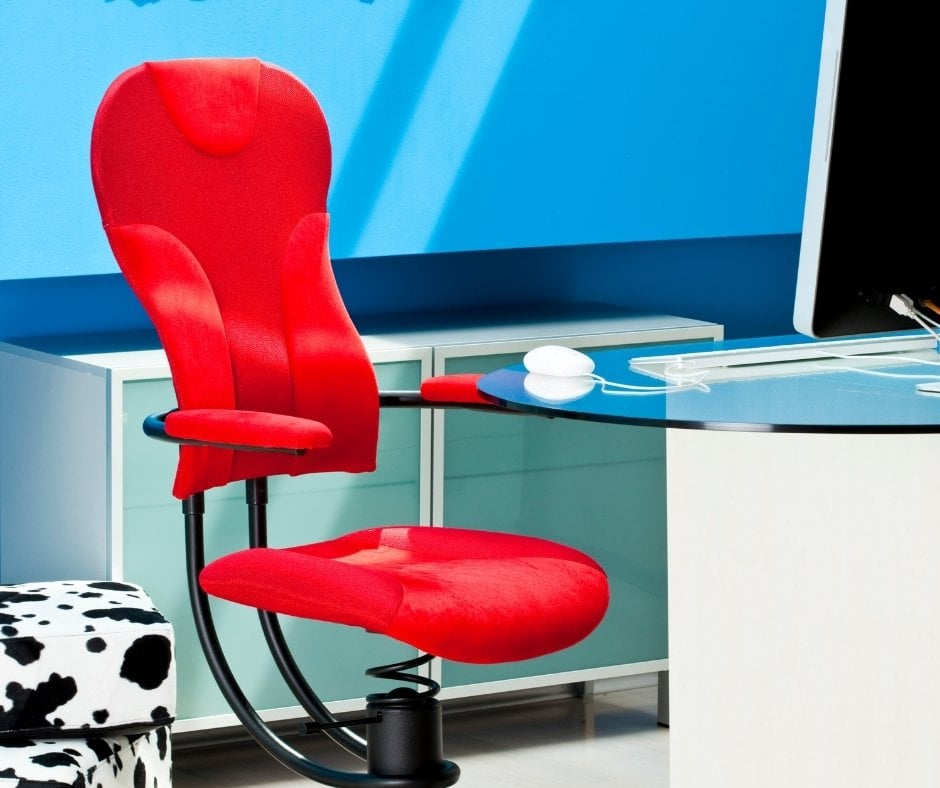 Function
The type of recliner you choose will depend on the severity of your back pain. Some of the recliners on this list are more functional than others. For example, the best recliner for the office allows you to move around. However, if you're only looking for a chair that will support your back, you should opt for a stationary one.
Location
The location of your chair is important. Many of these ergonomic recliners are made for your office or desk, but there are also living room designs. Take a second look at the Diverse Designs section to find the best ergonomic recliner for you.
Style
Ergonomic recliners come in many different styles. Before you buy, you need to decide which you want. You can opt for a mesh design or go for one that has fabric or leather. Your needs will change depending on where you put the chair.
If you want to put the recliner in your living room, it may be best to go with a sturdier chair. That would fit the aesthetic of the room. However, if you want a different style, you can opt for a more modern design.
Conclusion
All of the ergonomic recliners on this list are the best of the best. Be sure to check out the buying guide before you browse the list. That way, you'll know which option is the best ergonomic recliner for you. Happy searching!