We're going to compare four of the best dusting sprays, each excellent in their own regard. If you're not too sure what you're looking for, consult our buying guide.
After that, you can quickly browse through our summary lists to get a better picture of each product. By the end of this list, you'll know exactly which product is the best dusting spray for you!
In This Article We'll Discuss
4 Best Dusting Sprays
---
4 Best Dusting Sprays
---
Best Overall, Non-Silicone
Product Details:
No silicone
No chlorofluorocarbons
No phosphates
Will cause dust to clump, making it easy to lift off
15.5 ounces per bottle
You can use this on a range of surfaces
Sprays that contain silicone can build up residue over time. So, a non-silicone product is one of the best options for dusting. This product by Fuller Brush is excellent all-around. It removes dust completely and instantly cleans your furniture.
The spray will cause the dust to clump up and stick to the duster. All you'll need to do is shake the duster outside to get rid of dust completely. The product acts like a magnet, collecting dust that you can't even see!
The product is also incredibly easy to use. Shake the spray well, then hold it upright and spray a light blast. Try and keep the spray about 8-10 inches from the duster while you apply the product. Also, you can use this product safely on a range of surfaces, including wood. From windows and floors, to car interiors and vents, this covers it all.
Since 1906, Fuller Brush has become one of the best dusting brands in America. And, it doesn't contain chlorofluorocarbons, silicone, or phosphates, so you can tackle dust safely. Each pack is 15.5 ounces. You can choose from one can, two cans, or six cans.
---
Best Hypoallergenic
Product Details:
Hypoallergenic spray that you can use on many surfaces
Non-toxic and chemical-free
Bottle refills
33.8 ounce bottles
4,000 ratings on Amazon with a 4.3 average
Add water before use
This product uses a range of minerals to deliver allergy-fighting freshness. To activate this hypoallergenic spray, all you need to do is add water. Fill the bottle to the top, shake, and you're ready to go!
The spray is 33.8 ounces of product and comes as a single bottle. It will tackle cat dander, dog dander, allergens, and more. And, it does all of that without using a single harsh chemical. As a hypoallergenic, the product is also scentless and doesn't use fragrances.
All you need to do is spray the bottle into the air or on a surface. For the best effect, consider using it on pet bedding, air filters, or your couch. One bonus of this brand is that they offer refills. Protect yourself from allergies while helping the planet with Allergy Asthma!
With nearly 4,000 Amazon ratings, this brand has helped thousands of people.
---
Best for Removing Dust and Polishing
Product Details:
Citrus Scent
Doesn't leave fingerprints
No need to buff
Won't leave residue
Works on wide range of surfaces
50.61 ounce bottles
Three bottles per pack
The Original Bee's Wax Old World Formula will polish your furniture while also removing dust. It contains natural bee's wax as a primary ingredient, so it will shine your furniture. Also, it doesn't leave behind any fingerprint marks and you don't even need to buff!
With one spray of Bee's Wax Old World, you can restore your furniture's vibrant colors. From wood and leather to marble and stainless steel, you can use this on a range of surfaces. Also, the product won't even leave behind any build-up!
Each bottle is 50.61 ounces. If you buy through Amazon, you'll receive three bottles with each purchase. Also, this product's light lemon scent will leave your house smelling fresh as can be.
---
Best for Leaving a Low Shine
Product Details:
Plant-based
Biodegradable
Non-toxic
28 ounces
Two bottles per pack
Almond scent
Lightly shines your furniture
Removes all dust, grime, and grease
If you don't want your wooden furniture to have a glaring shine, go for Method. Method Spray has a completely plant-based and non-toxic cleaning formula. This biodegradable product will dust your furniture without heavily altering its appearance. Instead, it will leave it with a light shine.
Each pack comes with two individual sprays and each of them has 28 ounces. In addition to dust, this spray will also combat grease and residue on your furniture. It will leave behind a light almond scent, which will freshen up your room. Also, you can use this product on the daily, keeping your furniture looking fantastic.
---
Buying Guide
---
How to pick the best dusting spray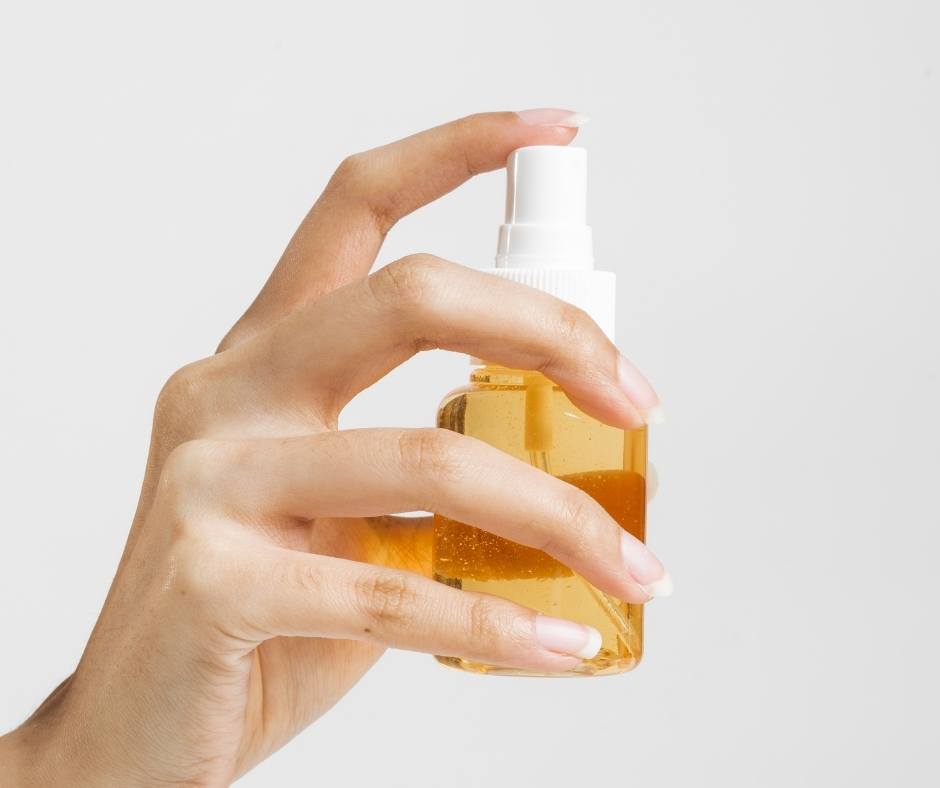 Since there are hundreds of dusting spray brands, we know it's difficult to choose the best one for you. So, we've broken the process down into four questions you need to ask yourself. Work through this guide to decide which of the products on this list is the best dusting spray for you.
Let's jump right in!
Scent
If you're the type of person who loves or hates certain scents, then this point is important. The brands featured on this list have a range of scents. Most of these products come in a citrus scent.
But, if you're looking for a slightly different scent, why not go for almond? The Method Daily Cleaner is a great option if you're looking for a more unique scent.
Ingredients
Although this list doesn't use brands that use silicone, they do differ in ingredients. We've opted for natural over chemical because they're great dusting products and are safer. If you have a particular aversion to a certain ingredient, then a different product might be for you.
For example, one of the main ingredients in the Bee's Wax spray is bee's wax. No surprise there. If you have an allergy, or are vegan, this may not be the brand for you. Be sure to look at the ingredient list of the dusting sprays before you commit.
Frequency of Use
On this list, we have products that range from 15 – 50 ounces. One thing to consider before buying is how often you're going to be using the product. If you're the type of person to clean often, you should go for a larger bottle.
But, if you don't dust too often, then a smaller volume bottle may be perfect for you. Once you work out how often you'll be cleaning, you can narrow down the choices.
Additional Qualities
The last thing to consider is if you're looking for any additional qualities. All the products on this list will clean dust, but some have other properties. For example, Allergy Asthma Clean is also hypoallergenic. This would come in handy if you have pet allergies.
You could spray this non-toxic product on your pet's bed and keep it smelling fresh. Also, it wouldn't trigger your allergies.
Should you avoid silicone dusting sprays?
There are two main reasons to avoid silicone dusting sprays. The first of these is that silicone can build up over time. Every time you spray a silicone product on a piece of furniture, it leaves residue. With time, this will cause the furniture to look drab and lack shine.
The second reason is that silicone oil typically contains solvents that react with wooden furniture. They will eat away at the surface of wooden furniture and ruin their appearance.
Exposing furniture to silicone sprays over a long period of time will reduce their quality. So, you should avoid them if you can.
Can you use furniture polish as "dusting spray"?
You can use furniture polish as dusting spray, but we don't recommend it. Furniture polish will keep your furniture looking great. However, if you don't dust before applying the polish, you could be trapping dust.
Over time, these layers of dust and polish will begin to darken the surface of your furniture. You'll want to avoid that because your furniture could start to turn an unpleasant shade.
Most dusting sprays will recommend using them before applying polish. That will ensure that your furniture is clean before you apply polish so you don't trap any dirt, grime, or dust!
What type of rag should you use with dusting spray?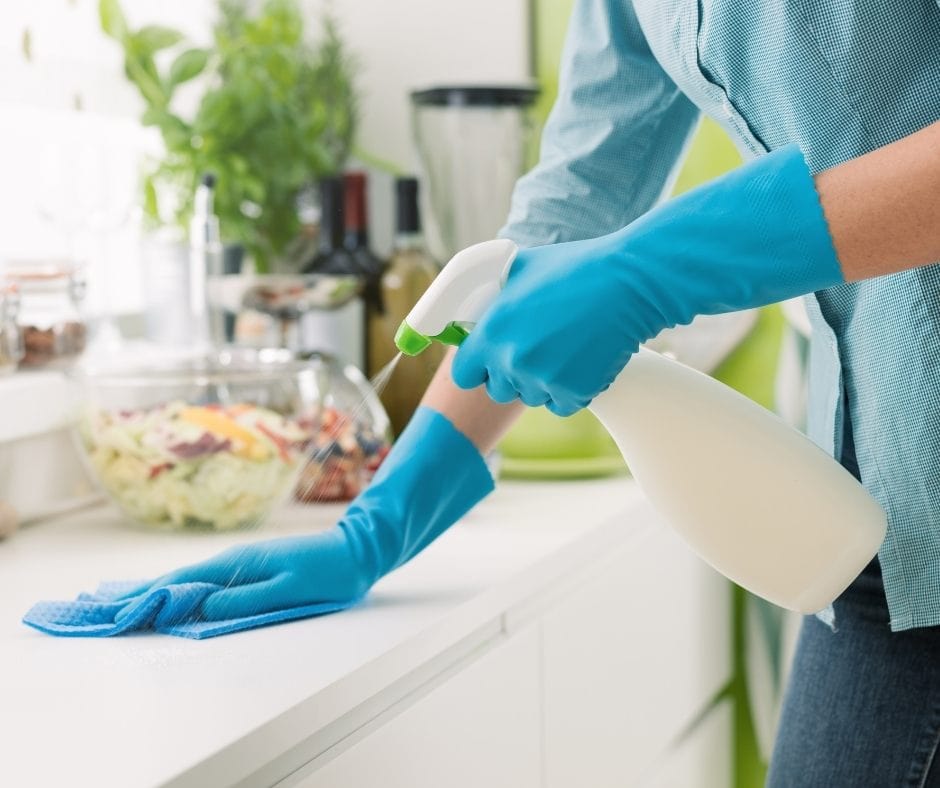 While most rags will work, there's one type that we highly recommend. You should use a microfiber cloth when dusting.
They're perfect for dusting for two reasons. First, microfiber contains small grooves that will trap the dust. When wiping a piece of furniture, each movement will push the dust into the cloth and trap it.
Second, microfiber cloths are statically charged. So, they easily attract pet hairs, dust, and dirt. This combination makes them the perfect cloth for dusting.
Remember, the majority of rags will work just fine. The only thing you should avoid is an abrasive sponge. They can damage your furniture by creating small grooves across its surface. Then, water can easily penetrate your furniture and ruin it over time.
Conclusion
One of the four dusting sprays on our list will be great for your home. We've included some of the best brands in the world. After going through our buying guide, you'll know exactly which is the best dusting spray for you!