Relaxing on a recliner after a long day at work is one of life's great pleasures. But as with most things in life, it's always better when you share. Whether it's with your partner, child, or even your dog, a loveseat recliner is a wonderful way to relax and unwind.
The Andover Mills came out ahead of the pack in our recent testing, praised for its comfortable seat yet stylish finish. If you're short on space, check out the RecPro Charles Collection, perfect for RVs, camper vans, or studio apartments.
In This Article We'll Discuss
Best Double Recliner Sofa Loveseats
Best Rated Overall Double Reclining Love Seat
If you're looking for a comfortable yet stylish double recliner loveseat, then the Edgar is perfect for you. It is filled with a medium-firm cushion that's very cozy. Unlike 'stiff' dense foam, it works to support your back. It also has a generous seat depth (31 inches) and seat width (42 inches) to allow for a more relaxed position.
This PU leather sofa is more than just comfy as it's aesthetically pleasing too. It does come with a streamlined look that is lacking amongst other recliners. As such, this piece of furniture is sure to look great in your living room.
The only downside to this manual sofa is its limited reclining mechanism. It can only go up to 90 degrees, so it's not recommended for sleeping. If you're often using your recliner for naps, you're better off with the Ravenna Home Maplewood loveseat.
The chair also requires some assembly, though you can easily do this with the user guide's help.
The mid-price Edgar takes the top spot as the best reclining loveseat in this list. If you're looking for something that does the trick without any bells and whistles, this is a great go-to option.
Dimensions: 61" W x 38" D x 38.5" H
Max capacity: 600 pounds
Colors: Dark Brown
Materials used: Solid & manufactured wood frame, Cushion seat & back, Faux leather material
Best Double Reclining Loveseat with an Affordable Price
It's a common myth that you need to pay a high price for the best double recliners on the market. That myth is well and truly busted with Flash Furniture's Harmony series.
When it comes to design, the LeatherSoft upholstery provides a contemporary yet masculine look. It's versatile enough for your home theater or your living room. It's very easy to clean, too, as all you need is a water-based cleaner to remove any stains and spills.
This manual sofa also comes with fire retardant foam. It is CAL 117 certified – meaning it has passed rigorous ignition tests. But even with this feature, this cushion soft and cozy.
With its wall hugger feature, the Harmony is one of the best reclining loveseats for small spaces. After all, this space-saving product only needs an 8-inch wall clearance to recline.
Add to that, this love seat is straightforward to assemble. With the help of its user manual, you can set this up in under a few minutes.
What's great about the Harmony is that it has a 5-year limited warranty for non-movable parts. Given all these great features, this love seat is genuinely worth its (low) price.
Dimensions: 56″ W x 35-64″D x 38″H
Max weight: 600 pounds
Shades: Brown, Black, Chocolate Brown
Materials used: CAL 117 Fire Retardant Foam, LeatherSoft (faux leather) upholstery
Best Overall Recliner Loveseat for RVs and Trailers
With its space-saving features, the Charles is the best glider reclining loveseat for RVs. Just pull the inner lever and recline in complete comfort.
While it's wider than most recliners, it can fit easily in a 22-inch wide trailer door. Add to that, it only needs a wall clearance of 3 inches for a full recline. This makes it ideal for smaller rooms and spaces.
Despite its compact style, it has some fancy loveseat features too. For one, it has a 9-inch console with two cup holders, perfect for when you watch the game. This keeps you spill-free, especially during the most intense moments. Should get overexcited, you don't need to worry as faux leather material is relatively easy to clean.
As space matters in a trailer home, this manual love seat offers a storage compartment as well. That way, you can keep your TV remote and other belongings within easy reach.
To sum it up, the high-price Charles collection is as beautiful as it is useful. With its modern design, this furniture can accentuate any small living space.
Dimensions: 66″ W x 36″ D x 39″ H
Max capacity: ~600 pounds
Colors: Toffee, Chestnut, Mahogany Brown, Putty
Materials used: Metal frame, Faux leather product
Best Double Glider Reclining Loveseat With Center Console
If you're a TV or Netflix binge-watcher, then you must get the Tien sofa. It comes complete with a console with cup holders where you can keep your drinks safe and secure. It also has a handy storage compartment so you can keep all your controllers and accessories in one place.
Outside of these features, this piece of furniture proves to be very comfortable. It has pillowy arms and a polyester seat that is both soft yet durable – just like its fabric upholstery.
The manual Tien loveseat comes in a microfiber finish, which is very soft to the touch. It also comes in microsuede, which has the look and feel of suede – without the expensive price tag. Both provide great comfort with little to no upkeep.
Apart from being cozy, this loveseat is durable enough for constant heavy use. Unlike other recliners, it has a durable hardwood frame and a smooth reclining mechanism.
As a bonus, this double reclining loveseat comes with a wall hugger design too. Like the RecPro Charles collection, it only requires 3 inches of wall clearance. However, it requires a wider door clearance of 30 inches to get through.
Dimensions: 74" W x 41" D x 41" H
Max weight: 750 pounds
Shades: Gray, Tan
Materials used: Hardwood frame, Polyester seat fill, Microfiber/Microsuede
Best of the Loveseats & Recliners with 2 Cup Holders
Are you looking for trendy recliners to add to your home furniture collection? Then make sure to get the Shortt manual recliner loveseat. With its modern design, this PU leather recliner is an excellent addition to your living room. As this material is also very easy to clean, it's perfect for households with kids.
While Shortt is great on the outside, it's even better on the inside. After all, it comes with a 2.0-lb. density foam. Common in high quality back cushions, this material helps provide a comfortable experience. Better still, it doesn't lose shape easily, so it doesn't require much re-padding in the years to come.
Although this loveseat comes with a sturdy plywood frame, it has a lower seat capacity. It can only carry a maximum weight of 450 pounds, which is 300 pounds lower than the Tien seat recliner. It also requires a lot of wall clearance (19 inches), compared to the Tien and Charles' 3.
It is one of the more easier to assemble recliners, which makes it perfect for many buyers.
Dimensions: 77" W x 30" D x 39.5" H
Max capacity: 450 pounds
Colors: Brown
Materials used: Plywood frame, 2.0 lb.-density foam, Faux leather fabric upholstery
Best Oversized Double Recliner for the Price
The Clonmel double glider recliner is not only large in size – it offers the best in terms of comfort as well. After all, it comes with a generously padded back, seat, and arm cushions. It's also made with polyurethane fabric that offers a welcoming, luxurious feel.
Although it's not an automatic recliner, it is relatively easy to use. Like most recliners, all you need to do is pull the side tab to position the chair.
This double glider reclining loveseat also requires minimal assembly. You only need about 5 minutes to set this seat up before you can get to use it.
As it is a little hefty, you need to make sure that your door width is at least 32 inches wide. Otherwise, you may have trouble fitting it in your living room.
Dimensions: 93" W x 39" D x 40" H
Max weight: ~600 pounds
Shades: Chocolate Brown
Materials used: Metal frame, Padded cushions, Polyurethane fabric product
Best Double Reclining Love Seat from La-Z Boy
If you're planning on getting a Lazy boy for your home, then one of the best choices is the Reese loveseat. As with the brand's other recliners, it boasts of premium handcrafted quality. After all, each product is custom-made with a sturdy wood frame. It also comes with steel supports that keep the furniture 'bouncy' even with prolonged use.
This double recliner makes for a very comfortable experience too. That's because it's back and seat cushions are made with Comfort Core material. True to its name, it offers optimum body support and pressure relief.
To recline, all you need to do is pull the side latches. Both sides can change positions independently, even without activating the footrests.
Its outstanding features aside, this recliner is known for its many color options. Compared to the Tien recliner that has two shades, this product has 399 choices! Yes, you can select from a wide variety of fabrics – leather or fabric, it's entirely up to you.
As with most recliners, there is a little assembly required for this product. Although this is the case, the instructions do make the process pretty easy.
Dimensions: 67.5" W x 38" D x 40" H
Max capacity: 600 pounds
Colors: 399 options!
Materials used: Engineered wood frame, Comfort Core foam, Fabric/leather material
Best Overall Automatic Leather Reclining Loveseat
If you're searching for a recliner with an automatic function, then your best bet is this loveseat. Although the Game Zone comes with a higher price tag, you can smoothly recline with just one push.
As with some of the other recliners in this list, this piece of furniture comes with a console and cup holders. It also has a central storage area for remote controls and other devices. What makes it better than the Tien and Charles collection though are its USB ports. With these, you and your companion can charge your gadgets without leaving your seat.
Even with these bonus features, this reclining loveseat offers much comfort. Add to that, it's very easy to assemble too. All you need to do is install the chair back and voila – you can use it right away.
The functionalities aside, this sofa comes with a trendy aesthetic. Made with faux leather, it has a modern design flair that fits any room.
Dimensions: 74" W x 37" D x 45.25" H
Max capacity: ~500 pounds
Shades: Black, Chocolate Brown, Gray
Materials used: Metal, Polyester/polyurethane fabric material
Best Recliners Loveseat for Plus-Sized Users
While there are many recliners in the market, it's hard to find one that supports heavy-duty users. Fortunately for you, the Krout reclining loveseat is here to save the day.
Made with a manufactured wooden frame, it can withstand a capacity of 600 pounds. As with most of the recliners in this list, it can carry two users with ease. It also does this comfortably, given the sofa's high-density foam cushions. Even with all these features, it comes at a very affordable price.
One of the things that sets the Krout recliner apart is its console. It's located on the two arms, compared to Game Zone's central location. Despite this position, this product offers the same great features. Like most chairs, it has cup holders and extra storage for two. But even with these similar specs, the Krout doesn't have USB ports like Game Zone.
While there is assembly required for setting this up, no tools are needed. With the help of the detailed user manual, you can fix it up in just a couple of minutes.
Dimensions: 57" W x 37" D x 38.5" H
Weight capacity: 600 pounds
Colors: Dark Brown, Gray, Crimson Red, Khaki, Black, Mocha, Medium Blue
Materials used: Manufactured wood frame, High-density foam cushions, 100 Polyester microfiber material
Best Double Reclining Love Seat for Sleeping
Sleeping on recliners comes with many health benefits. If you snore loudly – or have acid reflux – then you'll love the Maplewood loveseat as it can help relieve these conditions. It's also the best place for dozing off in your living room.
While it does come with an expensive price tag, it has pretty superb features. For one, it has a comfortable seat surface with an adequate seat depth. Given its rocker function, you can lull yourself to sleep.
If you're on the plus side, you can take a well-deserved nap on this great sofa. Since it is made with a hardwood frame, it's perfect for plus-sized users.
Although it is one of the best double recliners for sleeping, it's suitable for entertainment too. After all, it has a central console with 2 cup holders and room for storage. That way, you get to keep your drink from spilling – and your other possessions secured.
Although it comes with many features, it only requires minimal assembly. You can set this up in 15 minutes tops. And, as with other low-price faux leather recliners, it's effortless to clean too!
Dimensions: 81″ W x 39″ D x 41″ H
Weight capacity: ~600 pounds
Shades: Dark Roast (Brown), Amber
Materials used: Hardwood frame, Faux leather upholstery
Best Homelegance Double Glider Reclining Loveseat
The mid-price Laurelton is the best sofa to relax your back. While sitting upright, you can enjoy a soothing glide into a more comfortable position. After which, you can pull the lever to recline fully.
Made with microfiber, this Homelegance double recliner promises a plush experience. This material gives the sofa a great style as well. As if things couldn't get any better, microfiber makes cleaning very easy too. That's because you can remove stains on the fabric with the use of a water-based solvent.
Like most recliners, the Homelegance loveseat comes with a central console. This area provides ample storage space – and cup holders too. With that, this double recliner is great for entertainment purposes – be it watching your favorite Netflix show or catching up on the news.
With its unique style and affordable price, it's a worthwhile investment for any home.
Dimensions: 79″ W x 40″ D x 40″ H
Max weight: ~600 pounds
Colors: Gray
Materials used: Metal, Microfiber, 100% Polyester material
Best Double Recliner Sofa Loveseats Buying Guide
What Elements Should Be Considered When Buying Double Recliners?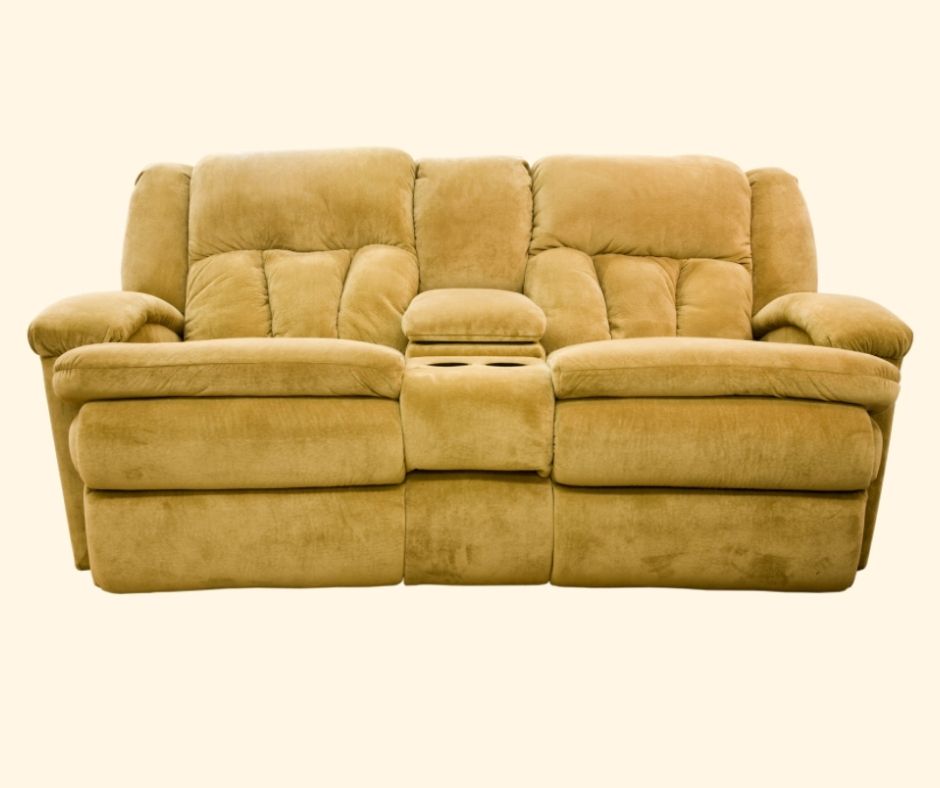 There are several factors to consider when purchasing recliners for your home.
First, you need to consider the space where you'll put the recliner. If you live in a small space, the best option is a wall-hugging recliner like the Charles.
The next consideration is the sofa's purpose. If you plan on using it for sleeping, then you need a more oversized recliner such as the Maplewood. Then, you have to choose between a manual or an automatic model. Of course, automatic recliners come with a higher price because of the added convenience.
Another thing you need to look at is the frame. Ideally, this should be made from hardwood. This material, found in the Maplewood chair, offers exceptional durability.
The next aspect you should check is the cushion. The best material for recliners is high-density foam, which is found in the Krout loveseat. This offers the best comfort while providing full-body support. That being said, recliners with this cushion usually attract a higher price.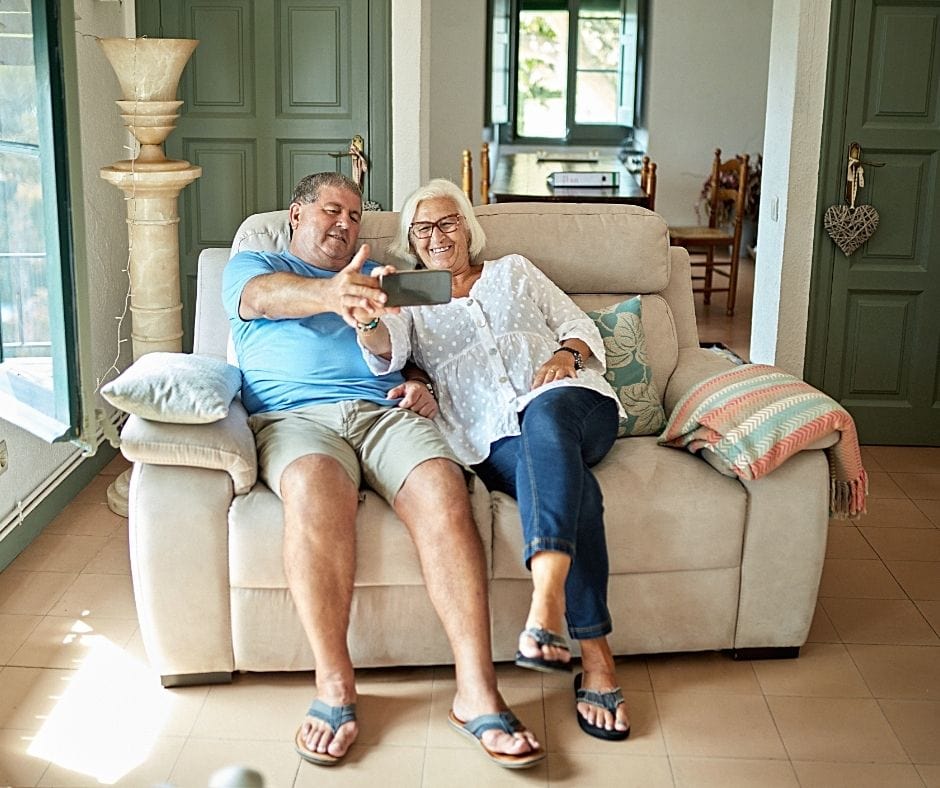 Upholstery material is another important consideration. If you want recliners that are easy to clean, microfiber recliners such as the Laurelton are the best. This surface can be maintained easily with the use of water-based cleaners. The great thing is that microfiber is relatively inexpensive, especially compared to other materials such as leather.
Another good alternative to consider is faux leather, which again is cheaper than the real thing. Good examples for faux leather recliners are the Shortt and Charles collection recliners.
Depending on your preference, you can also look for recliners with additional features, such as warming functions, massagers or USB ports.
If you like watching TV on the sofa, it's best to pick a model with a console and cup holders. Extra storage for remote controls and devices will come in handy as well. These features come with the Tien and Charles recliners.
What Is The Best Reclining Loveseat?
Overall, the best loveseat recliner in the market is Andover Mills' Edgar model. Made with medium-firm cushions, this leather recliner provides ample back support. It only needs minimal assembly and you can set it up in just a few minutes. Best of all, it comes with a low price for budget-conscious shoppers.
Can You Take Loveseat Recliners Apart?
Yes, you can disassemble recliners for easy transport or storage. Depending on the model, you can usually remove the back panel and the footrest to allow for easy transport and movement.
Conclusion
Amidst the sea of double recliners, the Edgar beats out the competition. Its cushions offer extra comfort at a style that fits every home. It also comes with an affordable price, making it a hit amongst many recliner buyers.
Coming in a close second is the Game Zone double leather recliner. It is indeed one of the best due to its automatic power features. Unlike other recliners, it can be positioned automatically. Although it's a little pricier, it comes with many convenient features such as a console and cup holders.