The best daybed for adults is not easy to find! Between the hundreds of brands and thousands of daybeds, it isn't easy to find one you love. Luckily for you, we've done the work for you! In this article, we'll break down the best daybeds for adults. From storage to size, we have the best in every category.
Let's jump right in!
In This Article We'll Discuss
10 Best Daybeds For Adults
---
10 Best Daybeds For Adults
Best Mid Century Modern
Product Details:
Comes in five colours and two styles
Measures 78″L x 41.5″W x 33″H, with 8″ of under bed clearance
Quick assembly
Wood slat base
Our overall pick for best mid century modern goes to DHP's Franklin upholstered daybed! This beautiful design comes in black, blue, green, grey, or tan. With five colors to choose from, you'll be able to pick something that exactly matches your style. You can even pick between linen or velvet as your core material.
The woot slat base gives the piece fantastic air flow. This makes the mattress feel light and airy, making sure the mattress stays fresh. The mobility also means the mattress can adapt to weight, providing maximum support.
The construction is superb, incorporating study metal and durable materials. This design will last you years after purchase, ensuring a piece of furniture for the long term. What's more, it will only take a few minutes to assemble. You won't need a box spring, saving you money in the long term.
The bed accommodates a twin size mattress. However, this isn't included in the price. The dimensions are 78″L x 41.5″W x 33″H, with 8″ of under bed clearance. You'll have up to 400lbs of weight limit as well.
If you're looking for a beautiful mid-century design, you can't get better than this!
---
Most Affordable
Product Details:
Measures 78.00″L x 40.50″W x38.40″H
Comes in a modern black design
Study materials and incorporates anti-noise design
Easy to assemble, even without any tool
If you're looking for a more affordable choice, you can't get better than this. The HomeRecommend metal daybed frame is the perfect daybed if you're on a budget. It comes in a sleek black color, looking effortlessly modern.
The bed is easy to assemble, with absolutely no tools needed! Simply fasten and fix parts together using screws so that all holes align. The process will only take a few minutes.
HomeRecommend have specially engineered the bed to ensure there is no squeaking. No sounds mean that you will be able to sleep peacefully without waking up the whole house.
What's even better about this brand is that they provide a one-year warranty! If you have a problem with the daybed, simply get in contact with HomeRecommend and share the faults.
HomeReccomend have used the finest materials when constructing this daybed. From heavy-duty headboards, steel bars, support legs, and more! The sleek finish really ties together the design, looking elegant and modern.
Once again, please note that the final price does not include a mattress. You're only getting the daybed itself. That said, it will measure 78.00″L x 40.50″W x38.40″H. That's more than enough room for indoor or outdoor use!
A cheaper option that really packs a punch, check HomeRecommend out!
---
Best Tufted Design
Product Details:
Comes in 7 colors
Easy to install
Trundle attatchment
Midcentury design with beautiful tufting
Next up, if you're looking for a beautiful tufted design, you've come to the right place. The Novogratz Her Majesty Daybed is elegant, with a fantastic tufted finish.
Coming in 7 distinct colors, you'll be able to fit this daybed into any aesthetic you want. Colors span light pink, blue, grey, pink, green, blue linen, and grey linen. There will defintely be something for you!
This classic mid-century design has a diamond-shaped tufted backrest. This couples with wingback arms and brown tapered legs. This design really catches the eye, with an elegant tufting finish.
Novogratz has used the very best materials in the assembly process. With a sturdy wooden frame and premium linen, this will look chic in any house.
Alongside the daybed, this design also has a pull-out trundle. This can accommodate two twin size mattresses. Once again, please note that the mattresses themselves are not included. If you're looking to buy a mattress, make sure that the one used with the trundle is a max of 6″H.
The daybed measures 75.5″L x 43.5″ W x 33.5″ H. Meanwhile, the trundle will accommodate 75″L x 40″W x 11.5″H. As is common with these designs, there is around a 400lb weight limit. The trundle has a little less capacity, with 250lb limit.
Assembly is easy with this design, only taking a few minutes. Coming in a singular box, you'll only need to follow a few instructions to have this design up and running.
---
Best Double Daybed
Product Details:
Measures 39″ W x 77″ L x 38″ H
Nearly 3,000 positive ratings on Amazon
Premium materials with steel slats
Five-year warranty
250lbs weight limit
Next up on our list is the best double size daybed. Our top pick for this could be no other. The Zinus Eden Twin Daybed and Trundle Set is truly a masterpiece. With nearly 3,000 ratings on Amazon, this design is one to write home about. Coming in a chic black finish, this design look elegant in any setting.
The design, as you probably guessed, accommodates two twin sized mattresses. These are not included in the final price, you'll only be receiving the daybed itself. The bed uses a premium steel support design, providing extra comfort and stability.
Zinus have created the final design to save space. The functional design stacks, making it easy to hideaway. Opposed to some larger daybeds on this list, Zinus has made space a priority. The final design measures 39″ W x 77″ L x 38″ H. With less space comes a smaller weight limit, coming in at 250lbs.
Once the box has arrived, you'll have it set up in no time. You won't even need a single tool! My favourite thing about this entry is that you'll also receive a 5-year warranty. Besides the fantastic design, that definitely puts my mind at ease!
---
Best Low Profile
Product Details:
Measures 76.5 L x 39.7 W x 25.5 H inches
Quick-lock assembly
Comes in black
Made primarily from steel
If you're looking for a low profile daybed, you can't get better than this. Another addition from Zinus is this quick lock twin daybed. As stated in the title, this design is much closer to the ground than other designs. If you're looking to save space, this could be a great choice.
Coming in at 76.5L x 39.7W x 25.5H inches, this design is only slightly off the floor. This is great if you want a sleek design that doesn't take up too much space. With strong steel supports, this is one to last you years. What's even better, if anything did go wrong, you're covered. Zinus offers a worry-free 5-year warranty.
The universal design will fit a twin size mattress. However, be aware that the mattress is not included in the final cost. If you want a mattress, you'll have to buy one separately. The final design is sleek and looks fantastic. It looks more rustic than other designs but works fantastically.
The quick-lock assembly system secures the design. There will be minimal movement and maximum enjoyment in this design!
---
Best with Storage
Product Details:
Measures 80.3″L x 40.9″W x 34.6″H
Takes a bit of assembly
Comes in gray
Has two drawers for extra storage below the daybed
If you want a design that comes with a lot of storage, this one is for you. The Harper & Bright twin bed with drawers has got you covered. As you could guess from the title, this design has storage incorporated into the final design.
With two separate drawers, this design maximises the space you can use for storage. The design itself is a three in one. You could use it as a sofa, bed, or twinbed. The versatility of this piece is one of the main points of attraction.
You won't need a box spring with this design, coming with sturdy wooden slats. Although, know that the mattress is not included. The slatted design allows air to flow freely to the mattress. This keeps the mattress feeling fresh and plump, giving you the support you need. What's more, the design even includes padded armrests.
This design, with all its extras, does take a little bit of assembly. However, other customers report that the process only takes around 30 minutes. There are clear instructions to follow.
The daybed measures 80.3″L x 40.9″W x 34.6″H. Harper & Bright have used solid materials in the process. Soft textiles couple with study base and supports. This design really is one to write home about!
---
Best hidden second bed
Product Details:
Daybed measures 31H X 88.5W X 43.5D
Trundle measures 11.25H X 77.25W X 40.25D
Comes in three boxes and needs assembly
Smoke gray colour
Next up on our list is the Hillsdale daybed with trundle. This design is exactly what you're looking for if you need a hidden second bed. Coming in a beautiful smoke gray, the upholstery really brings out the elegance of the design. This pairs with a black panel on the back, providing a point of contrast.
The daybed has a pull-out trundle, meaning you'll need two twin mattresses for this product. Again, these mattresses are something you're going to have to buy separately. When buying this product, you'll just be receiving the daybed frame and empty trundle.
The product measures 31H X 88.5W X 43.5D. Alongside this, the trundle measures 11.25H X 77.25W X 40.25D. Assembly is necessary once the product arrives. The daybed will come in three singular boxes.
---
Best full daybed
Product Details:
Measures 78.3″W x 57.1″D x 34.1″H.
Wood slat design to promote movement of air.
Up to 500lbs of weight
Solid pine wood, elegant design
Our top pick for best full daybed is from a returning favourite, Harper & Bright. This design can come in full or twin, but obviously, here we'll be talking about the full size. The full daybed comes in two colors: white, or espresso. Both of these designs can come either with or without the trundle.
The full daybed is a fabulous size, accommodating multiple people for hanging out. It also provides a spacious place to sleep. The design measures 78.3″W x 57.1″D x 34.1″H. It also offers a 500lbs weight limit, the largest on this list!
Made from solid pine wood, this design is beautifully elegant. Open sides offering a sense of freedom and airflow. You won't need a box spring or additional foundation, only your best mattress.
The wooden slat base provides fantastic points of circulation. The airflow will ensure that your mattress stays airyated and fresh. This will reduce the amount of maintenance you'll have to exert on this piece of furniture. The double choice of white or espresso allows the design to fit into any aesthetic.
The small legs provide a large surface area to distribute weight. This makes the design stable and ensures it can take lots of weight. The instruction process will help you set up the bed in only moments.
---
Best extendable
Product Details:
Three colors: White, Espresso, Grey
Measures 78.2″L x 79″W x 23.2″H
200lbs weight limit on either side
Extends from twin to king
If you want an extendable daybed, look no further! The Merax wooden daybed is both extendable and comes with a trundle for extra space. Coming in gray, espresso, and white, this bed will fit into any aesthetic.
The daybed frame is sturdy, make from quality solid wood. This gives the product stability, support, and durability. The wood used is also resistant to cracking and resists humidity. If you live in a humid climate, this is definitely a factor to take into account.
Pulling out the trundle can extend this daybed from twin to king size. This extendable feature is one to write home about, reaching that king-size easily. If you want something incredibly spacious, definitely consider this design!
The daybed measures 78.2″L x 79″W x 23.2″H. It also comes with a 200lbs weight limit for each side of the bed. It's easy to assemble and will come with clear instructions. When buying a mattress for this product, you're going to be looking for around 4″.
---
Best Queen Size
Product Details:
Comes in 5 colors
Trundle measures 71″L x 56.5″W x 3.5″H
Daybed measures 84″L x 63″W x 41.5″H
500 lbs weight limit on daybed
450lbs weight limit on trundle
Finally, coming in for the best queen size daybed is an entry by DHP. When it comes to furniture, it seems that DHP always makes these lists! They're a fantastic brand with a history of excellent products. The Manila Metal Queen Size Daybed is no exception!
Coming in black, bronze, gold, pink, or white, these 5 colors will match any aesthetic. Will a metal frame design, this study material will last a lifetime. The queen size provides a great space for lounging of sleeping.
The design measures 84″L x 63″W x 41.5″H. It also comes with around a 500lbs weight limit! Alongside this, the trundle measures 71″L x 56.5″W x 3.5″H. The trundle ahs a weight limit of 450lbs. This size is more than enough to fit a queen size mattress. Again, mattresses are not included within the design.
The design comes in one box and is very easy to install. What more could you want!
---
Buying Guide
---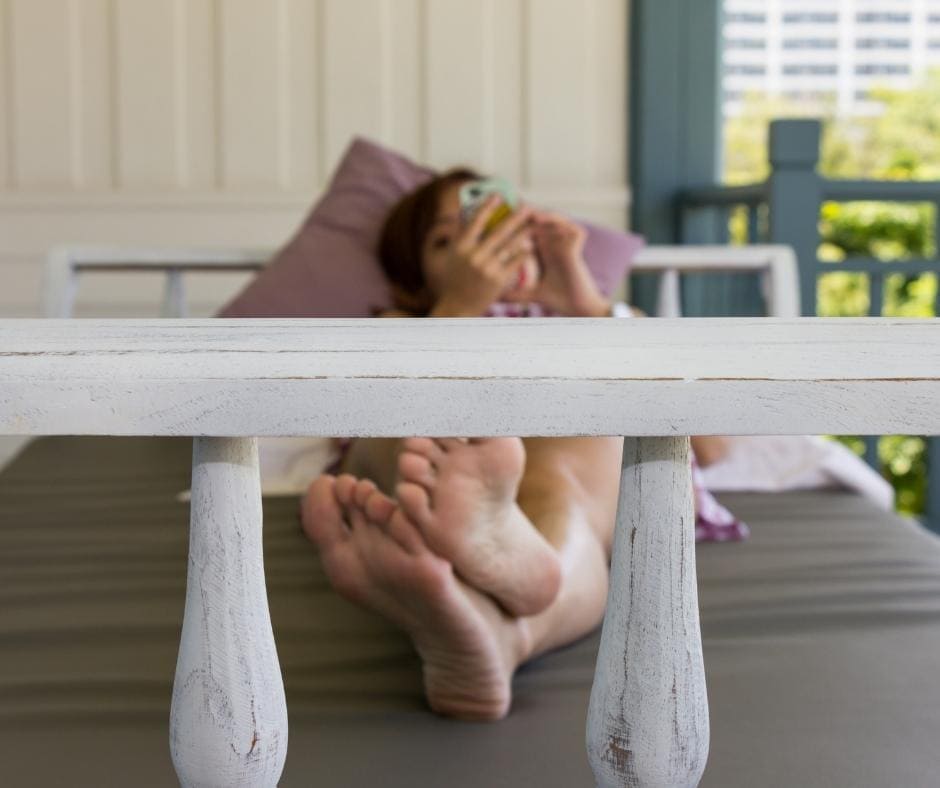 When it comes to buying a daybed, there are three things you want to look out for. These are size, style, and product design.
Size
If you are going to be buying a daybed, the first question you should ask is what size do I need? If you're only looking for a kid's bed, a twin will be more than enough. This is the same for if you only want a comfortable piece of furniture. A twin size is more than enough for a night's sleep or a lounge around.
However, if you're looking to use this daybed as more of an accommodating space, you may need to go bigger. Daybeds come in all shapes and sizes, so make sure to find one that covers what you need it to do.
A bonus top is to measure the space you have before you make any purchases. The worst mistake is something arriving that you can't actually fit!
Style
Daybeds come in lots of different colors. However, be sure before you buy that what you're getting will match with your aesthetic. Have a browse through the colors and styles offered before buying. Often, customers will leave pictures of the product in their own home. Use that for comparison!
Product Design
Finally, and perhaps most importantly, you need to consider the product design. Although all these daybeds will provide a comfortable space, they are not made equal. Some may contain trundles, which are great if you want even more space. Similarly, some may provide extra storage.
Ask yourself what you want to get out of your daybed. From there, you can work backwards and ensure the product has the extras you need. If you need a comfy space, maybe look for a daybed that has armrests. Or, if you're just looking for aesthetics, maybe go for a tufted design!
Conclusion
This article has gone through the very best daybeds on the market. From the best for storage, right to the best in size, this guide has it all. If you're looking for the best daybed for adults, work out exactly what your priority is, and look through this list!
Happy hunting!