We spent a good 30 hours reviewing couches and taking notes from furniture design experts on what makes the best couch for cuddling. After consulting with them and considering over 50 couches, a soft sofa stuffing with a soft covering (cotton or microfiber, down filling and has good depth will provide the best cuddling experience with a solid wood frame to lasting support.
Based on the top couch we recommend for cuddling is going to be the Stone & Beam Lauren down filled oversize sofa. This sofa has everything you'd need for optimal cuddling by providing that cozy sinking in feeling, extra deep seats coming in at a 49" depth and enough color options to fit any decor style.
If it's not available or you prefer a different style for your living room the Ravenna Home Darian also does a good job for most people as a cuddle couch with a different look.
However, it's not going to be a one size fits all. So let's review the best couches for cuddling to help you determine which one fits your budget, space you have available and style.
In This Article We'll Discuss
1. Best Overall Sofa – Lauren Down-Filled Oversized Sofa
This oversized couch gives optimal space for cuddling with its 89inch length and exceptionally deep 49" depth. You and your partner will have as many cuddling options as possible on this sofa, due to its size. Also, it comes in 7 different color options letting it fit in with any decor style or personal taste you may have.
What we like
It's a great value with its sturdy hardwood frame (which is the best material according to furniture experts) at this price point.
The size is ideal if you have the living room space coming in at 89" wide and 45" deep. This might be too big for studios or smaller apartments.
It's heavy duty moisture and stain resistant fabric will help if you have kids or pets and don't use slipcovers. You know Stone & Beam stands behind this with a 3 year warranty.
Modern appeal: It's low height is on trend with modern furniture coming in shorter.
What to Consider:
This sofa does sit low and while the backing is firmer than the seat cushions it is not ideal if you prefer the firmer back support.
Keep in mind that while the couch is 89" wide the arms are included so the actual seating area comes in a bit lower at 70".
What we like
The durable hardwood frame at this low price point is a great value–further enhanced by it's size.
Soft armrests: The soft armrests can double up as pillows for cuddlers that prefer the laying down position when staying up late into the night watching movies.
Good material: Polyester is a durable material for couches as it holds up wear and releases water based stains. It's vulnerable to heat, so avoid putting it in the drier.
What to consider
While in general the couch is soft, it isn't as cozy as a down filled sofa. If you prefer firmer support this couch is tougher but will break in over time.
3. Best Mid Century Couch for Cuddling- Hillman Mid-Century Sofa
Mid-century modern is a decor style that appeals to many, however the sofa styles may not appeal to those that want to cuddle due to seat depth and sofa stuffing materials used. This couch does the best job for cuddlers while maintaining mid-century modern flare.
What we like
Mid century appeal: It's not easy finding a sofa that is cozy and has a modern appearance in a living room but this couch is the best one for it.
Durable Materials: The frame is made of hardwood which is on the high end of materials used for this purpose. It will last long and keep its shape.
Good Value: Modern and expensive are usually words that can be used interchangeably. This couch comes at a price point that provides the appeal but keeps the price down.
What to consider
This couch comes with seats that have a depth of 38 inches which can be on the shorter size of optimal cuddling coziness. However, for sitting, 38inches is still on the deep end.
4. Best Sectional for Cuddling – HONBAY Reversible Sectional
Chaises offer a unique opportunity when it comes to cuddling as one partner can lay down while remaining seated forward and the other can occupy the rest of the sofa. For partners that prefer having some space of their own while meeting in the middle this one offers just that.
What we like
A reversible and optional chaise: The chaise on this sofa can be flipped around which is great for experimenting on what is optimal for your living room. Also, if required it can be removed completely which can benefit small spaces.
A place for storage: The storage space is a great area to store cuddling favorites like blankets, snacks and those remotes that always seem to get lost.
Wide dimension: At 102" this sofa will offer maximum room for tall or heavy couples that appreciate the extra space in their living room.
The price: For the size and value this sectional sofa comes at an exceptionally low price point making it one of the most affordable sectional sofas for cuddling.
What to consider
It's low price point is a good value but there is some compromise on the quality of the couch stuffing, making it firmer than ideal for full on cuddling.
What we like
No frills assembly: The sofa is easy to assemble which takes about 20 minutes.
The price: This sofa comes in at the lowest price point for a cuddling couch. It offers great value in a size that is comfortable in a meaningful way.
The comfort: Not the softest stuffing is used for the cushions but it is a healthy balance between extra firm and down stuffing, considering the cost.
What to consider
Some compromises are made to bring the price down so this one just gets the job done but misses out on the depth and comfort of our top pick.
What we like
A reversible and optional chaise: This sofa offers a chaise that can be moved around which is great for experimenting with in small spaces. Another option is only having it out when space is needed in the living room.
Metal frame: Particle board is the lowest quality and easiest to break frame so it's good to see a sturdier material being used at this price.
Neutral appeal: The clean lines of the sofas make it quite neutral decor wise making it a good fit for almost all styles.
What to consider
Some have received this sofa with missing pieces or uneven pieces so you may have to call in to replace parts.
What we like
Durable frame: This sofa comes in a durable wood frame usually reserved for most expensive sectionals. Wood frames are made to last, according to furniture experts.
Comfort cushions: While the cushions are on the firm side they are still comfortable for cuddling and will break in over time without losing their structure.
Coil springs: Jute webbing is the most economic support for sofas so it's good to see higher quality coils being used in a sofa at this price point.
What to consider
With a depth coming in at 30 inches it can make for a less than ideal cuddling situation depending on how you cuddle.
What we like
Memory foam cushion: memory foam responds to the heat and the body making it an ideal material for epic cuddling sessions.
Price point: While not a sofa this futon will give you all you need at the lowest price point of cuddling options (at the time of writing).
Split Seat: This futon reclines on a split seat giving each person a choice between being down or up right and being able to make choices always matters.
What to consider
The color appears darker than in the images so expect a dark brown versus a true camel tone.
The Sources
Sources used for this guide
We use thoroughly researched and trustworthy sources before we give you any advice
This guide by homeguies.sfgate – written by Gryphon Adams which has been writing since "1985 about a variety of topics, including teaching, floral design, landscaping and home furnishings".
This post by smartfurniture – a furniture company founded by Stephen Culp "a law student at stanford university".
This article by hammers and heels a usa custom furniture manufacturer own by Alicia Engman that "studied neuroscience at UMASS on multiple academic scholarships".

This guide by sfgate written by Melissa King which "began writing in 2001…holds an associate of arts in communications from Tarrant County College.
Buying Guide
When purchasing a couch for cuddling the most important things to take into consideration are the couch size, cover materials, filling, and frame materials for durability. There are various positions which you can cuddle on a couch and having the right size gives you the most options.
Materials
Cushion Materials
Down
The best cushion material for cuddling is down filling, however they are the most expensive. Down offers that sunk-in, soft and cozy vibe that is optimal for cuddling. A good idea to save money is to get a down envelope for foam cushions if you're handy and want to save.
High Density Foam
Another good option for cushion materials for cuddling is high density foam. The optimal amount is 1.8 pounds or higher as anything lower won't hold it's form and isn't suitable for furniture. Also, just because it's high density doesn't mean it will be a firm sofa.
Batting
Batting is what is used to keep foam cushions firm so they don't lose their shape. This comes in various thicknesses and it can be made from cotton, wool or polyester.
Frames
Particle Board
Particle board is the lowest quality, cheapest and lighting material for sofas. They are used in the most inexpensive of sofas but can fall apart over time and may cause issues for heavy people.
Metal
Metal is stronger than particle board, but can bend over time. Another benefit is that it won't snap on you.
Hard Wood
Solid hardwood is the best material for sofas and kiln dried hardwood features a finishing process to make it even more durable. This will hold out the longest and is the least likely to bend or warp over time.
Size & Shape
Sectional with chaise
Sectionals with chaise will give the most space for couples that really want to stretch out. There can be an issue if you are in a small space like a studio or apartment in an urban area. Make sure you tape out the space on the floor which your couch will take up before purchasing.
Sofa
A sofa will have less seating room but still make a great choice for interment cuddling as they condone closer cuddling.
Couches can range from 102" wide to 72" in this guide and anything in this range is suitable for cozy cuddling.
Depths vary from 49" to 30" here with 49" providing the coziest cuddling. However, a sofa that deep can be uncomfortable for shorter people when sitting. For cozy lovers, deeper couches are recommended.
Armrests
When purchasing a couch for cuddling you'll wall to consider what types of armrests it has since they can be used as pillows on some of the most comfortable couches. Hard framed armrests will inhibit cuddling a big as they are not as comfortable to lay on or hang off of.
Couch Cuddling Positions
What type of couch cuddler are you? Different couples or families will have different needs which are important to considering before buying a couch for cuddling.
The Family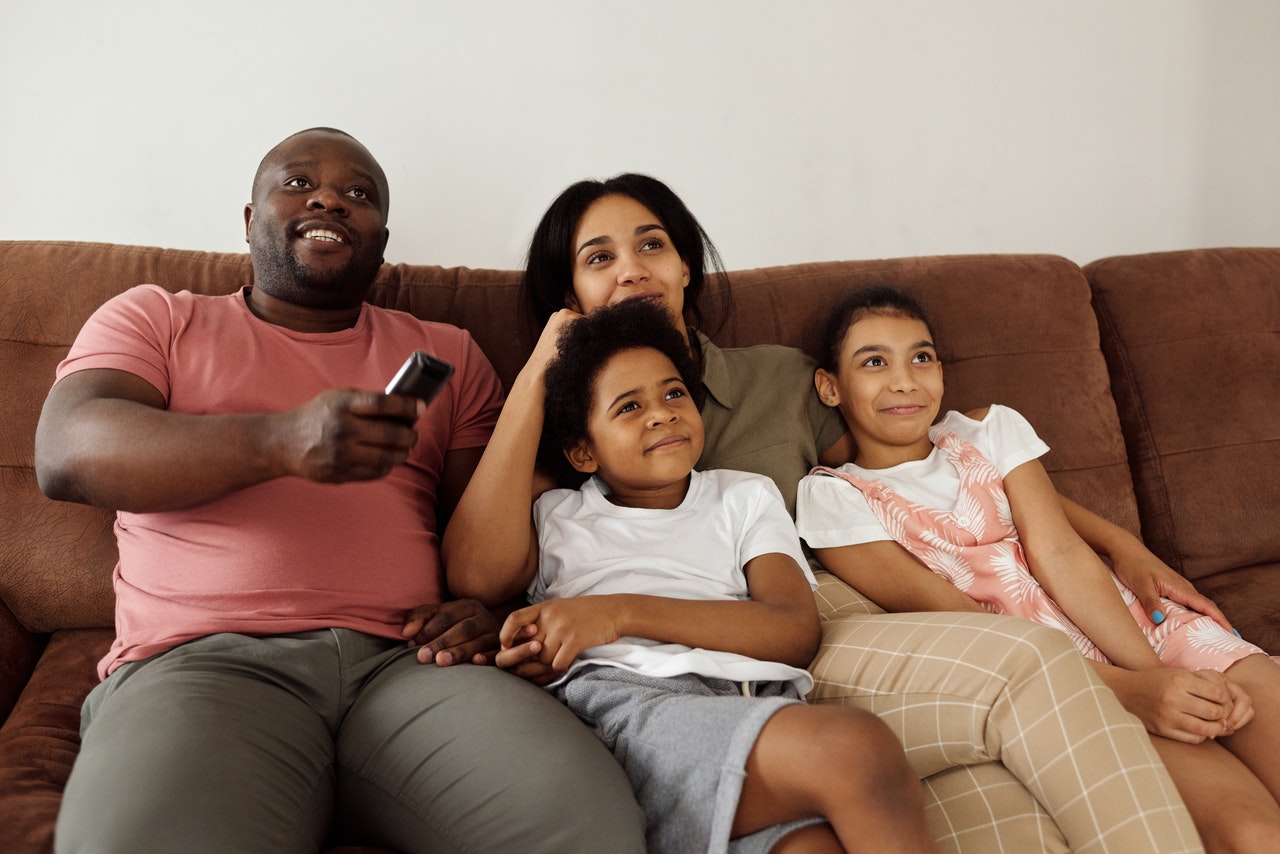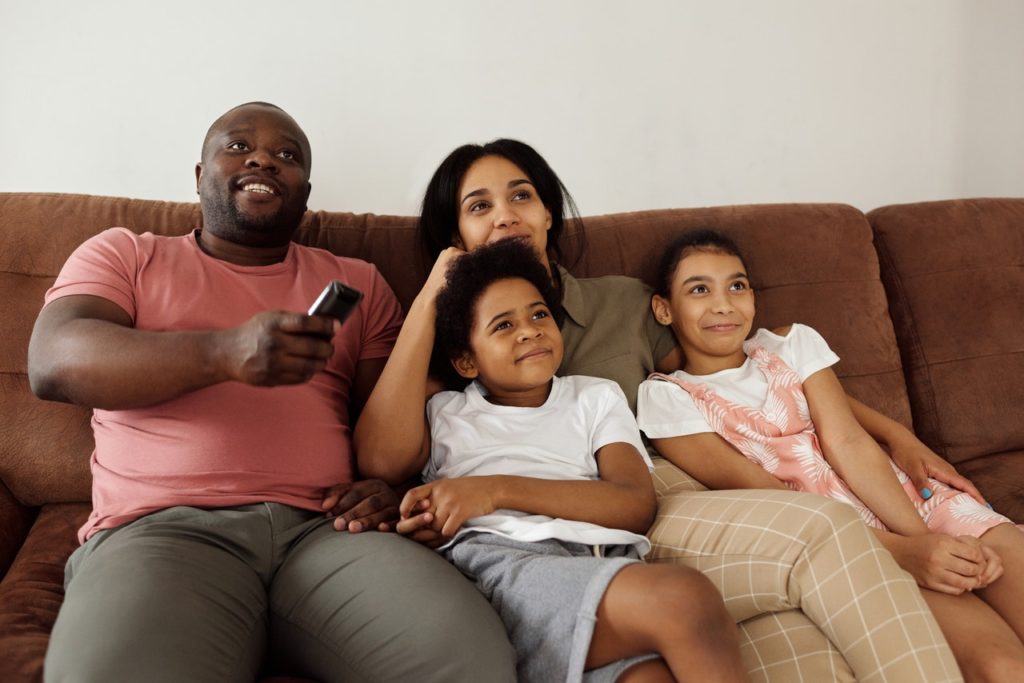 If you have kids that will be joining you on the couch a size appropriate sofa matters. Spending quality time with the family in the living room is something that is important to all of us and getting a cuddling session interrupted by kids is a real possibility.
Avoid making an uncomfortable situation for your family by going with a large sofa that can be versatile enough to accommodate all of you in the times it's needed.
The Corner Cuddlers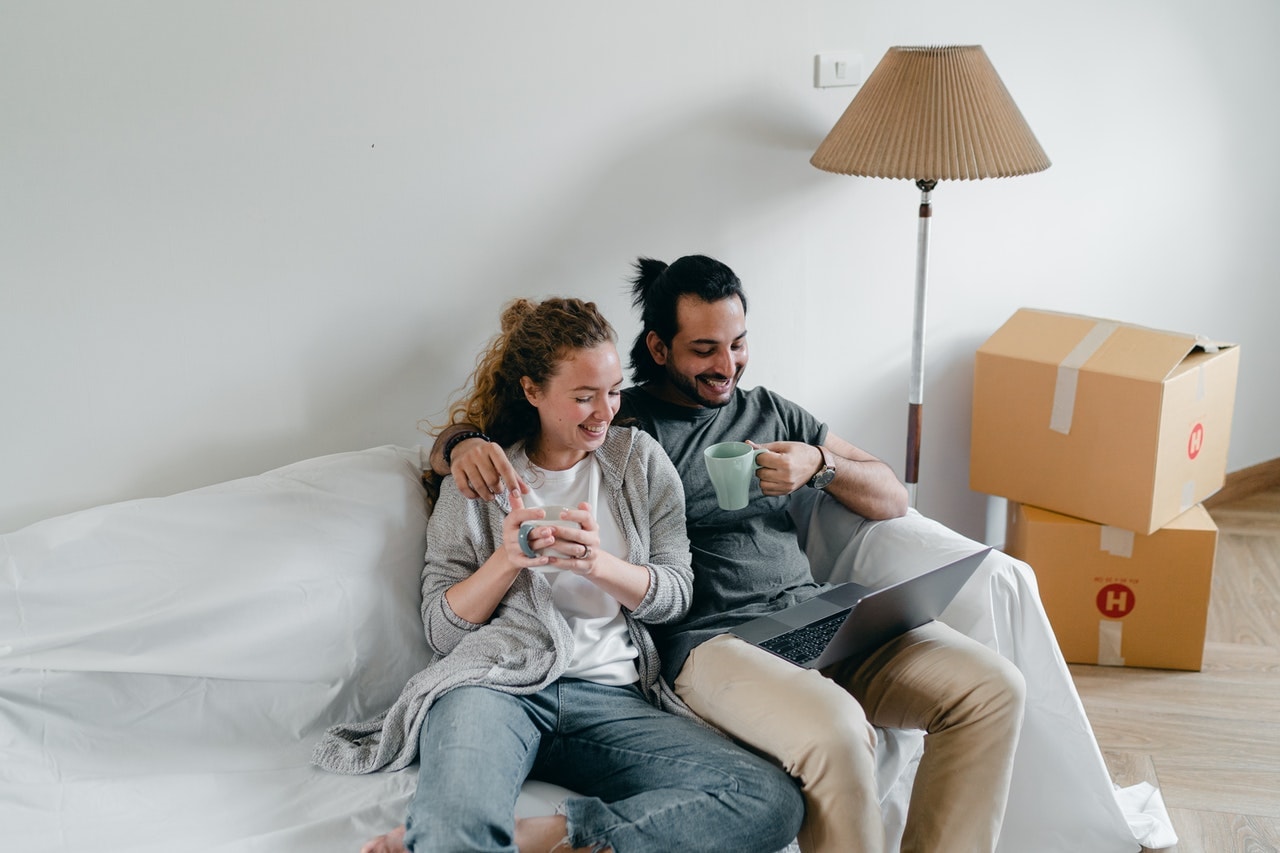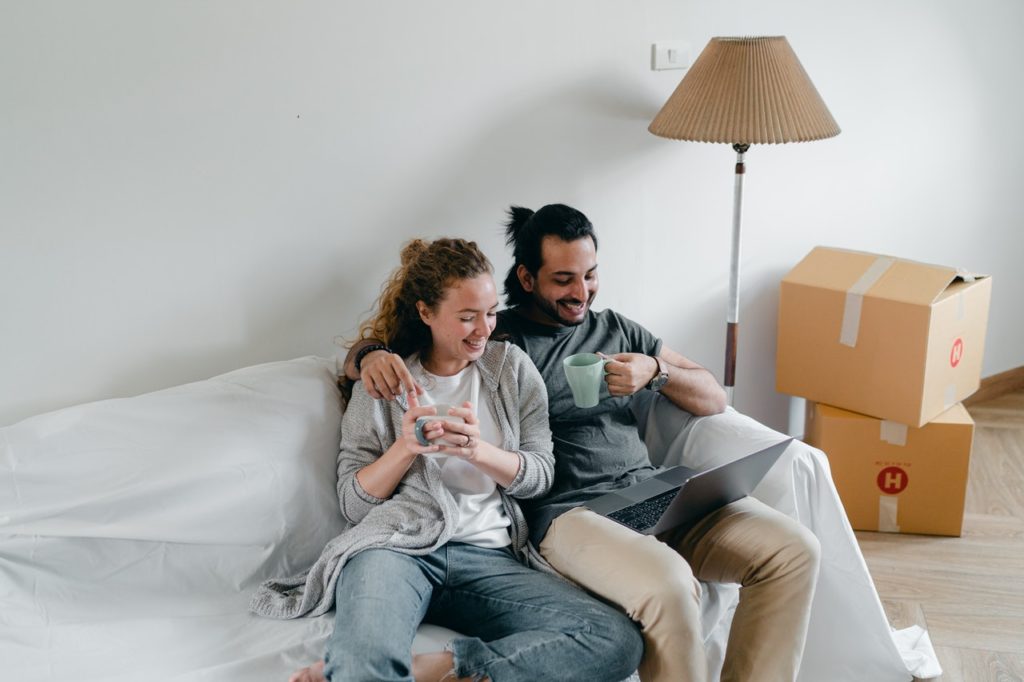 Being corner cuddlers gives the most options when picking a couch for cuddling due to small space taken up. If you're living in a small space and need a small couch this is a great cuddling position.
The Lay Down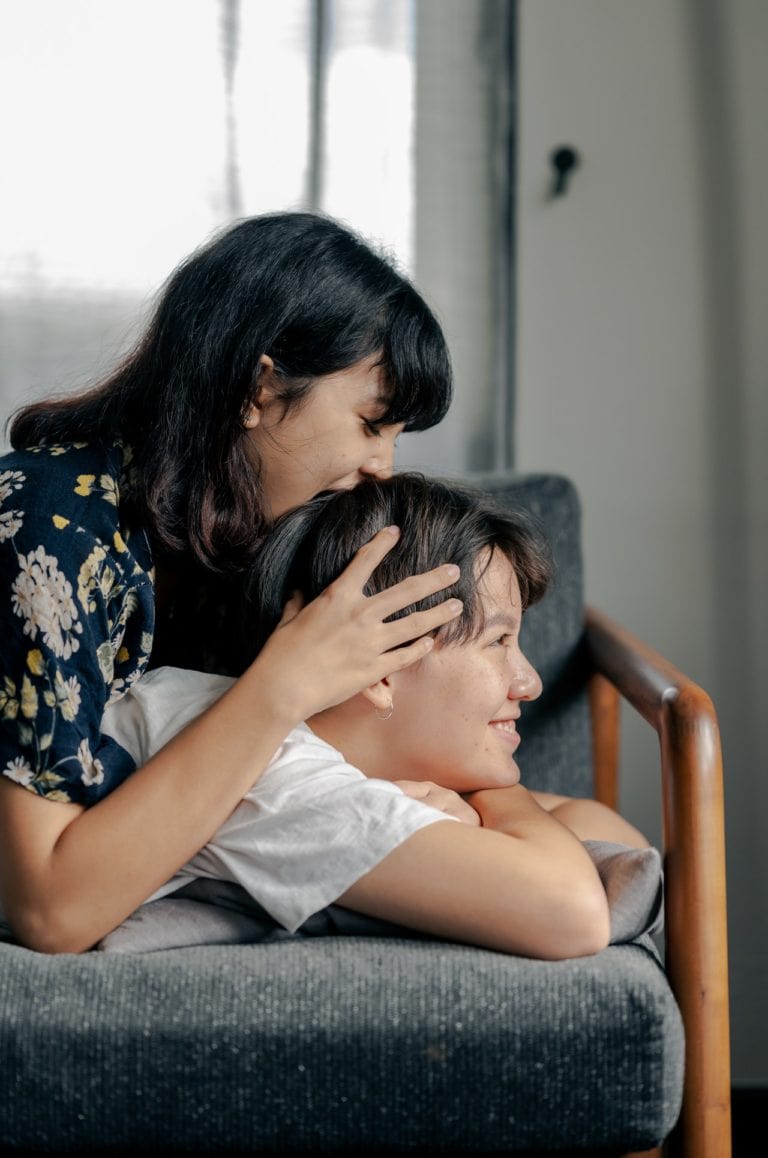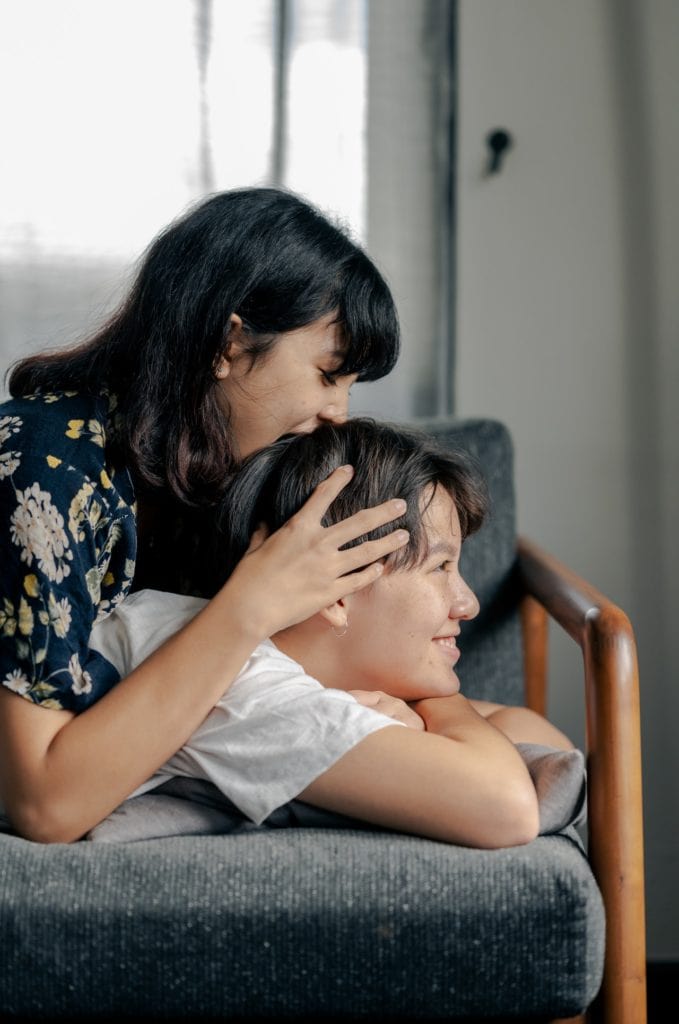 For couples that prefer to completely lay down while cuddling a sofa that's long enough to accommodate your height should be considered. It's more comfortable being able to fully stretch out than having to squeeze in a short couch.
The optimal length for most is a sofa that's at least 89 inches or a sectional. Consider a futon if you want the full bed experience in your living room.
The Workers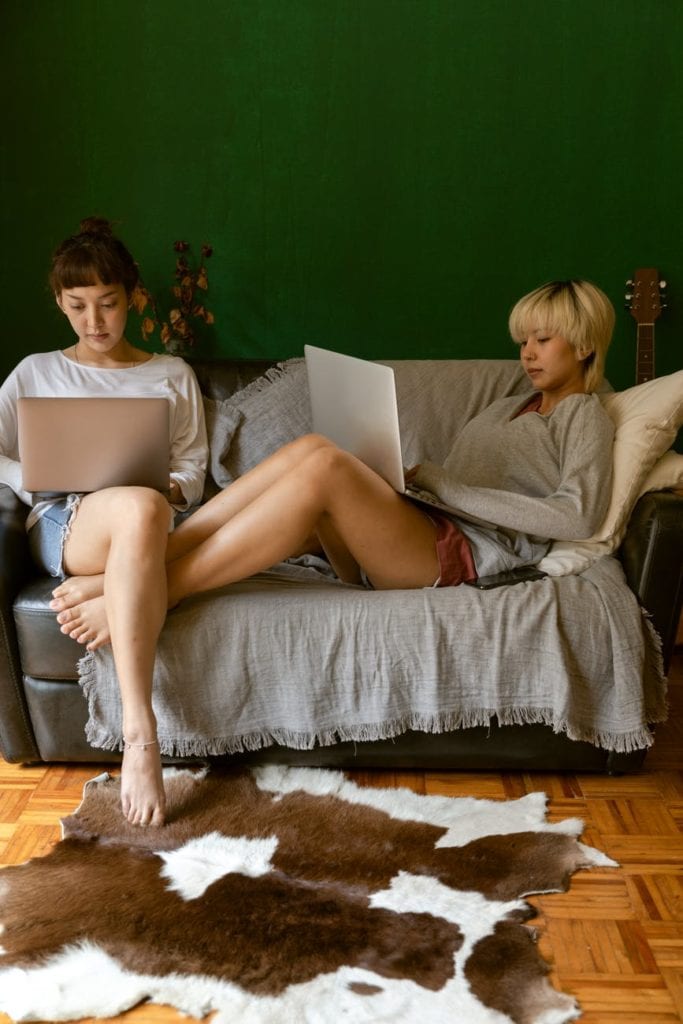 For couples that like to get work down together in a comfy space, small couches work as well. Since both have to be sitting up less space is required. However, for those that like to have as much space to stretch their legs a sectional with a chaise gives each equal space.
The Classic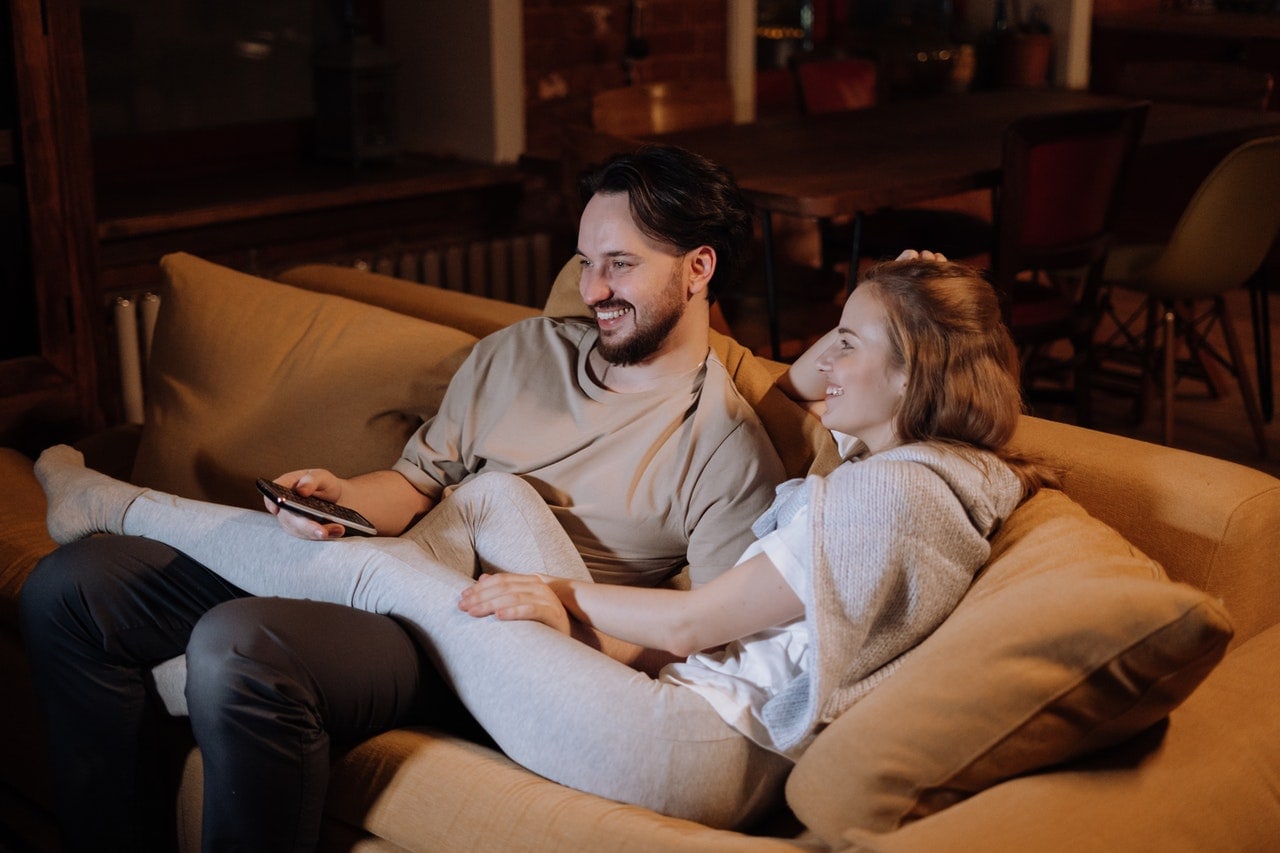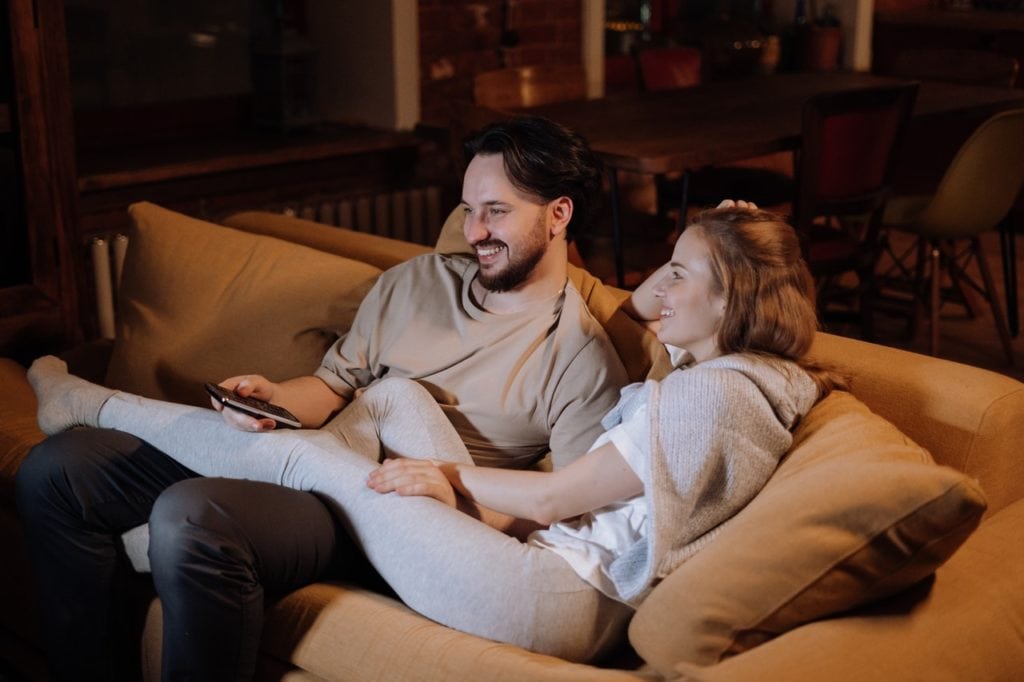 Deep couches will the softest materials and strong back support will always deliver the best cuddling experience. Getting an oversized sofa with down filling will be worth it's cost in cuddling experiences that you won't forget anytime soon.