Can't wait to lounge around after a hard day at work, but concerned about your lack of space? Maybe you think your budget can't stretch to a recliner chair?
We wanted to challenge ourselves with this article. And when we told our team we were reviewing cheap recliners under 100 bucks, many said it was impossible.
Guess what. They were wrong.
With the compact styles of models such as the Winback, recliners can now fit into small lofts and offices. And at rock bottom prices, they're affordable too.
In fact, we were so blown away by the quality of the sub-$100 recliners you can pick up, we struggled to narrow down our top 12!
In This Article We'll Discuss
Best Cheap Recliner Chairs Under 100 for Small Spaces Reviews
Best Overall Budget Recliner Under 100
If you're looking for a massage recliner that won't make a dent in your wallet, then the Devoko is perfect for you. With its built-in wired control, you can switch on the massage function when you need it most.
While the Devoko's massage feature is its highlight, it has other stellar aspects as well. For one, it is a lay-flat model that can recline from 90 to 180 degrees – straight, half-flat, and flat. Whatever you choose, you can lounge in comfort with its soft cushions and plush footrest. Add to that, it also has wide curved armrests that provide adequate support for your arms.
Measuring 27 (W) x 29 (D) x 38 (H) inches, the Devoko's 275 lb-capacity is possible with its metal and wooden frame. The design comes with a classy PU leather material. This makes it waterproof and resistant to sun damage.
Available in brown, the Devoko recliner comes with easy to install instructions. As a pre-assembled product, you can whip this together in under 3 minutes. It's as easy as that.
Best Overall Cheap Recliner Under $100 for Adults
There's little more you could ask for with the Winback recliner. For one, it can assume 5 positions – 90, 125, 140, 150, and 160 degrees. This makes it one of the most versatile on this list, but the only downside is that it doesn't go completely flat.
The massage option is very welcome after a busy day in the office. You can choose between 8 preset functions for the ultimate evening treat. It even comes with a 2-point massage for your waist!
Even as a regular chair, the Winback ensures the utmost in comfort. Made with high-density sponge, it comes with soft cotton padding. High-bounce springs and a hardwood frame support the plush cushions. This helps it to carry a load of up to 250 pounds. Its PU leather coating also makes the Winback very easy to clean as well.
Measuring 39.8(W) x 27(D) x 34(H) inches, the Winback is available in 7 colors. This makes this recliner an excellent choice to maximize your use of space.
Best Wingback Recliner Under $100
Looking for something simple yet sophisticated, without all the bells and whistles of some of the other models? The FDW Wingback is what you need.
This recliner is adjustable to 90 and 180-degree reclining positions, allowing you to sit or lie flat (we did say it was simple!). While the number positions are less than similar models, it's the design of this chair that is the standout feature.
This sleek, leather recliner design resembles the look and feel of one you may find in your local cinema. If you're a movie buff looking for a chair to help you enjoy your favorite movies from the comfort of your own home – the FDW recliner is a perfect choice. Plus, you can avoid the extortionate price of cinema tickets!
With a weight capacity of 250 pounds, the FDW Wingback is perfect for taller people too. After all, it comes with a more streamlined measurement of 63 (W) x 27 (D) x 30 (H) inches.
And although this recliner comes in at under $100, it is comparable to more expensive furniture brands.
For one, it's comfort is unparalleled. It also comes with plush seat & back cushions that wouldn't look out of place on a recliner double the price. It also features PU leather, which is resistant to inevitable soda spills.
The FDW Wingback offers a balance of excellent features at an entry-level price point. It also comes in a choice of 4 colors.
Best Recliner Under $100 for the Elderly
If you want to reward your Grandma for her years of love and care, look no further than the Furniwell Modern recliner. It's praised for its affordability and quality design. It comes packed with features that make it particularly suitable for the older user!
For one, it can be adjusted from the TV-friendly 90 degrees to the sleep-conducive 170 degrees. In the flat position, it measures a good 27.9 inches high and 64.2 inches deep. Whether your Grandma wants to catch up on her shows or take a well-earned nap in comfort, the Furniwell will allow her to do it with ease.
It's also much easier to stand up and sit down when compared with your typical sofa. This makes it ideal for those who may struggle with mobility.
With its soft, comfy padding and armrests, you can use the chair for extended periods without worrying about sore or stiff joints. As it also comes with a footrest, it can help ease your grammy's leg discomfort too. To top it all off, it also comes with an ultra-relaxing massage function for the back.
Furniwell has an excellent 265-lb capacity, which is 15 pounds more than the FDW Wingback. As such, this black faux leather recliner may even permit your small child to snuggle up with Grandma. After all, everyone loves Grandma's cuddles!
Best Recliner Under $100 for the Nursery
Having a new baby may be blissful, but it can be stressful too. For times like these, you need something to take the weight off. And for that, you need to get the Tuoze Recliner.
Measuring 27.5 (W) x 29 (D) x 38.5 (H) inches, it has a metal & wood frame for a max weight of 280 pounds. This capacity makes it one of the best affordable recliner chairs, as it is sufficient to support you – and your small child!
Design-wise, this sponge-padded piece of furniture can be configured 3 ways – from 90 to 165 degrees. With these positions, you can relax well as you read to your baby or even sneak in a quick nap.
While lounging on the Tuoze Recliner is rewarding by itself, you can make it even better. With its massage feature, it can help soothe your tired back. This is especially useful if you've been carrying the baby all day.
This chair would look great in a nursery room or even just a quiet corner of your home.
While relaxing, the Tuoze Recliner has some drawbacks. For one, it only comes in blue and grey. This may not work with the existing décor in your home. With its textile upholstery, it is prone to staining – a constant risk when you're caring for babies. If this is a major concern, you should consider PU leather recliners, such as the Winback. PU leather, of course, is easy to keep clean.
Best Gaming Recliner Under $100
A good game can keep you glued to your sear for hours. These long sessions can quickly become uncomfortable, especially if the design of your sofa is inadequate. Opt for the Vitesse is you're looking for an affordable yet comfortable gaming recliner.
Measuring 23.6 (L) by 19.3 (W) inches, the Vitesse comes with a soft headrest and a comfy footrest. It also has a resilient foam cushion and an alloy steel frame for excellent lumbar support. This means it's strong enough to support a max weight of up to 300 pounds.
Should you decide to take a quick rest, all you need to do is kick back. From the 90-degree upright position, you can flatten it to 180 degrees quickly by leaning back in your chair. This saves you from having to fumble around for levers and switches that could otherwise distract you from your game.
Unfortunately, the Vitesse chair does not come with an inbuilt massage feature. Arguably, this is an unnecessary feature for gamers. What it does have is a huge color variety, as this PU leather chair is available in blue, gray, purple, red, and white. Perfect for customizing to your gaming room in your home.
Best Fabric Recliner Under $100
At 27.5(W) x 35.5 (D) x 38.5(H) inches, the Gotminsi lives up to its name as the best fabric recliner chair. For one, it has a smooth, plush surface, which affords the user the ultimate in comfort.
As for its reclining feature, it is somewhat limited, and you can only adjust into two different positions – upright and 160 degrees. These options, while enough for most, pale in comparison to the Winback's 5 positions. It also has no massage function, which is another feature that the Winback recliner boasts.
As the name implies, the Gotminsi makes for a wonderful design choice for a home theater room. Its slick black aesthetic makes for a stunning choice indeed.
Despite its shortcomings, the Gotminsi wins when it comes to durability and comfort. With its metal frame, it can take a max weight of 250 pounds. Lined with soft cushions, this black fabric model will keep you glued to your seat!
Oh, and should you prefer a faux leather material, Gotminsi also offers this model in a light gray and black.
Best Faux Leather Recliner Under 100
If you like eating and drinking while relaxing on your sofa, it's best to choose an easy to clean material. Enter Homall, the best affordable recliner chair made of durable PU leather fabric.
Apart from being easy to clean, the Homall recliner design promises comfort unlike any other. It is, after all, made with a high-density sponge – a material that provides unbeatable support for the back.
The Homall comes with 3 reclining positions, which range from 90 degrees to 160 degrees. It also has a built-in vibration massage function for the lower back. This allows you to achieve unbeatable levels of comfort in your own home.
With proper care, the Homall's alloy steel frame can last for several years. While it's not as good as Winback's hardwood frame, it's durable enough to carry a max capacity of 275 pounds.
A good option for the smaller home, the Homall has a compact size of 27.6 (W) x 35.8 (D) x 38.6 (H) inches. It also comes in a wide choice of colors, including black, beige, brown, gray, khaki, and red.
Best Cheap Red Recliner Under $100
If you want to add some oomph to your otherwise boring space, then the Jummico recliner is for you. Available to order in a breathable red material, it also comes in beige, brown, gray, and light blue.
While its unique design is its selling point, it keeps true as one of the best affordable recliner chairs in this list. For one, it's made with a stable steel frame and comfy thick cushioning.
It can assume 3 positions, from 90 degrees to 165 degrees. With its vibration massage function, it can keep you relaxed as you read a book or watch TV.
While it has a max weight capacity of 265 pounds, its dimensions of 19.8″ (W) x 28.8″ (D) x 38.6″ (H) makes it better for slimmer occupants. All things considered, this size makes it the perfect fit for tighter spaces and the smaller home.
Most Comfortable Recliner Under $100
You can compare the Yaheetech to costly recliners because of its high-quality features. For one, it's made with high-density foam, a material known to provide great neck and back support. It also comes with pocket coil springs, which conform to your body shape to provide extra comfort where it is needed most. All these are fixed upon the chair's wood & metal frame, which can carry a 265-lb person with relative ease.
As a reclinable chair, the Yaheetech can assume 3 positions. At 90 degrees, it makes for casual sitting. At 120 degrees, you can watch TV like a king. If you want to take a nap, all you need to do is push it way back to the 160-degree position. Ahh.
While it has many useful features, the Yaheetech comes with some minor drawbacks. At 33.5 (W) x 26.5 (D) x 39 (H) inches, it is bulkier than most. It's also missing a massage feature, which is a dealbreaker for some.
Despite these issues, the Yaheetech's PU leather makes cleaning easy. It also comes in a wide variety of color design choices: black, beige, gray, and brown.
Best Rocker Recliner Style Under $100
What is it about rocking chairs? They have that undeniable charm that you can't beat. With the Giantex rocking chair with recliner features, you get the same degree of that old-school relaxation your grandparents enjoyed. As a bonus, it may help reduce your back or arthritic pains as well.
At 33.3(W) x 23.1(D) x 11.4(H) inches, the Giantex is a stylish and functional addition to any home. . While its cushion is thinner than most, it has a frame made of strong birchwood. With this, the sleek Giantex chair can carry as much as 331 pounds.
As a leg-only recliner, you don't have to worry about back wall clearance. This does mean, however, that you're limited to just lifting your legs. Picking consumers may miss the back reclining feature for that extra level of comfort. Its also missing a massage function too, which is a shame. If these are important to you, you should turn to the Winback or the Devoko.
Best Space-Saving Recliner Chair
Is size an issue in your home? Measuring 19.5 (W) x 29 (D) x 39.5 (H) inches, this chair recliner is one of the more compact design choices on the market. But despite its space-saving feature, it performs just as well as the other recliners – if not better.
For one, it has four recline options – from 90 degrees to 165 degrees. This degree of movement makes it suitable for a wide range of tasks. Whether it's enjoying your favorite movie, reading a book, or eating your dinner.
With the LSSBought's stable steel frame, it can carry a maximum of 265 lbs. Even with this heavy-duty feature, this recliner doesn't fall short when it comes to comfort. It has a thickened, deformity-proof sponge filler that is covered with breathable fabric. We simply love the high quality design of this recliner chair.
While the LSSBought has a long list of excellent features, it falls short with its lack of an in-built massage option. Despite this, it makes for a good accent chair for your home, as it is available in neutral tones such as black, beige, and gray.
Best Cheap Recliner Chairs Under 100 for Small Spaces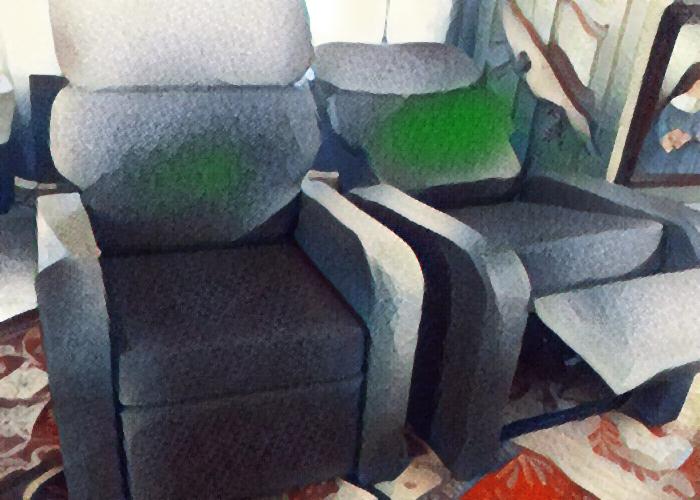 How do you order a living room recliner at a reasonable price when there are hundreds of choices?
Having an understanding of what features you should focus on before you start is a great idea. To ensure you get the best from your buy, consider the following
Mechanism For Recliners Under 100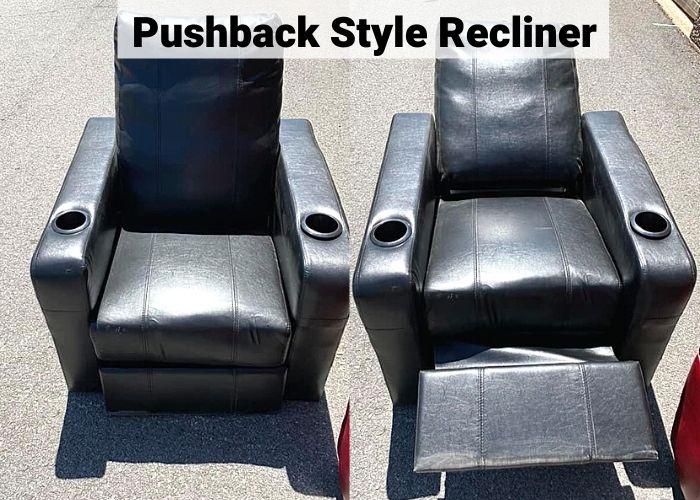 Affordable recliners under $100 come with a variety of mechanisms:
Pushback – As the name suggests, this chair reclines by pushing back. In models such as the FDW Wingback, you don't need to worry about fumbling for a lever or button. Instead, you can "kickback."
Lever and Handle – These recliners come with an easy to operate mechanical handle, lever, or pull loop.
Power – Automatic models such as the Winback activate with a touch of the button. Some models even have various position options, massage features, and USB charging facilities. Focus on a quiet recliner. After all, you don't want the buzzing of the device to disturb your nap.
Lift Chair – This automatic model rises from the seating position to help the user to stand easier. Perfect for people with mobility concerns, it can assume various inclines with a touch of the button. While these tend to be more expensive, this could qualify for reimbursement under your medical insurance policy.
Configurations For Recliners Under 100
Reclining chairs can be maneuvered into different reclining positions, depending on the model:
Leg Only – Instead of a full decline, these models only lifts the legs. This means models such as the Haotian do not recline all the way back.
Lay-Flat – These recliners help you to recline to 180 degrees. As such, Lay-Flat models such as the Devoko Recliner are perfect for afternoon naps and complete home comfort.
Wall-Hugger – Best for small spaces, these recliners are perfect for small apartments, caravans, and motor homes. It extends forward, so there's no need for extended clearance at the back.
Rocker – When upright, a recliner such as the Haotian can rock – and even swivel.
Swivel – As the name suggests, you can pivot swivel models easily to face any direction. Perfect for use when entertaining guests.
Body Size Considerations for Small Recliners
If you are the one who's going to use the recliner, you need to make sure that it fits you well. After all, what use is a recliner if it's uncomfortable!
If you can, sit on the chair to try it out for size. Your feet should be able to reach the floor comfortably.
Space Small Recliners Under 100 Will Take Up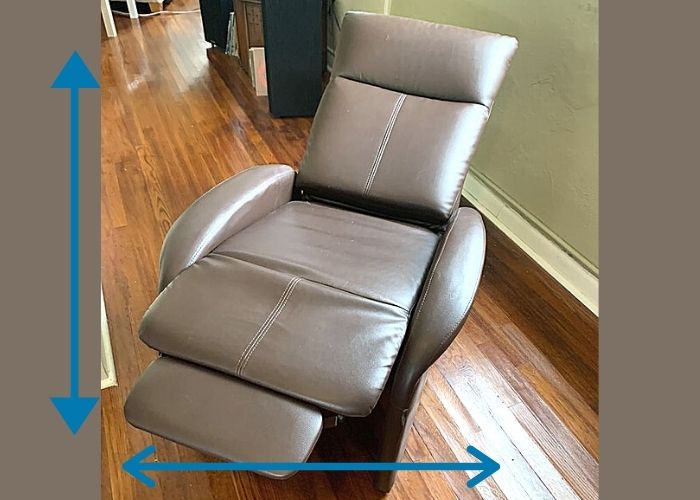 Measure the space allotted for your recliner carefully before purchasing. There should be enough room for it so it won't bump into walls, coffee tables, and other home furniture. If space is an issue, a leg-only model such as the Haotian is a good option. Don't forget to measure the width of your doors to make sure you can actually get the recliner or sofa into your room!
Lastly, there should also be enough space for movement around the chair, even when it is completely reclined.
Cushions
Let's face it. Your new recliner is likely to become your favorite chair in your home. Maximizing the level of comfort is a no brainer, as well as prioritizing one constructed from durable material.
Opt for a recliner made with high-density foam – such as the Winback. Apart from providing ample body support, high-quality foam cushions can last for 8 to 10 years.
Upholstery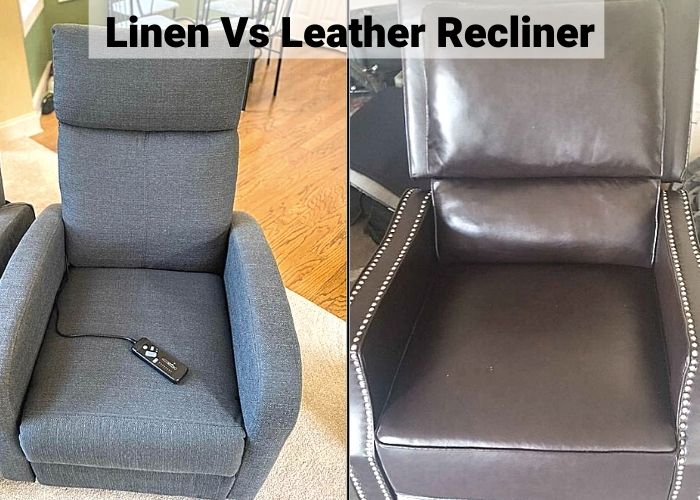 Choose your upholstery carefully. Leather is an excellent choice and easy to clean, but can be sticky in the summer.
Linen upholstery is perfect for warmer climates, as it helps to keep your body cool.
Who Has The Best Deals On Recliners?
In our opinion, the best way to shop is online.
Amazon offers the best and most affordable recliners under $100. In fact, Amazon even sells a wide sofa range for your home. Amazon offers a bunch of different types, configurations, cushions, and upholstery options. They also come with discounted shipping, so you don't have to lug a bulky recliner around from the store. Place an order online and have it delivered to your door – what's not to like?
Where To Buy Cheap Recliners?
One of our favorite places to buy cheap recliners under 100 bucks is Amazon. Not only can you enjoy some of the lowest prices – you can enjoy free/discounted shipping and superior customer service to boot. Perfect for those who prefer an easy shopping experience.
But if you prefer real-life shopping, stores such as Walmart and Macy's offer a decent selection of recliners as well. Yet these stores offer models that are usually a little more on the expensive side as they have to cover their overheads.
What To Expect When Buying A Recliner Under $100
We get it. Low cost often means low quality, especially when you're dealing with a significant buy such as a sofa or couch. Yet, even at such a low price, some fantastic recliner chair options under $100 are excellent buys.
One of the best ways to keep your sofa or couch looking good as new is through routine maintenance. Follow these essential tips for best results:
Cheaper recliners often have to use more inexpensive material. As such, you may find a decrease in weight capacity. Be sure not to overload your chair to prevent unnecessary breakages.
Use the chair carefully, even if it's made of metal (such as that in the Tuoze recliner). Although this material is strong, it's less durable compared to hardwood frames.
Clean any stains and spills right away. This is mighty important for material recliners such as the Gotminsi chair.
You may find that the seat padding may be a little thinner on budget models. Boost comfort levels by adding plump pillows or cushions.
You may need to oil the recliner every now and then to prevent squeaking.
Don't apply too much pressure on the levers or other mechanisms to prevent damage.
Check the warranty to confirm what it covers.
Conclusion
Recliner chairs can help you sit, lounge, and nap with comfort. Despite the low price tag, cheap recliners under 100 bucks can provide a wide range of benefits. Take the Winback as an example, which delivers a quality lounging experience and unbeatable comfort. As well as the 5 comfortable reclining positions, it comes with a massage feature. At such a low price, it is an incredible addition to your home.
And for when you want that little extra comfort, the best lay-flat recliner is the Devoko. With its soft-backed cushion and footrest, it can keep you comfy in an inviting 180-degree position. Best of all, it also comes with a soothing massage feature!