Flooring can be one of your home's most expensive features, with materials such as marble, tile, or hardwood, being the most popular. However, keeping it safe from scratches and damage can be a big problem. This is especially true if you have a lot of furniture. The constant movement of chairs means that your hardwood floors are in danger of being gouged or scratched which can look unsightly.
One of the best ways to protect your floor is by purchasing a chair mat for your hardwood floors. This will protect your expensive flooring while serving as a decoration or accent for the whole room.
Check out the Sharewin chair mat below, our top pick. This durable mat is transparent, protecting your hardwood floors without covering their beauty.
In This Article We'll Discuss
6 Best Chair Mats for a Hardwood Floor
---
6 Best Chair Mats for a Hardwood Floor
You can think of chair mats for hardwood floors as mini carpets or rugs that serve as a barrier between the legs or wheels of your chairs and the floor. Simply place the chair on top of the chair mat, and you don't have to worry about scratches on your precious hardwood any longer.
Best Overall
Product Details:
Size: 36″x47″
Material: Polyvinyl Chloride
Color: Transparent
Protect both your hardwood floor and chair with this chair mat from Sharewin.
This rectangular mat is made from polyvinyl chloride material. It has a transparent color so it can blend with your hardwood floors perfectly. It is perfect for heavy-duty use, making it our pick for the best overall chair mat.
This product is a good choice if you're looking for a chair mat with a strong grip to prevent your chair from sliding. This is especially the case if your chair has caster wheels that can damage hardwood floors very easily. The mat's material is also very durable, so you can be sure that it will last a long time. It is made from BPA-free plastic, so it is toxin-free and odorless.
The transparent material of the chair mat means that it can be used on different flooring materials. If you don't have hardwood floors, this product is also perfect for vinyl, stone, laminate, tile, and concrete. It also comes in different sizes perfect for a wide variety of chairs.
---
Best Vinyl
Product Details:
Size: 47″ x 59″
Material: Vinyl, Plastic
Color: Clear
Looking for a durable vinyl chair mat? This model is our favorite.
This rectangular chair mat from Amazon is our choice for the best vinyl chair mat for hardwood floors. Made from durable PVC material, this mat is also an ideal choice for vinyl, laminate, stone, tile, concrete, and carpet.
This mat has a smooth side and a rough side. If you're going to use it on a smooth surface like a hardwood floor, you should use the mat with the smooth side facing down. For carpet, the mat grippers should face down to prevent your mat from slipping around.
The clear material blends perfectly with different floor materials, making the mat inconspicuous, while the ergonomic surface makes it easy for caster wheels to move freely.
This chair mat is also available in different sizes so you can find one to suit your needs.
---
Best Vinyl
Product Details:
Size: 35″ x 47″
Material: Polycarbonate
Color: Clear
The Amazon basics chair mat is a great choice for all hard floor types.
Polycarbonate has better impact resistance than plastic, which is why this chair mat from Amazon gets our vote for the best polycarbonate chair mat for hardwood floors. It is also available in different sizes, depending on the coverage you need.
Designed for hardwood, tile, laminate, linoleum, concrete, and other hard floor surfaces, this chair mat comes in a clear color so it can blend perfectly with your floor without being noticeable. Best of all, it will provide your chair an easy rolling surface without curling or flexing on your floor.
This chair mat is a good choice if you want something hard-wearing and durable. Aside from caster wheels, it is also a perfect choice for protecting the floor from dirt, moisture, and dirty footwear.
This product is only suitable for hard flooring materials and cannot be used for carpeting.
---
Best Rug Look
Product Details:
Size: 63″x51″
Material: Polyester
Color: Black
Looking for a chair mat that won't stick out like a sore thumb? Check this out.
If you don't like plastic and prefer something a little softer, then this chair mat from SALLOUS is a good choice. You can think of this product as a small rug or carpet that you put over your hardwood floor to protect it from your chair, footwear, and scratches.
Made from premium quality polyester, it features non-slip backing, invisible suckers, and odorless material so you and your chair can move with ease without damaging your floor's surface. SALLOUS chair mats can be used for hardwood floors, laminate, vinyl, and other hard surfaces, but sadly not for carpet floors.
This product is a good choice for those who don't like plastic and want something more decorative. This product comes in black and other sizes, making it a good accent for light-colored floors. Remember to vacuum the mat regularly to keep it clean.
---
Best With Standing Cushion Included
Product Details:
Size: 50″ x 36″
Material: PVC Leather, NBR foam
Color: Black
Relieve aches and pains with this cushioned chair mat.
Incorrect posture can cause body aches, especially after a long day at the office. Protect your posture with the Ergohead Office Chair Mat Standing Cushion, and your feet will thank you for the added support.
Using this chair mat on your hardwood floor will help you correct your posture while sitting or standing. This is because the raised cushion can relieve stress and pressure on your feet and ankles.
This product's secret is in the NBR anti-fatigue memory foam with an energy-return effect that reduces stress, fatigue and discomfort while sitting or standing. It is also perfectly stable, thanks to the anti-slip backing that keeps the mat firmly in place.
This mat is a good choice for protecting hardwood, laminate, tile, and other hard flooring materials. It is also advisable for people who suffer from back or foot pain and need help with their posture.
---
Best Gaming Style
Product Details:
Size: 43″ x 35″
Material: Polyester, Rubber
Color: Red and black or blue and black
Protect your games room with the Gtracing gaming chair mat.
Gamers who want a break from solid colored or transparent chair mats will like this product from Gtracing. Made from high-quality materials with a durable, tough design, it features a soft and carpet-like for a comfortable feeling and a water-resistant rubber bottom and flame retardant. This mat will protect your floors from chair casters and overexcited gamers.
It in a few different designs with 2 color options and is the perfect fit for right between your desk legs. It covers a large area helping you keep your hardwood floor well protected. The simple design and classic color options make it easily blend in any space, especially for your game room.
This mat is available in a rectangular or circle shape with a shark or target design.
---
Buying Guide
---
Buying a chair mat for hardwood floors is not very complicated. It's important to prioritize a list of features so that you can evaluate them properly and buy something that suits your needs.
Here are some tips.
Sizing
First, you need to find something that will fit the space for your chair. Not all of us have spacious offices or work areas, so you need something that's not too big. However, it should also not be too small so that all areas are perfectly covered.
The best way to determine what size to buy is to measure the space where your chair will sit. Leave a couple of feet allowance on all sides so that you can slide your chair easily without the casters coming in contact with the floor.
Material
Char mats basically come in 2 materials: fabric and plastic. Fabric is a good choice if you want a softer feel for your flooring. However, it can be susceptible to dirt and spills. If you go for fabric, make sure that spills don't often occur in your work area and that the fabric is easy to clean and maintain.
Plastic is a good choice for all types of the work environment. Most chair mats are transparent, so you don't really notice that they are there. They are also very easy to maintain since you only need to wipe them, and they are as good as new.
Best Protection
Hardwood floors are expensive, so you need something that can provide good protection. For example, if your space sees a lot of foot traffic, a chair mat that is impact resistant will be a good choice for you since it will be more durable and will last longer.
Extra Features
Extra features like anti-slip backing and an ergonomic surface are good to have. The first one will provide stability to your mat so that it does not slip around the place every time you move or adjust your seating. The second one will prevent your chair from slipping and rolling around the space.
Conclusion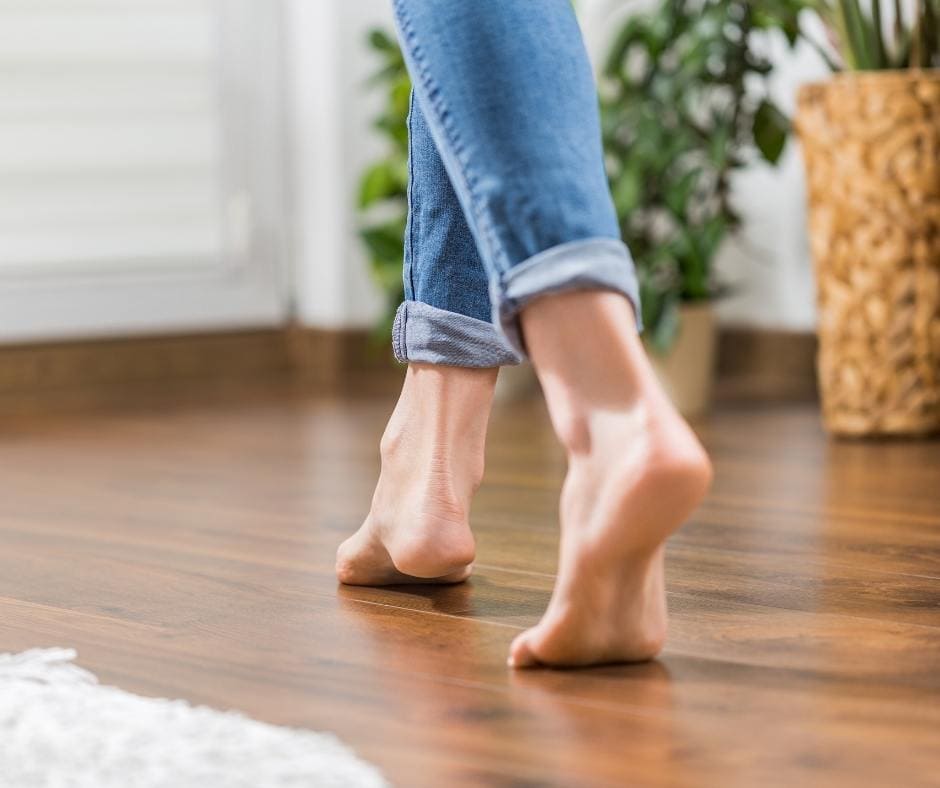 The best chair mat for hardwood floors will not only protect your floors from unsightly scratches. It will also protect chairs from dust, moisture, and footwear.
The durability of hardwood floors makes them seem indestructible, but we all know that a deep gouge is hard to repair. Most of all, it can contribute to the deterioration of the wood since it compromises the integrity by letting moisture seep into the wood faster. Protection like chair mats can help preserve the wood and help you save money in the long run.
That's why we think every home office should have a chair mat, and the Sharewin is a great all-round choice for those looking to add one to their home.