To help you find the perfect ceiling fan for a girl's bedroom, we've created this list that includes fans with a range of styles. From space-themed fans to pink-themed fans, we've included something for everyone. The majority of girls' bedrooms are small or medium-sized, so we've also focused on fans that cover this area with ease.
Our #1 recommendation goes to the Hunter Fan Company 59454, which is one of the simplest designs on the list. Because of its simple design, this fan will fit in with any décor. It's 44 inches in diameter and is the perfect size for a small or medium room. Additionally, it includes an LED panel, so it will light up the bedroom at the same time. If you want something simple yet effective, this is the fan for you.
If you want to go for a slightly more interesting design, then we recommend the NOMA LED Ceiling Fan with Light. This light has four reversible blades, allowing you to select between multi-colored or white blades. This gives the fan a level of versatility that many of the other fans on the list do not have. The fan also has a central LED light.
In addition to the above two fans, the other fans on this list offer a powerful array of CFM air displacement, and there's a lot of different aesthetic designs. If you're uncertain about which fan you should choose from the list, then take a look at our Buying Guide. This will help you pick the perfect ceiling fan for a girl's bedroom.
In This Article We'll Discuss
5 Best Ceiling Fans for Girls' Bedrooms
---
5 Best Ceiling Fans for Girls' Bedrooms
---
Most Popular Ceiling Fan for a Girl's Bedroom
Product Details:
52-inch diameter
15.65-inch height
Reversible motor
Flush pink and light wood finish
Lifetime warranty
This ceiling fan is finished in light pink and its light wood fan blades create a very calming effect. The fan has a diameter of 52 inches and a height of 15.65 inches.
Hunter Fan Company specifically designed this fan for low-profile housing. If you have a room with a low ceiling, especially lower than 8.9 ft, this fan will be perfect.
The fan also has a reversible motor, which means you can heat up or cool down the room depending on which way the fan spins. In addition, it comes with a lifetime warranty, so you know you're in good hands with this fan.
---
Best Ornate Style
Product Details:
52-inch diameter
6.75-inch height
Two LED bulbs
Dimmable light
5 Blades
Remote Control
If you're looking for a more artistic design, then this fan will fit great in your home. The fan is 52-inches, which is a normal size. What sets this fan apart is that it's a hugger ceiling fan, so it only hangs 6.75 inches from the ceiling
The fan comes with two adjustable LED bulbs, both 6W and 400 lumens. This is around 2700k light intensity, and it gives off a warm light. The included remote control has a dimming function, letting you change the intensity of the light slightly.
Each of the five blades has a French white finish. The fan base has decorative vine patterns, also finished in white. The ornate style will work well in any white or slightly older décor.
---
Best for Girls That Love Space
Product Details:
48-inch diameter
5 fan blades
Three-position mounting
Chain activated
Three speeds
This fan has a galaxy design, with the central light being the earth and each blade having a space aesthetic. The fan measures 48 inches, making it one of the smaller fans on this list. You can reverse the five fan blades if you would prefer a completely black design. The fan is made from brushed nickel.
Unlike other fans on this list, it has a three-position mounting. This means you can mount the lamp on standard, low, or angled ceilings.
The dangling traction chain allows you to turn the fan on and off quickly, as well as giving you the option to cycle through the three speeds. One of the downsides to this fan is that there is no remote control.
---
Best Simple Teenage Girl Ceiling Fan
Product Details:
44-inch diameter
Simple metal design
Three blades, three speeds
Remote control
Dimmable LED
Silent motor
This design is the simplest on our list, with three flat metal blades and a central metal motor. The fan is designed for rooms with low profiles. This makes it a great choice for small bedrooms with low ceilings, but means it would lack efficiency in a larger room.
The fan has a diameter of 44-inches, making it one of the smallest on this list. Also, it has multiple fan speeds. In addition, the fan uses Whisper Motor technology which keeps it completely silent. You can even reverse the motor, meaning that you can heat up the room in winter.
In the center of the fan motor is an LED kit that uses energy-saving bulbs that will save you money on your monthly light bill. These lights are dimmable, making them a better choice than others on this list if you're looking specifically for the light function.
---
Most Colorful
Product Details:
4 blades, colored or white (reversible)
Non-dimmable LED light
Reversible motor
30-inches
3 fan speeds
This fan has a colorful contemporary design. The four circular fan blades are reversible, letting you choose from the colored side (red, blue, green, and yellow blades) or a plain white blade. The central motor is metal and has an LED light attached.
One downside to the NOMA LED Ceiling Fan is that it doesn't include a dimmable LED function. You can only choose between the lights being on or off. However, this fan does include a few other properties, like a reversible motor
With a reversible motor, you'll be able to change the direction of airflow in your home. This will allow you to warm the room during winter and cool it during summer. The three fan speeds will then allow you to select how much air you want to circulate.
The fan is 30-inches, making it the smallest on our list. This is great for smaller rooms and will hardly take up space in your child's bedroom.
---
Buying Guide
---
How to pick the best ceiling fan for a girl's bedroom
When you're deciding on which ceiling fan to buy for a girl's bedroom, there are two things you should consider: the size of the room and her personal tastes.
Size
The size of the fan you buy will depend on the size of the room. While for smaller rooms a fan of between 40-50 inches will work well, you'll have to look for a larger fan if the room is bigger than average.
Having the right size fan for your room will ensure that air is circulating efficiently. This will keep things cool, even during the hottest months.
Be sure the size of the fan matches the size of your room. The larger your room is, the larger your fan should be. Similarly, you should also look for a higher CFM number. This number indicates how powerful the fan is.
Aesthetics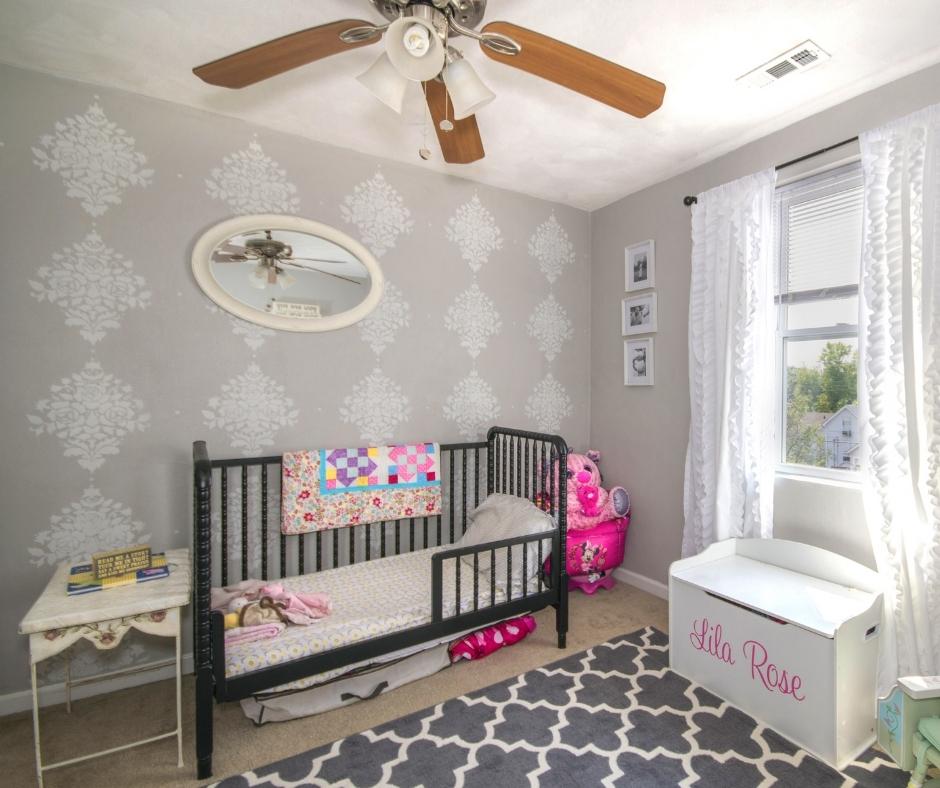 When deciding on a girl's fan, there isn't one design or fan aesthetic that will suit everyone. That's why you should ask the girl who will be living in the room what fan aesthetic she wants.
We've selected a range of aesthetics for this list, from space theme to color theme to minimalist designs. So, make sure to work through the list and find one that the girl you're getting the fan for actually likes.
Once you've settled on an aesthetic, you'll just need to find the right size. Then, you'll be ready to order.
Conclusion
We've compiled this list of the best ceiling fans for girls' bedrooms currently on the market. We selected a range of aesthetic styles, as well as fans of different sizes and power levels.
We would recommend the Hunter Fan Company 59454. This simple aesthetic will fit in with any style, making it a great choice if you're not sure which aesthetic the girl would prefer. Similarly, its size makes it a good choice for small and medium rooms. With the included LED kit, you'll be able to light up the room at the same time. And, with a strong airflow and additional lights, you can't go wrong.