Harbor Breeze is an elite brand of ceiling fans with years of industry experience. If you're looking for a sturdy fan that will get the job done, you can't go wrong with this brand. Each model has several speeds, and some also have LED lights.
The best Harbor breeze fan for you will depend on what you're looking for. If you want a fan for your small apartment, then the compact Mazon 44-inch is a great option. This fan is the smallest on this list, but will still cool down your home in minutes.
However, if you're looking for a fan for your office, you should go with a larger one. We recommend the Twin Breeze Li, which is an award-winning large fan.
After looking through Harbor Breeze's entire catalog, the 8 fans we've chosen on are truly the best of the best. If you're not sure what you're looking for, check the buying guide before reading the article.
In This Article We'll Discuss
8 Best Harbor Breeze Ceiling Fans
---
8 Best Harbor Breeze Ceiling Fans
---
Best Compact Size
Product Details:
44-inch diameter
18-watt LED
2,069 CFM airflow
Three fan speeds
If you're looking for a smaller Harbor breeze fan, this is the model for you. It's only 44-inches in diameter, so it's the smallest fan on our list.
The fan comes with an 18-watt LED bulb. It's energy efficient and will last for years. The fan provides 2,069-CFM of airflow. CFM is the cubic feet per minute of air that the fan displaces.
This CFM would be perfect for a room of up to 100 sq. ft. You'll be able to choose from three fan speeds and keep your room cool.
---
Best for Large Spaces
Product Details:
Modern design
4,450 CFM airflow
Great for large spaces
6 interchangeable blades
74-inches in diameter
This award-winning double ceiling fan is perfect for large spaces. It has a beautiful oil-rubbed bronze design, and it's also very durable.
The 6 brown blades are interchangeable, so you'll be able to change them if you want a different style. The fan is 74-inches, so it's perfect for large rooms. You could use this fan indoors or outdoors.
The fan has three speeds and produces 4,450 CFM airflow.
---
Best Modern Design
Product Details:
52-inches in diameter
Off-white brushed nickel
Modern design
Center light fixed has frosted glass
High air-flow
This product is perfect if you're looking for a center-piece in a modern home. The blades have a brushed nickel finish. In addition, the off-white color goes well with a modern aesthetic.
The fan is 52-inches in diameter and generates a high airflow, so it'll be great for larger rooms.
The center light kit has frosted glass. This will illuminate the room with a slight tint of shade, protecting you from harsh lighting.
---
Best Large Fan
Product Details:
70-inch fan
6 speed settings
8 blades
Reversible motor
LED panel centre
Frosted glass
This light is 70 inches, and it's probably the largest fan you'll ever set eyes on. If you're looking for something for a large room, this is a great product. However, considering how bulky it is, it can be difficult to set up. We recommend this fan for large halls and dining rooms.
There are 6 individual speed settings on this fan that range from a natural breeze to a high-speed setting. In addition, the fan has 8 blades with a light brown appearance.
At the center of this fan is an LED with frosted glass. This energy-efficient lighting will illuminate your room completely.
The fan also comes with a reverse flow feature, so you change the direction of the airflow. This will help heat up rooms in winter, while cooling them in summer.
---
Best Rustic Style
Product Details:
Rustic design
5 reversible blades
6.5-watt LED
3 fan speeds
2 pull cords
If you're looking for a rustic aesthetic, then the Armitage fan is for you. This fan is so easy to install that you'll have it set up in under an hour. It's 52 inches in diameter and has 5 reversible blades that are light brown.
The central glass kit has one 6.5-watt LED that will illuminate your home, while also conserving energy. In addition, the fan has two pull strings— one of these strings turns the light on, while the other changes the fan speed. The fan has 3 speeds: high, medium, and low.
---
Best Tropical Style
Product Details:
5 blades
52-inches in diameter
4,576 CFM
Covers a room up to 400 Sq. ft.
Two 60-watt bulbs
This fan's design looks like 5 tropical palm tree leaves. It has a diameter of 52-inches, which is great for medium-sized rooms. Also, it can generate a total of 4,576 CFM, so it works in rooms up to 400-sq. ft.
The fan has a central light with frosted glass. In addition, it includes two 60-watt bulbs that will illuminate your space.
---
Best All Black
Product Details:
52-inches
Very dark bronze/black color
Generates 5,497 CFM
Waterproof
If you're looking for the best all black Harbor breeze ceiling fan, this design is for you. This fan has 5 dark bronze blades that are so dark they look black.
This design is ETL-listed for safe use in wet locations. Therefore, you'll be able to use it either inside or outside.
The fan has a diameter of 52-inches. Also, it can provide an airflow of up to 5,497 CFM, making it great for large spaces.
---
Best Contemporary Design
Product Details:
60-inches
LED light kit
Galvanized color
This product is a contemporary Harbor Breeze ceiling fan. It's 60-inches, so it generates a lot of air and is great for large spaces.
The fan has an LED light kit that won't burn out for years. In addition, the fan's color will go well with any contemporary or industrial decors.
---
Buying Guide
---
When deciding on the best Harbor Breeze fan for you, you'll need to think about three things. The first of these is aesthetic; the second of these is your room size; the third is where you are placing the fan. Let's break these down further.
Aesthetics
We've covered designs that range from rustic and tropic to contemporary and modern. This range of styles is one of the best features of Harbor Breeze.
Before purchasing any of the fans on this list, you need to ask yourself what style would match your home. For example, if you have a modern home, you'll want to find a modern fan.
Room Size
The CFM of a fan refers to the amount of airflow it can generate in a minute. The higher the number, the stronger the fan. If you're installing the fan in a larger room, or in a workspace, you should go for a higher CFM.
A higher CFM will ensure that your space remains cool, no matter its size. However, if you have a smaller space, then CFM doesn't matter as much.
Location
All fans will be able to work inside, but only a limited few can operate outdoors. Therefore, if you want to use the fan outside, then you need to find a waterproof product.
Conclusion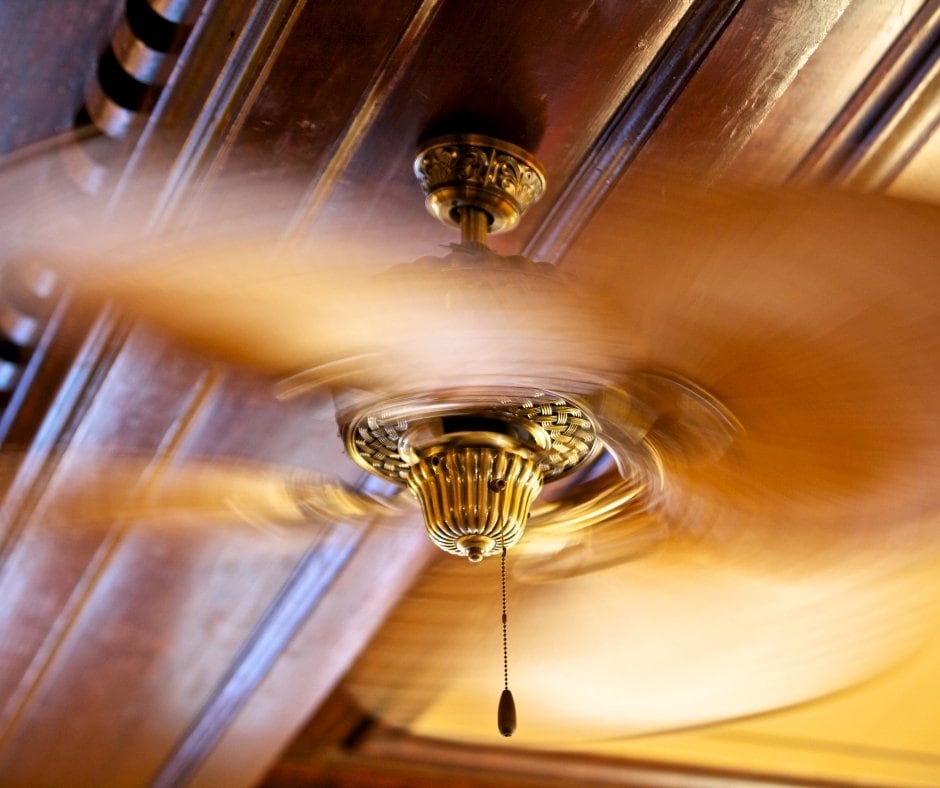 We've covered the 8 best Harbor Breeze ceiling fans currently on the market. Each one has a distinct style, so you can find one that works for your aesthetic.
And, if we had to choose just one fan, we'd recommend the Mazon 44-inch fan. It's large enough to cover the majority of small and medium spaces, so it's perfect for apartments and homes. This design is compact, but still very effective.