Vaulted ceilings are a great way to create the illusion of a larger room, but they can pose a unique problem: how do you effectively cool and ventilate the room? To circulate air through the space, you'll need to use a ceiling fan with a long rod to ensure maximum efficiency. You may also need to pick up a special canopy to attach it to.
Choosing the right ceiling fan for a vaulted ceiling can be a daunting task. You have to figure out whether it will fit, how to install it, and which features you want. However, there's no need to worry. We've written this guide to help you pick out the perfect ceiling fan for your home.
In This Article We'll Discuss
8 Best Ceiling Fans for a Vaulted Ceiling
---
8 Best Ceiling Fans for a Vaulted Ceiling
---
Best Overall
Product Details:
Blade Length: 62 inches
Color: Oil Rubbed Bronze, Black, Nickel, White
Features: Remote control, compatible with Alexa and Google Home
Honeywell's Xerxes ceiling fan is the perfect way to update your home decor. Available in four colors, this fan features an easy-to-install design with plenty of power behind it.
The Xerxes has three fan speeds, so it works for all kinds of situations. Its remote control is easy to use, and you can integrate this fan with Alexa and Google Home to control it with your voice.
You can hang this fan from the ceiling in multiple different positions. Also, it comes with a 4″ standard-length downrod. And, you can buy an angled ceiling bracket and additional downrods for your vaulted ceilings.
Honeywell has a long-standing reputation for excellence and the Xerxes line is a wonderful addition to any room in your home. With a stunning design and intuitive features, the Xerxes line is guaranteed to exceed your expectations and make life simple and seamless.
---
Best in Black
Product Details:
Blade Length: 53 inches
Color: Black
Features: Silent operation, 2-year warranty
A clean, simple design makes the 53 Inch Ceiling Fan from CJOY a stylish addition to any dining room, living room, or bedroom.
No matter if you're moving into a new apartment, or just want to upgrade your current home décor, CJOY's 53 Inch Ceiling Fan is the way to go. This stylish and modern ceiling fan comes with a remote control and 3 LED lights, which means no more light bulb changes. It's super quiet and well-made, so it will stay balanced.
In the winter, its reverse function helps to circulate warm air throughout your home. In the summer, you can switch it back for cool ventilation.
In addition, this fan comes with a timer that will help you save money on energy bills. It will ensure that you use it only when you need it and that you're not paying to cool the home when you're not there.
---
Best Industrial Look
Product Details:
Blade Length: 56 inches
Color: Black, Brushed Nickel, White
Features: Industrial use, durable finish
The modern, clean lines and contemporary finish options look great in any modern home. It's made from durable steel and is built to last.
This 56-Inch Ceiling Fan is perfect for the living room, bedroom, dining room, and more! The fan has a three-blade design and 5 speeds, so you can find the perfect setting for your needs. And, the fan comes in three different colors. It's also fairly wide, so it's ideal for larger rooms.
We found the installation a little tricky on this model, so you may need to find a family member to help you out.
---
Best For Outdoor Spaces
Product Details:
Blade Length: 65 inches
Color: Nickel, Coal, White, Bronze, Iron
Features: Sleek design, Six-speed, Remote control, Downrod extensions available, works with Alexa and Google Home
A new take on a classically cool design, this ceiling fan combines modern technology with old-fashioned charm.
The sleek, oil-rubbed bronze blades are designed to cut through the air with ease, while the six-speed remote control makes it simple to adjust. This stylish fan's clean lines will bring a touch of sophistication to any room in your house or outdoor space.
Also, you can control the Minka-Aire ceiling fan with smart technology from anywhere using your smartphone. Fan speed, lights, and even airflow direction are all within your reach. You can also combine it with other smart devices.
This ceiling fan is the best on our list for outdoor use. It delivers superior airflow to keep you cool on the hottest days. In addition, the oil-rubbed bronze finish complements any decor and it's reversible so you can use it all year long.
Downrod extensions are readily available, so it's ideal for outdoor vaulted ceilings.
---
Best For Large Spaces
Product Details:
Blade Length: 72 or 96 inches
Color: Bronze or Nickel
Features: Industrial design, Six-speed, Remote control, Downrod extensions available, works with Alexa and Google Home
Go big with the Minka Aire Xtreme.
Clearly designed for large rooms, the Xtreme 96″ Big Ceiling Fan by Minka-Aire is an incredible piece of home decor. Its contemporary design will attract attention without being gaudy or tacky. It provides great cooling power for large areas, so it's ideal for big rooms, restaurants, or other commercial use. The sleek black blades are encased in an oil-rubbed bronze finish that also resists rust. Also, it has an easy-to-use remote control with six wind speeds.
Minka Aire's Xtreme ceiling fan was made for integration with the newest smart home technologies. With its built-in connectivity, you can control this ceiling fan with your voice or a mobile device, even when you're away from home.
---
Best Simple and Clean Design
Product Details:
Blade Length: 52 inches
Color: Maple, Driftwood, Black, Koa & Others
Features: Stripped back design, unique wave design, three-speeds, remote operated
The Wave 52″ Ceiling Fan by Minka Aire will completely redefine what you think about ceiling fans.
This fan doesn't look like any other fan you've ever seen. In fact, it doesn't even look like a fan at all. It looks like an abstract piece of art hanging on your wall, but this fan is so much more than meets the eye.
It has a unique wave design that slides through the air, three-speeds, a laid-back appearance, and it's effortlessly quiet. It's no surprise that the Wave is a popular choice among homeowners. In addition, its reversible motor makes it perfect for year-round use.
This fan is compatible with Google Home and Amazon Alexa, so users can connect it to their favorite voice-assisted device.
---
Best Farmhouse Design
Product Details:
Blade Length: 60 inches
Color: Distressed Walnut
Features: 12-blades, unique design, six-speed, reversible motor
Add a rustic, engineered look to your home with this wonderful ceiling fan.
This affordable, farmhouse-inspired ceiling fan is ideal for year-round use thanks to its reversible motors. It's designed to provide quick cooling action in the summer and comforting warmth in the winter.
This retro-style ceiling fan will bring an authentic rustic touch to any room. The convenient remote control makes it easy to operate and it has six speeds. The quick cooling-action blade helps circulate air quickly, and its powerful motors are quiet enough for everyday use.
---
Most Affordable
Product Details:
Blade Length: 56 inches
Color: White, Nickel
Features: Accessible price point, wall-controlled, neutral colors
If you're looking for a reliable ceiling fan that won't cost a small fortune, look no further.
Westinghouse's Jax ceiling fan is an excellent choice for people who want a high-quality product that's still affordable. The Jax has five speeds, so you'll have plenty of options for customization.
Westinghouse is a reliable household brand, so don't let its lower price-point fool you. It has a high-quality motor that can move enough air to cool an average-sized room on the hottest summer days.
If you're looking to keep things simple, while still effectively managing your space's temperature, the Jax is the perfect option.
---
Buying Guide
---
How To Pick The Best Ceiling Fan For A Vaulted Ceiling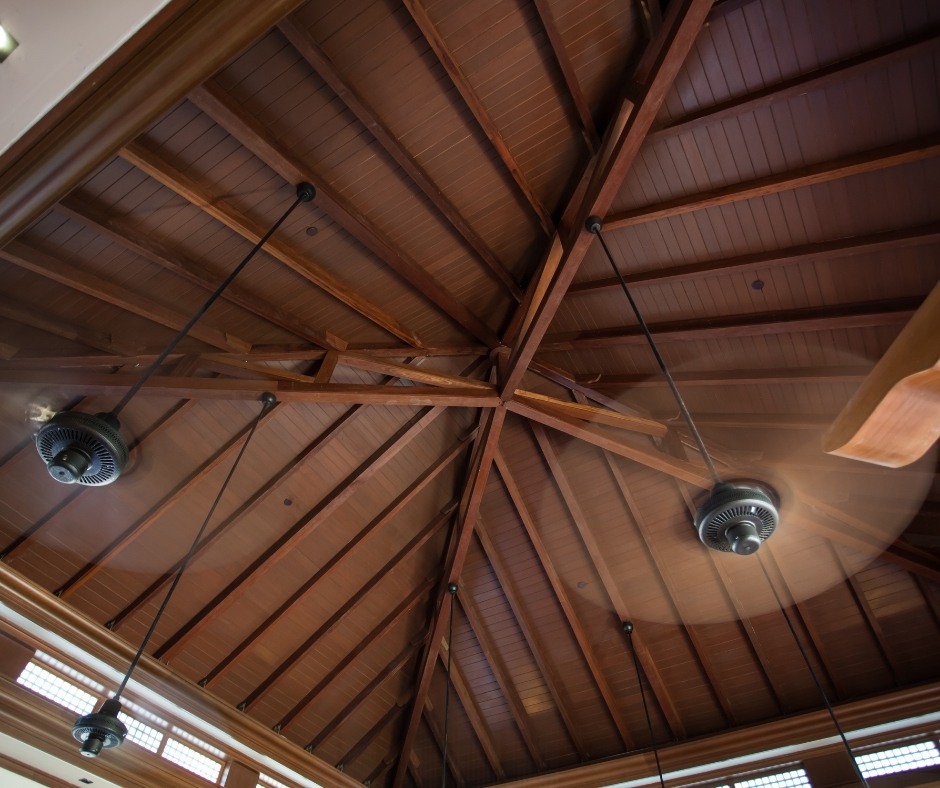 Choosing the right ceiling fan for your vaulted ceiling can be tricky, but knowing what to look for will make the process a lot easier. We've outlined several features that will help you narrow down your options and choose a great ceiling fan.
Pitch
The pitch of a ceiling fan refers to the angle of its blades. This angle makes a big difference in how effectively it can move air. The optimal pitch for most ceiling fans is about 12 degrees. Or, if it's a larger room, you'll want to choose a 15-degree model.
Downrod Length
It's important to keep the height of your ceiling in mind when picking out your downrod length. The standard is around eight feet, so you'll need to make sure your new fan can accommodate extra downrods if necessary.
Design
Your fan should be an integral part of the room's overall look and style, not an afterthought. For example, white or steel ceiling fans will make a space feel more modern, while wooden blades add a classic rustic touch to the aesthetic.
Can You Buy A Downrod Extension For All Ceiling Fans?
Yes, you usually can. When installing a ceiling fan on a vaulted or high cathedral ceiling, use an appropriately sized downrod. Manufacturers usually include a downrod for typical ceilings with the fan. However, if you need an extra-long downrod, you'll need to purchase one at the hardware store.
Are All Ceiling Fans Compatible With Vaulted Ceilings?
You can install most ceiling fans at up to a 28° angle without the need for a downrod.
For those with steeper ceiling angles, purchasing a downrod will give you the extra leeway you need to ensure it fits perfectly. However, you should always check with the manufacturer first to make sure your fan will work with it. No one wants to find out the hard way that their brand of fan won't support downrods!
How Do I Know Which Length Downrod To Use?
This is the most common way to find the right downrod length: take the ceiling height (in feet), subtract the height of the ceiling fan (usually twelve to eighteen inches), and then subtract the desired hanging height.
For example, if you have a 12-foot ceiling and a 12″ ceiling fan, you need a 3-foot downrod to hang the fan 8 feet above the floor.
Can You Buy A Different Canopy Base For A Ceiling Fan To Make It Compatible With A Vaulted Ceiling?
A canopy is a decorative cover that's shaped like a bowl. It's used to cover the wiring between the ceiling and the fan. The canopy adds a stylish look to your room while serving a practical purpose. However, if you have a vaulted ceiling, not all canopies will fit.
If you want to convert your existing ceiling fan into a vaulted ceiling fan, you'll need to purchase a special canopy base. Luckily, there are multiple options online to choose from.
Conclusion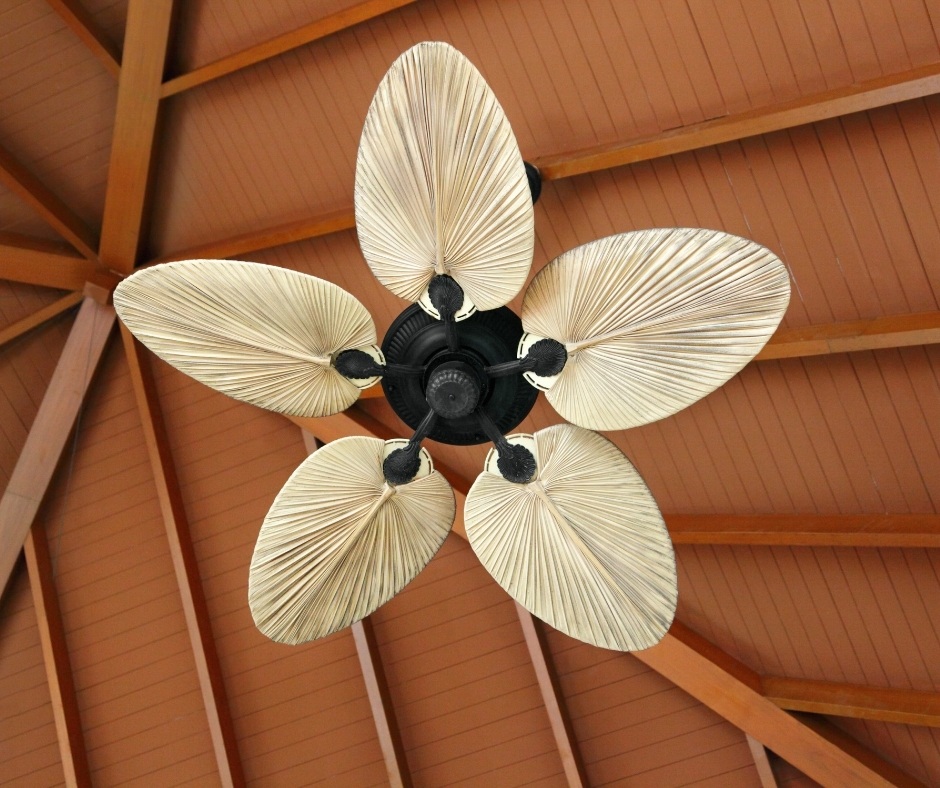 Installing a ceiling fan in a vaulted ceiling may seem like a difficult task, but it's easier than you might think. Different models have different features, so we recommend doing some research before deciding which one is right for your space.