A catnapper recliner is soft and plush just like a pillow for your body. They are specifically designed for cozy sleeping. They can work well for tall people or even if your a parent that wants a recliner big enough for you and your child.
So, Love to nap? Who doesn't? What if we told you there was a more comfortable and convenient way to catch up on your missed sleep.
The answer? An uber comfortable recliner chair.
And when it comes to recliners, there's a brand you HAVE to know about – Catnapper.
Catnapper is famous for being incredibly comfy and is an all-American brand that boasts a legion of loyal fans. Made with high quality materials, Catnapper recliners are pretty hard to beat.
Our top choice is the Cloud 12, which offers unbeatable levels of comfort, a powered recline, and a rocking feature. Strapped for cash? Opt for the Maverick, which offers unbeatable value for money.
Keep reading to find out exactly why we think a Catnapper recliner is a must-have chair for your home.
In This Article We'll Discuss
Best Catnapper Recliners Review Table
[hfe_template id='5702′]
Best Overall Catnapper Recliner
It may be called Cloud 12, but it fits the term 'Cloud 9' better. Believe us when we say this recliner is heavenly when it comes to comfort. Covered with micro-denier fabric, it makes you feel like you're sitting among the clouds.
Apart from its plush padding, the Cloud 12 comes with features you won't find in other Catnappers. For one, it has a rocker function that makes it easier for you (or your baby) to nod off in complete bliss. It also has an automated lay-flat function for added convenience.
Despite being soft on the outside, the Cloud 12 is ultra-strong on the inside. It's constructed with a steel base that is resistant to wear and tear, which is guaranteed to last a lifetime. It also comes with a 100% steel seat box for added support. With these features, it can carry a 300-pound user with ease.
While it may be a little bulky at 44 (L) x 42 (D) x 45 (H) inches, you won't regret having this in your home. Its 3 neutral colors of Chocolate, Camel, and Sage can be matched easily with existing interiors.
Best Price Catnapper Recliner with Power Recline
Features are great but sometimes a little unnecessary. If you're after a stripped back, basic recliner that does the job it's designed for, then this power lay-flat recliner is an excellent choice. While it may be too 'basic' for some people, this Catnapper recliner toes the line between affordability and comfort very well, which makes it hard to pass up.
As with most Catnapper recliners, it's effortless to doze off on this recliner chair. After all, it comes with a pillowy-soft chaise pad that is covered with plush fabric. Just looking at it is enough to make you want to dive right on and let it envelop you in its warm embrace.
While it can extend fully, it can also assume 3 really useful reclining positions. This makes it perfect for a quick nap, watching TV, reading a book, or eating your dinner.
Like its counterparts, this Catnapper is a little bulky. But given the durable construction, we're willing to let it slide. This particular chair is a little more compact than the Cloud 12 since it only measures 40 (L) x 40 (D) x 43 (H) inches. However, it remains to have the same capacity of 300 pounds. This makes it especially suited to smaller spaces.
But what we can't deny is how good this chair is for the money. Given the cost, there's no reason why you can't have one for every room in the house.
This Catnapper recliner is available in 4 dark neutral colors.
Best Catnapper Recliner with Heat and Massage and Best Catnapper Recliner for a Big Man

Measuring 48 (L) x 44 (D) x 46 (H) inches, the Magnum really lives up to its' name. With these dimensions, it fits taller folk like a glove. It does come with a slightly lower weight capacity than other models, at just 250 pounds. Still, this is more than enough to support the average taller user.
The Magnum also boasts a ton of indulgent features. It has heat and massage – things that set it apart from the other Catnapper recliners we tested. It even has a side pocket for your books and magazines. Who needs an expensive Spa experience when you have the Magnum at home.
The Magnum features a revolutionary Omega mechanism that allows you to enjoy a smooth, quiet, and effortless recline. And to make it easier, you don't have to push the footrest down as the whole process is automated.
With its metal plates and no-sag steel seat, it can provide taller users with added stability and support, but most importantly, undeniable levels of comfort.
Best Swivel Glider Catnapper
Teddy Bears are known to be plush and cuddly – which is where we like to think this Catnapper recliner inherited its name. This model has a tufted back and pillow-like arms, just like your favorite stuffed toy.
Made with brown micro-suede fiber, the Teddy Bear mimics the feel of authentic suede – just like a little bear. While you may be put off by this synthetic material, it's actually better at resisting water. Spills are a breeze to clean up and stains a thing of the past on this baby. Just make sure to use a water-based shampoo to take care of any mishaps.
While it's lovely to sit on this 40 (L) x 42 (D) x 43 (H) inch-recliner, it does not have a power mechanism like the Cloud 12. This manual recliner does not lay flat, though it can assume 3 comfy positions.
All in all, this Catnapper is still a worthy buy. It does have a swivel feature – something that the Cloud 12 doesn't have. While you may argue it's not necessary, it does give you a commanding view of your living room.
It's also more robust than the Magnum, as it is equipped with a high quality steel frame that can support a 300-lb user.
Best Rocker Recliner Catnapper
Most people liken this chaise rocker recliner to the power lay-flat Catnapper. At first glance, you may think they are one and the same. After all, they look almost identical. Both measure at 40 (L) x 40 (D) x 43 (H) inches, and both come with 300-lb max capacity. They also have durable 15-gauge support coils – and incredibly plush seating.
But even with these similarities, this model has a special function. It comes with a soothing rocker feature, which is unique to this Catnapper recliner. As such, this chair is the best recliner for parents with fussy babies – or even seniors who enjoy the look and feel of a good old fashioned rocker.
Unlike the manually-operated Teddy Bear, this recliner comes with a powered recline function. Simply sit back, relax, and push the button for a comfy nap.
Available in 3 choices of color, this Catnapper makes for a perfect addition to most homes.
Best Wallhugger Catnapper
If you live in a small apartment, then you may not have enough space to get a bulky Catnapper recliner, such as the Magnum. But before you put your recliner dreams to the wayside, there is one product you need to consider: the Searcy. It measures a sleek 32 (L) x 42 (D) x 42 (H) inches, which makes it ideally suited to the smaller home.
With its space-saving feature, this wall hugger only needs 12 to 14 inches of wall clearance for comfortable use. Add another 2 inches more (16), and you can recline this chair fully.
As a 'compact' automated recliner, it does come with a lower weight capacity of 250 pounds. Still, that is more than enough to support most users. Fans of this model claim its one of the best recliners for RVs and motor homes.
Like its contemporaries, this product has a comfort coil seating and a triple-pub back. It differs in terms of the upholstery, though, as it comes complete with easy-to-clean faux leather.
As a power recliner, it can assume infinite reclining positions. It also comes with a USB port, so you can charge your phone while you recharge your mind.
Best Leather Catnapper Recliner with Memory Foam
You know what they always say – go big or go home. If you have space, then you might as well go with the Stallworth. Measuring 46 (L) x 43 (D) x 48 (H), it has a weight capacity of 450 pounds. Similar to other Catnapper recliners, it has wood and steel frames that make it very sturdy.
Make no mistake. While this Catnapper recliner is incredibly durable, it doesn't pull any punches when it comes to comfort. This piece of furniture comes with a gel-infused memory foam insert that is heat and pressure-sensitive. If you have posture issues or back problems, this chair can even provide some welcome relief.
Like the Searcy wall hugger, the Stallworth is covered with faux leather. This makes this recliner more resistant to scratches, scrapes, and UV deterioration to boot.
As if things couldn't get any better, this 170-degree power recliner comes with a lift assist as well. So even if you're on the heavier side or experience mobility issues, this chair can help you out.
Best Price Catnapper Recliner
Sitting is believing" is a mantra we like to live by. And once you try the Maverick, you'll believe that dreams really do come true. Simply put, it comes with outstanding features found in chairs double the cost while retaining the same level of quality synonymous with the Catnapper brand.
Measuring 40 (L) x 43 (D) x 42 (H) inches, the Maverick is a decently-sized chair. While it's not as big as the Magnum, it comes with the same weight capacity of 250 pounds.
The Maverick also boasts the durable features you have come to expect with Catnapper recliners. It's made with sturdy steel and wood, after all. It also considers comfort as its top priority. Its seat is plush, while its back provides adequate support. In addition, its overstuffed armrests come with extra padded cushion.
Like the Catnapper Teddy Bear, it can swivel too. So if you want to have a 360-degree command of your living room without the steep price tag – this recliner is for you.
Catnapper Soother Power Full Lay-Out Lift Chair Recliner
Plush bonded leather makes this sofa a stunning addition to your living space. The simple recline function adds to comfort and relief of back pain. Traditional rolled arms and channel-tufted form with nailhead detailing adds layer of interest.
Best Catnapper Recliner With Power Lift
While the Stallworth boasts a power lift function, it can take up a lot of space. If you're looking for a space-saving model that provides lift – and more – then you should try the Soother.
Size-wise, it only measures a mere 39 (L) x 36 (D) x 43 (H) inches. Although it's very compact, sitting on this chair will have you feeling like the king of your own castle. And when it comes to moving, it can help you stand rather easily.
Although it has a sleek size, it has a generous weight capacity of 350 pounds – 50 more than most models. These features make this a favorite among heavier folk.
Its cushions, for one, are made with memory foam wrapped in plush fiber. With its pocket and sinuous springs, you can expect a good deal of bounce back as you sit. It also comes with a remote power feature, so you can relax at the push of a button.
That being said, the Soother's winning aspects are its inbuilt heat and massage features. With these functions, this Catnapper recliner is a tough one to beat. As its' name suggests, the Soother can quite literally 'soothe' you to sleep
Best Catnapper Buying Guide


What Is A Catnapper?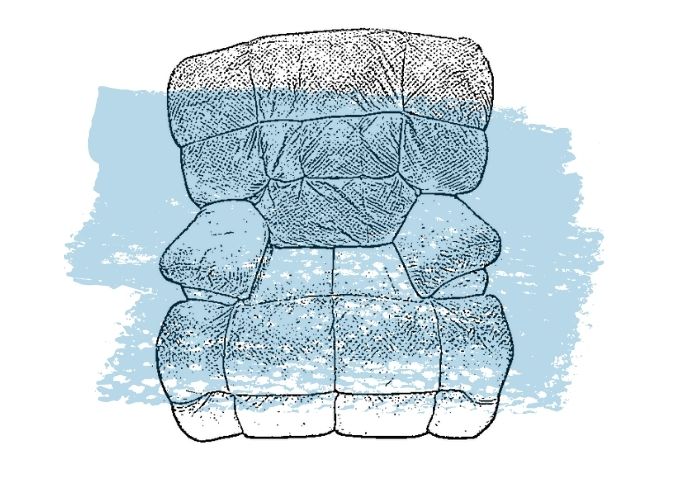 A Catnapper is a type of recliner made explicitly for sleeping. This piece of furniture is known to have a soft and plush texture that makes it perfect for dozing off. This endearing quality makes it an excellent place to take a 'catnap,' hence the name.
The Catnapper brand makes this comfortable experience possible with its:
Soft blown-fiber backs
Comfort gel for reduced motion transfer and a cooler seating experience
Smooth foam and fiber edges
Comfort coil seat cushions backed by a 5-year warranty
These comfy parts are sturdily supported by the following;
Heat-tempered Steel Springs (12-gauge in the back and 8-gauge in the seat)
Steel tech framing rail and stretcher system
Computer cut wood parts reinforced with staplers and extra glue
Stable armrests
Robust seams, stitching, and trim
What Is The Weight Capacity Of A Catnapper Recliner?
This will depend on the Catnapper you decide to buy. Generally speaking, most catnappers have a weight capacity of around 300 pounds. However, models such as the Stallworth can carry up to 450 pounds. Some models, such as the Magnum and Searcy, have a lower weight capacity (250 pounds).
How Do You Clean Your Catnapper Recliner?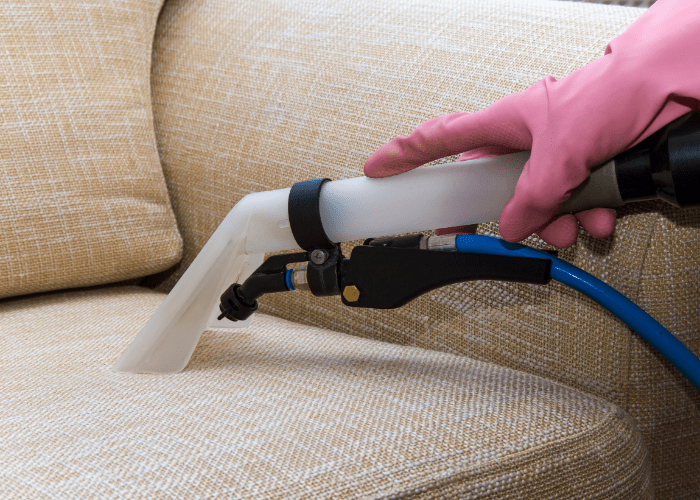 This will depend on the cover/upholstery of your Catnapper recliner. Each product is branded with any of the following cleaning codes:
| | |
| --- | --- |
| S | This recliner should only be cleaned with a dry solvent. It should not be saturated (soaked) or watered. |
| SW | This recliner can be spot-cleaned with an upholstery shampoo. A mild dry cleaning solvent or mild detergent foam may be used as well. Again, this should not be saturated with liquid. |
| W/WS | Most of the Catnapper recliners in this review have this rating. Only a foam-upholstery cleaner or water-based shampoo should be used. You should not over-wet or apply a solvent to the surface. |
| X | Use a light brush or a vacuum to clean this recliner. Do not apply water or a solvent-based cleaner on the surface. |
Catnapper Cleaning Codes
Note: For all cleaning codes except X, the cushion covers should not be removed or dry-cleaned. It may also be necessary to brush the pile fibers to maintain a 'new' appearance.
As for leather Catnapper recliners, the manufacturers recommend dusting the surface weekly. For this, you can use a soft cloth dampened with Leather Master Soft Cleaner. Another option is to use your vacuum's soft brush attachment. This will prevent scratches or unnecessary markings on the surface.
Apart from this, your Catnapper recliner should be fully cleaned every 6 months. Avoid using harsh chemicals, cleaning agents, solvents, or oils. Make sure to apply a protective cream on the leather after you clean the surface.
Remember, it's necessary to do preventive maintenance on Aniline and Protected leather recliners. Routinely apply Leather Master Protection Cream on areas like the back, seat, and arms.
How Do You Take A Catnapper Recliner Apart?
To remove the back for storage/transport, you need to:
Loosen the velcro that secures the outside back of the recliner. Tuck this area up right after.
Open each side of the back with a flat-tip screwdriver. A pull-up motion may be required to pry this open.
Pull both sides to separate the male and female brackets. This will remove the back entirely for easy storage/transport.
How Far Does A Catnapper Recline?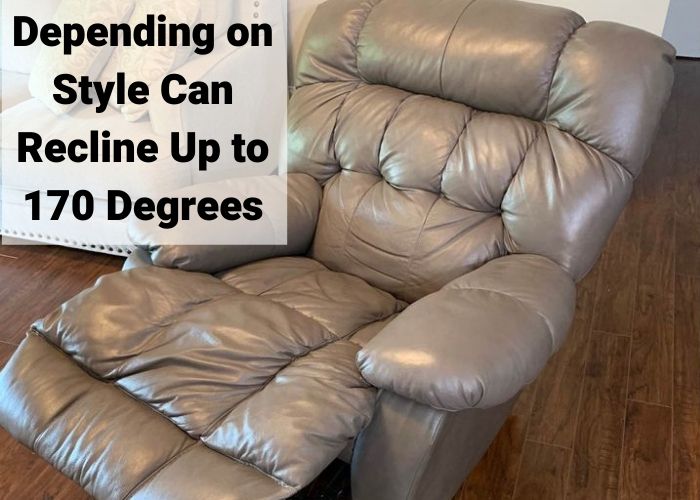 A Catnapper with a lay-flat function such as the Cloud 12 can recline up to 170 degrees.
How Do You Work A Catnapper Recliner?
If you have a power/automated Catnapper like the Cloud 12, all you need to do is push the button to recline the chair. As for manual models like the Teddy Bear, there's a lever at the side that you need to pull.
Do Catnapper Power Recliners Have A Backup Battery?
Yes. You can purchase a separate Catnapper battery pack, which you can use for any power or lift recliner. It can last for 6-8 hours, with up to 300 cycles per charge. It can be used with any type of transformer with the same connector. It comes with a low audible alarm that signifies the need for charging.
Do Catnapper Recliners Have Problems?
While Catnappers usually don't have any problems, some issues may potentially arise. The usual concern is the recliner mechanism, with some owners reporting unusual tilting. The power button or lever mechanisms may break with rough use too. Despite these, such parts are covered by the company's limited lifetime warranty.
Suffice to say, proper use and maintenance of your Catnapper recliner will ensure it functions well for years to come.
Conclusion
Catnapper recliners are known for their comfy cushions and sturdy frames and reclining mechanisms. While all models boast these features, the Cloud 12 rises above the rest. With its power flat-lay function, you can go from upright to flat in no time at all.
If you're looking for a multi-purpose recliner, then the Soother is ideal. While it has a compact size, it has a whopping capacity of 350 pounds. It also has heat, massage, and power lift functions, which is all you could ever ask for in a recliner.
[hfe_template id='7376′]