When thinking of cat repellent, the first thing that comes to mind is probably a spray. As it turns out, there are several sprays available on the market today, but which one is the best? To find the answer to that question, we decided to do a little bit of research, putting the best-selling cat repellent sprays through their paces.
Cat repellent sprays are easy to use and effective at keeping your cat off of furniture, countertops, and out of other areas of your home. These sprays are safe for indoor use and provide long-lasting results.
The PetSafe SSSCAT motion-activated spray is our top pick for its convenience, but if you're looking for something more long-lasting, check out Colton's 100% Organic Spray.
In This Article We'll Discuss
5 Best Cat Repellent Sprays for Furniture
---
5 Best Cat Repellent Sprays for Furniture
---
Best Overall
Product Details:
Size: 115ml / 3.90 OZ
Scent: Unscented
Take care of pesky cats with PetSafe Cat Spray.
Motion-detector pet repellents are one of the best ways to keep your furniture from being scratched, and it only takes a spray to show a cat who's the boss. By mounting a motion sensor in areas where pets are known to be problematic, these devices can detect movement, and spray their target when they enter the area.
Motion-detector sprays can be a great way to keep your house (and furniture) free from scratches. With a sensor that only responds when your furry friend is nearby, you don't have to worry about overuse.
Ssscat is safe for homes and the environment. It uses pet-friendly ingredients that are approved for use around children and pets. For those times when other methods have failed, this effective spray can deter pests like foxes and raccoons from your home — preventing them from tearing up your lawn or digging in your trash.
Each canister of SSSCAT features up to 100 sprays, enough to last for months. When your solution runs out, you can easily get a replacement delivered to your door.
PetSafe is one of the most trusted names in pet products: they're committed to providing safe, innovative, and responsible solutions that improve the well-being of pets and their owners. Its mission is to provide quality products that help promote a better life for pets everywhere.
---
Best Indoor and Outdoor
Product Details:
Size: 8 FL OZ
Scent: Rosemary
The Ultimate 3-in-1 Cat and Kitten Training Aid.
With Bodhi 3-in-1 Cat & Kitten Training Aid, you can stop your cat from scratching or urinating on furniture or other problem areas. The spray uses a scent your feline friend won't like but isn't necessarily unpleasant for humans, making it great to use around the home.
There's nothing worse than seeing a well-made piece of furniture get scratched up by your pet. With Cat Repellent Spray, you can keep your claws off any area of the household your feline friend takes a liking to.
With a unique formula that uses natural oils and other ingredients, Bodhi's Cat Spray works to deter your cat from scratching on furniture, blinds, and drapes — as well as several other items in your home. The spray can also be used safely on plants you don't want your cat to chew on.
Bodhi's formula is cruelty-free, which means that it isn't tested on animals and uses natural ingredients making it safe to use around other pets or children.
---
Best to Relax Cat and Reduce Bad Behaviour
Product Details:
Size: 48ml
Scent: Odorless
A fast effective way to relax and reduce bad behavior in cats.
Feliway Classic is the number one vet recommended solution to calm cats in stressful situations. With its synthetic pheromones, Feliway Classic helps solve cat behavior problems—reducing unwanted behaviors associated with anxiety or excitement. Simply plug this into the wall and get on with your day, safe in the knowledge that your cat won't be scratching your furniture.
It's scientifically proven too. In a clinical study, FELIWAY was found to reduce scratching and urine spraying in nine of 10 cats. After seven days of use, most cats showed marked improvement, with results often continuing to improve for three weeks after treatment.
Feliway's diffuser mimics a mother's natural nursing pheromones, which helps to put cats at ease and reduce conflict among cats. You can use it anywhere in your home, including on a nightstand or table in the bedroom, on a desk in the office, or even next to your pet's litter box.
Feliway Classic Diffuser can be plugged in continuously but should be placed in the main room that the cat spends the most time in to be most effective.
---
Best Essential Oils
Product Details:
Size: 8 FL OZ
Scent: Orange, Lemon, and Lavender
Perrrfect for your furry friend!
Cats hate citrus scents, so Harbors Cat Repellent is the perfect way to keep them away from the areas you don't want them to be. But what if your cat is just scratching at the sofa for fun? Spraying a little Harbors Cat Repellent onto the corners will teach kitty that that's not acceptable. Before you know it, your cat will have stopped scratching and you'll have a scratch-free home.
Harbors is made of only natural and safe ingredients. It uses Orange, Lemon, and Lavender oils — all of which are 100% natural, plus, no mystery chemicals like other brands use.
Every Harbor's Cat Repellent and Trainer is made to the highest standards by a family business that's committed to sustainability. Harbors use plant-based, biodegradable plastics and we never test on animals. Plus, their packaging is recyclable and offers a 100% satisfaction guarantee in case you're not satisfied.
---
Best Heavy Duty
Product Details:
Size: 32 OZ
Scent: Peppermint & Citronella
Keep those pesky cats away from your garden with Colton's organic & natural cat repellent spray.
Feline Repellant is made from a blend of organic ingredients including peppermint oil and citronella oil — two compounds that naturally repel cats. Great for using around the home, this product can work to keep cats out of gardens and off of furniture.
To ensure that your property remains cat-free for the long term, it's important to keep a regular maintenance schedule. We recommend spraying at least once every two weeks — and more often if there is heavy rain or water damage. You'll want to focus spray around areas where cats like to hide, including under decks, behind doors, in trash cans, and around any small cracks or holes.
We love Colton's "Love It or Return It" satisfaction guarantee, which ensures that you never have to worry about purchasing a product that doesn't work for you. The policy promises to refund you in full if you're unhappy for whatever reason – now that is customer service!
---
Buying Guide
---
How To Pick The Best Cat Repellent Spray For Furniture
Keep an eye on the ingredients label and make sure it contains natural ingredients
Be sure to carefully scrutinize the ingredients label when you're picking out a cat repellent spray because some of them contain chemical ingredients that can be harmful to your cat.
Look for sprays that specifically mention that they are safe to use around cats
Look for sprays that specifically mention that they are safe to use around cats. If you have a cat in your home then you need to be sure that anything you spray is safe for them. Cats are very sensitive to smells and may develop an aversion to a particular smell if they associate it with being sprayed.
How Do I Stop My Cat From Destroying My Furniture?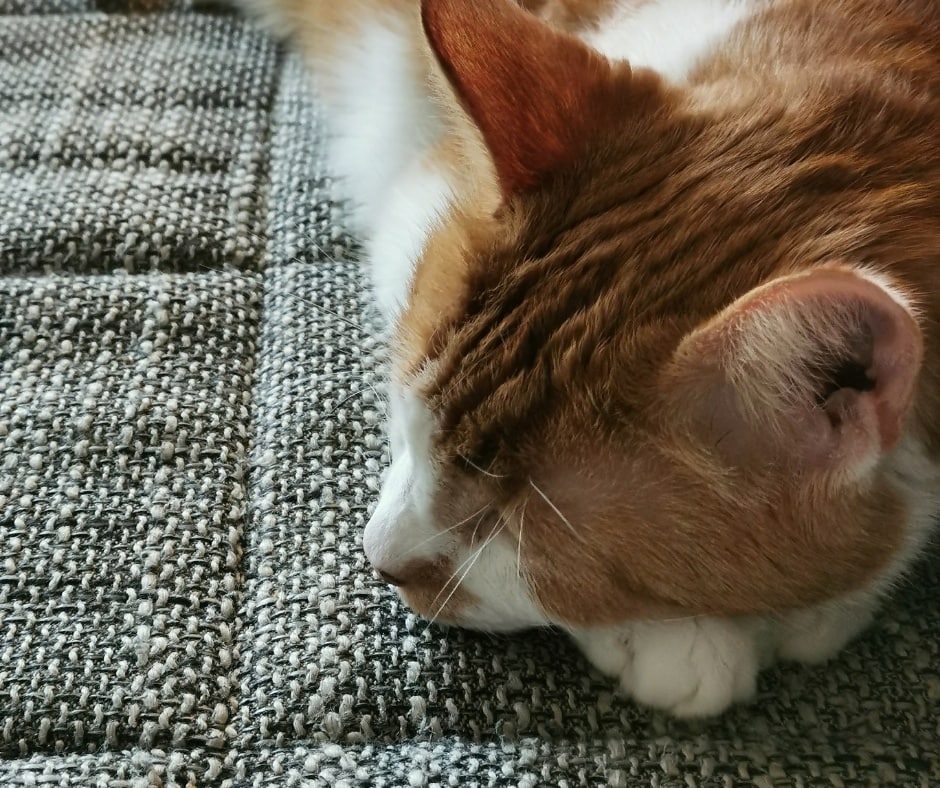 The first thing to do is to identify why your cat is destroying your furniture. If it's because they're bored, then you need to find ways to keep your cat occupied. If it's because they're frightened, then you need to find ways to make your cat feel safe.
The best way to stop your cat from destroying your furniture is to channel their natural instincts away from your furniture and toward a more appropriate target. This can be done by using something that will satisfy their instincts, like a scratching post. It's best to start using a scratching post when they're a kitten.
Is There A Spray To Deter Cats From Scratching Furniture?
One of the simplest ways to deter cats from clawing at your couch is to spray your furniture with scents that are natural cat deterrents.
Cats hate citrus scents such as orange and lemon, as well as bitter apple scents. Spraying the furniture with these scents will not harm them in any way, but will effectively give you a few weeks of relief from having to replace your furniture.
Conclusion
Using a cat repellent spray is a fantastic way to protect your furniture from scratches or to keep your neighbors' cats from your garden.
If you have a feline problem at home, check out PetSafe's motion-activated spray. For an all-natural solution, Harbors Cat Repellent and Trainer is your best choice.