Cast iron wheels are a classic and beautiful addition to any piece of furniture. Their design is elegant, simple, and functional. Iron wheels can be used in any number of ways – as bathroom vanity wheels, bedroom dresser wheels, or for adding a simple yet elegant touch to your favorite piece of furniture.
When it comes to durability, no material has stood the test of time like cast iron. In this article, we'll dive into the most common types of cast iron furniture wheels and why you might want to consider them for your next project.
Strapped for time? Check out our top pick for the perfect set of durable wheels for your furniture.
In This Article We'll Discuss
5 Best Cast Iron Wheels for Furniture
---
5 Best Cast Iron Wheels for Furniture
---
Best Overall For a Vintage Look
Product Details:
Quantity: Set of 4
Capacity: 300lb per coaster
Update your furniture's style with our favorite cast iron wheels.
Vintage is all the rage in interior design these days, and it's not hard to see why. The vintage look aesthetic can be really beautiful and elegant and can make your home look sophisticated and stylish.
This set of four swivel casters can be attached to your favorite repurposed or treasured objects. The CC Vintage casters will give you a fashionable, industrial, chic, or antique look. Attach the wheels on your favorite items of furniture and make them mobile.
We love the aesthetics of these wheels for their steampunk aesthetic. Steampunk is very popular in the design world at the moment, so you can find tons of inspiration for your DIY projects.
---
Best Distressed Look
Product Details:
Quantity: Set of 4
Capacity: 350lb (total)
Achieve the perfect distressed look with this stunning set of caster wheels.
Distressed furniture is big this year. It's all about giving your furniture an aged look and feel. Whether you want the look of worn leather or rusted metal, there are plenty of ways to create a distressed look in your home. One quick and easy way is to attach these caster wheels.
You can use these antique gold finish caster wheels to repair or even build your own furniture. These handy casters are an excellent choice for DIY projects and can be used for repairing existing furniture or creating your own unique designs. You'll find that this antique gold finish casters wheel is a great addition to any furniture collection.
With smooth, silent casters, these wheels are an ideal way to protect your hardwood floors from scratches and scuffs. When you have a high-traffic area in your home, investing in a set of durable wheels will help preserve your flooring.
---
Best Classic Gold Option
Product Details:
Quantity: Set of 8
Capacity: 700lb (total)
Get the vintage look with these attractive gold cast iron wheels.
The best way to incorporate a classic gold aesthetic into your home is by using gold-colored furniture and accessories. Gold-colored furniture is elegant and classic. It works for any type of home, whether you want to bring the glamour of Hollywood into your home or you want to create a classic, traditional feel.
These olden style metal casters are perfect for adding character to your unique furniture and cabinetry that you just built or made. They are easy to install on your new cabinets and used in a variety of projects. These casters come in a classy gold hue for the perfect vintage look.
These furniture wheels rotate 360 degrees so you can maneuver your furniture around your room with ease. Simply attach the wheels using the included screws, and you are good to go.
---
Best Size Options
Product Details:
Quantity: Set of 4
Size Options: 4″, 5″, 6″ and 8″ wheels
Capacity: 4,400lb (total)
Different sized wheels for every piece of furniture.
The most important thing when it comes to furniture wheels is to make sure that the wheels are the right size for the furniture you're moving. Wheels that are too small can't support the weight of your furniture, which means they could break or bend.
When it comes to furniture, not all wheels are created equal. The biggest difference between different kinds of furniture wheels is their weight capacity. The higher the weight capacity, the more furniture you can move with one wheel.
The V Groove 4400lb capacity furniture wheels are built with heavy-duty iron that can support a lot of weight. These durable wheels can help to move heavy furniture around your home easily.
One great thing about this set of wheels is that they come with a brake for stability. Having a large and heavy piece of furniture moving freely on hardwood floors is a recipe for disaster. For this reason, investing in wheels with built-in brakes is a no-brainer.
---
Best All Silver Design
Product Details:
Quantity: Set of 4
Capacity: 4,000lb (total)
These Old-Style Casters are the perfect accent for unique furniture pieces and decorative displays.
Silver is an awesome aesthetic to work with. It's timeless, minimal, and it's going to pair well with pretty much any other color you can throw at it. It's also a great alternative to black if you want something a little more modern.
These FactorDuty 360 degree wheeled casters are constructed from durable steel, have the strength to support heavy loads, up to 4,000 pounds in total. The casters provide an economical and versatile way to convert the most common furniture designs to wheeled designs. The casters can be attached to any surface, are easy to install with minimal equipment needed.
---
Buying Guide
---
How To Pick Cast Iron Wheels For Furniture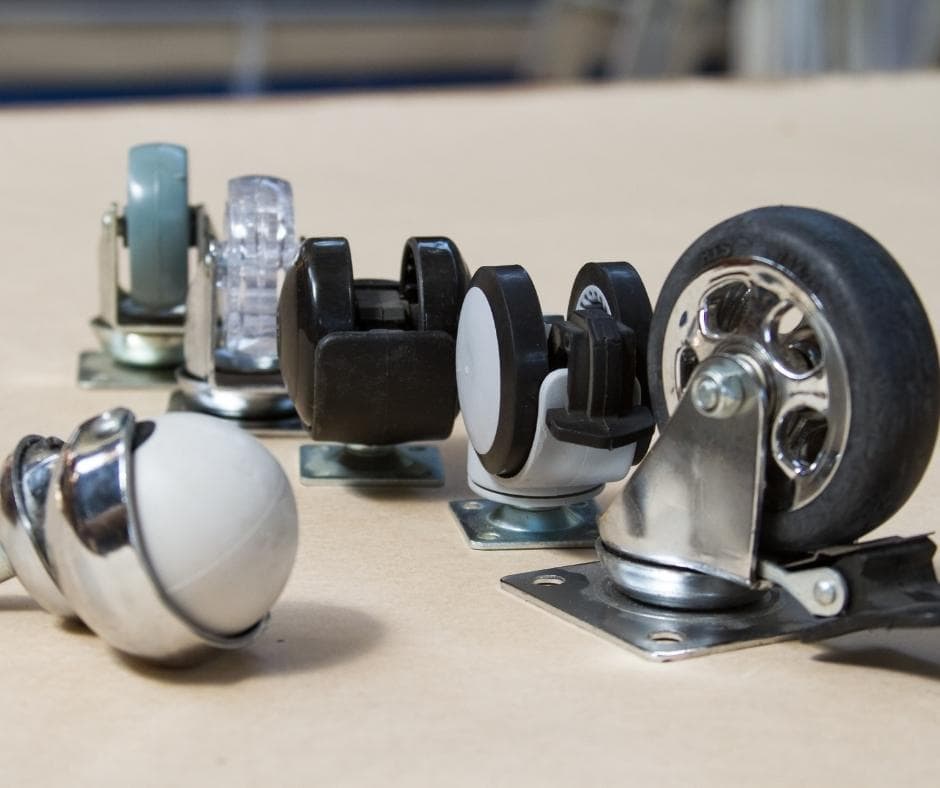 Consider the style you're going for.

Cast iron wheels are the best option if you're looking to add a touch of industrial chic to your style. They're great for adding a touch of style to your furniture at home because they're very versatile. They come in a wide variety of sizes and can be used for a variety of different things.

Consider the furniture's function.

Getting cast iron wheels is a great idea if you need high-quality furniture that can easily move around. Cast iron wheels are also easy to install and remove, which makes them a great choice for people who need to move their furniture around on a regular basis.

Consider the size of the furniture.

If you're moving a piece of furniture that is bulky, then you might want to consider putting some cast iron wheels on it. This will make it a lot easier to move around, and it will reduce the amount of effort required to move it.

Consider the weight of the furniture.

If you are looking to add cast iron wheels to your furniture, you should take into consideration the weight of the furniture. If the furniture is over 200 pounds, then you should consider adding cast iron wheels. The cast iron wheels will prevent the furniture from damaging your flooring over time, as you can move it around your home far easier.

Consider the flooring in your home.

When you are choosing the size of the furniture, it is important to keep in mind that cast iron wheels are not suitable for all types of floors. Always ensure that the floor is flat and hard and the furniture is not going to move around. You can also choose rubber wheels, which are more durable and are suitable for all types of floors.
Will Cast Iron Wheels Give Furniture A Vintage Look?
Just like cast iron frying pans, cast iron wheels are super durable and can be used for a variety of purposes. They have a very authentic vintage look and can really give your furniture a classic feel.
If you're searching for a way to make your furniture look more vintage, you might be considering using cast iron wheels. While these wheels are indeed an affordable way to give your furniture a vintage look, they also have a very practical use – making your furniture easier to move.
How Popular Are Cast Iron Wheels On Furniture?
If you're looking to improve the look of your home, then cast iron wheels on furniture may be the perfect solution. Cast iron wheels offer a unique look and can be used to update many different furniture pieces in your home.
Cast iron wheels are popular on furniture because they're strong and durable. Cast iron wheels are also popular because they can be easily customized with paint and other coatings to match the furniture they're on.
Conclusion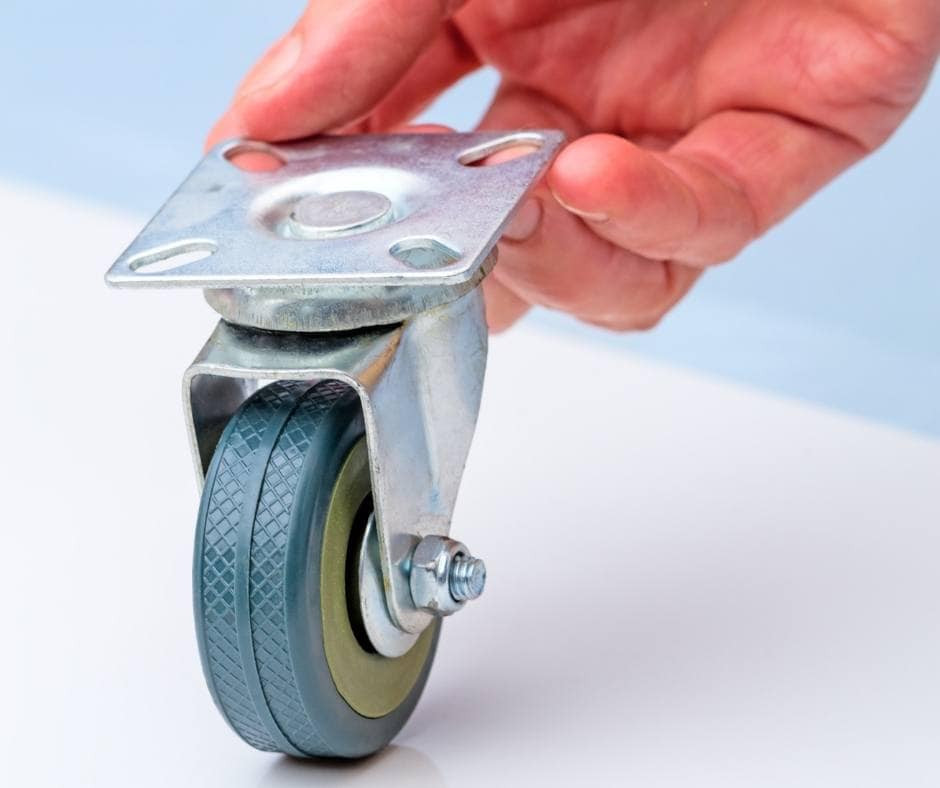 Furniture wheels are used to move furniture around your home and office. They are small and easy to use, and they allow you to move furniture with ease. You can choose from several different types of wheels, depending on the type of furniture you have and the environment in which you are going to use them.
We love the Skelang wheels, which add a wonderful vintage vibe to any home. But you can't beat our top pick, which is perfect for projects big and small.