Work and life can be stressful. Many of us experience aches and pains after spending a full 8 hours in the office. This is why many of us are looking for easy and affordable ways of relaxing. Some may feel soothed by aromatherapy, while others prefer to have a massage.
Another way to relax is by investing in a good reclining chair, specifically built to take away our aches and pains. Cushions are strategically placed to relieve stress points like the neck, shoulder, and back. A built-in footrest and a reclining option make relaxing that much more enjoyable.
Choosing a camo reclining chair should be easy. After all, you just need to pick the most comfortable one, right?
Sadly this is not true. There are simply too many products with different features to choose between. One of the best ways to figure out which recliner in camo print to buy is by researching and reading reviews.
If you're in the market for a new camo reclining chair, you're in luck because we have spent the past few weeks reviewing the eight best camo reclining chairs for 2021.
In This Article We'll Discuss
8 Best Camo Recliners For Relaxing And Napping
---
8 Best Camo Recliners For Relaxing And Napping
Best Overall
Product Details:
Color: Realtree Camo
Dimensions: 38.5 x 36 x 39.5 inches (LXWXH)
Max weight: 300 pounds
Get a massage inside your man cave in the Long Street Rocker Recliner.
The Relaxzen Longstreet Rocker Recliner gets our vote for the best overall recliner, and it's easy to see why. This recliner has everything you need for relaxation and naps. It features eight powerful massage motors that can target four zones with five intensity levels. Sore back? Its soothing lumbar heat can help relieve back pain. Target legs, thighs, lumbar, or full-back individually or together. With this chair, you are in charge of your comfort.
The recliner's foam cushion is soft in the back and seat so that you can enjoy maximum comfort. Best of all, the material is made from plush microfiber, so it is easy to clean and maintain. It also has a convenient side pocket for storage and dual USB charging ports that lets you charge small gadgets like your phone and tablet without getting out of the chair.
This camo reclining chair is the best welcome home furniture you can buy for yourself. It's perfect not only to relax and watch TV but also looks great in your den or man cave. The chair is built to last and can accommodate up to 300 pounds.
---
Best With Heat and Massage
Product Details:
Color: Infinity
Dimensions: 44 x 48 x 46 inches
Max weight: 250 pounds
Catnapper's Chaise Rocker Recliner can help you relieve stress.
If you're looking for the best recliner that can help stress relief through heat and massage, this product from Catnapper is a fantastic choice.
The recliner is built to 'Big Man' proportions and features Sensate Heat & Massage. With a max weight of 250 pounds, it can accommodate larger people or those with longer legs. It features 100% Cotton camouflage fabric which makes it breathable and comfortable to sit on.
The recliner's best feature is the heat/massage and remote control, which helps you control the heat and massage at the desired level. This camo recliner is the perfect way to unwind after a long day at work. It will relieve and soothe tired muscles thanks to the heating and vibration, which can massage different parts of the body.
We also like that it is big, soft and very comfortable. The design is a bit more contemporary than other recliners and will look good in your cabin, lodge, or living room.
---
Most Affordable
Product Details:
Color: Green
Dimensions: 38.6 x 37 x 40.2 inches
A comfortable recliner can now be yours, thanks to the Liano Rocker Recliner from JC Home.
A comfortable recliner does not need to be expensive. Get affordability and comfort with this camo recliner from JC Home.
Built with a modern aesthetic, the Liano features gently rounded corners and curves to create a welcoming appearance. The recliner's fabric material features a camo print that creates the perfect blend of modern classic and charmingly rustic.
Though affordable, the recliner is made with fabric upholstery for breathability and comfort. The recliner also features generous plush cushioning and pocket coils in the seat to prevent sagging. This recliner is the perfect addition to your living room, den, bedroom, or office.
---
Best From Lane Home Furnishings
Product Details:
Color: camo
Dimensions: 39 x 40 x 43 inches
Max weight: approx 350 pounds
Get the best American-made camo recliner from Lane Home Furnishings.
American-made furniture industry is still alive and well thanks to Lane Home Furnishings. The manufacturer has a long history of creating solid furniture and durable furniture, and the same is true with this rocker recliner.
The recliner provides outstanding comfort thanks to the plush cushions, padded rolled arms, and a fully supportive footrest. But don't let the plushness deceive you because this chair is also made with a hardwood frame and a steel recliner mechanism to ensure that it will last for many years.
This rocker recliner is the best choice if you're looking for a traditional design. The product's simplicity will remind you of the good old days when everything was still made in America. This is the perfect recliner for your living room, family room, or den.
---
Most Comfortable
Product Details:
Color: Brown
Dimensions: 48″L x 46″H x 44″D
Catnaps are more comfortable in the Catnapper Cloud Nine Camo Rocker Recliner.
Only the Catnapper Cloud Nine Camo Rocker Recliner can make you feel like you're on cloud nine the minute you sit down. Relax indoors with features like an extended ottoman for better support and plush cushioning throughout.
The full-reclining mechanism allows you to nap more comfortably. The pocketed coil cushion seating will ensure long-lasting support so that you can relax all day long. It is covered in fabric upholstery with a mossy oak camouflage print so that it looks good in your den, bedroom, office, or cabin.
All this comfort also brings convenience. Better still, the Cloud Nine recliner is made with 100% cotton fabric so that it is breathable and easy to maintain.
---
Best With Ottoman
Product Details:
Color: brown
Dimensions: 28 x 29 x 39.5 inches
Max weight: 250 pounds
Enjoy the classic look with this camouflage recliner from Artiva USA.
Sit back in comfort and classic style with this camo recliner from Artiva USA. Made from cherry wood and fabric cushions, this recliner sports a traditional look and functionality. This is the perfect chair not only for relaxing but also for nursing.
The recliner features wide seating, thick cushions, and a smooth gliding motion that is sure to soothe and relax you. It also has four innerspring support for durability. The rich cherry finish and camouflage upholstery provide stunning contrast, making this chair the perfect addition to your living room or bedroom.
The product comes to you 90% assembled, so there's not much work to do. The back and arm cushions are also removable for easy maintenance.
---
Best Outdoor
Product Details:
Color: camouflage
Dimensions: W29.14″ x D35.43″x H44.88″
Max weight: 350 pounds
Relaxing outdoors is now more comfortable thanks to the PHI VILLA Oversized Lounge Chair.
Enjoy the outdoors in utmost comfort with this camo reclining chair from PHI VILLA. The recliner is made from alloy steel, so you can relax in the outdoors in security and convenience. It comes with a padded seat and back suspended by a double bungee system for better durability. The chair is designed with a lockable reclining system and can be adjusted to any position to your preferences.
This product also features a removable large plastic cup holder, removable head cushions. The Zero Gravity Lounge Chair can be folded and is easily transportable for quick mobility and easy storage. This is the perfect reclining chair for the beach, yard, porch, or poolside.
---
Best Camo Cover
Product Details:
Color: mossy oak
Dimensions: measures 65″ wide (arm to arm) with a depth (front to back) of 78″. Seat width 23″W, 24″ D. Backdrop of 39″. Will cover most average-sized recliners.
Protect your recliner's original upholstery with this microfiber furniture protector from Innovative Textile Solutions.
Love your current chair but looking to add some extra protection? An affordable solution is to add a protective cover.
Your recliner will look good as new with this recliner cover from Innovative Textile Solutions. This camo cover will fit most average-sized recliners from spills and stains. This cover will keep your chair safe from the scratches, stains, and spills that come from everyday use made from microfiber.
The mossy oak camouflage pattern looks multi-dimensional and realistic and comes with "stay put" covered elastic straps to ensure that the cover does not slip when in use. This is a good camo cover for your chair, especially if you have pets that also love to lounge on your recliner. The cover is easy to use; just drape and enjoy.
Aside from recliner protection, the cover provides instant comfort. The soft material feels breathable and cool to the skin. The fabric is also easy to maintain and is machine washable.
---
Buying Guide
---
The search for the best camo recliner does not have to be stressful. When searching for the perfect product for yourself or your loved ones, you need to understand what features you want to make an informed choice.
Here are some characteristics you need to consider when buying the best camo recliner.
Size
Always consider the size of the user. People come in all shapes and sizes, with some being larger than others. Check the dimensions of the chair. It should be large enough to accommodate everyone in your home. Take a look at the max weight too. Most recliners are built to last, but it is always better to err on the safe side and avoid unwanted accidents at home.
A safe bet is to buy a camo recliner that can accommodate between 250 to 300 pounds and has wide seating to ensure that even the biggest person in the household can sit comfortably.
Fabric
Recliners are unbelievably comfortable pieces of furniture; it is so easy to spend hours sitting on them. This is why you should always go for a fabric that is easy to clean and maintain. Dirt, sweat, and debris can make your recliner less pleasant to sit on. Cleaning should be easy so that you can enjoy it as much as possible.
Easy to maintain upholstery like cotton, polyester, microfiber, and other fabrics are generally easy to clean and breathable. Other materials like faux leather and leather are easy to maintain too but are sensitive to humidity.
Extra Features
Other features like massage and heat are very convenient and will add to your comfort and relaxation. However, they can also make the recliner more expensive. Consider what kind of features you want in your recliner. If you are happy with just the basic features like a reclining mechanism and plush cushions, you can opt for something a little cheaper. Those opting for a basic recliner should make sure that it has enough padding and cushions for comfort and support. A cheap recliner does not have to be uncomfortable.
However, if you're into massages, don't be afraid to splurge for a more expensive option that offers targeted massage and heating. Even though they are more costly than basic recliners, you will still save a ton of money compared to hiring a masseur.
Other features like side pockets and USB charging also come in very handy. It all depends on your individual needs.
Style Preference
Do you want something modern, or do you prefer a more classic look? Recliners come in many different colors, materials, and styles. Make sure that you go for something that you like and a style that fits perfectly with the rest of the room's furniture to give the room a cohesive look
Conclusion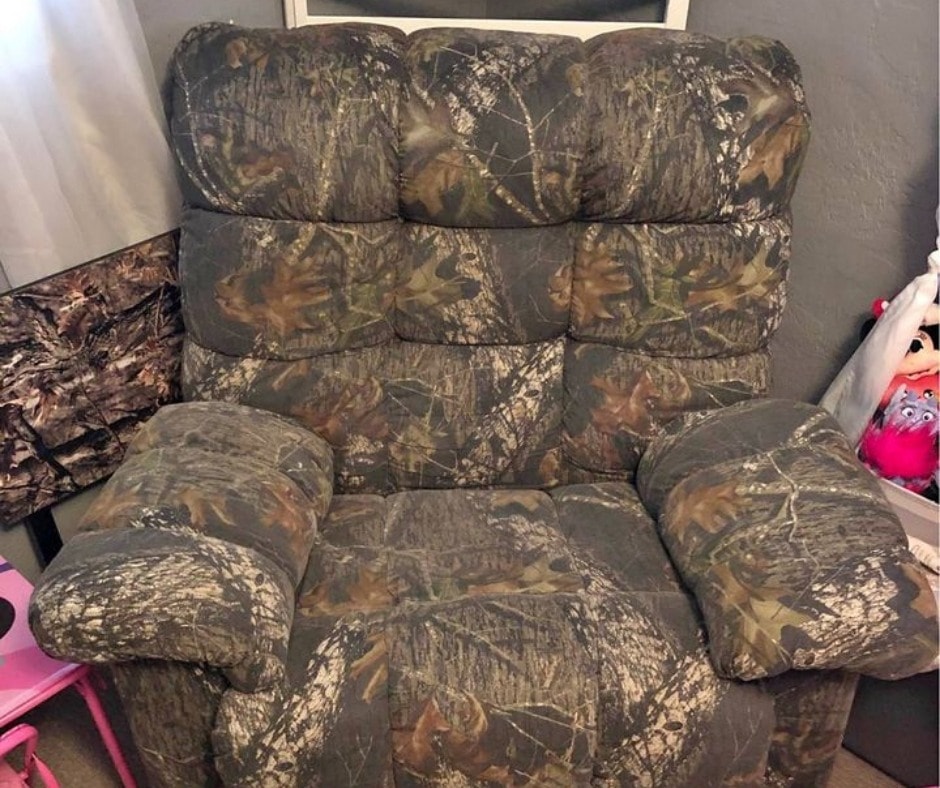 The best camo recliner can provide all-day comfort to you and your family. It is the perfect welcome home after a long day at the office. What better way to relax and unwind than sitting in your recliner with a good book or while watching your favorite TV show? Our top pick, the RELAXZEN Longstreet Rocker Recliner, ticked all our boxes when it comes to comfort and design, so if you don't want to spend hours fussing over choices, you can't go wrong with his comfortable recliner.