Are you looking for the best caddy or remote control holder for recliner but don't know where to start? Don't worry! I've compiled the best six designs currently on the market. These designs will fit a variety of differing needs. All of the products featured here have our seal of approval.
However, if you're looking for the best overall, I would recommend Joywell. Joywell's Armchair Caddy Remote Control Holder is a fantastic addition to any home. Navigate through this list to check out some of our other options!
By the end of this article, you'll know exactly which recliner is best for you!
In This Article We'll Discuss
6 Best Caddy or Remote Control Holder For Recliner
---
6 Best Caddy or Remote Control Holder For Recliner
Best Overall
Product Details:
Comes in four sizes, all of which have at least 6 pockets.
Durable linen fabric, which is also machine washable
Comes in 24 colors!
Flexible, durable, stylish
For our best overall choice for best caddy is this unforgettable design. Coming in a whopping 24 colors, this Joywell Armchair Caddy will match any aesthetic you want. Colors range over the spectrum, from dark browns and blacks, all the way to warm oranges and light blues. There will definitely be something to match your recliner.
The fabric used is durable linen, ensuring longevity in your purchase. The linen used is 'extremely durable' and works without losing any of its softness. Linen is also a material that resists wrinkles and shrinking! You can rest easy knowing this will be easy to clean and useful for your home.
The Joywell Armchair Caddy comes in four distinct sizes. First up, the standard size is L35 inches x W19.7 inches, which comes with four lower pockets. You can also L35 inches x W13 inches, which comes with three lower pockets.
Following the L35 inches x W13 inches size, you could also pick from Decrement or Concave styles. These won't alter the size of the design, but will just change the shape and how it fits to your furniture.
All of the sizes come with a total of 6 pockets. They design these for use in whatever context you want. Due to the flexibly of the design, you really can put it anywhere! This adaptability gives you the opportunity to use it on the recliner, and even around the house!
Being machine washable also ensures you won't have any hassle with the design. This is an all-round winner, with everything you would need and more!
---
Best with Tray
Product Details:
Comes in black
11 inches long x 6 inches wide
6 pockets on the sides
Easy to remove, or to fasten to the sofa armrest
Our top pick for best with a tray goes to Perfect Life Ideas! This design fits elegantly over the arm of a sofa. This provides pockets for storage, alongside a stable table to rest your drinks on. Just a note, due to the table design, you're going to need a sofa arm that is max 5-6inches wide.
This design will definitely stay in place. There is a metal clamp bracket that you can adjust. This will make the product fit more or less tightly to the sofa armrest. Always being in one place makes sure you'll never lose your remote again!
The organizer has 6 distinct pockets. You'll be able to sort anything you need into them. This will free up storage, and keep everything in one place! Alongside this, the added table will ensure your drink never goes flying. A stable place to put your drink right next to your seat allows for comfort and accessibility.
The table itself is 11 inches L x 6 inches wide in size. This is more than enough room for a drink and a bowl of popcorn for the movies. The design is also foldable, making it easy to remove and clean when needed.
The design comes in a singular black color, the modernity of the piece looking fantastic. The choice of black will complement any color style.
---
Best Leather Style
Product Details:
Premium quality synthetic leather
Measures L 9.84 Inches x W 6.69 inches x H 1.18 inches
Four pockets
One large pocket, with three smaller pockets
Anti-slip clamps
If you're looking for a leather style of couch remote caddy, look no further! This beautiful leather design comes in three distinct colors. You can choose from black, brown, or white-dyed leather. The versatility in color choice allows you to fit any aesthetic you need!
The premium quality synthetic leather gives a unique style to the piece. The total measurements are as follows: 9.84L x 6.69W x 1.18 inches in Height. The leather is anti-slip, meaning it will stay in place once you put it down. The design is very functional, holding anything you could need.
You've got four pockets included, giving you enough space to compartmentalise. Three of these are smaller pockets, and one is the whole length of the product. The design uses snap clips to stay in place. This also allows for an easy detachment whenever you want to clean it.
The design contains a flat wide top, giving you a stable space to put drinks. The stability and comfort of this design make it incredibly useful. You'll never have to get up to find anything ever again, it'll all be right there in the pockets!
---
Most Modern Style
Product Details:
Measures 28" x 13" x 0.39".
Can rolled up on one side if it is too big
Four main pocket, and then one larger pocket
Modern aesthetic design
Coming in for the most modern style is the YJLWE Remove Storage Organizer! This product is fantastically designed in two unique shades. You can choose from dark grey or cream, fitting in with any modernist aesthetic!
The design has multiple pockets, with 4 smaller pockets and one larger one. The larger pocket spans the length of the whole design, being A4 size. This means you can fit a whole notebook, or even today's paper!
The Remote Storage Organizer measures (28″ x 13″ x 0.39″). This means that you can neatly store your remote. By keeping essential items in your recliner, you'll easily have everything you need at arm's reach!
This modern design comes ready to apply. If it is slightly too big, you can simply roll up the end side of the organizer and put it under the seat. This adaptability solves a lot of sizing issues! They used polyester fiber and nylon in the production process. This ensures that the design will last a long time. The materials used are strong and durable!
---
Most Affordable
Product Details:
Under $10
Measures 37″ x 12.5″ x 1″
Polyester fabric, so is durable.
Unobtrusive design that is easy to set up
If you're on a tight budget, look no further than this fantastic design. Costing under $10, you really can't get more economical than this. The design comes in a nice black color, ensuring a uniform aesthetic.
There is no assembly or instalment required. Simply unpack the piece, and lay it over the side of your sofa. The design is ready to use, fitting across many different sizes of surface. The product measures 37″ x 12.5″ x 1″, which will fit everything up to a loft bed.
The polyester fabric ensures durability and dependability. This will keep your items safe for years to come. The unobtrusive design makes sure it will never get in the way, laying flat on your sofa arm.
Coming with three pockets, this will easily store your remotes any any other clutter. You can keep your living room tidy without having to break the bank!
---
Most Unique Design
Product Details:
Measures L 34.4″ x W 13.3
Eye-catching geometric design
Comes across two designs, both in three colors
7 pockets of varying sizes
Anti-shift and slide technology
Finally, coming in for the most unique choice of design is the Sithon Sofa Armrest Organizer. This design is truly one for the books, having an interesting pattern, as well as many pockets.
You'll be able to pick through 6 different designs and colors. These are Black Geometric, Chocolate Geometric, Grey Geometric. As well as Za-Black, Za-Chocolate, and Za-Black. These two designs over three colors will give you the ability to match any aesthetic you want! The geometric design is my personal favourite, looking unique and modern.
The product is stain resistant, also having anti-slip coating. The high-density splash proof polyester coating makes sure you'll never get it dirty. Alongside this, the silicone paw dots on the underside of the product create friction. This stops the design from moving or shifting, always holding in place.
With a whopping 7 pockets, this cough caddy will store everything under the sun. The design is well placed, each pocket effectively located. The product is very practical, coming with a few different sized pockets. You really will be able to find a place for everything!
The design is also very easy to install, only needing to drape over the armrest. The design measures a total of L 34.4″ x W 13.3. If you want something eye-catching and different, look no further!
---
Buying Guide
---
When looking for the best caddy or remote control holder for recliner, you need to consider a few things. First of all, how big is the design? Next, how many pockets does it have? Finally, does it match my home aesthetic?
The size of the design will dictate whether you can use it or not. If a design is too big, it will collect on your recliner. This will make it look frumpy, and also lead to it slipping. You want to measure the arm of your recliner. That way, you'll know roughly what size caddy will work for you!
Next up, pockets! Of course, when it comes to the best caddy or remote control holder for recliner, pockets are kind of the main event. I would recommend you go for as many as possible if you're looking for space. But, if you only need to compartmentalise a few things, go for around 4 pockets.
Finally, make sure the caddy you go for comes in a style you like. If the color of the remote holder doesn't match your recliner, you could make your furniture look out of place. Try to color match or color complement. Doing this will make sure your furniture looks elegantly matched to your caddy.
Once you've asked yourself these three questions, you're ready to go!
Conclusion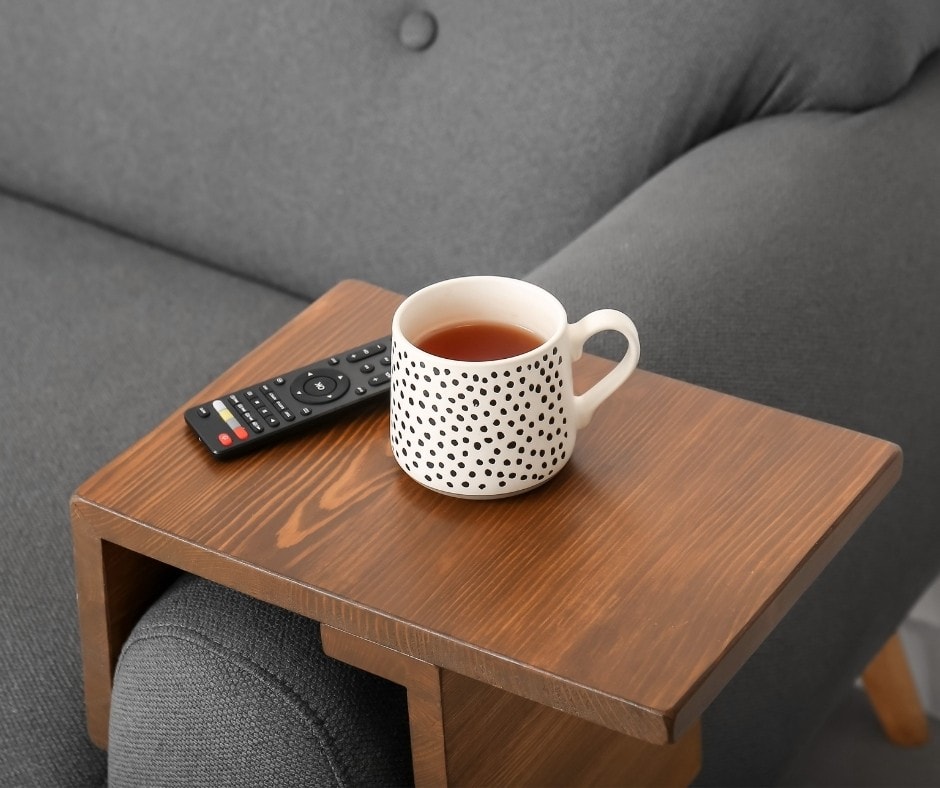 The best caddy or remote control holder for recliner will vary from person to person. If you're looking for a specific leather style, make sure to look directly for that. Or, if you want a design that really stands out, look for that instead! Of course, all the products featured on this list are effective, but some will be better for you than others.
Move through the buying guide to identify exactly what you want. From there, browse our list to find the perfect caddy for you!