The best ceiling fans for boys depend on the boy's personal tastes, as well as the features you want the fan to have. Not every boy will want the same designs. So, we've collected a range of aesthetics, each with different fan features. This list has the five best boys' room ceiling fans currently available.
Out of these five, our personal favorite is the FINXIN Ceiling Lamp and Fan. This fan is large enough to cover medium and large rooms and creates a powerful current. Also, the central LED illuminates your room. The remote control allows you to move through three speeds and three light levels. This fan is perfect if you want something that will fit in with any design, as it's matte white and doesn't have any bold features.
If your boy's room has a bunk bed, we recommend the SWTC Ceiling Fan. This fan is enclosed, meaning that the blades are encased within the fan. So, your child won't be at risk of hurting themselves if their bunk is close to the ceiling. The fan is 20-inches, meaning it fits into practically any space. It comes with several LED light intensities and fan speeds, making it a great fan for a very economic price.
In addition to those two, the other three fans we've selected for this list have a range of fantastic features. From dimmable lights to remote control timer settings, these fans will cool down your room, light it up, and bring a new aesthetic to your space.
Not sure which fan is right for you? Check out our Buying Guide to help you pick a ceiling fan for your boy's room.
In This Article We'll Discuss
5 Best Boys Room Ceiling Fans
---
5 Best Boys Room Ceiling Fans
---
Best For a Boy That Loves Football
Product Details:
48 inches
Football design
Five blades, four speeds
Reversible and silent motor
Chains to turn on
The Honeywell Touchdown fan is perfect for football fans. It has football field designs on the blades— each of the five blades has a football field. This ceiling fan measures 48 inches, making it perfect for medium-sized bedrooms.
The fan motor is both silent and reversible, making it a very versatile fan. And, although the fan is compatible with Honeywell ceiling fan remote controls, the controller is not included. Instead, there are chains that allow you to cycle through the four fan speeds.
The fan has a manufacturer's limited warranty for life, so you can use this product for years without worrying about it not working.
---
Best for a Young Child
Product Details:
Child-like design
42-inches
Reversible motor
Three speeds
Not silent
Light fixture included
If the boy you're getting this fan for is younger, then this design will work well. It's colorful, and the four blades are full of trains, trucks, planes, and tractors. The fan is 42-inches, meaning it can cover a small or medium room well.
The motor is reversible and can move through three speeds. While this is great for cooling down or heating up the room, this fan's lack of a silent function is a downside. In addition, you turn the fan on and off manually as there's no remote-control compatibility.
The fan has a central light bulb, which has one continual intensity.
---
Best Timeless Design
Product Details:
52-inches
Matte white
10-year warranty
Three light level LEDs
Three fan speeds
Quiet motor
If you want a fan that will easily fit into any aesthetic, then this FINXIN design is the fan you should go for. The fan is entirely white, with five flat blades and a central LED fixture. The lack of color or design elements means that this fan is versatile and will look natural in any aesthetic.
This fan is 52-inches, making it the joint largest fan on our list. This is particularly useful if your boy's room is on the larger side.
The fan is made from a mix of matte white hard plastic and acrylic, so it's very strong. The 10-year limited warranty also means that you can use this fan without fear of wearing it out. The fan will only take around 30 minutes to set up from delivery, being the fastest set-up on this list.
The fan comes with a remote control, which allows you to cycle through the three fan speeds. Similarly, you can use the remote control to change between the three lighting intensities.
Alongside all of this, the fan is extremely quiet.
---
Best For Small Bedrooms
Product Details:
Three light settings + speeds
Remote control with timer, light, and fan speed
20-inch diameter
Night sky design in white
If your boy's bedroom is particularly small, then this is a fantastic fan option as it only measures 20 inches in diameter. You'll be able to use this in even the smallest of rooms, and the enclosed structure makes it safe for very low ceilings.
The fan has an external LED ring, which can emit three light intensities (3000k, 4000k, and 6000k). In addition, the fan has three speeds, so you can control the wind strength in the room.
The remote control that this fan comes with has a timer and its controls the light and fan speed. This additional timer setting makes this fan a fantastic choice; no other fans on this list have this option.
The fan motor has puncture holes in the shape of stars and crescent moons. This emits even more light, and will make your boys' room look like the night sky.
---
Best For Large Bedrooms
Product Details:
52-inches
Central LED
Remote control
Three speeds
This remote control fan is matte black, allowing it to fit in with practically any aesthetic. However, since it has a 52-inch diameter, you should only get this fan if your boy's room is medium or large. The remote controls the fan's three fan speeds.
The fan comes with a motor that is both silent and reversible, making this a great option if you're looking for versatility.
There is also a central LED that you can control with the remote. While the frosted glass that covers the LED creates a warm tone, it is also not changeable. Therefore, the fan light is not dimmable, which is a negative aspect of this fan.
---
Buying Guide
---
How to pick the best ceiling fan for your boy's room
When deciding on the best ceiling fan for your boy's room, you should ask them directly what aesthetic they want. If they are particularly interested in a certain theme, then you can find a ceiling fan that matches that theme. On this list, we've included a range of themes that will satisfy these general likes.
However, you can also opt for a simpler ceiling fan. These will fit into any aesthetic, while providing the basic functions of a fan.
Aesthetics aside, one thing you must pay attention to is the size of the boy's room. If they have a very small room, you will need to make sure your fan can fit. By contrast, if it's a large room, you'll need a ceiling fan that can generate enough CFM to rotate the air in the room.
To help with the possible room sizes, we've included the diameter of the fans in their summaries. For smaller rooms, look for fans between 20-45 inches. For larger rooms, go beyond 45 inches.
Ceiling fans and bunk bed safety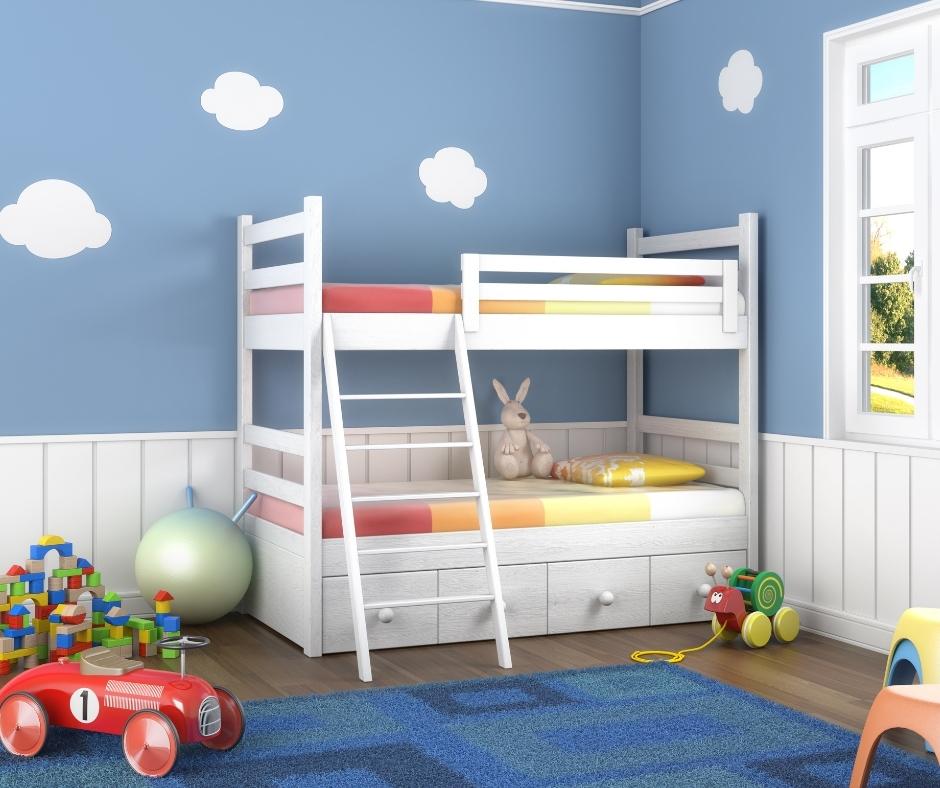 If you have a bunk bed, your child will be sleeping close to the ceiling. Due to this, exposed fans are not the safest idea as they may bump their head on the blades. To get around this problem, we suggest buying an enclosed ceiling fan. These keep the blades inside a cage, making sure your child can't touch them and hurt himself.
On this list, we've included the enclosed ceiling fan Modern LED by SWTC. In addition to being bunk bed safe, this ceiling fan is fantastic because it has a range of light and speed options. Its small 20-inch diameter means it will fit in practically any bedroom.
Conclusion
We've compiled the best ceiling fans for boys' rooms for you to compare. They all contain different styles and features, such as lighting fixtures, remote controls, and reversible motors.
If you don't have time to read the whole list and want to quickly find a ceiling fan for your boy's room, we recommend the FINXIN Ceiling Lamp and Fan. This fan is large enough to cover medium rooms and can even cover some large rooms, too. In addition, it comes with a bright central LED fixture. The versatile design is modern and will fit into any room without seeming out of place. It's a great all-around fan with lots of additional features.