CFM, which stands for cubic feet per minute, is the amount of air that a fan can move in one minute. A higher CFM suggests that a fan will be able to cool down a room faster since it can move more air in a given minute.
We've collected a range of fantastic box fans with high CFMs. The most powerful fan on our list is the Hurricane Box Fan, with a very above average CFM of 2,400. It is 20-inches, as are most typical box fans. The fan is also ETL certified, meaning that it has passed safety testing in the U.S.A.
If you want a fan that you can take on the go, then we suggest the O2 Cool Box Fan. This box fan is completely matte black, so it will look great while also cooling down your room. As it is only 10-inches, you'll also be able to take it wherever you need to go. It's lightweight, effective, and will cool down your room in moments.
The other three fans on this list have a range of features and different CFMs. If you're not sure which to pick, then consult our buying guide before looking at the products. It will give you a better idea of what to look for in a box fan.
In This Article We'll Discuss
5 Best Box Fans
---
5 Best Box Fans
---
High CFM Fan and Best Overall
Product Details:
20-inches
3 speeds
2,400 CFM
CFM: 2,400
This is a 20-inch, portable box fan that you can put anywhere in your home. It has a quiet motor that lets you use the fan without creating much of a disturbance. Also, it comes with 3 speeds, allowing you to choose the level to which you want to cool down your room.
The fan is completely white and has a square design. In addition, it's ETL certified, demonstrating that it meets the safety standards of the U.S.A.
---
Second Highest CFM
Product Details:
20-inches
White
1/25 horsepower motor
Impact-resistant, 1yr warranty
Three speeds
2,140 CFM max
CFM: 2,140
This design by Air King is the second most powerful fan we have on this list. It is 20-inches and has three distinct fan speeds for you to choose from.
The engine is permanently lubricated and has a 1/25 horsepower. The impact-resistant case ensures that this fan is as durable as possible. It also comes with a 1-year limited warranty.
---
Best Energy Efficient
Product Details:
20-inches
Climate shield
2,000 CFM and three speeds
CFM: 2,000
If you're looking for an energy-efficient product, then the Lasko box fan is for you. The 20-inch box fan is a great size and will fit into a range of spaces. The climate shielded fan motor allows this product to generate more CFM without taking up lots of energy. Also, it costs only 2-cents an hour to run at its max speed.
In addition, the fan has three different speeds and you can change the speed from the top of the fan case.
---
Best in Black
Product Details:
Black
Three speeds
20-inches
1,800 CFM
Side knob control
CFM: 1,800
If you're looking for a completely black box fan, this is a great choice. This 20-inch fan comes with three different speeds and a safety grille to keep you safe.
Also, the fan has a side knob that allows you to toggle between the speeds or turn it off.
---
Best Portable Fan
Product Details:
10-inch
Portable
Matte black
Works for 40-hours straight
Two speeds
1,200-1,500 CFM
If you're looking for a portable box fan, then this 10-inch design is perfect. You'll be able to take this fan on the go and the modern black design will look great wherever it is. Also, you'll be able to use the fan for up to 40-hours on its lowest speed without having to recharge it.
The fan has two speeds: low and high. In addition, it has a durable casing that ensures it will stay safe, even when you're on the go. Although the fan's CFM is not specified, based on the size and two power settings, it is most likely between 1,200-1,500 CFM.
---
Buying Guide
---
How to pick the best high CFM box fan
When you're deciding on the best box fan for you, you should consider the fan's CFM and the style of the fan.
CFM
If you're looking for a powerful box fan, then you'll be searching for the highest CFM possible. This will allow you to refresh the air in your room since the air will constantly be circulated by the box fan. The higher the CFM, the higher the power.
Style
If you're buying a box fan, they're almost always placed in quite a visible location. Due to this, you want to make sure that the fan matches the style of the room it's going to be in. Take a look at our list for a range of different styles, so you can find a style that fits in with what you're looking for.
What box fan has the most CFM?
On our list, the box fan that has the highest overall CFM is the Hurricane Box Fan. This box fan has a CFM of 2,400, as well as a range of additional features that you can use.
How many CFM is the average box fan?
The average box fan is 20 inches and has a CFM of between 1000-2000. On our list, we have some box fans that fall into this average, and we've also included some that are more powerful than average.
Is a higher CFM better?
While a higher CFM equates to better air circulation, it may not be the best fan depending on your room size and goals. For small and medium rooms, you won't need a ridiculously high CFM because it will actually take up lots of energy while providing the same benefits of a box fan with a lower CFM.
Conclusion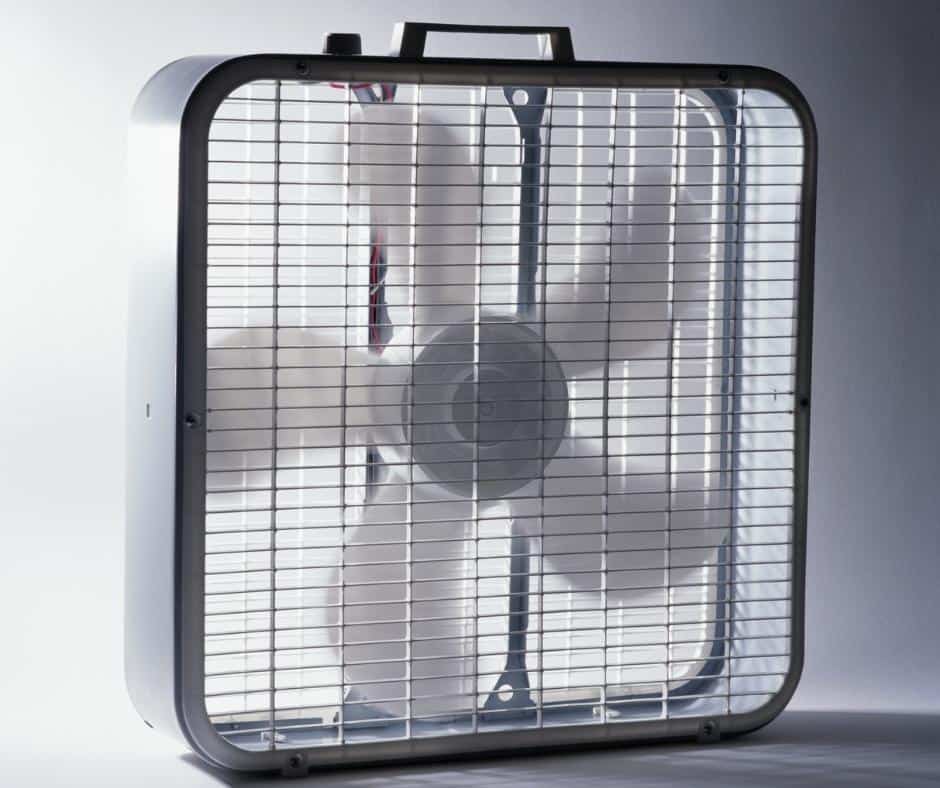 This list contains the top 5 box fans that you can use to cool yourself down on a hot day. They are all 20-inches or lower, so you can move them around with ease.
The most powerful fan on this list is the Hurricane Box Fan, which has a total CFM of 2,400 – which is very above average for a box fan. The fan also comes with three different speeds, so you can select exactly how you want to cool yourself down.
The other fans on this list are lower in CFM, but offer a range of useful features that may catch your eye.