If you're looking for a comfortable recliner, you can't go wrong with a chair from Barcalounger.
Founded in 1940, Barcalounger offers exquisite furniture with "scientifically articulated" design. Ever since the company started, the company has helped many people 'enjoy life's moments.' This has enabled it to become a well sought after furniture brand worldwide.
To take the pain out of hunting for your next recliner, we've put in the legwork for you in this series of Barcalounger reviews.
We love the Jacque II, a Barcalounger bestseller. If you're short on space, the Presidential is perfect for you.

In This Article We'll Discuss
Best Barcalounger Recliners & Chairs Table
[hfe_template id='6963′]
The Best Barcalounger Recliners & Chairs Reviews
Best Overall Barcalounger Recliner For Adults
If you're looking for something that will stand the test of time, you need the Jacque II in your life. With its long list of outstanding features, it's a piece of furniture you'll love from the get-go.
One of the most unique things about this leather recliner is its baseball mitt design. This gives it a modern aesthetic, making it an ideal choice for your office or man-cave. To top it all off, stylish top grain leather covers every area you touch on the chair. Top grain leather is one of the finest materials you can own. This helps in guaranteeing the recliner's durability.
Unlike other recliners, this model comes with a 360-degree swivel – very convenient for at-home use. A super cool addition to the Jacque is the inclusion of an ottoman to rest your legs after a long day at work.
As an added bonus, the recliner only needs ten inches of wall clearance. This makes the Jacque II ideal for smaller places.
Like most Amazon-sold Barcaloungers, assembly is effortless. With its enclosed tool kit, you can put together the Jacque II in under 30 minutes.
Dimensions: 34″ W x 35″ D x 41″ H inches
Material used: Heavy Duty Wood Frame, Pocketed Coil Seat, Top Grain Leather
Color: Whiskey
Best Leather Barcalounger Recliner
Living up to Barcalounger's outstanding reputation, the Longhorn II is one of the most comfortable recliners in the range. While it is a little more expensive than most, the dreamy comfort levels are well worth the price tag.
With its solid pillow seat and rolled cushions, the Longhorn will help you relax fully after a tiring day. Reclining is made more accessible with its push-back arms, saving you from fumbling around with a lever.
Apart from being very comfy, the Longhorn piece offers a unique style. It comes with top-grain leather upholstery, which is resilient to dirt and stains, yet less expensive than traditional leather. It has a vintage nail trim too for accents. With these stunning attributes, it can turn your simple space into an elegant one.
Dimensions: 38.5″ W x 40.1″ D x 41.3″ H
Materials: Solid Wood Frame, Pocketed Coil Seat, Top Grain Leather
Color: Saddle Brown
Best Barcalounger Fabric Recliner
Manual recliners are fantastic, but if you're looking for a little something extra, you will love the Apex II. We love the Apex's convenience, which allows for a comfortable recline at the push of the button. But its main selling point is its generous cushioning, making it a winning choice for a family home.
And these cushions allow it to offer unbeatable levels of comfort, molding around and enveloping your body, providing unbeatable levels of support. Given its extra-wide seating, the aches and pains of the day will soon be a distant memory.
Making things even better is Apex II's soft-feel fabric upholstery. Compared to its leather-lined sisters, it's more forgiving and won't show up scratches that often plague leather seating. With these features, you don't have to worry about your kids or pets damaging the chair.
With its modern wall-hugger design, you can use the Apex II in the smallest of spaces, perfect for lofts or a small apartment.
Dimensions: 40″ W x 40.5″ D x 43.5″ H
Material used: High-Resiliency Seat Foam Cushion, Fabric Upholstery
Color: Brown
Best Small Barcalounger for small spaces
If you don't have much space at home, you probably think a recliner is out of reach. Well, the Presidential recliner looks to change that.
With this beautiful and compact offering from Barcalounger, the Presidential Chair can help you relax without taking up too much space. As it comes with a streamlined design, it only needs 16 inches of wall clearance to enjoy its full benefits.
Although not a powered recliner, the recline mechanism is conveniently incorporated into the arms of the chair. It's very unique, too given its barrel back and deep-button tufting features. These qualities give this piece of furniture a classic look that transcends time.
Dimensions: 34.5″W x 40.5″D x 40″H
Material used: Pocketed Coil Spring Seat Cushions with Down Wrap, Top Grain Leather
Color: Shoreham Wine
Best Barcalounger electric recliner
If you're looking for that 'one' great recliner, then the Briarwood is something you can't afford to miss. A favorite among many of Barcalounger's customers, reviews praise the chair for its comfort and design.
Not only does it come with a new-age foam that can cradle your back, but its Dacron topper keeps its cushions remain smooth and wrinkle-free – even after many years of use.
What we loved most about the chair is the fact it doesn't look like a recliner. This means it can work in pretty much any room and any design. Its dark red leather finish gives it a classy touch, while its walnut legs and classic nail trim complete the vintage look.
Dimensions: 37″ W x 40″ D x 42″ H
Materials: Wooden Frame, Pillow Back and Pocket Coil Spring Seat Cushion, Top Grain Leather
Color options: Stetson (Brown)
Best Barcalounger Rocker Recliner
If you're looking for something special, check out the Regency II. Keeping true to the saying 'first impressions last,' this chair will give you a feeling akin to love at first sight.
Compared to some of the other loungers in this review, this chair has a more modern aesthetic. Its cherry and walnut frame give it a classy vibe that will look great in a living room or study. You can also change or adjust the upper and lower cushions freely, helping to adapt the chair to the users' height.
Unlike the Presidential chair's push-back motion, this chair comes with a lever mechanism. It's also a rocker recliner, which is quite an uncommon feature in the Barcalounger range.
All these features make the Regency II the perfect type for seniors and those with mobility issues. It's also recommended for new parents, as it can help rock your baby to sleep.
Dimensions: 36.5″W x 39″D x 41″H
Material used: Padded Frame, Pocket Spring Seat Cushion, Top Grain Leather Upholstery
Color options: Tri-Tone Metallic
Best Barcalounger Reclining Sofa
If you have kids, it's essential to find a sofa that's durable, ready to withstand everything they can throw at it. Enter the Hudson II, a couch that will quickly become part of the family.
This sofa, as with the Apex II, is made with high-resiliency foam. This makes this chair comfortable yet long-lasting – something that will truly stand the test of time.
While it doesn't come with an ottoman, it does come with comforting leg rest. That way, you can rest well as you indulge in a book or simply watch TV.
Design-wise, the Hudson II boasts a modern look that will fit any space. Whether you have a classic or vintage home, this large sofa can blend well with your existing aesthetic.
Dimensions: 88″ W x 40″ D x 42″H
Materials: Engineered wooden frame, High-resilience foam, leather
Color options: Vermont Bark
Best Barcalounger Reclining Loveseat
This recliner is an Amazon bestseller for a reason.
While it's famous for its superb design, this couch also comes with amazing features. The electric power recline allows for smooth and silent operation, while its sturdy wooden base and mortise and tenon joints enhance its durability.
Comfort-wise, this is definitely one of the more comfortable sofas we tested. While it may not beat the Briarwood II's pillow cushion, the Hudson promotes good posture. This keeps aches and pains at bay.
The sofa also looks mighty attractive. Its sleek arms and luxurious leather finish promote a premium look and feel that will add a touch of class to any room.
The best part is its made for two, perfect for reclining with a loved one.
Dimensions: 64″ W x 40″ D x 40″ H
Material used: Hardwood, Pocket Coil cushions, Resilient foam, leather
Color options: Vermont Bark
Barcalounger Recliner Buying Guide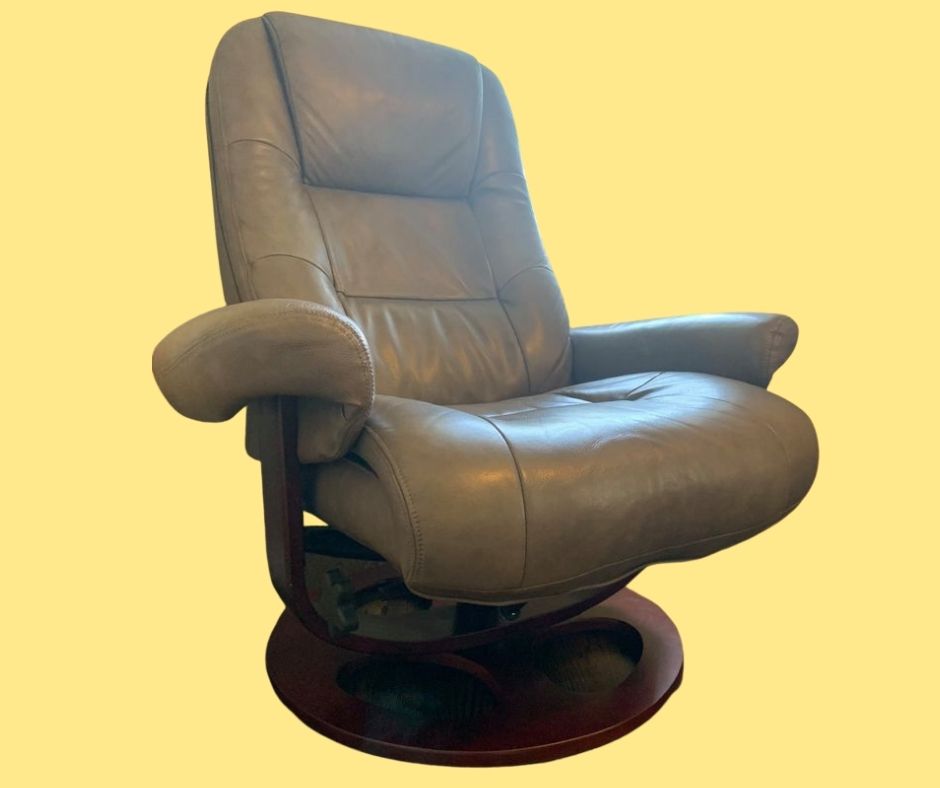 What is the price of Barcalounger brand recliners and chairs?
Barcalounger prices start from around $1,000 and can increase to a few thousand dollars. The lower-priced models are usually manually operated or made with less-expensive fabrics. The more expensive ones are usually automatic. Some, on the other hand, are made with exquisite leather.
While Barcalounger is definitely not the cheapest option on the market, they do say "you get what you pay for," which is definitely true for Barcalounger.
Who Sells Barcalounger Brand Name Items?
As well as the Barcalounger official website, you can also purchase their products through Amazon, which is our preferred way to shop.
Amazon has a vast range of choices when it comes to Barcalounger, not to mention affordable shipping rates and excellent customer service.
Is Barcalounger Furniture Worth It?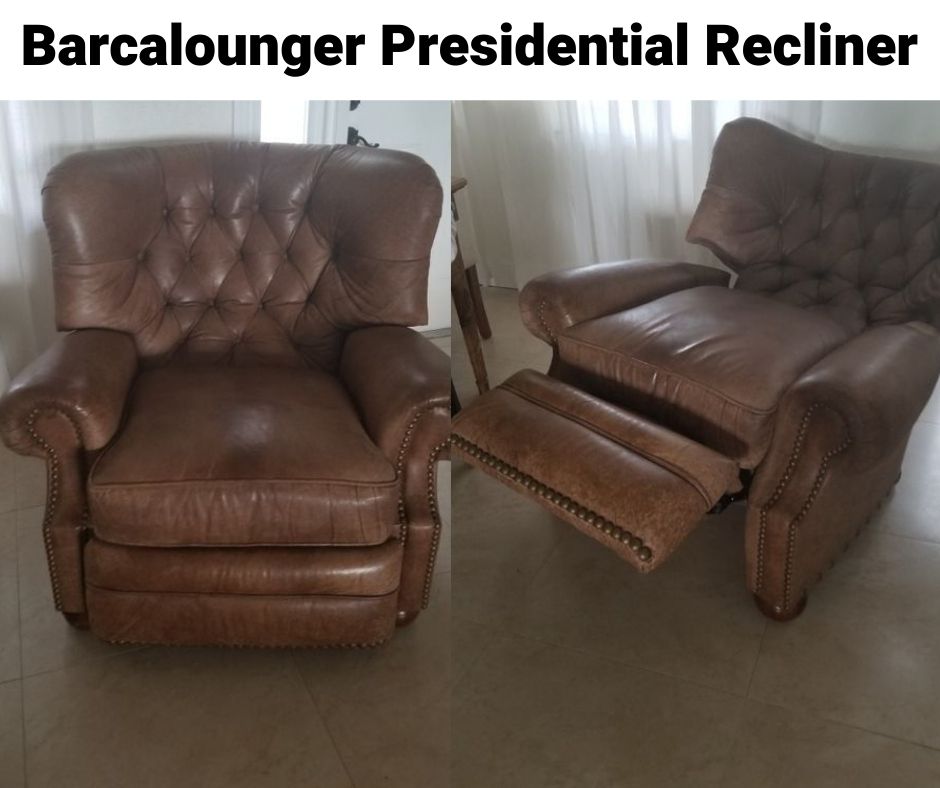 If you ask us – absolutely. Barcalounger is a brand with a fantastic reputation for a reason. You certainly can't go wrong with a piece of Barcalounger furniture in your home.
Each piece of furniture is made with a durable frame and a sturdy mechanism that's made to last. They also come with plush foam and Dacron cushions for added comfort.
As for the upholstery, some of the premium Barcalounger chairs come with beautiful top grain leather. Others, including the Apex II, is made with child/pet-friendly fabric for a family friendly appeal.
Conclusion
If you want a comfortable and sturdy investment, then you should opt for the Jacque II chair, complete with ottoman. With its baseball mitt design, the Jacque II is perfect for all kinds of modern spaces.
If you have kids and/or pets at home, you should consider buying the Apex II from Amazon. It comes with a scratch-proof cover that enhances its durability, so you don't have to worry about the chair's damage.
It also has super comfy cushions that allow you to sit comfortably. With its powered recline feature, you can recline the chair automatically. Add to that, it has a wall-hugger design that makes it a good fit for tight spaces.
Barcalounger Recliners & Chairs FAQ