If you're working with paint in a confined space, you should try to avoid fumes. They can be toxic and could lead to serious health complications. Luckily for us, these air filters use HEPA and activated charcoal to neutralize paint fumes.
Let's look at the four best air purifiers for paint fumes currently on the market!
In This Article We'll Discuss
4 Best Air Purifiers for Paint Fumes
---
4 Best Air Purifiers for Paint Fumes
---
Best Overall
Product Details:
Measures 8.25 L x 8.25 W x 32 H inches
PECO technology
Works in areas of up to 600 sq. ft.
Connects to Wi-Fi
Touch screen
Leather handle so you can easily move it
Aluminum finish
Our overall recommendation is Molekule. This product uses Photo Electrochemical Oxidation, known as PECO, to combat viruses. It fights against mold, allergens, VOCs, and bacteria with its nanotechnology. The product measures a total of 8.25 L x 8.25 W x 32 H inches.
The product works best in larger rooms. It will clear allergens in rooms of up to 600 sq. ft. It's perfect for living rooms, master bedrooms, or family spaces. Also, the touch screen display gives you control of your Molekule filter with the tap of a finger. You can even connect it to Wi-Fi and use your mobile device to work it.
The product is made with aluminum which gives it a uniform finish, so it will look excellent in any location. And, with its leather handle, you can carry the filter to wherever it fits best.
In addition, this product's technology will never affect the environment, so it will keep your home clean of pollutants.
---
Best for Large Rooms
Product Details:
14.8 L x 22.91 W x 14.8 H inches
Filters a room of 1,560 sq. ft. twice per hour
Reduces up to 99.99% of pollutants
Monitors air quality throughout the day
Can run for a period of 1-8 hours straight
Emits max of 43.2 dB of noise
It will display when you need to change the filter
1-year warranty on internal malfunctions
5-year warranty on motors and electrical faults
This product is great if you have a large room that needs an air purifier. The Coway Airmega 400 Smart Air Purifier works wonders. It will clean the air of any room up to 1,560 square feet. And, it will clean the whole space twice per hour in ideal conditions.
Its HEPA filter will reduce up to 99.99% of particulates and it can capture pollutants as small as 0.01 microns. The Coway Airmega will even reduce 99% of volatile organic compound fumes. You'll never have to worry about CH3CHO or NH3 again!
The pollution sensors will constantly run tests on the air quality. If it dips too low, the LED display will change color. This gives you an up-to-date system to monitor how clear your air is. Also, the product measures 14.8 L x 22.91 W x 14.8 H inches.
You can choose from five different modes on the Coway Airmega: Smart, Low, Sleep, Medium, or High. The maximum noise it will emit is 43.2 dB. However, most of the time the product is much quieter than that.
There are also three setting-smart modes to help the filter adapt. If there are a lot of pollutants, it will automatically move up a speed. It will shift through speeds to find the perfect balance for you. This helps keep the air quality at a standard level.
You can set the product to run for 1, 2, 4, or 8 hours straight. There are indicators that display when you need to change the filter and both filters are machine washable. In addition, 400 Energy Star certifies that the product will only use 64 watts.
Each purchase comes with a one-year warranty for internal malfunctions. It also covers electrical and motor failures for 5 years. However, you should note that filters aren't included in this warranty.
---
Best for Small Rooms
Product Details:
Measures 8 L x 8 W x 16.7 H inches
Black and white design
Weighs 3.35 lbs
Three distinct filters working together
Catches 99% of pollutants
Only makes between 17-46 dB of noise
If you have a small room, this product by Blueair is for you. It will filter rooms between 100-175 square feet. The product itself measures 8 L x 8 W x 16.7 H inches and weighs 3.35 lbs. It has a chic black and white design, with the base being black and the top third being white.
The Blueair Blue Pure has three different parts that work to filter your air. They have activated carbon filters to remove smells from gases and smoke. And, it has washable pre-filters that will catch dust and pet hair. The HEPA filter then collects the remaining pollutants, eliminating up to 99% of airborne pollutants and odors.
The product is very quiet and will only emit between 17 and 46 dBs. Also, it only uses between 1.5-10 W of energy. You should aim to replace the filters every 6 months and you can recycle all the old filters once you're done with them.
---
Best Budget Pick
Product Details:
8.7 L x 8.7 W x 16.25 H inches
Works in rooms up to 219 sq. ft.
Cleans a room 5 times an hour
Three layers of filtering
Removes 99% of pollutants
Add a filter to target specific scents or chemical compounds
Won prizes for its aesthetic design
The cheapest, yet still effective, entry on our list goes to LEVOIT. This brand boasts that it only takes 12 minutes to completely clear a room. It filters your room quickly using VortexAir technology and 360-degree air intake. It can filter a room as large as 219 sq. ft. 5 times an hour.
If you have allergies, this is a great way to clean your room. The HEPA filter works with a pre-filter and activated carbon filters to remove 99% of pollutants. So, this air purifier can tackle anything from dust and smoke to pollen and bad odors.
You can also select specific fibers. If you're looking for the best air purifier for paint fumes, add the corresponding fiber. These fibers specifically target certain odors or chemical compounds.
The product also has a sleep mode which will make it quieter and dim any lights. You can even turn the lights off all-together. And, it will move down to a quiet 24 dB, letting you sleep soundly. Set the timer for 2, 4, 6, or 8 hours and then let the filter work its magic.
This product has an aesthetically pleasing design. In fact, it won the Red Dot prize in 2020 for its design. The white finish will look great in any modern home. And, this product doesn't produce any secondary pollutants.
The product measures 8.7 L x 8.7 W x 16.25 H inches.
---
Buying Guide
---
How to Pick the Best Air Purifier for Paint Fumes and VOCs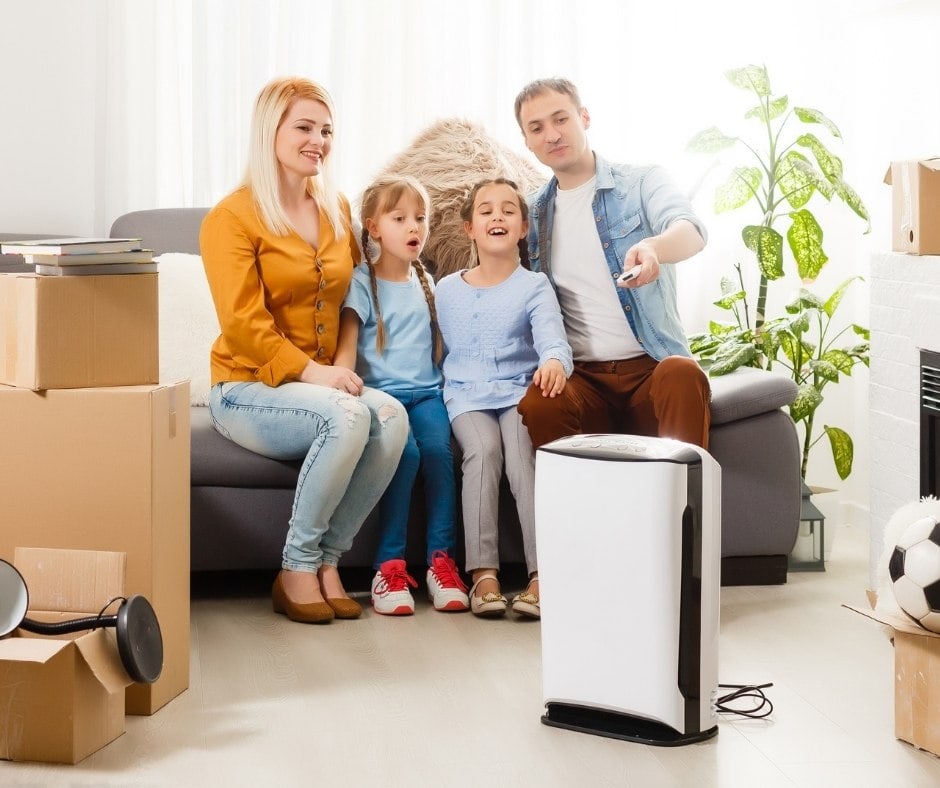 Buying an air purifier for paint fumes is not as simple as it seems. You should consider your room size, type of filter, and noise level.
Room Size
If you're working in a small, confined space, you need an air filter. Remember, paint fumes can be toxic, so you need to filter them out. An air filter will do this for you and help keep you safe. If you work in a small space, opt for a filter that cleans the room quickly. There are some filters on this list that can purify a small room in as little as 12 minutes.
However, if you're in a larger room, the filter can be slower. This is important when considering that some filters cover a larger distance. Although they cover more area, they will be slower. But, if you're in a larger room this will not matter.
Make sure you know the size of the room in which you'll be placing the air purifier before buying.
Type of Filter
When working with paint, you will need more than just a HEPA filter. Although HEPA filters will purify most air, they don't work great with gasses. But, fumes from paint will bind to activated carbon. So, if you get a purifier with activated carbon filter, you'll be covering all your bases.
Before buying a filter, make sure it can deal with the fumes that you want it to. A simple HEPA filter may not cut it when it comes to paint fumes.
Noise Level
If you are painting in your house, you may want a quiet filter. However, if you're working on an industrial project, noise may not be a problem. Depending on your circumstance, you may opt for a different air purification system.
Do Air Purifiers Help with Paint Fumes?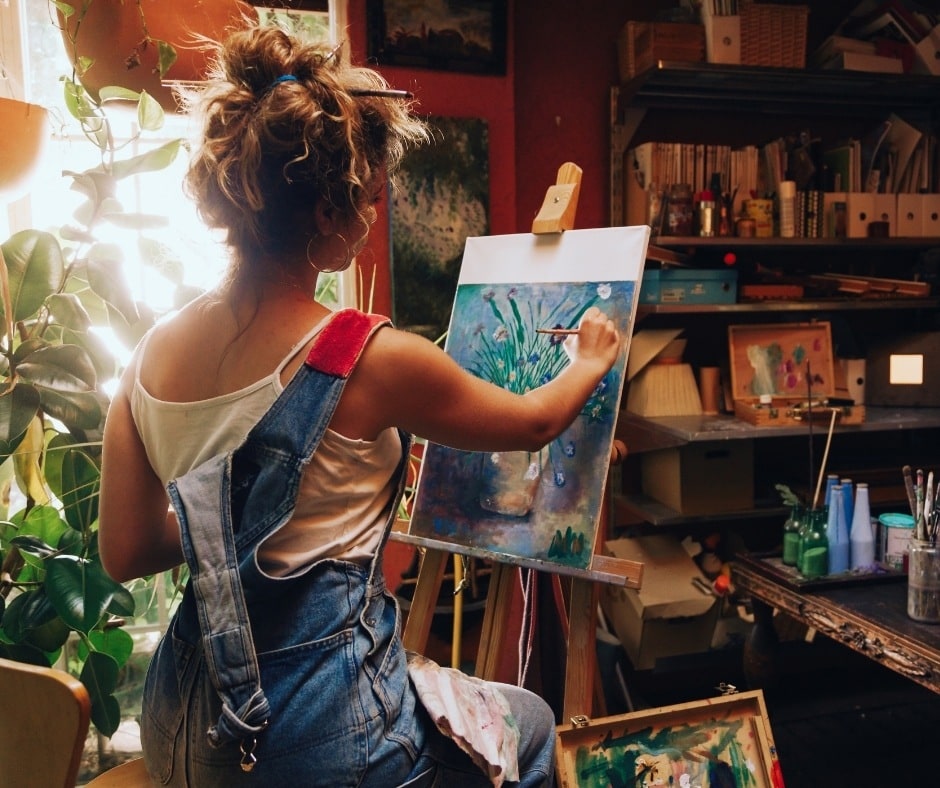 Air Purifiers absolutely help with paint fumes. However, some are better than others. When working with toxic paint, make sure you're using at least a HEPA filter. Even better If there are multiple filters working together. Keep your eyes peeled for HEPA and activated carbon. These are two filters that work wonders with paint fumes.
Do HEPA Filters Help with Paint Fumes?
HEPA filters will catch over 99% of pollutants in the air, and paint fumes fall under that category. That means that HEPA filters will help with paint fumes, but you may need activated carbon filters as well.
However, HEPA filters can easily get clogged if you're working with heavy toxic paint. Due to the density of the airborne particulates, you may have to replace your filter. Be sure to check your filter health to ensure there is still space for air filtration.
Will an Air Purifier Remove VOCs?
We often confuse VOCs with particles, but they're not the same thing. VOCs are slightly harder to manage than particles. And, when it comes to air filters, HEPAs aren't always 100% effective. That's why we suggest looking for filters with activated carbon.
These activated carbon filters will react with VOCs in the air. As they react, the VOCs will bind to the carbon. This traps the VOCs, ensuring that the air you breathe is completely safe.
However, even though the carbon binds to the VOCs, it doesn't destroy them. That's why you should always replace your filters on a regular basis. It will ensure that the filter does not fill up and become useless.
Do Activated Carbon Filters Help with Paint Fumes?
Yes, activated carbon filters will absorb paint fumes. Any heavy solvents will absorb into the activated carbon. Be sure to pair these with HEPA filters if you're looking for maximum coverage.
Conclusion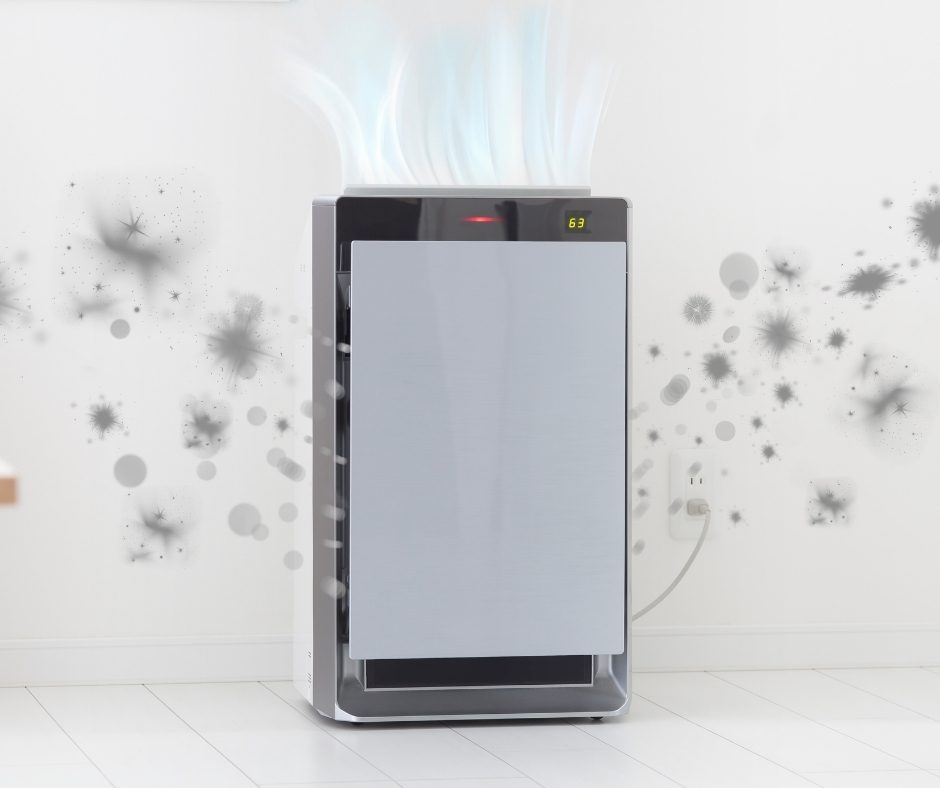 These four products are the best air purifiers for paint fumes. No matter what your situation is, you should be able to find one that will work for your home. Take a look at our buying guide to figure out what you want, then consult our selected brands.
Get rid of those nasty fumes with an air purifier!