Cooking in the kitchen can quickly turn into a smoky situation. And, you also have to deal with the smell of burning spices. If you want your cooking experience to go as smoothly as possible, take a look at these air purifiers.
In This Article We'll Discuss
5 Best Air Purifiers for Cooking Odors
---
5 Best Air Purifiers for Cooking Odors
---
Best Overall
Product Details:
13 L x 13 W x 20.4 H inches
Three filters
Emits 31-56 decibels
Uses 30-61w when active
Can clear a room that measures 540 – 620 sq. ft.
Cleans the air in a room 5 times an hour
The Blue Pure air filter by Blueair has an advanced Swedish design that will capture 99% of pollutants. It can trap any airborne molecules from pollen and dust, to pet dander and mold. It's 13 L x 13 W x 20.4 H inches.
Blueair splits the Blue Pure Air Purifier into three distinct sections. There is the pre-filter fabric that traps dust, the particle filter that works on pollen, allergens, and irritants and, finally, the carbon filter that concentrates on odor-causing bacteria. This layered technology works to completely neutralize odors when cooking.
Also, you can choose the color of this product. The machine-washable fabric filter comes in either diva blue or dark shadow. Alternatively, you could remove this filter for a 'Scandinavian design' aesthetic.
In addition, this product is very quiet and emits only 31 decibels on its lowest speed. Even at its highest speed, it emits 56 decibels which you could compare to noise from rainfall.
Energy Star rates it highly for its low consumption of energy. It will only consume between 30-60w when on, depending on its speed.
Aham has independently tested the product and certified its effectiveness. And, it will clear the air in a room 5 times in an hour. It's perfect for medium to large bedrooms or kitchens that you need to freshen up.
You can choose from three options: Blue Pure 121 which covers 620 sq. ft. or the normal 540 sq. ft. model in a double or single pack.
---
Best Budget Pick
Product Details:
9 L x 8 W x 23 H inches
Traps dust as small as 0.3 microns
4 precut activated carbon pre-filters
One HEPA main filter
Two structures, either tower or flat
Removable base
Environmentally friendly
VEVA's Elite Pro Series Air Purifier is the most economical option on the list. This product comes in a chic black color and is 9 L x 8 W x 23 H inches. VEVA uses premium quality HEPA filters in their products that help catch dust and allergens as small as 0.3 microns.
VEVA also targets PM2.5 particles which is helpful if you have allergies.
The VEVA filter contains premium range activated carbon pre-filters that help to remove odors from the air. These pre-filters neutralize scents from pets, cooking, smoking, and more. Also, the activated charcoal provides a fresh and clean scent throughout any room.
The 4 precut activated carbon pre-filters work with the HEPA filter to clean your home. Pairing these components together also extends the life of the main HEPA filter. In addition to being the cheapest option on this list, it's also built to last!
In addition, it will automatically shut off if you remove the case. So, it's safe for babies and pets.
The sleek design makes it perfect for any room. You can also remove the base to change the structure to either tower or tabletop.
In addition to the structure, you can also select the fan speed. There are three speeds ranging from Turbo to Ultra Quiet. No matter how fast the fan is moving, it will always be environmentally friendly.
---
Best with Reusable Filter
Product Details:
15 L x 8.2 W x 23.6 H inches
Traps 99.97% of airborne pollutants
PlasmaWave technology neutralizes bacteria
Washable AOC carbon filters
27.8 decibels
Sleep mode
Air quality display light
Filters 360 sq. ft. room
The Winix Purifier is our recommendation for an air purifier with a reusable filter. It comes in a matte black color and measures 15 L x 8.2 W x 23.6 H inches. The main filter is a HEPA filter that will capture 99.97% of all airborne pollutants. That includes allergens as tiny as 0.3 microns.
Also, the AOC carbon filter is washable and traps odors. In addition, the PlasmaWave breaks down odors, chemical vapors, and allergens without producing any harmful pollutants.
The product is also one of the quietest on this list because it only emits 27.8 decibels. The smart sensors on the products gauge air quality and will automatically turn on when needed. There's also a sleep mode for quiet operation throughout the night. This automatically begins when the room gets dark.
The fan is powerful enough to filter a 360-square ft. room. So, you can use it in bedrooms, kitchens, and family dining rooms. You can even use a remote control to start it. And, if the air quality indicator moves into the red zone, just press the button to start it.
---
Most Compact for Small Kitchens
Product Details:
10 L x 10 W x 15.25 H inches
HEPA filter
Activated carbon
Works in an area of 380 sq. ft.
Convection currents
Soft blue glow
Max of 25 dB
At 10 L x 10 W x 15 H inches, this is our most compact recommendation. The product has two main layers. The first is a HEPA filter which focuses on reducing dust, hair, pollen, and other common allergens. Then, there's layers of activated carbon that reduce smoke, tobacco scents, and common odors.
Although it's small, the product can purify an area of 380 sq. ft. So, it can purify the air in a small bedroom in 10 minutes. You can also opt for a slower clean if the air is not overly polluted. This will make the product quieter.
The airflow from the purifier takes in air from all directions. This creates convection currents of air and creates optimal flow around the room. This design allows for minimal noise. It can be as low as 25 dB.
The blue glow and nearly noiseless design from the Mooka air purifier will ensure you can sleep soundly.
Every unit comes with thirty days of free returns. Then, if you decide to keep the product, you get a three-year support package from Mooka. Each purchase comes with 1 C10 air purifier, 1 warranty card, and one user manual.
---
Best Design
Product Details:
8.77 L x 13.85 W x 27.2 H inches
Monitors air quality and acts accordingly
Uses a HEPA filter
Delivers 77 gallons of air per second
Night mode
Works with voice commands
The most aesthetic design goes to Dyson. This product has LCD screens, sensors, a layered design, and it oscillates. It can rotate up to 350 degrees as it purifies the air in your room. It measures 8.77 L x 13.85 W x 27.2 H inches.
The Dyson Fan automatically monitors air quality in your room. When it reaches a certain point, the purifying system will turn on and begin working. The LCD display gives you a detailed breakdown of the particles it's sensing.
The product uses a HEPA filter that can catch up to 99.97% of allergens. It can trap mold, pollen, dust, allergens, and many other particles. Also, it will deliver 77 gallons/sec. of airflow to your room.
In addition, it has a night mode which uses the machine's quietest settings. It will then monitor and respond to air quality throughout the night while you sleep.
The product is completely Smart Home Compatible. So, you can use voice commands with Amazon Alexa, Dyson Link, and Siri. Also, you can control it from your mobile device. In 2018, Oprah selected the product as one of her Favorite Things of October.
---
Buying Guide
---
How to Pick the Best Air Purifier for Cooking Odors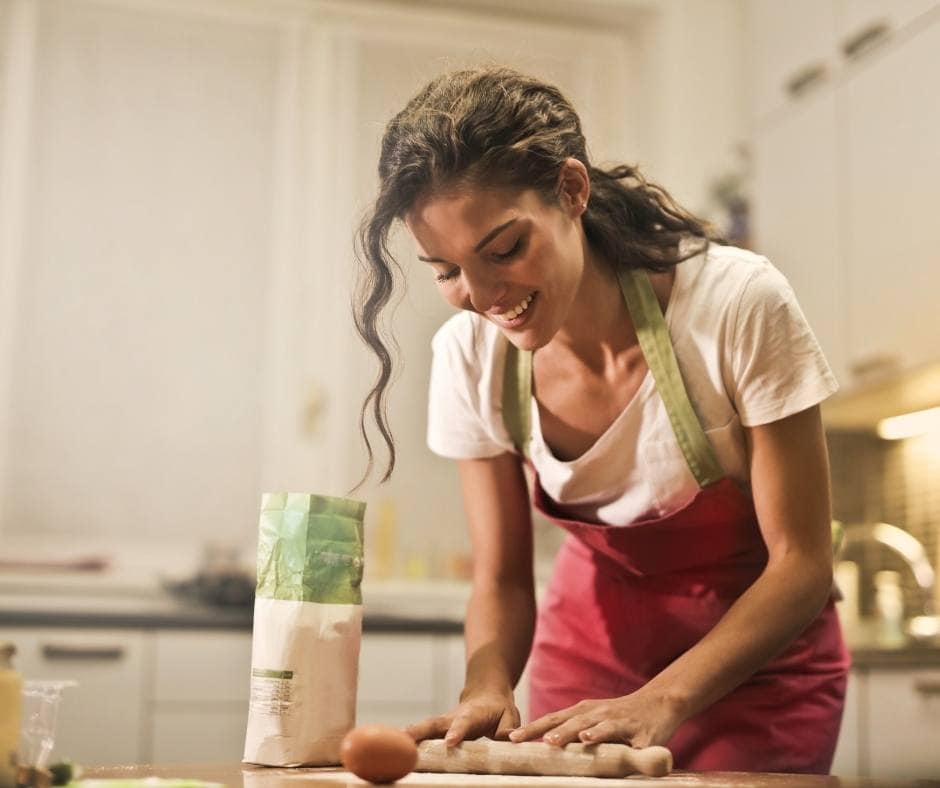 When buying an air purifier for cooking odors, here are a few things you should think about: room size, filter type, and max noise level.
Room Size
The filter size you buy will depend on the size of your room. Larger rooms will require a filter that covers larger areas, while smaller rooms need a smaller filter.
Once you know what room you'll be using it in, you can decide how much power your filter needs. That will influence your decision.
Filter Type
If you are only dealing with cooking odors, you can get a HEPA filter. It will cover up to 99% of pollutants and keep your room smelling fresh. But, if you need to get rid of different odors, you may need activated charcoal.
If you're working with paint or any heavy scents, opt for a dual-layer filter. Most examples on this list contain multiple filters, so you can browse them to find one you like.
Noise and Sleep
Some of the filters on this list are louder than others. If you're going to be using this filter in your bedroom, opt for a quieter one. Also, many of these filters have a sleep mode where the volume is slightly lower at night.
However, if you're only using this filter in the kitchen, you may not need to worry about noise. Be sure to consult the product description to find out about each filter's noise level.
Should You Move the Air Purifier Closer to the Stove Top to Help with Odors?
Most air purifiers will clean the air in an entire room roughly every 15 minutes. So, the location of your air purifier doesn't really matter.
However, if the air purifier is closer to the source of the bad smell, it will act on that odor first and neutralize it. While this won't make a difference in the long run, it can in the short-term.
If you want to get rid of a scent immediately, bring the air purifier close to where you are cooking.
Do HEPA Filters Help to Remove Cooking Odors?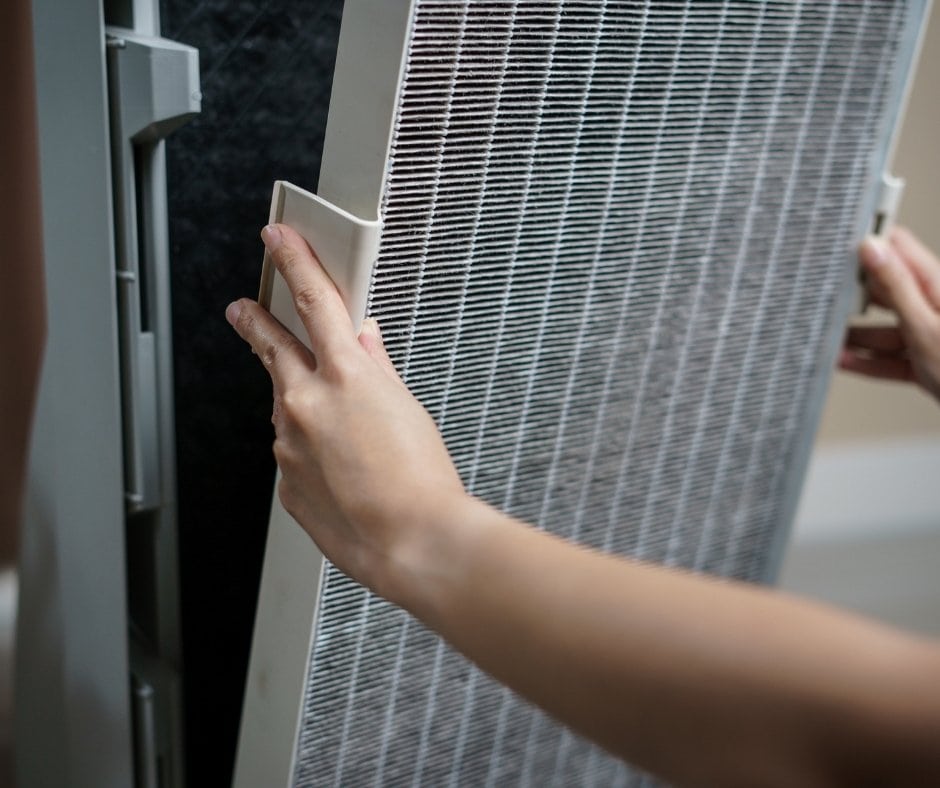 Yes, HEPA filters do help to remove cooking odors because they trap pollutants. As air flows through the filter, it will collect the small dirt particles. Then, it will hold them against the filter and neutralize the scent.
HEPA filters work best with slightly larger particles, like dust, hair, or dirt. If you want to completely get rid of cooking odors, go for activated carbon. This type of filter will bind to the scent and get rid of it.
Most of the products on this list have both types of filter, so they can collect both odors and small molecules. This full cover protection will leave your kitchen smelling clean.
Do Activated Carbon Filters Help with Cooking Odors?
Carbon filters mainly work through absorption. As the air that's carrying the particles moves through the filter, it will react with the carbon. Then, the pollutants will stick to the carbon and stay in place.
Trapping the odors helps to neutralize the scent in your kitchen. Since carbon is porous and has a surface area of around 2,000 square meters per gram, it can hold a lot of pollutants. That's why activated carbon helps with cooking odors!
Conclusion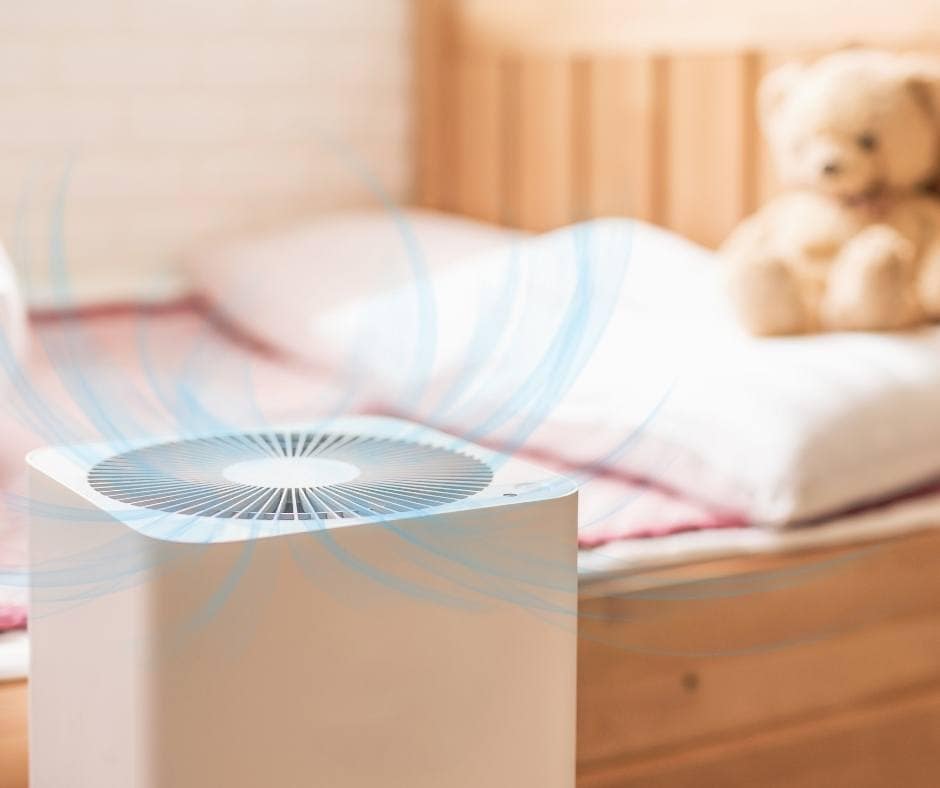 This list has the five best air purifiers for cooking odors. From cheaper solutions to the best designs, you're sure to find one that fits your needs. Take a look at our list to find which air purifier is right for you so you'll never have to deal with bad odors in the kitchen again.