There's nothing more essential to opening a space up and making it feel large and vibrant than proper lighting. With the bathrooms being one of the smaller rooms in a home, proper lighting is important. It's also where everyone's day starts so why not make it a bright and energizing space to get the day started right?
In This Article We'll Discuss
How to Light a Bathroom
Start the Bathroom Lighting From the Top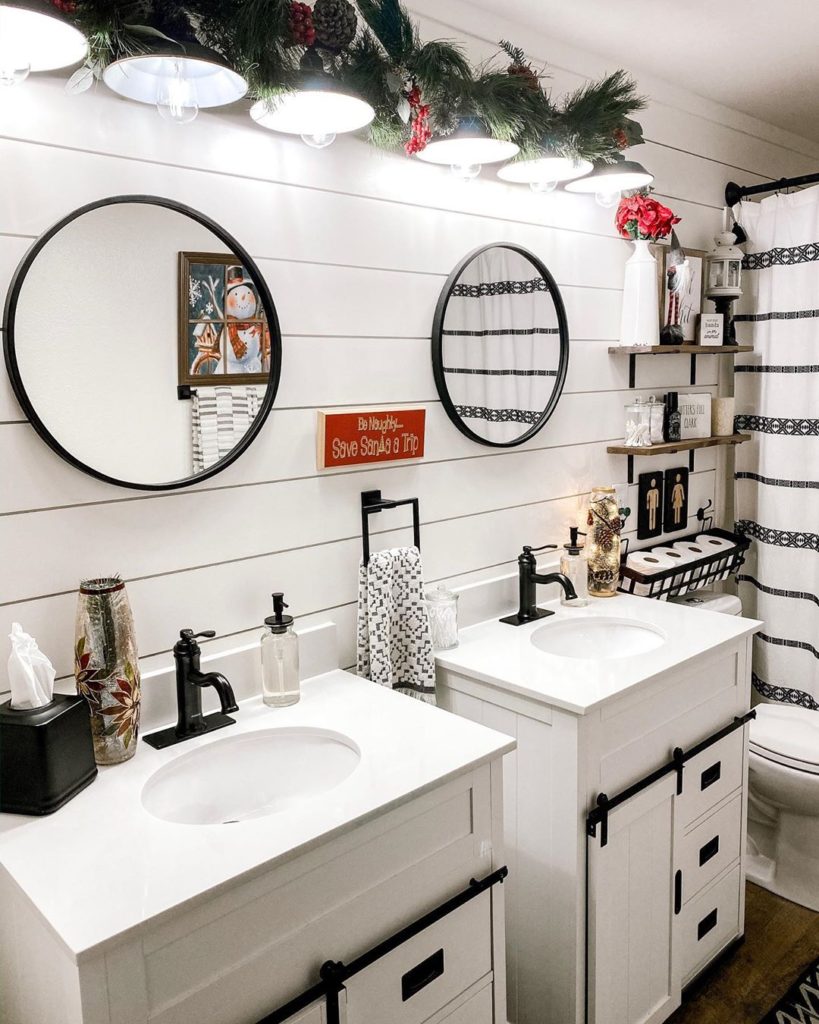 Start with the most essential parts of the bathroom and work with what you have. You need proper lighting to be able to see yourself in the morning so pick a strong vanity light. See if you prefer a soft glow or an accurate bright white light.
Strip lights and sidelights work well next to a mirror.
These "task lights" should be 75+ watts. Energy-efficient LEDS are a great option to save money and still give enough light.
Don't Forget The Bathroom Lighting For Your Tub And Shower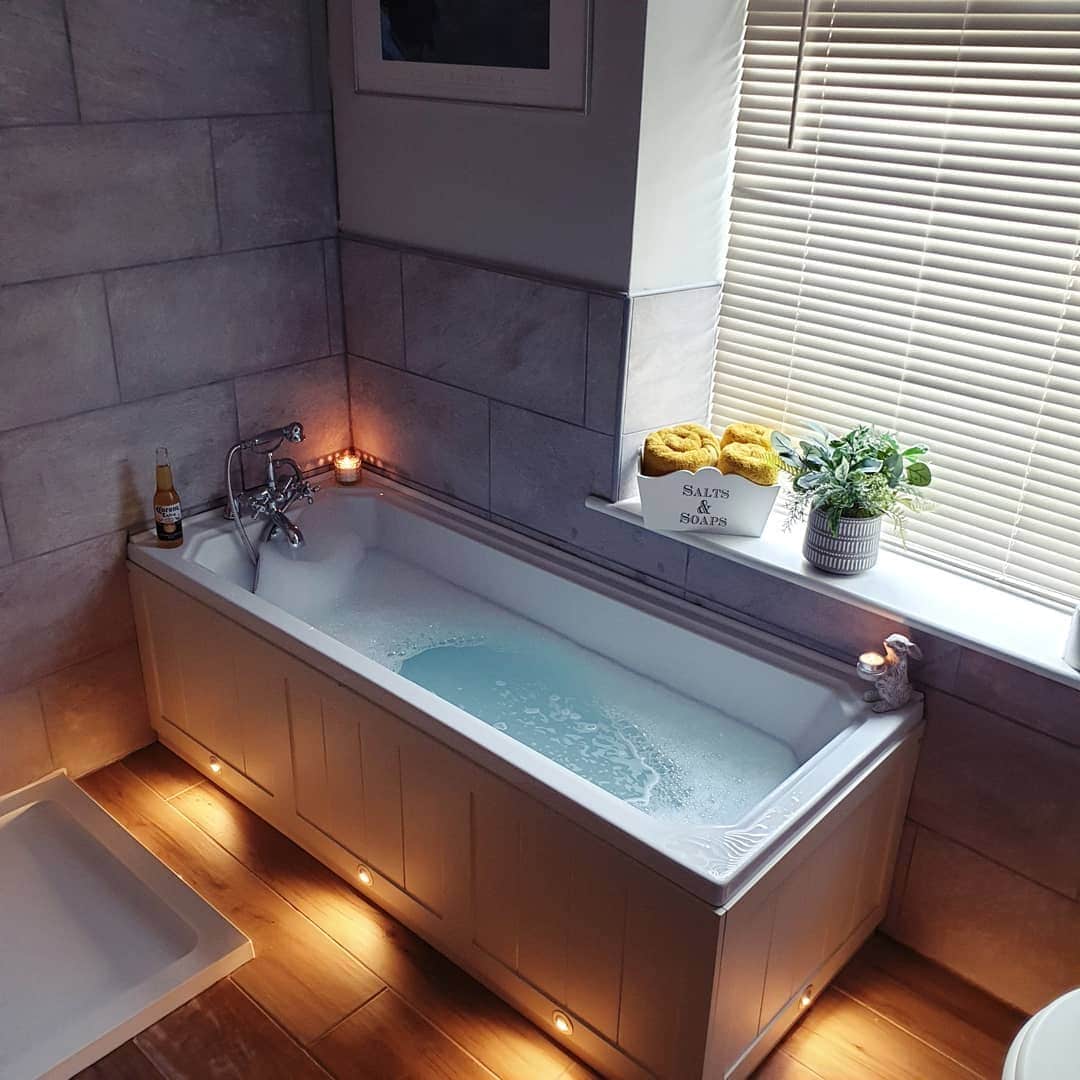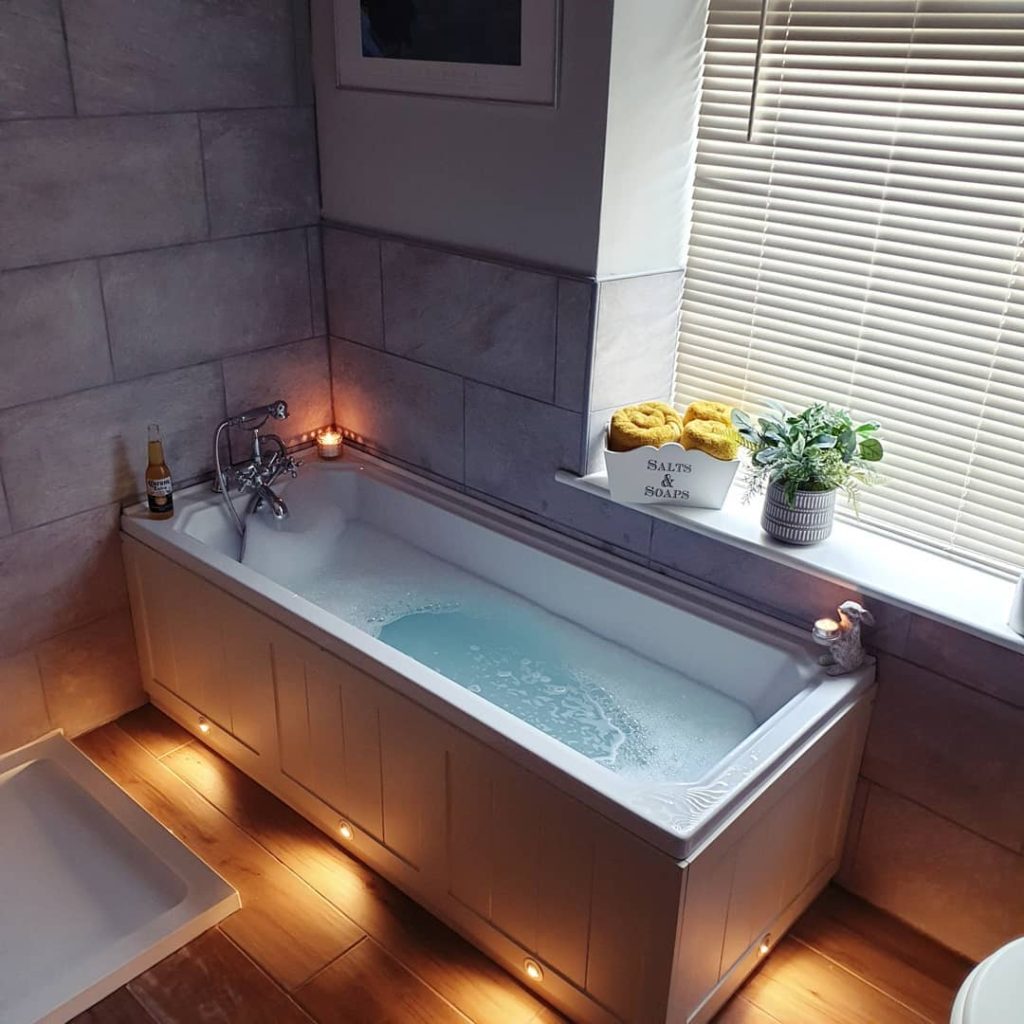 If you have a window next to your tub and shower it should be sufficient. However, if you don't then don't forget to add lighting to this space.
You can get creative and add a chandelier–if you have enough space–or soft overhead lighting for a relaxing experience. Harsh white light is good for a vanity to illuminate in the best way but for a bathtub soft lighting is great since it will make a relaxing experience.
Have Fun With Accent Lighting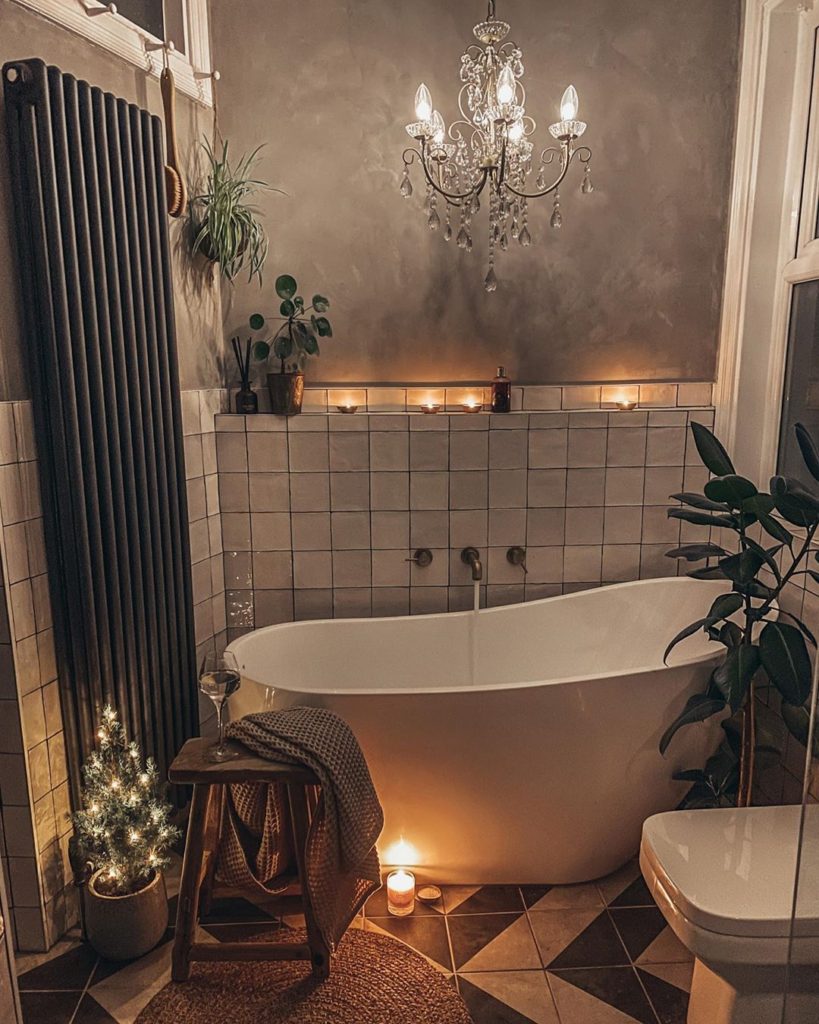 After you've worked on the major areas and they are properly light you can move on to accent lighting. If you have art or accents and accessories you live in your bathroom you can highlight them with accent lighting.
Recessed overhead lighting is used for this or countertop lamps. If you need more pizzaz, try adding some decorative lighting that works as an art piece itself.
Bathroom Lighting Ideas
Natural Lighting and Playful Pink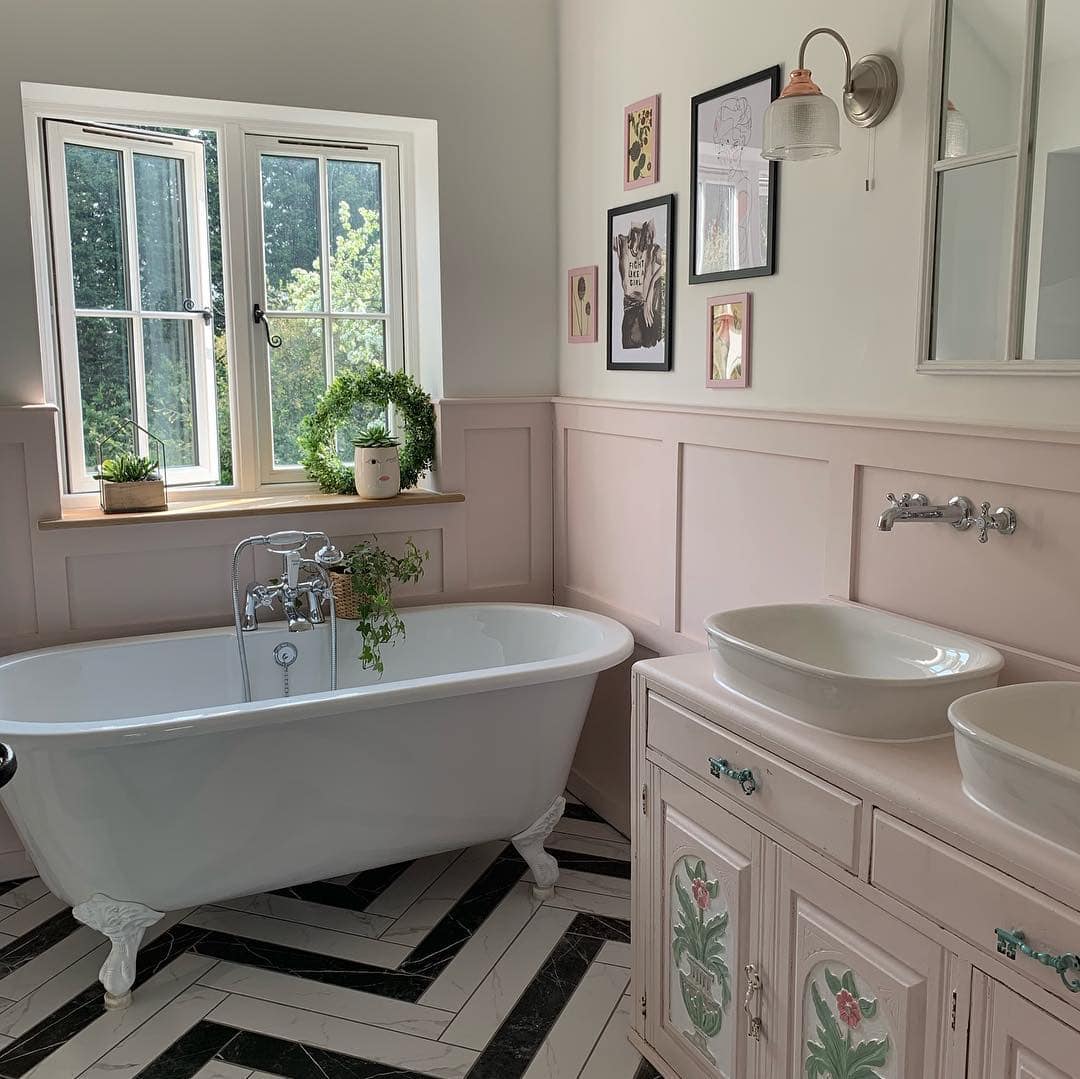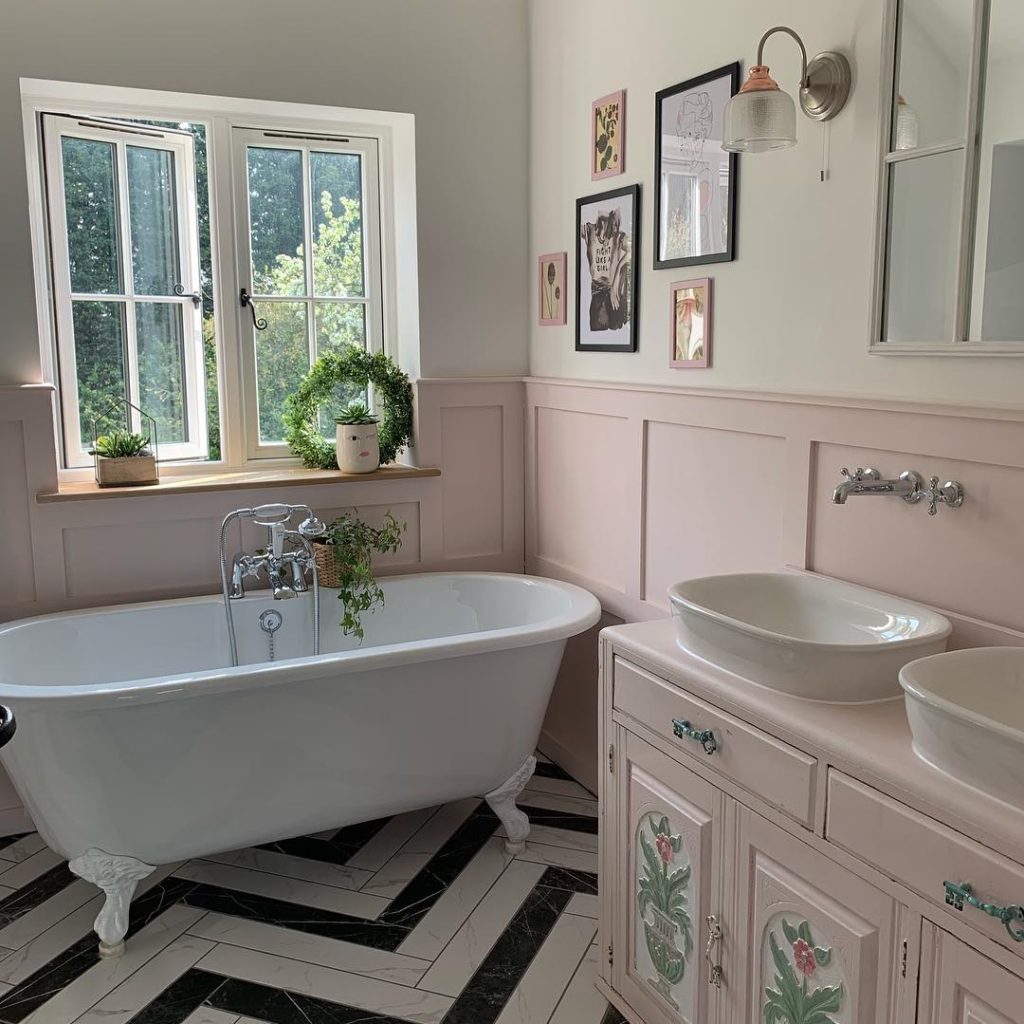 This bathroom has a playful pink which is delightfully lit by natural lighting. If you have a large window in your bathroom, make sure of it. Leave out curtains and blinds if it's in a private area so make full use of the sun. If you leave your window exposed chose a frame that matches your decor.
Vintage Wall Sconces and Gold Fixtures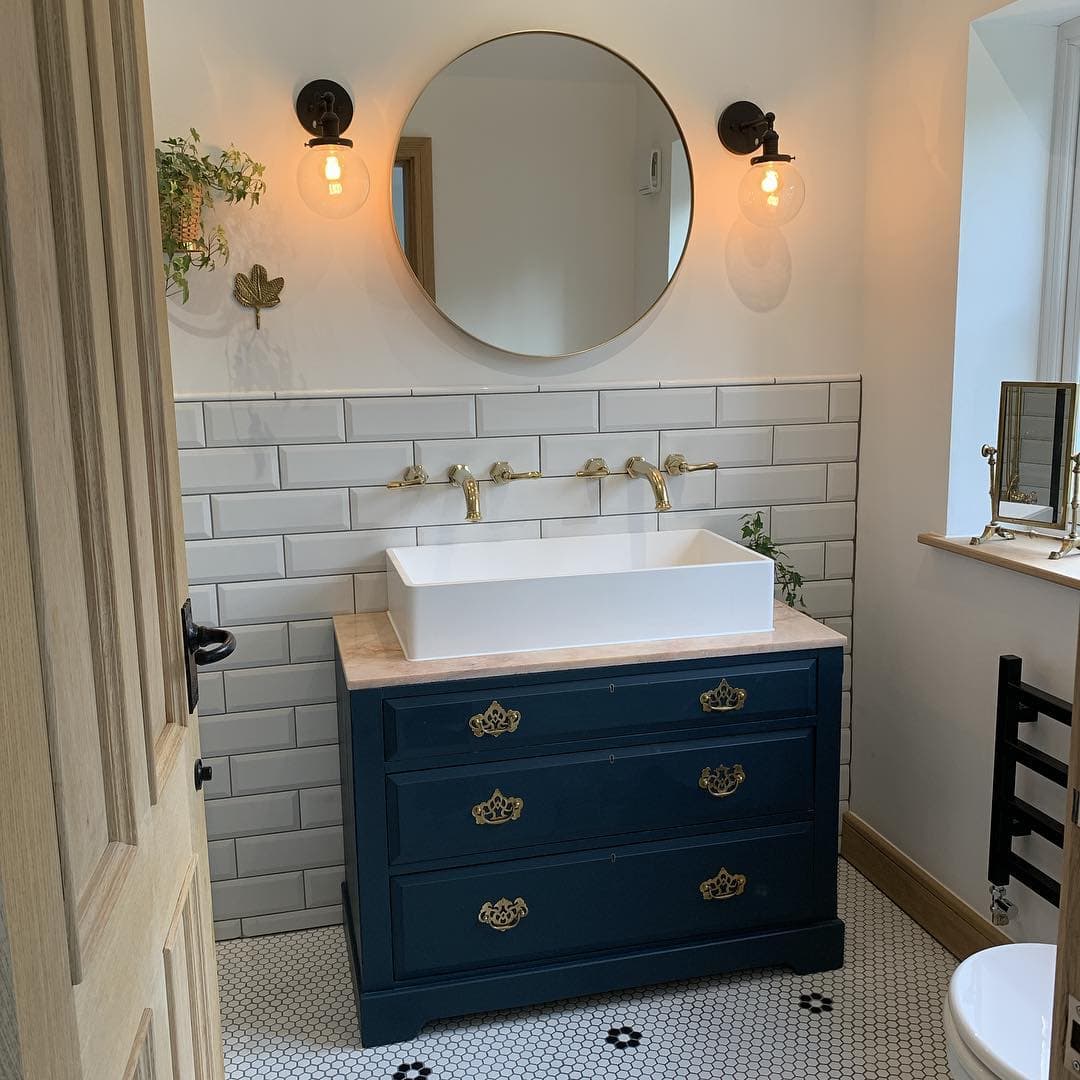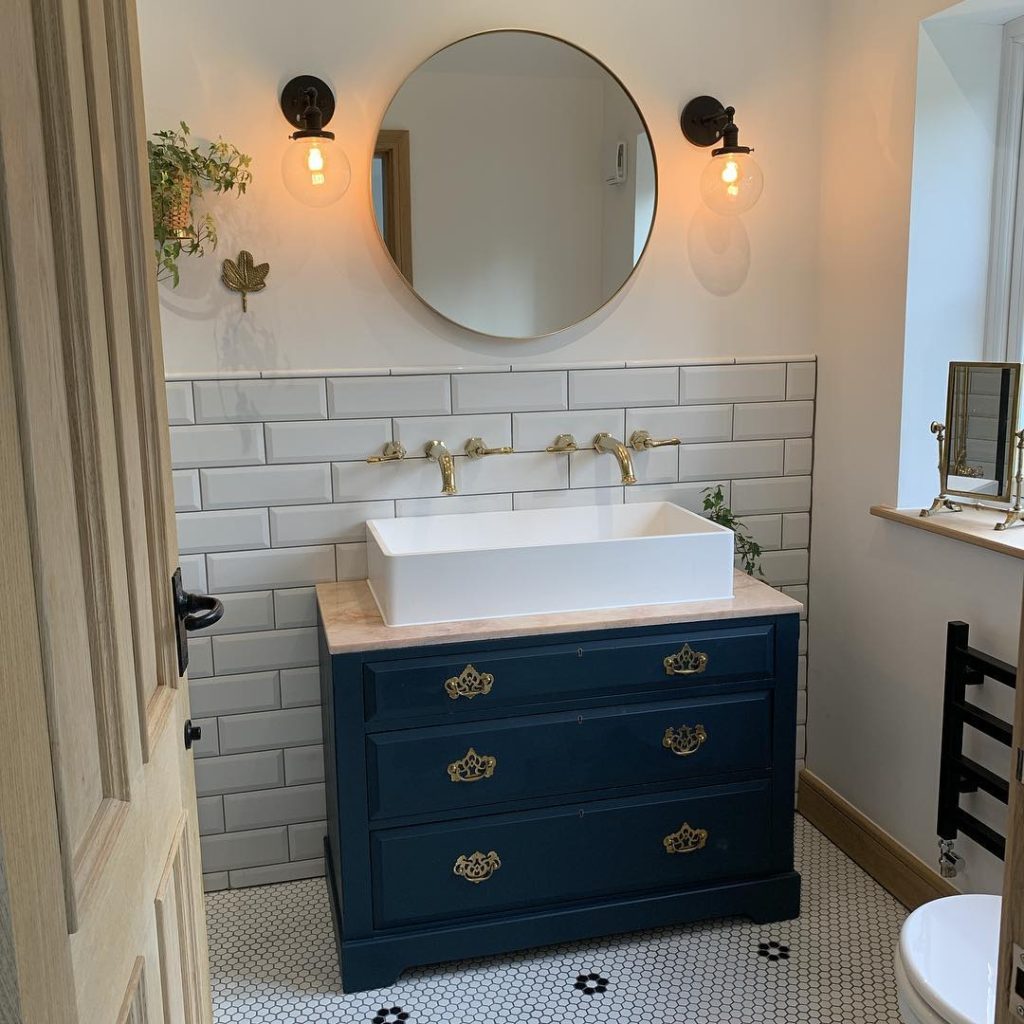 Experiment using vintage bulbs to give a room a soft yellow glow. The lighting pairs with the gold fixtures and blue furniture. Subway tile is always a cheap way to add more expression to a room.
A Unique Flower Light With Mermaid Backsplash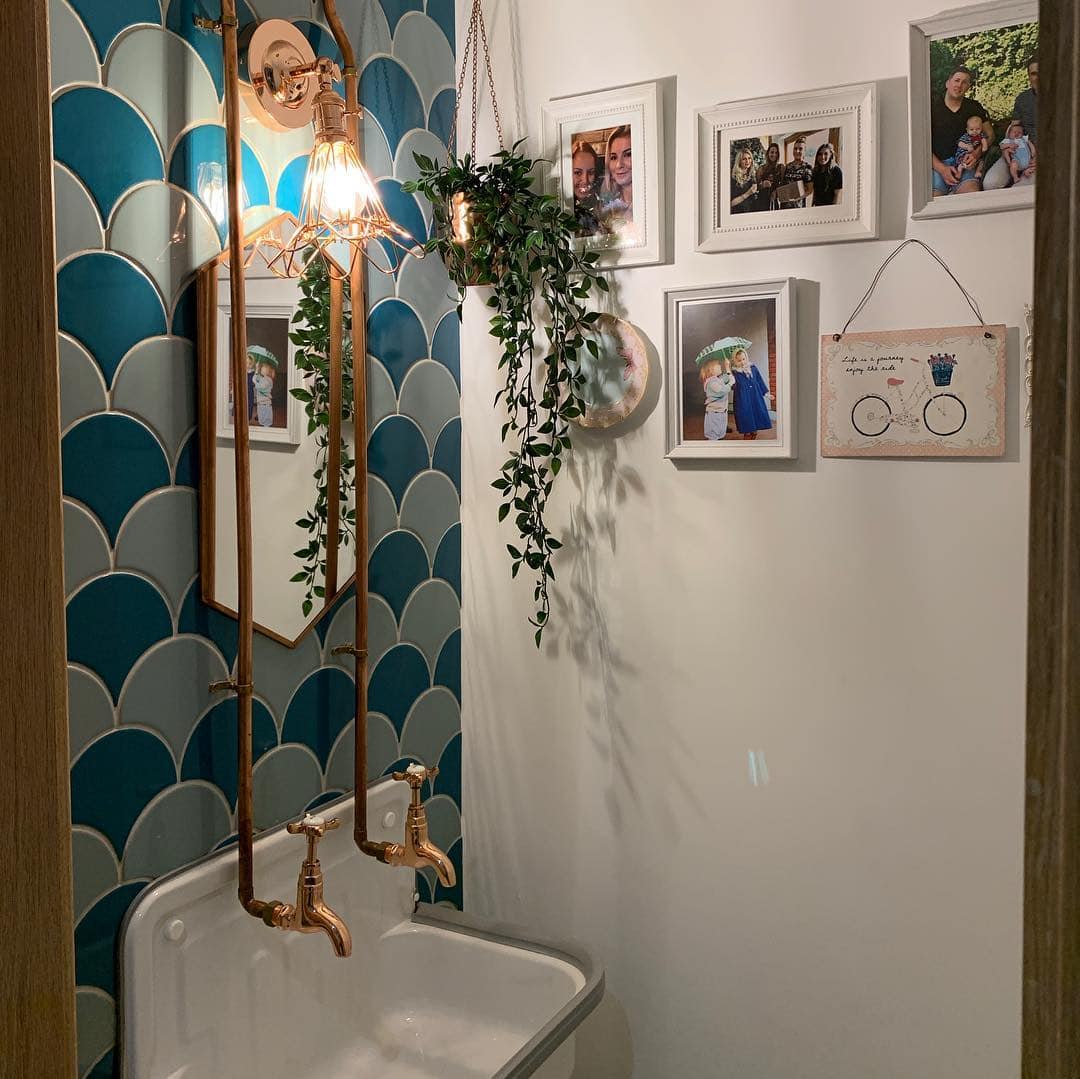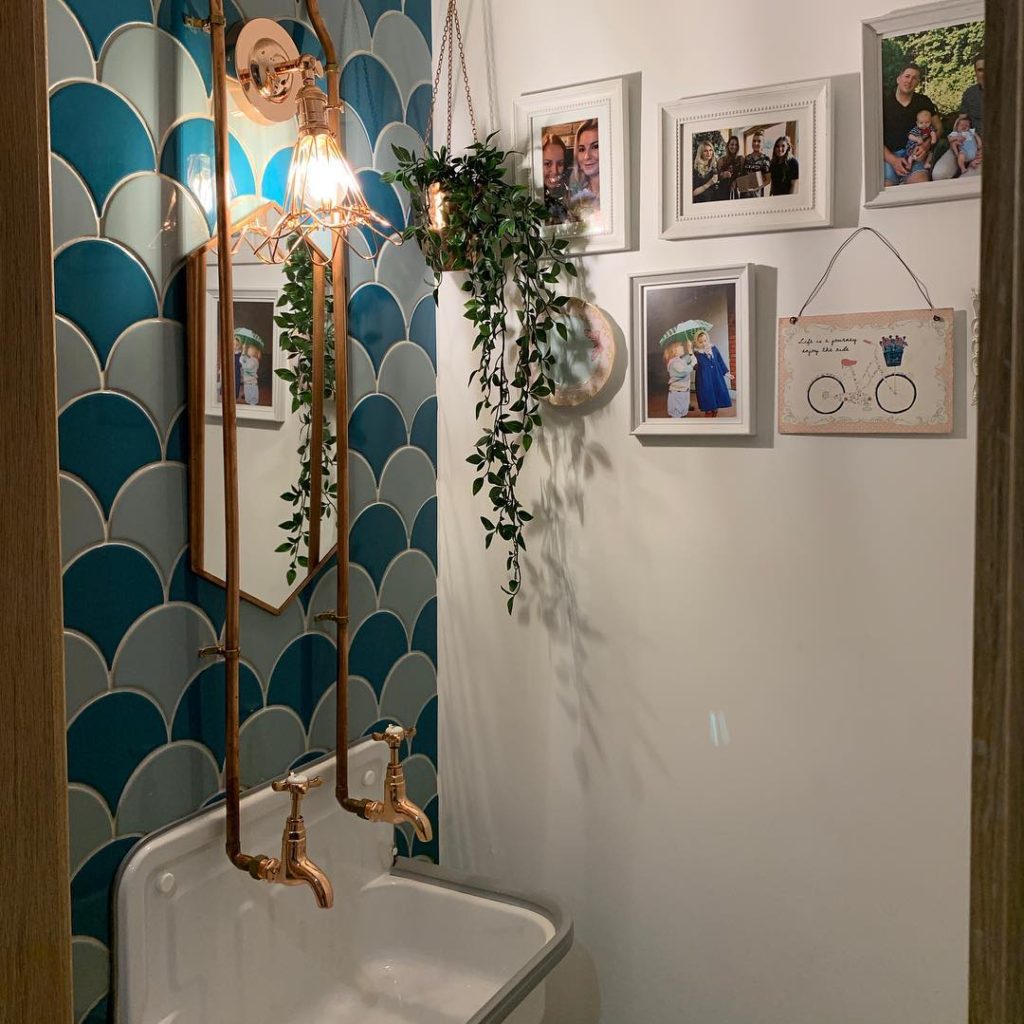 This bathroom is light using a brass flower wall light. The color matches the unique water pipes running from the top of the room. It's held together by a gorgeous mermaid style backsplash.
Layering Neutral with Natural Light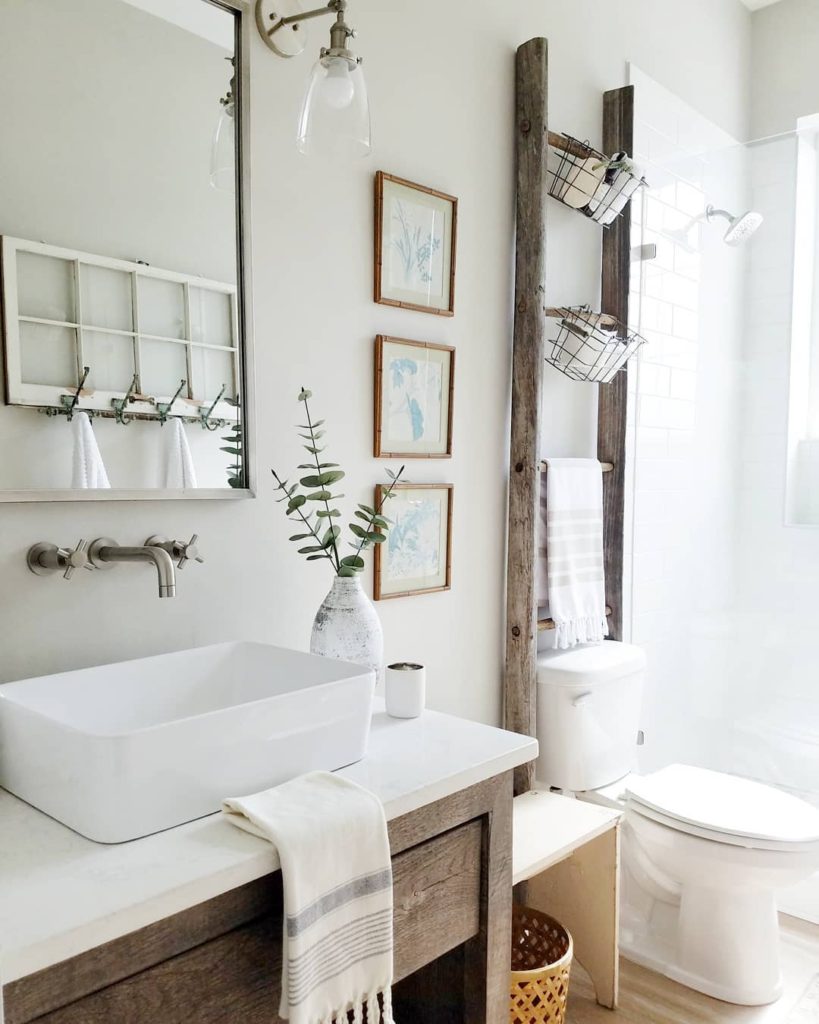 Another great using of a bathrooms natural light using a window. The farmhouse ladder on top of the toilet is a simple and easy way to organize a small bathroom. It's reinforced by the vintage/shabby chic towel hook.
Gold Accents & Subway Tile in a His and Hers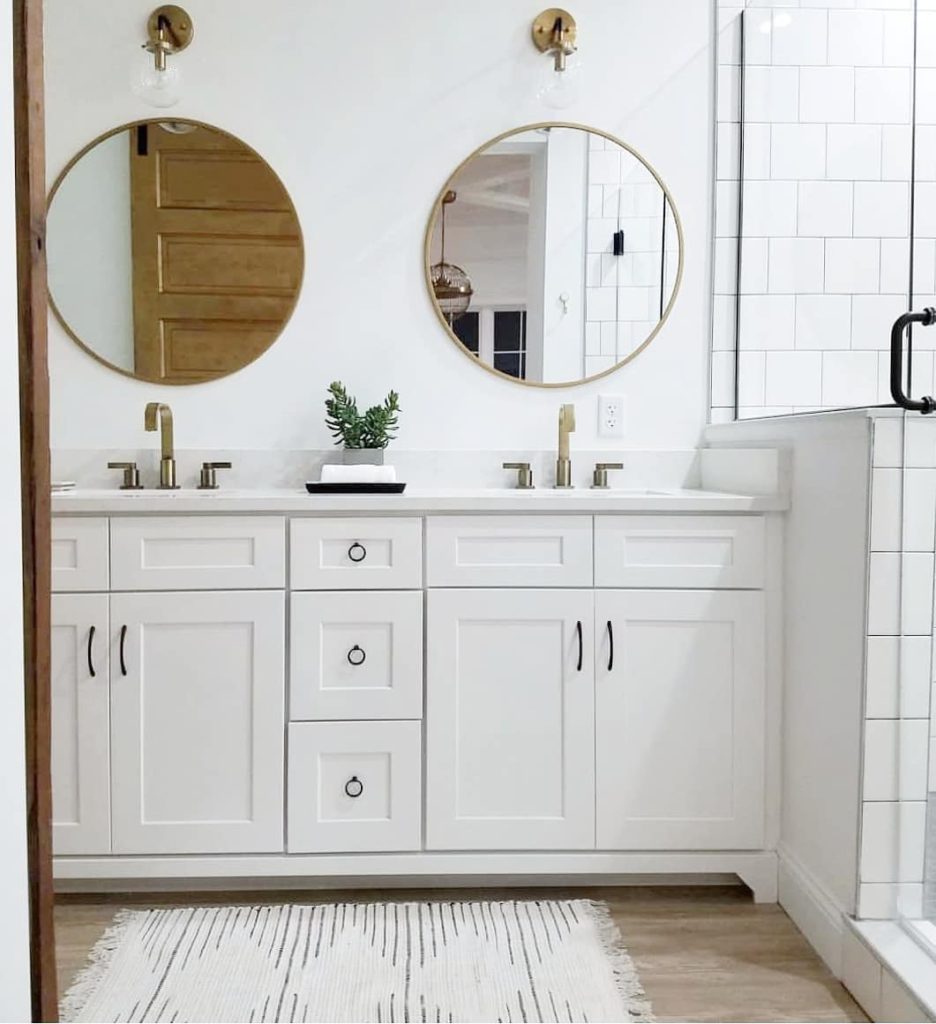 Simple one bulb lights work to pair off a his and hers bathroom vanity. The gold accents match perfectly with the wall mirror and faucets. Use a neutral rug to put it all together.
A Vintage Window Mirror With Sidelights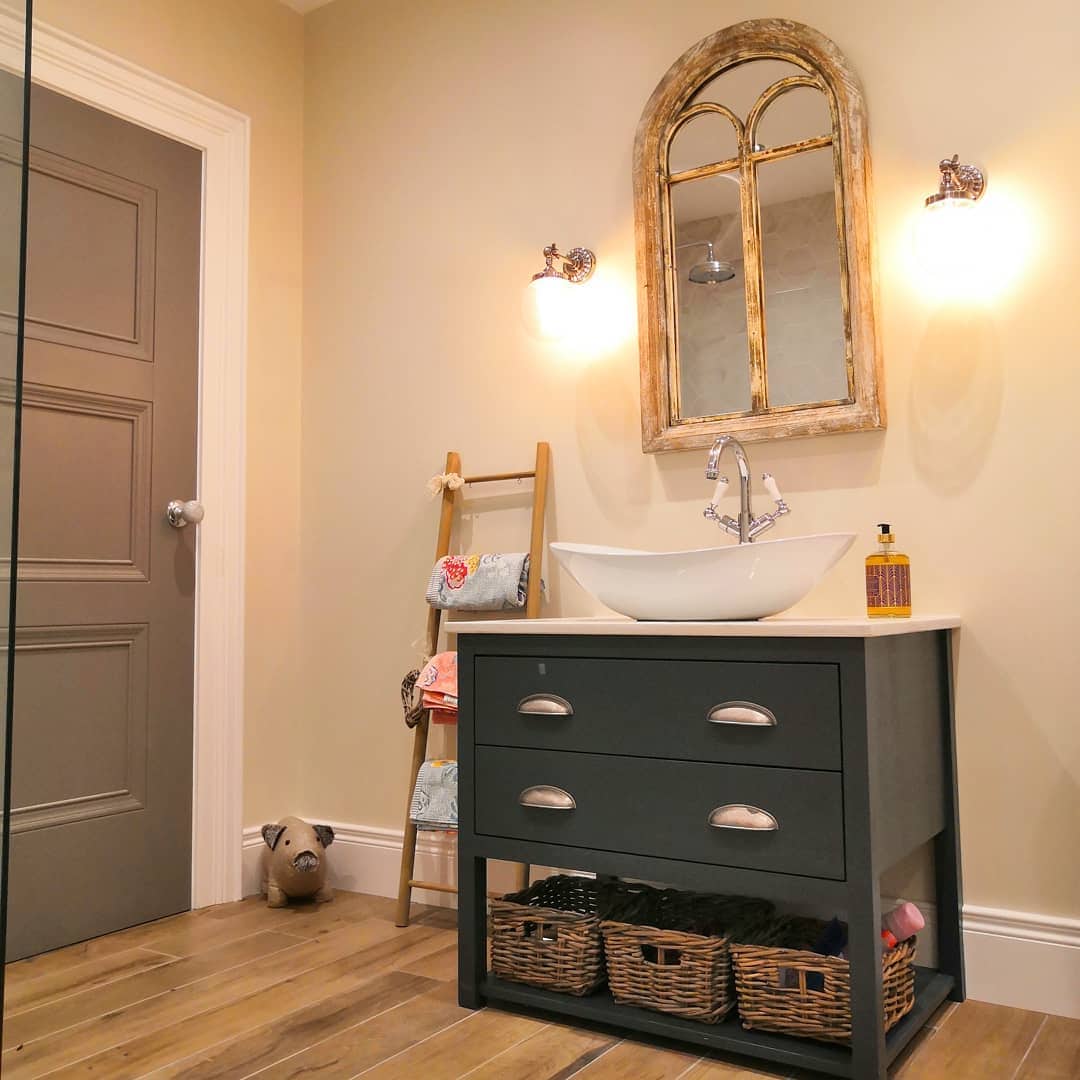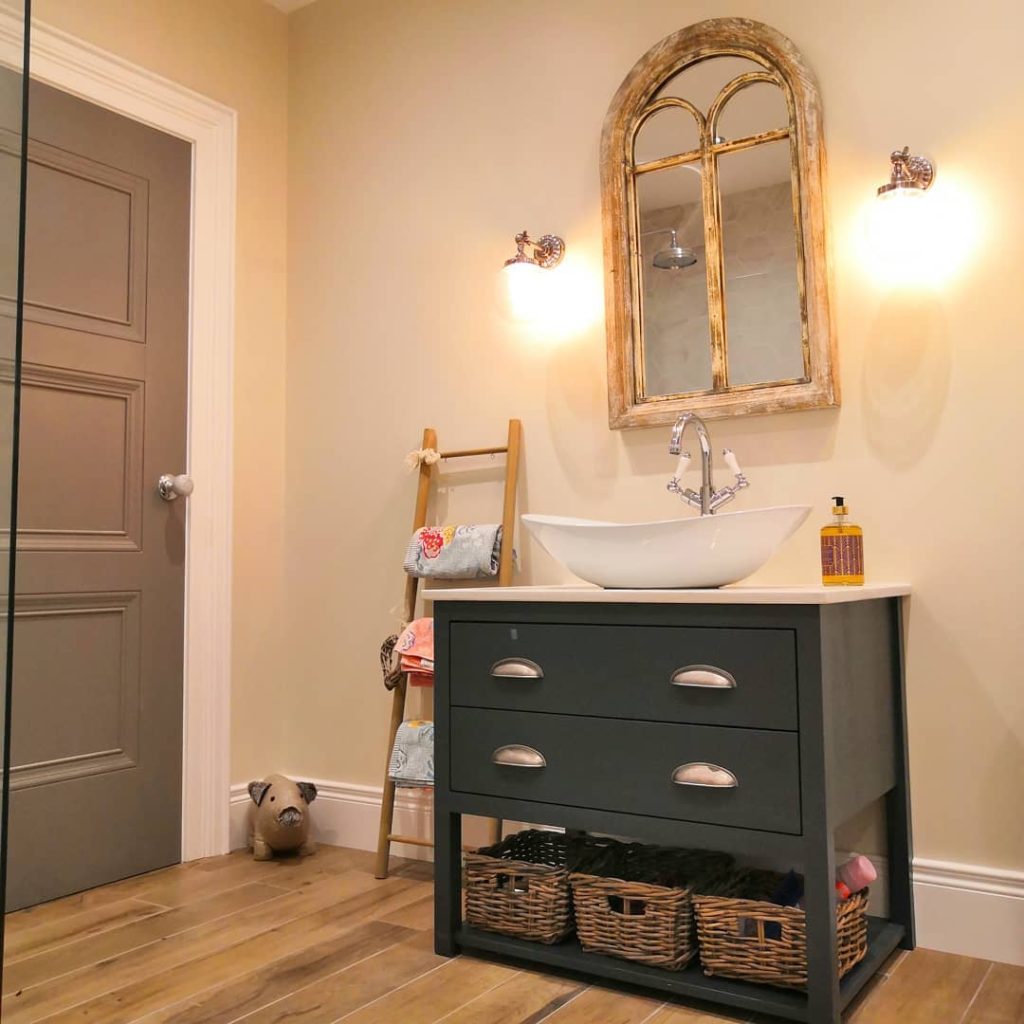 A shabby chic inspired window is used as a mirror. It separates two wall lights that offer a perfect glow for getting ready in the morning. The blanket ladder adds a place to store towels without damaging the walls.
Blissfull Relaxation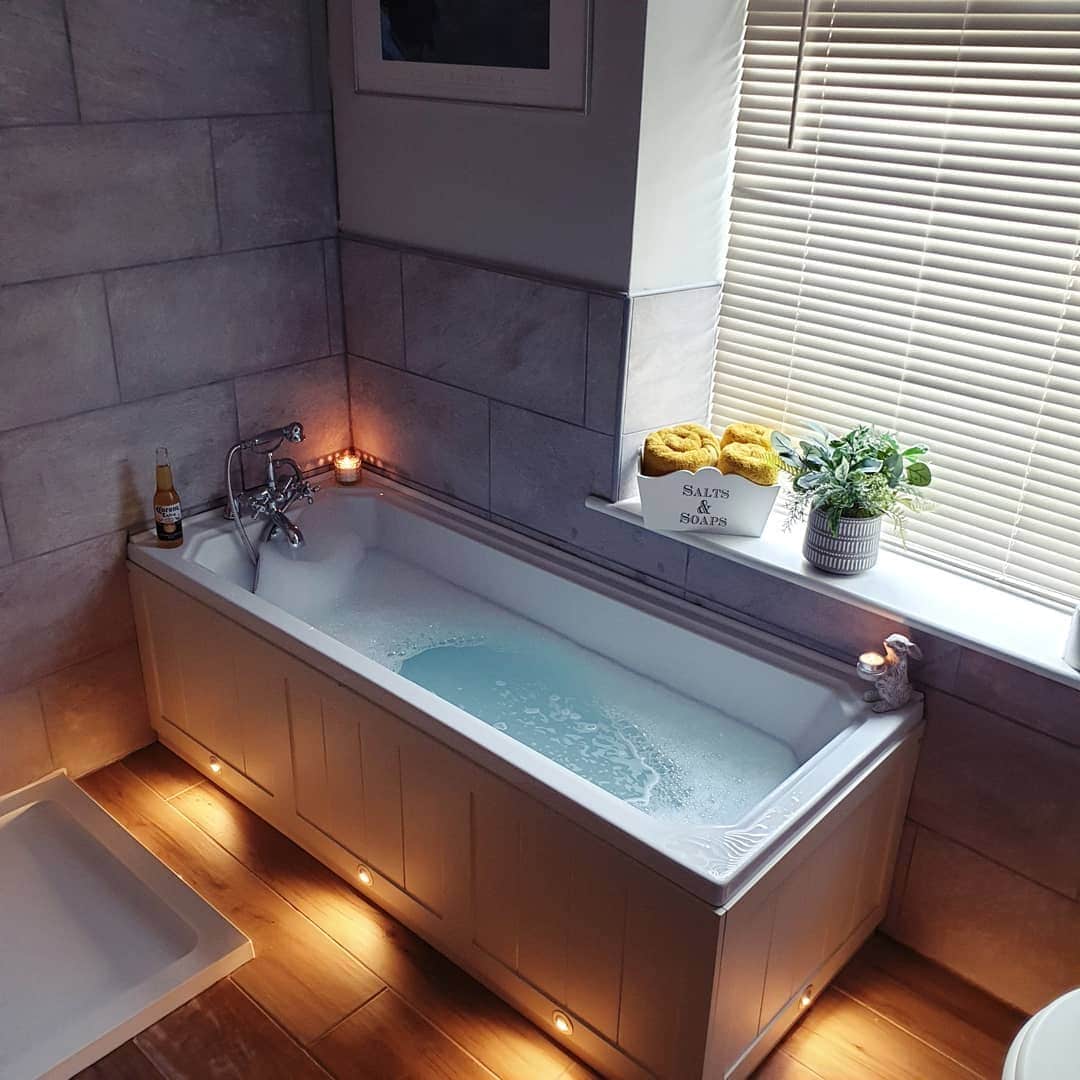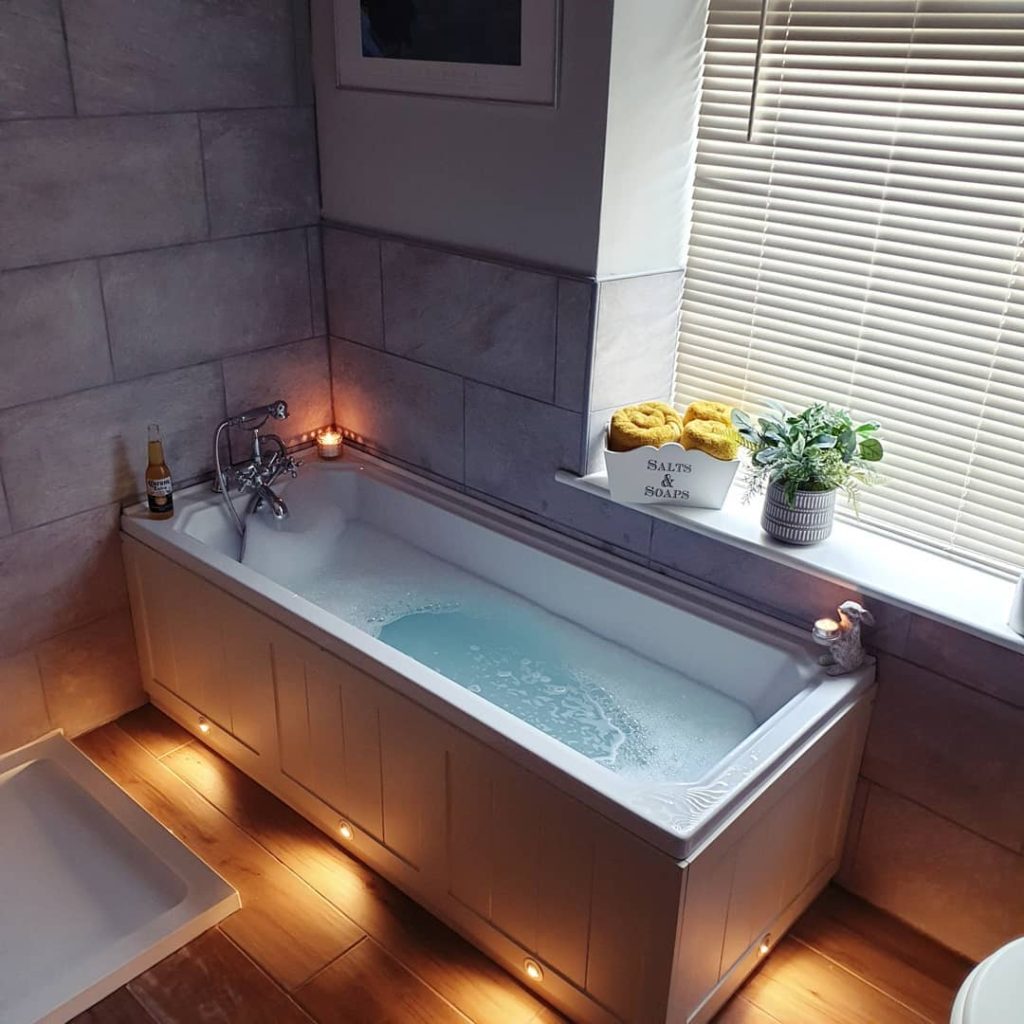 Shiplap is used to build a frame around this tube. Accent lights are added at the bottom to make this a truly relaxing bathroom. You can add some candles to reinforced the bliss.
Pendant Lights and Floating Shelves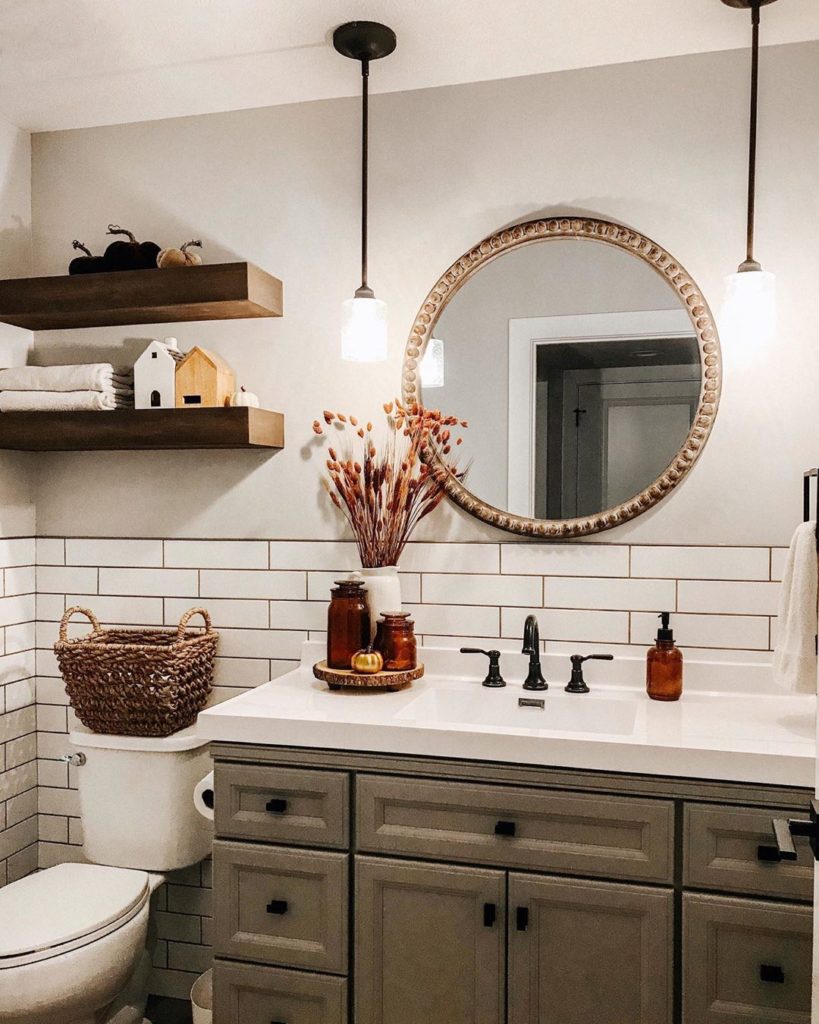 Pendant lights are creatively used on either side of the mirror in this bathroom. Subway tile is running halfway up the wall. Matching the subway tile with countertops is always a safe option. It's all held together by the pleasant neutral palette.
Creatively Used Water Heater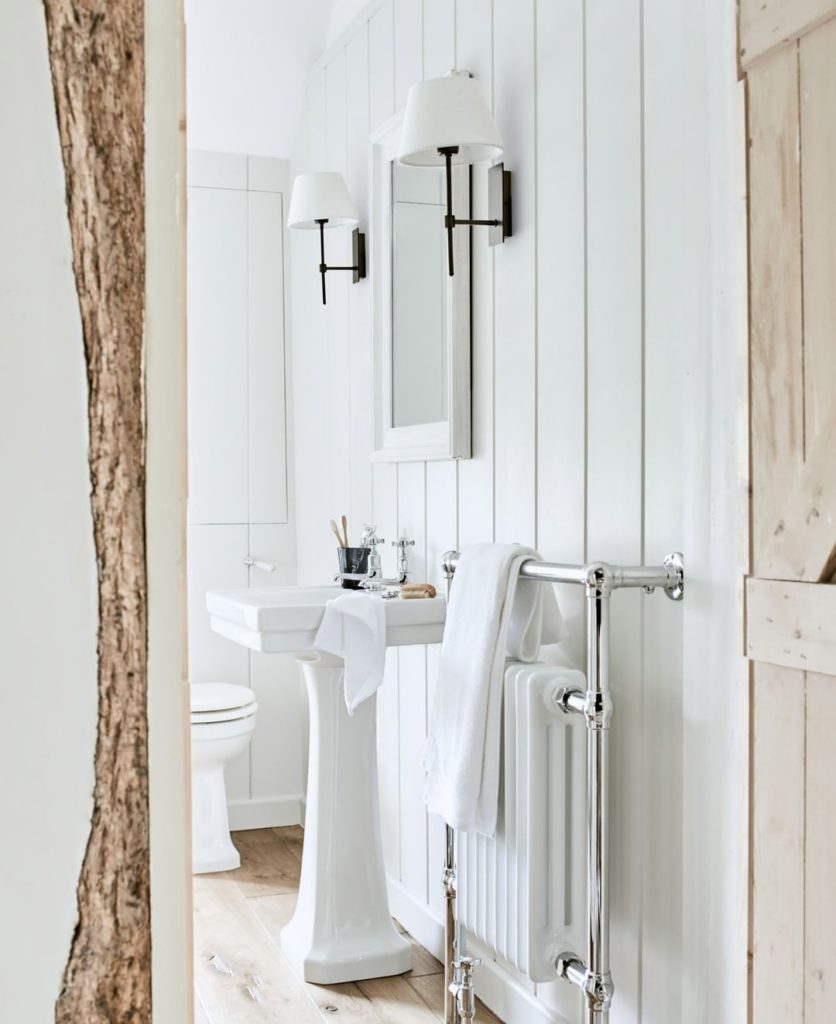 Here the water heater is creatively used as a towel rack to save space. This is a great tip to minimize the use of space in a small bathroom. To wall lights are used on either side of the mirror. The white color palette is clean and inviting.
Shiplap Walls With a Rustic Vanity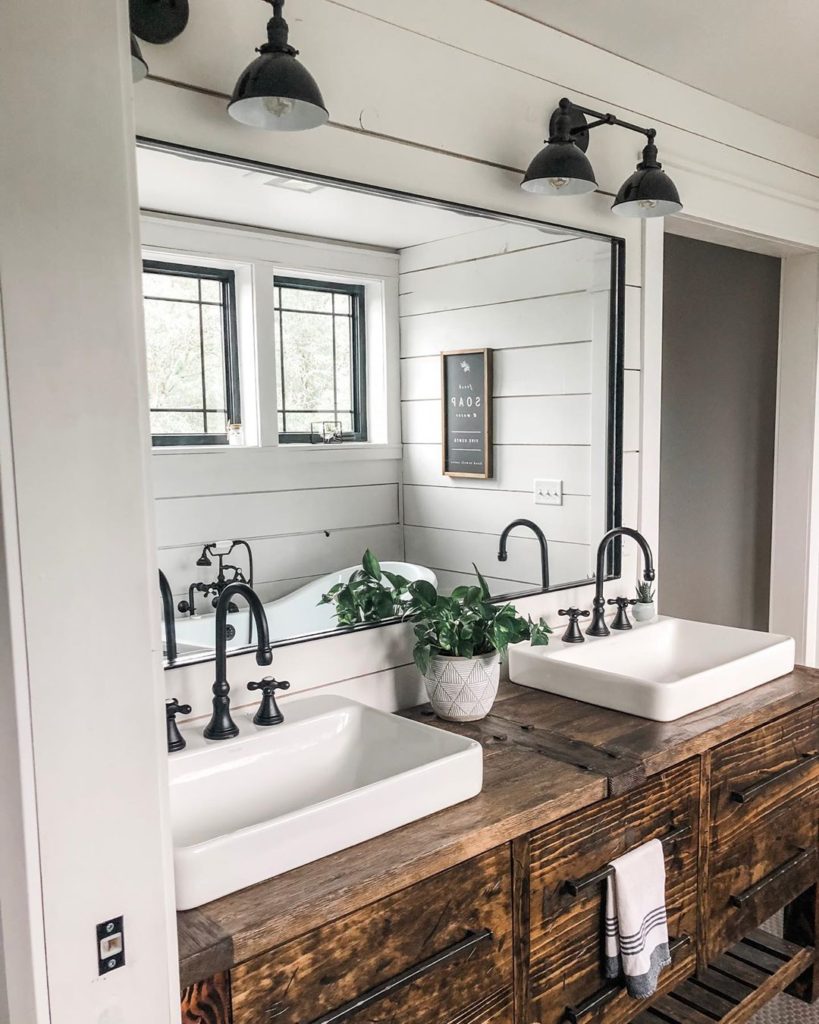 This farmhouse bathroom makes use of shiplap walls with a beautiful rustic bathroom vanity. Two farmhouse lights are used on top of each side of the mirror.
Stone Floors Running up the Walls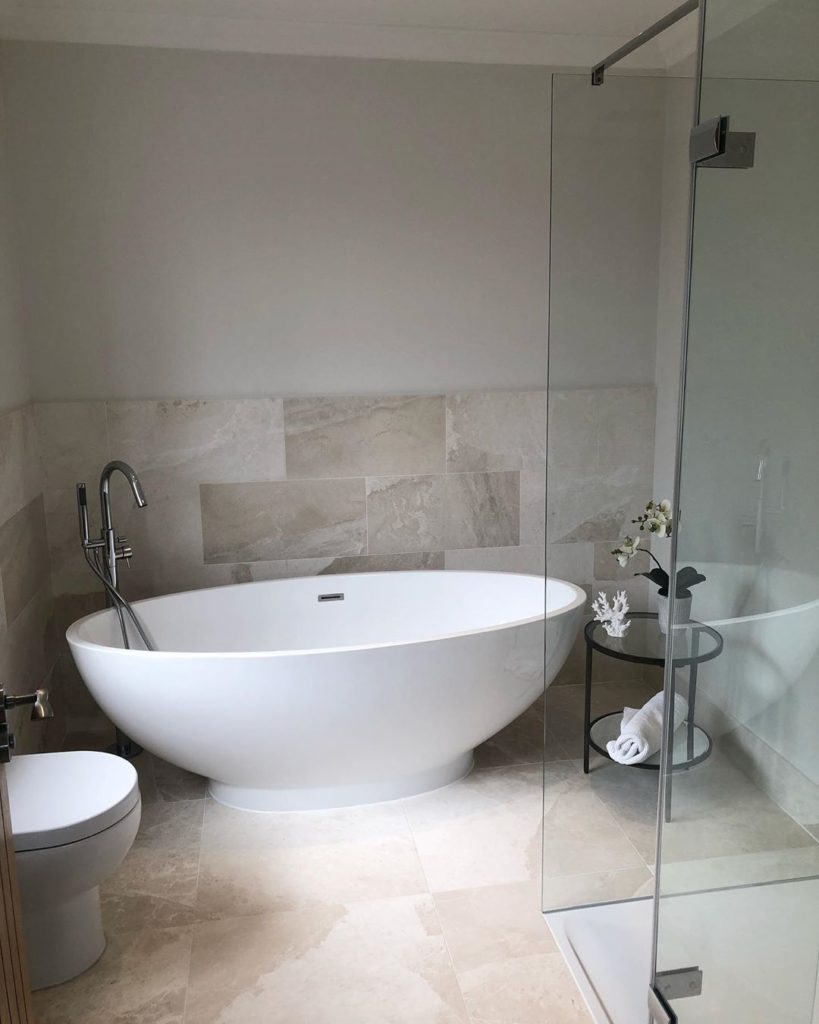 The beautiful stone tiles run up the walls of this bathroom. If you want to do something creative with your bathroom, try this idea. A soft glow is added by a roof window.
Built-in Shelvings With Farmhouse Appeal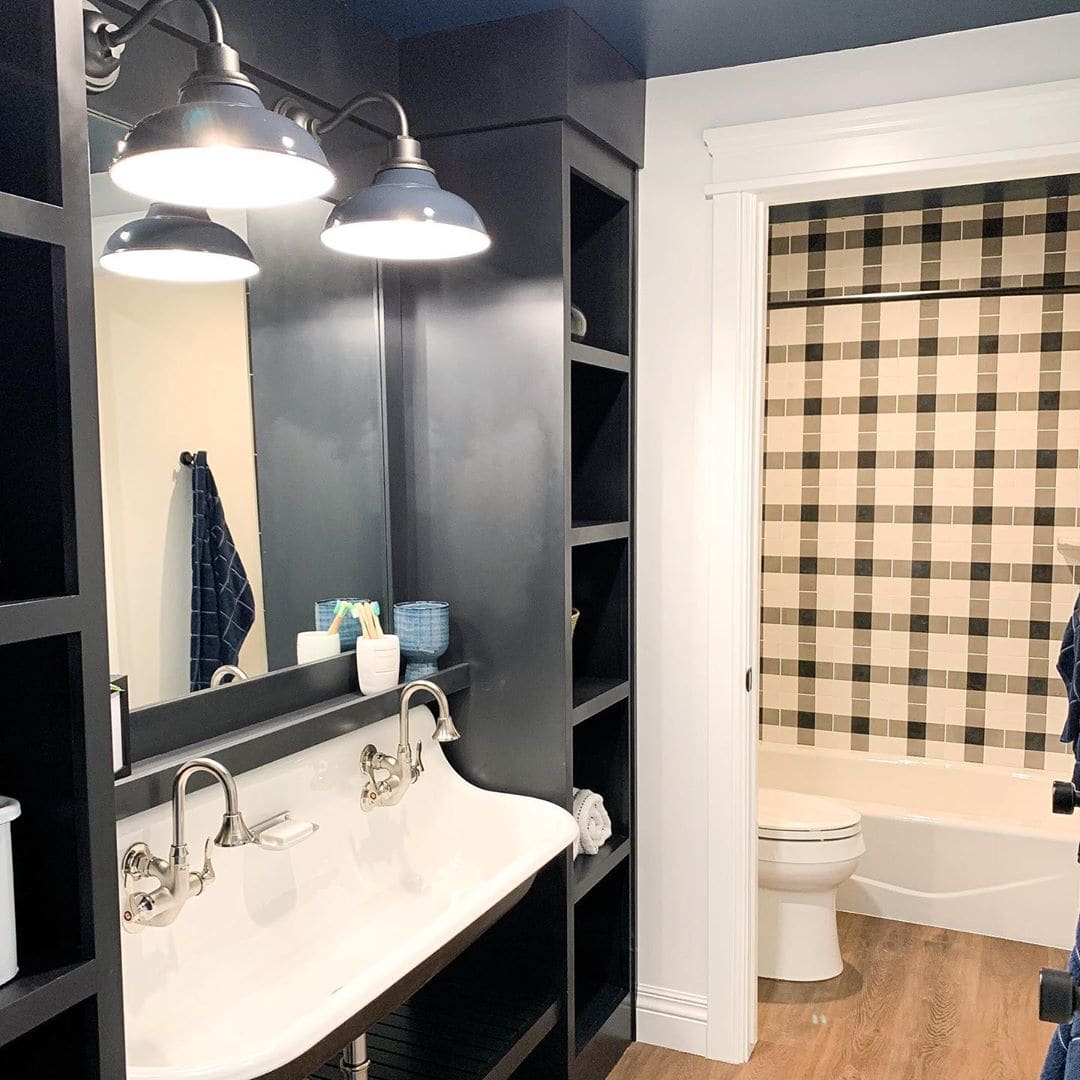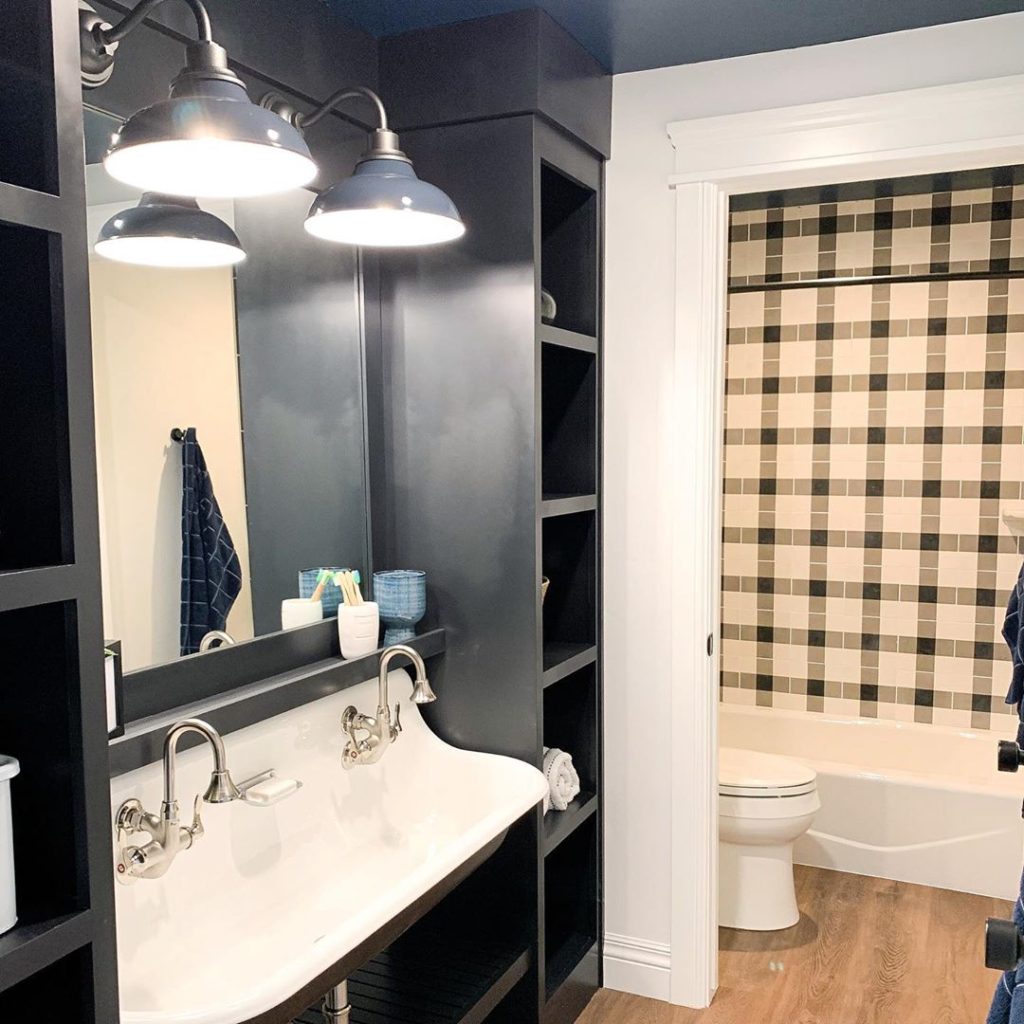 A captivating wallpaper is used to draw the eyes to the back of this bathroom. It's a great way to make a space appear larger by making the further point of the room–from the entrance–a focal point. The built is shelve units add character to this farmhouse bathroom.
A fern and a Soft Glow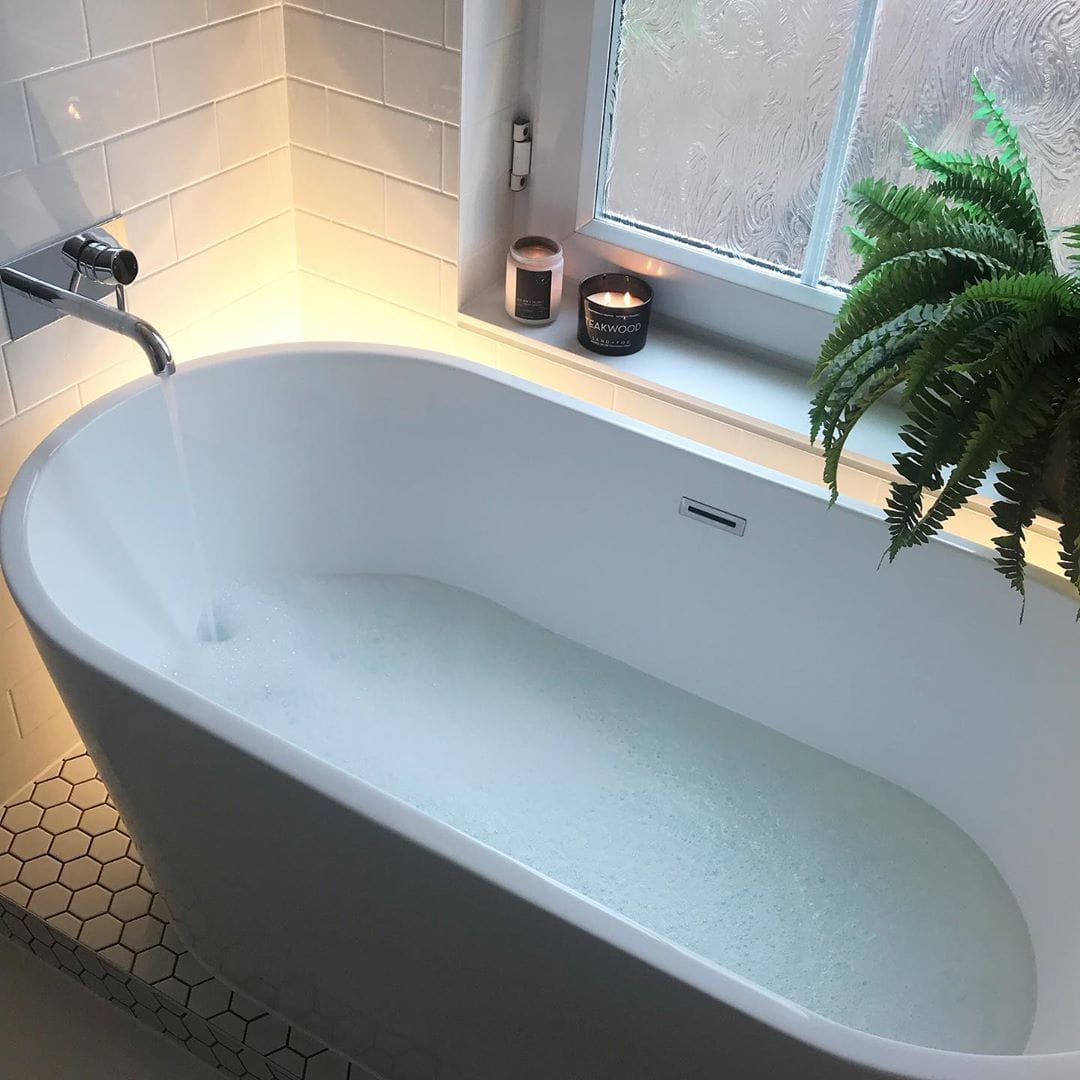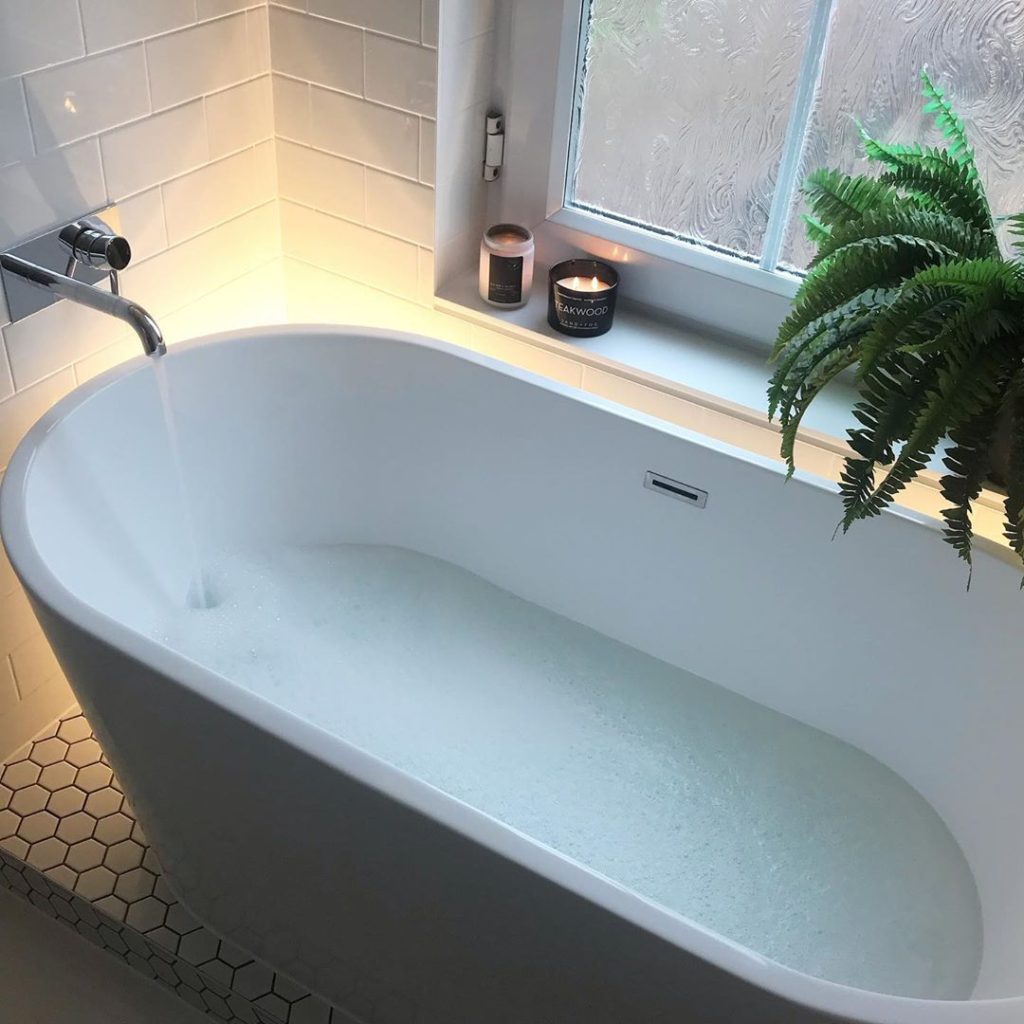 This bathroom just screams cozy and comfy. Add some accent lights in hidden places behind a tub to create a spa-like experience. The frosted glass window adds privacy without removing the natural light offered by the outdoors. Greenery always works to make a room more relaxing.
Black and White Sanctuary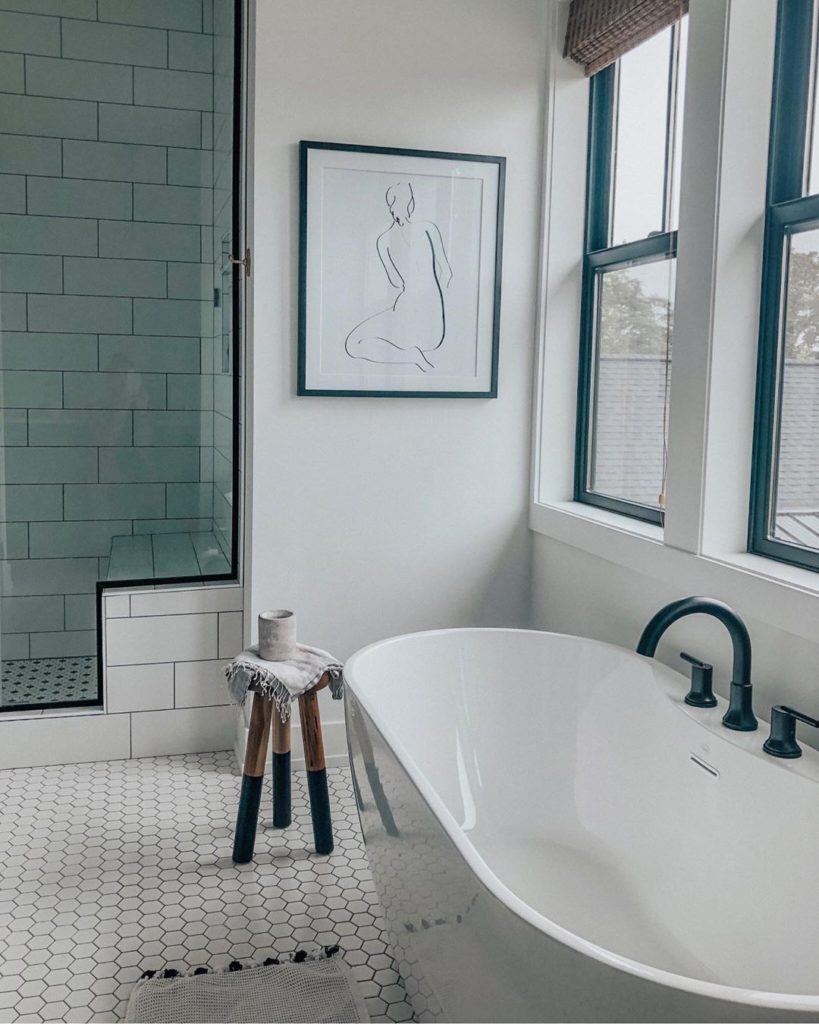 Multiple black framed windows expel natural light into this bathroom. Building a bathroom already existing fixture colors is an easy way to put a room together. Small hexagon tile floor keep the room interesting in contrast to the rest of the clean and elegant features.
Pendant Orb With Matching Wall Lights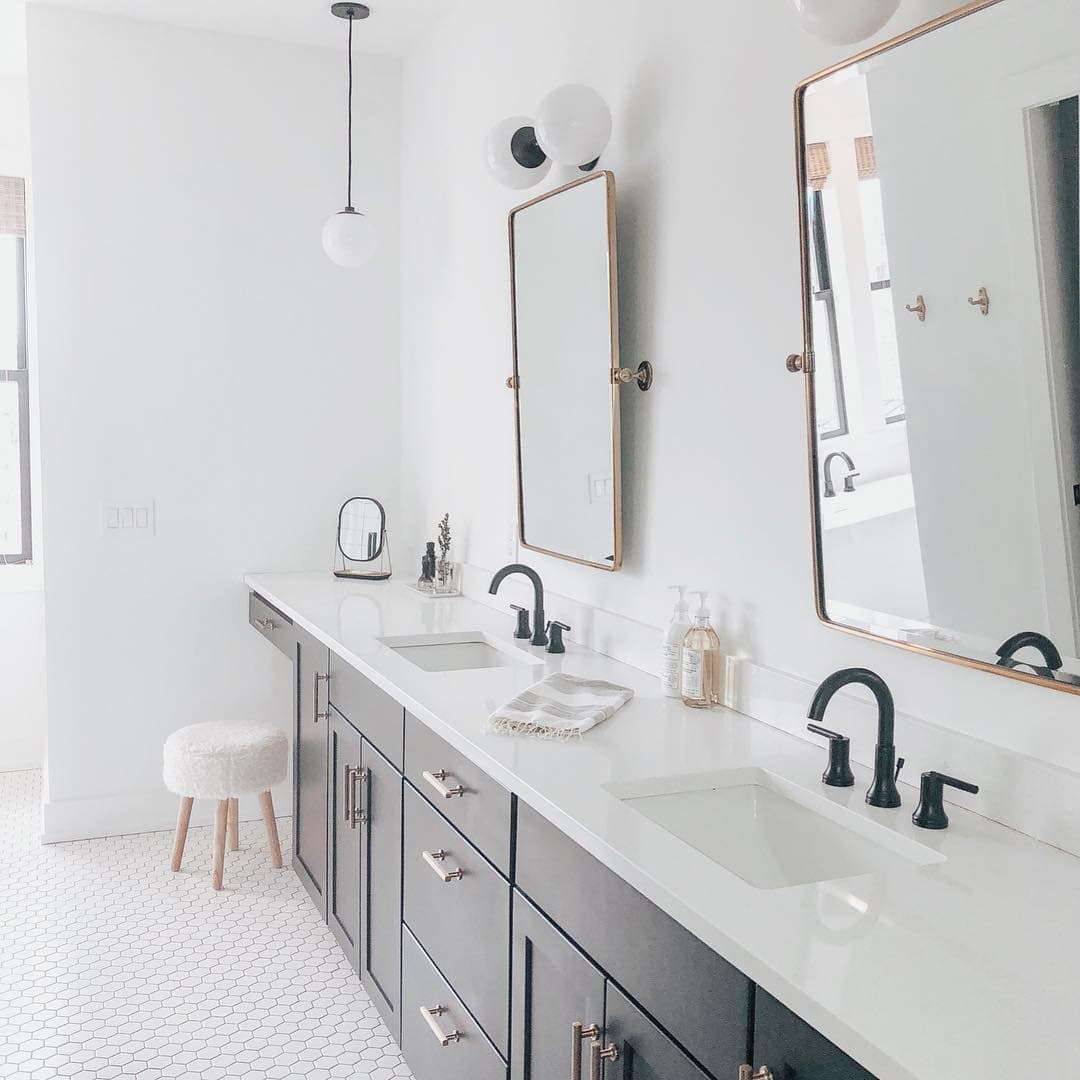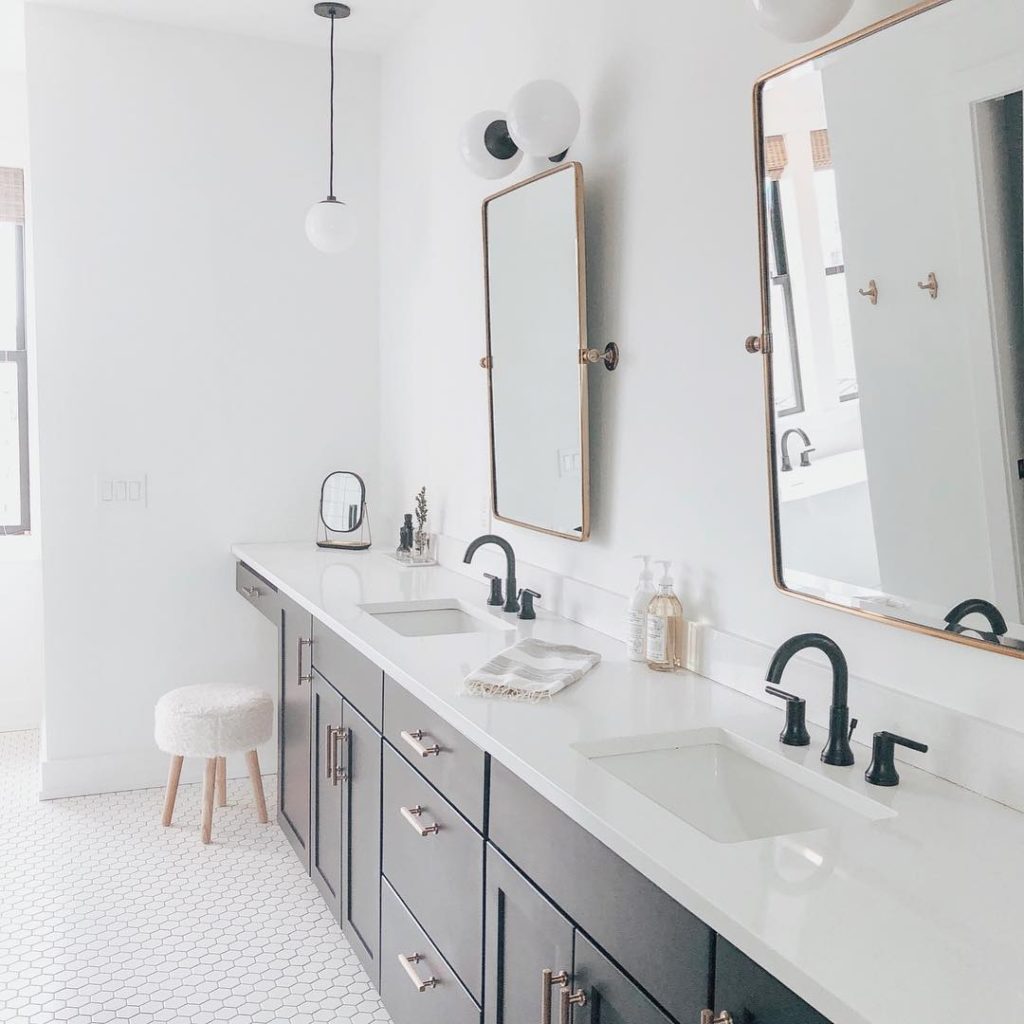 The more lighting a room has the bigger it is going to appear. Don't be afraid to add more lights than you think necessary if you love open spaces. The tilted gold mirrors make for easy viewing when getting ready. The stool adds a comfy place to sit in this room.
Hanging Vintage Bulbs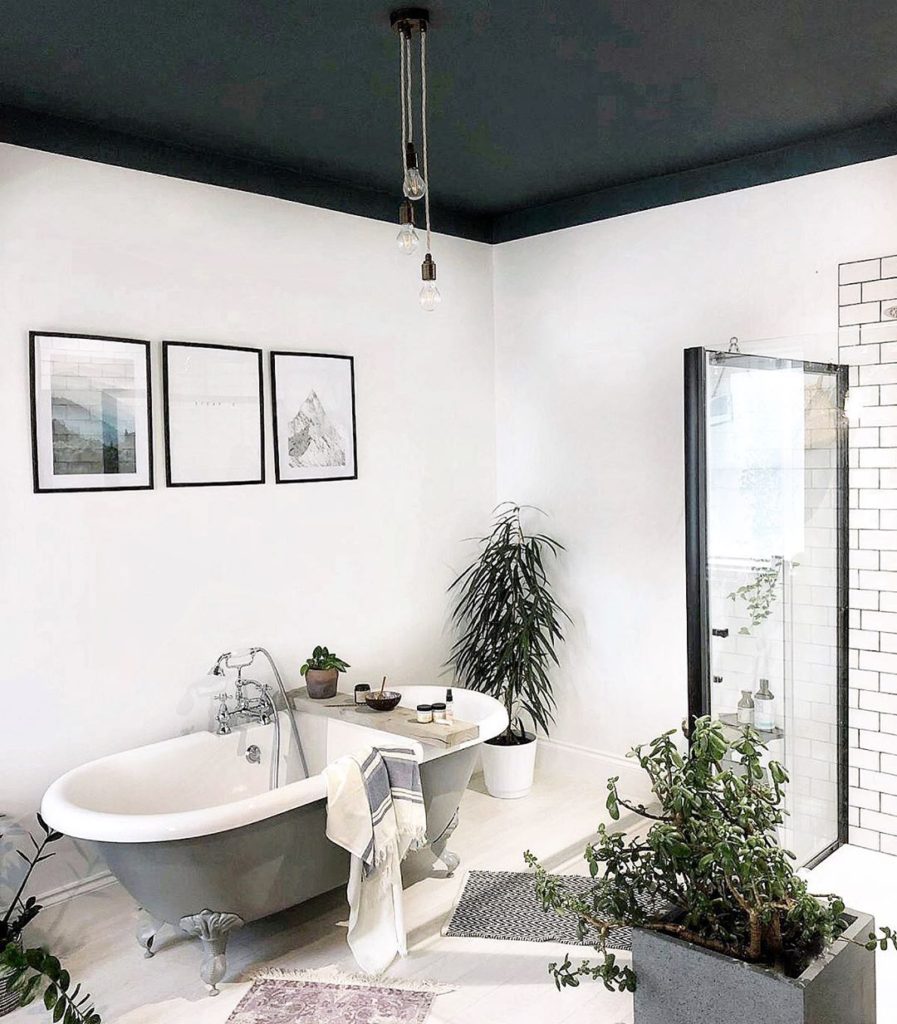 Trendy vintage bulbs are always an okay way to light up a room. The moisture of a bathroom makes is a great place to fill with plants (that are okay with it). The floor is decorated with cleverly placed rugs. The three framed pictures keep the large wall interesting.
Great Use of a Small Space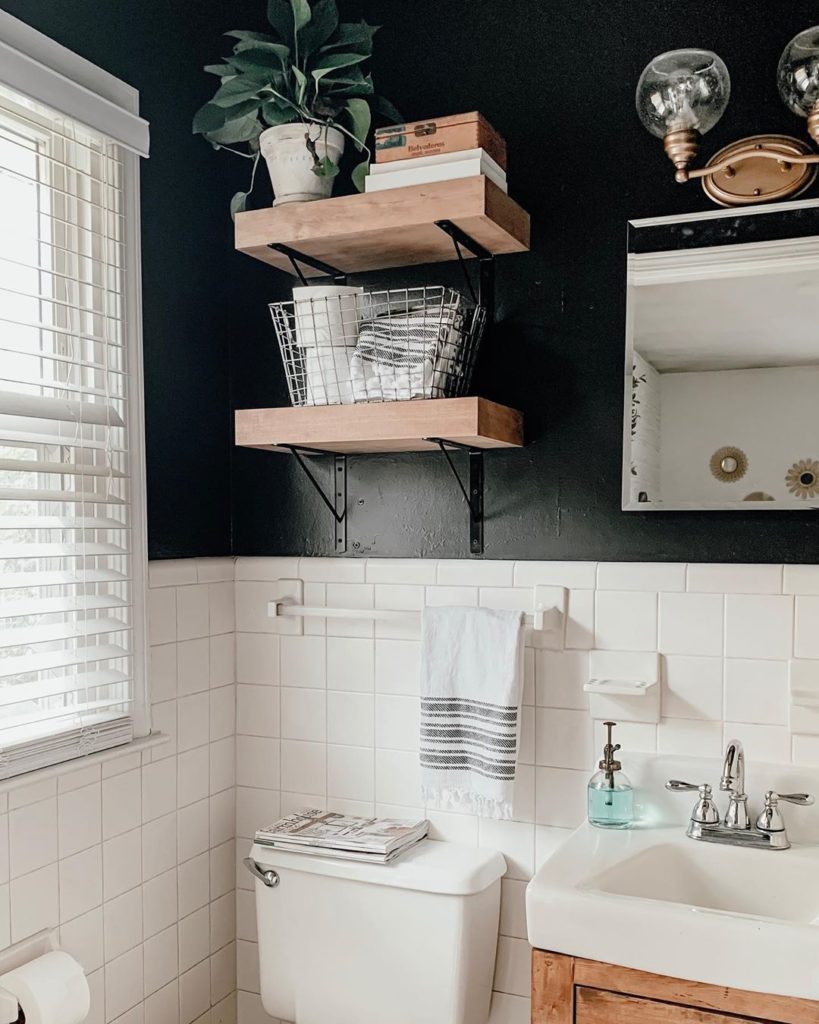 High shelves in this bathroom add extra storage to keep this small space looking big. While tiles are run two thirds up the wall. The dark paint colors adds classy richness that works since the room is kept open by the white tiles and natural lighting.
Feel Beautiful in a Back Lit Mirror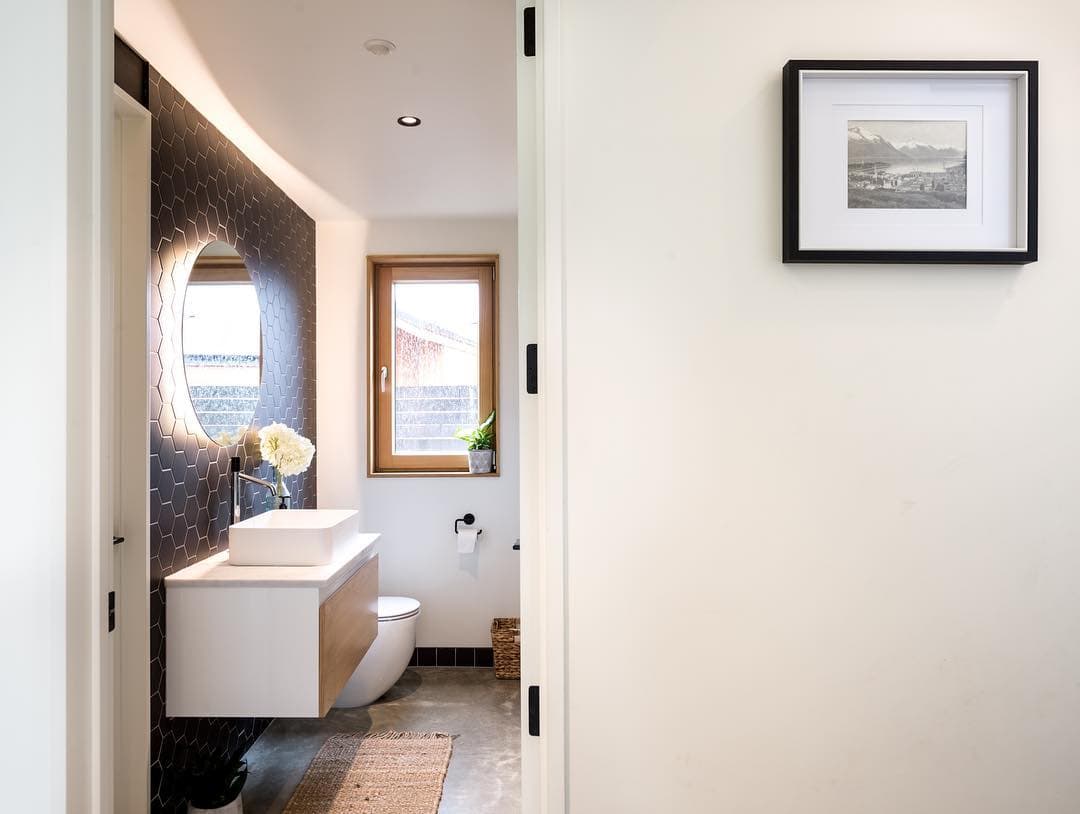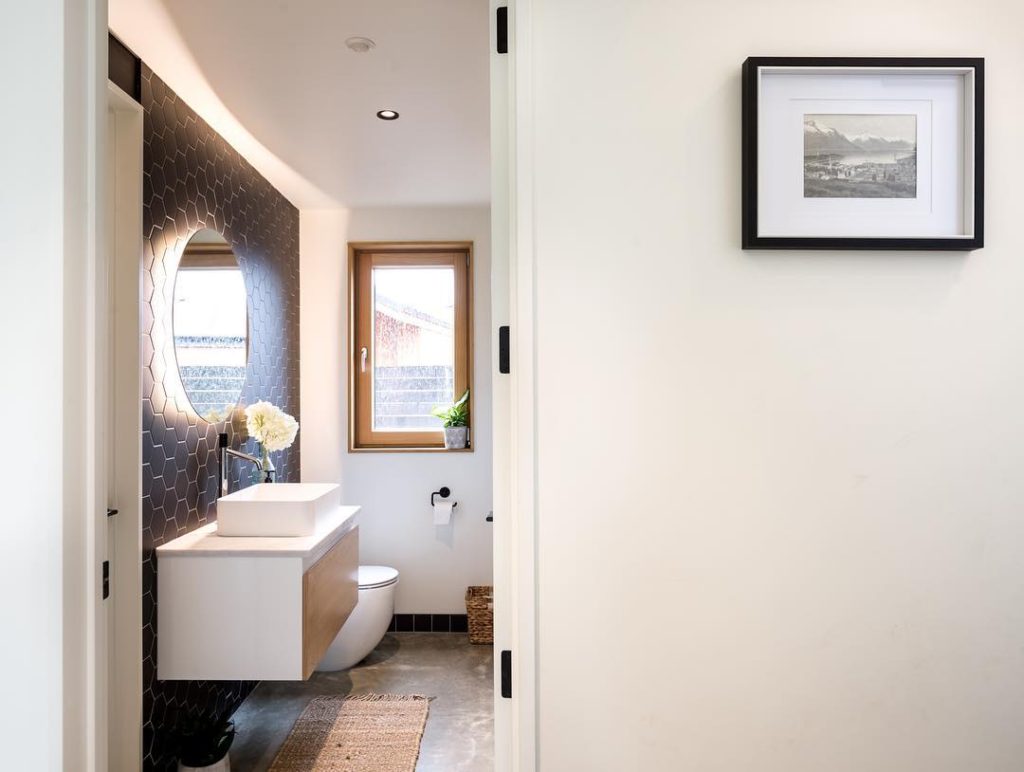 Have you ever looked at yourself in a backlit mirror? It's so complementing. Modern charcoal hexagon tiled is used on the wall to keep this bathroom looking current. A jut rug has been added for texture and the floating vanity keeps this bathroom feeling big.
Chandeliers Work Everywhere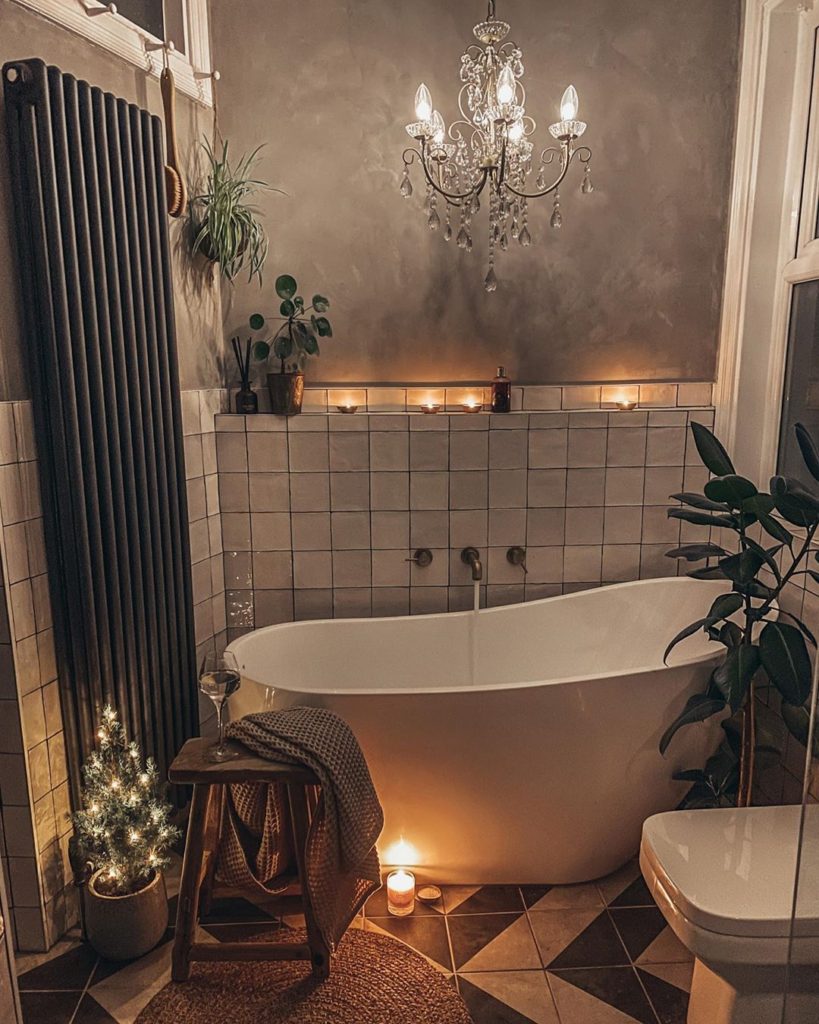 One of my favorite bathroom designs. A vintage chandelier in this space gives it a bohemian vibe. Candles make it a relaxing place as well as the greenery. White tiles are used with a gray wall color for contrast and richness.
Copper and Fur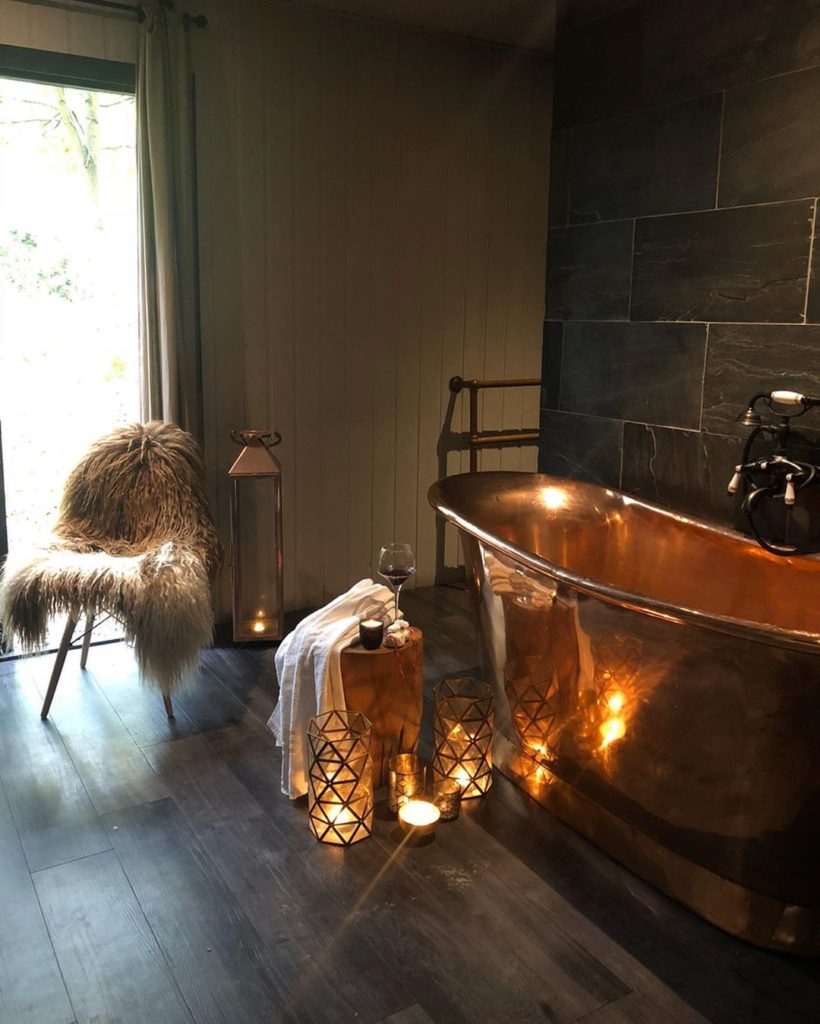 A gorgeous and unique copper bath tube steals the show in this bathroom. If you're looking to relax just add some candles. The faux fur blanket makes the chair more comfortable. The dark stone and wood floors contrast with the bathtub in an appealing way.
Subway Tile and Blue Mosaic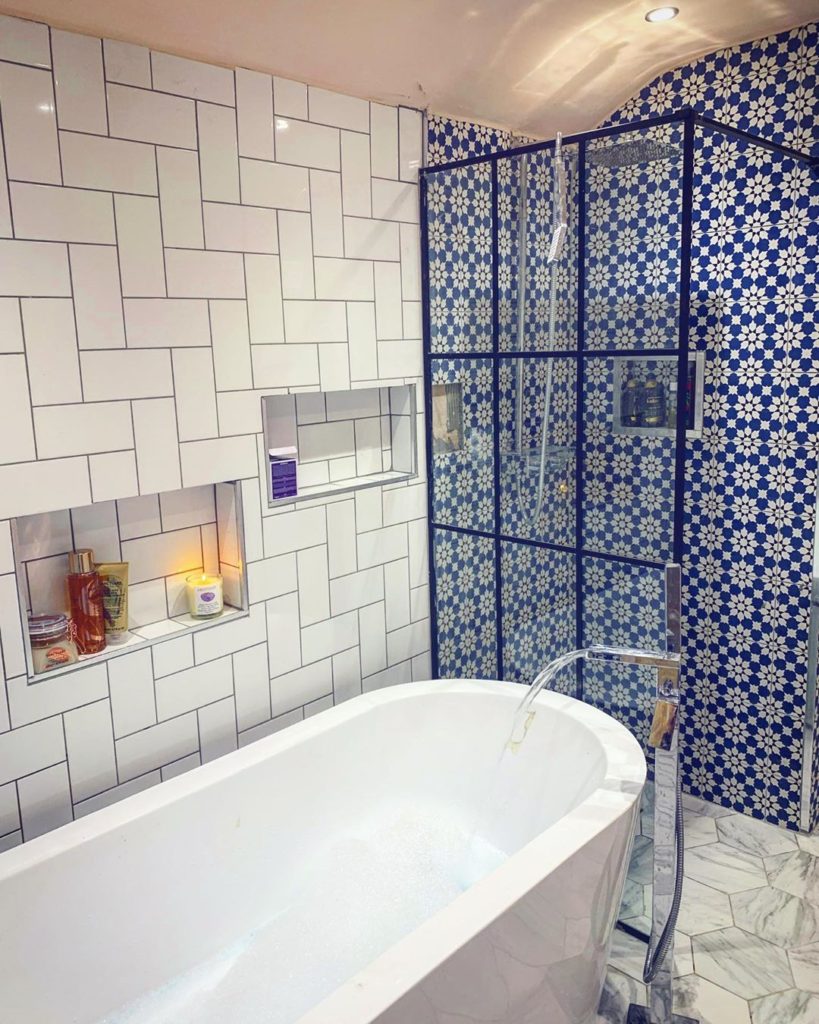 Built-in shower shelves save space in this bathroom. A creative subway tile is used instead of the traditional horizontal or vertical format. The gorgeous blue mosaic tile adds a pop of color. The matching shower enclosure looks beautiful as well.
Shiplap and Vintage Wall Lighting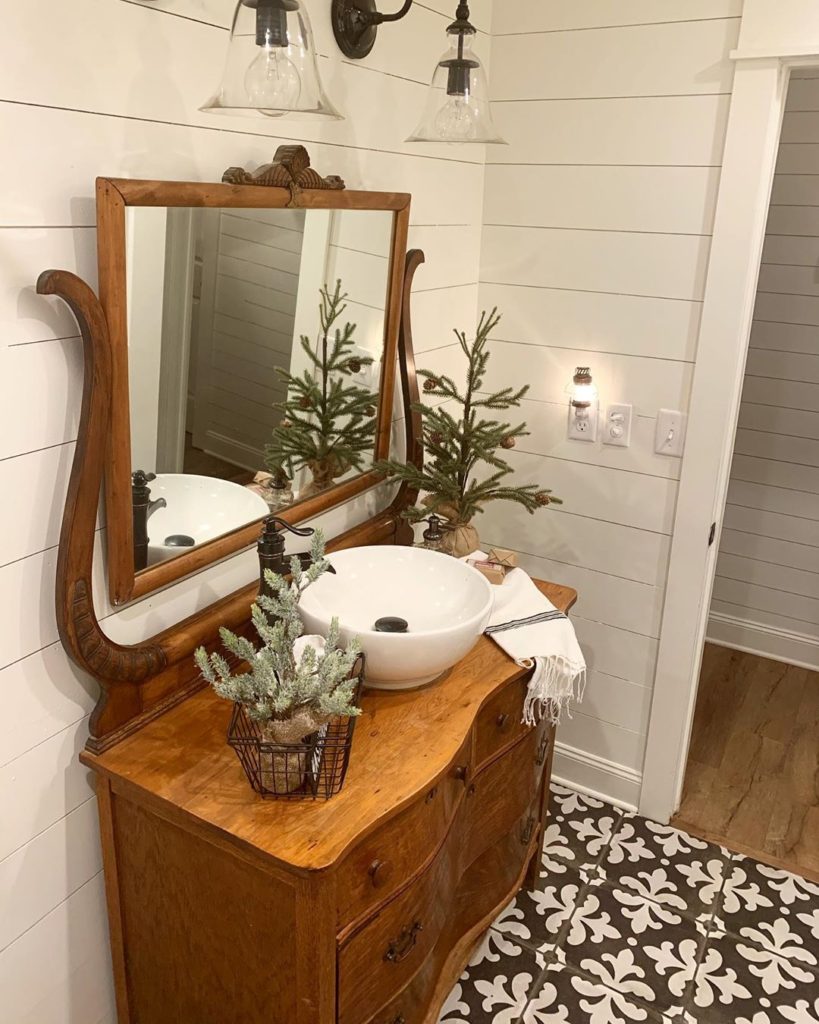 This ultra rustic room makes use of a vintage wall light and vanity. Shiplap is used on the walls. The pretty tile adds a dark pop to the room.
Grayscale The Room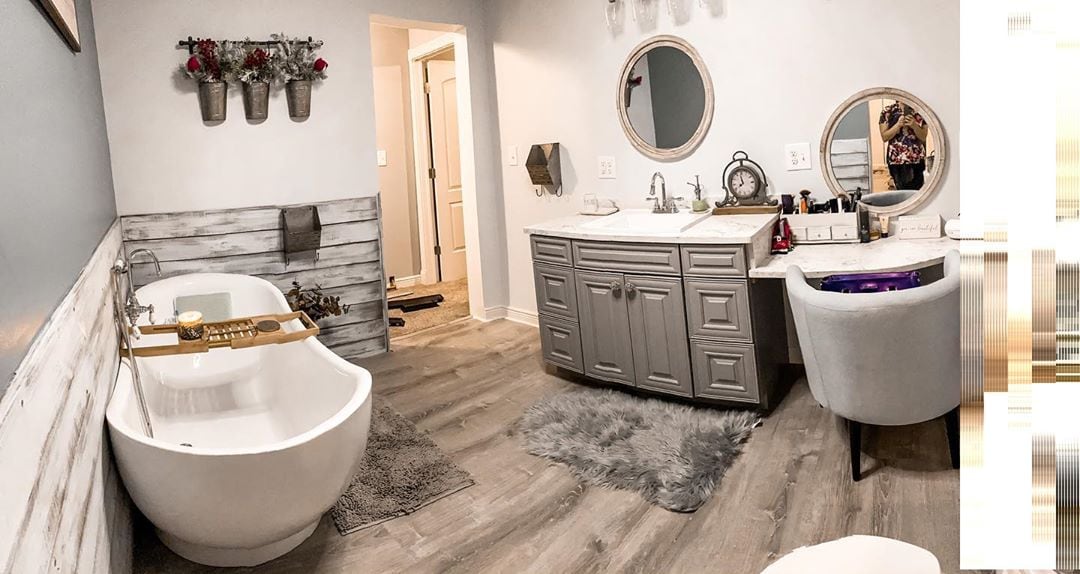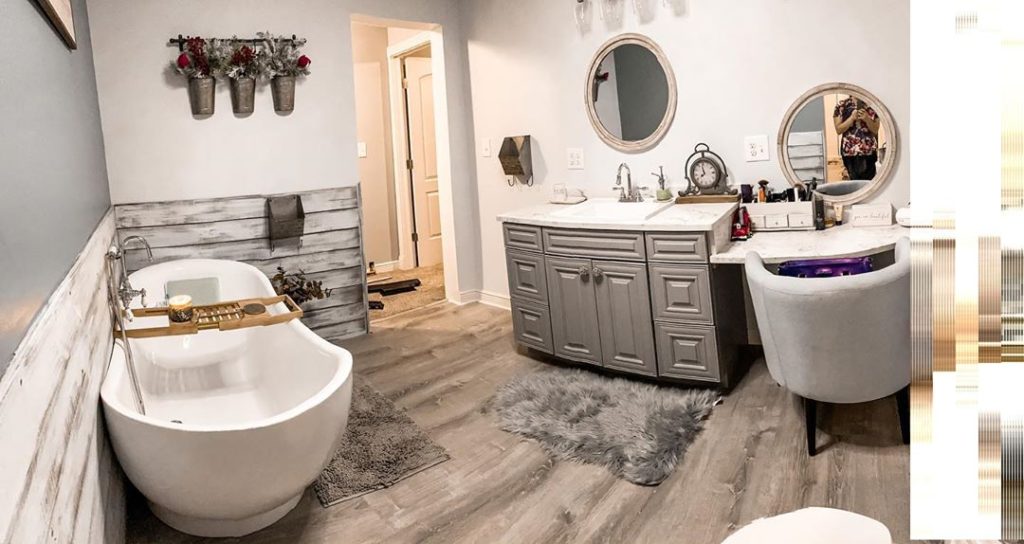 Layering neutrals is a safe way to keep a bathroom big and calm. If your a fan of gray, keep a home modern and grayscale a space. A gray seat is used for a comfortable space to put on makeup and get ready. Galvanized metal flower pots are used as an accent with other farmhouse notes.
Farmhouse Bathroom Kept Bright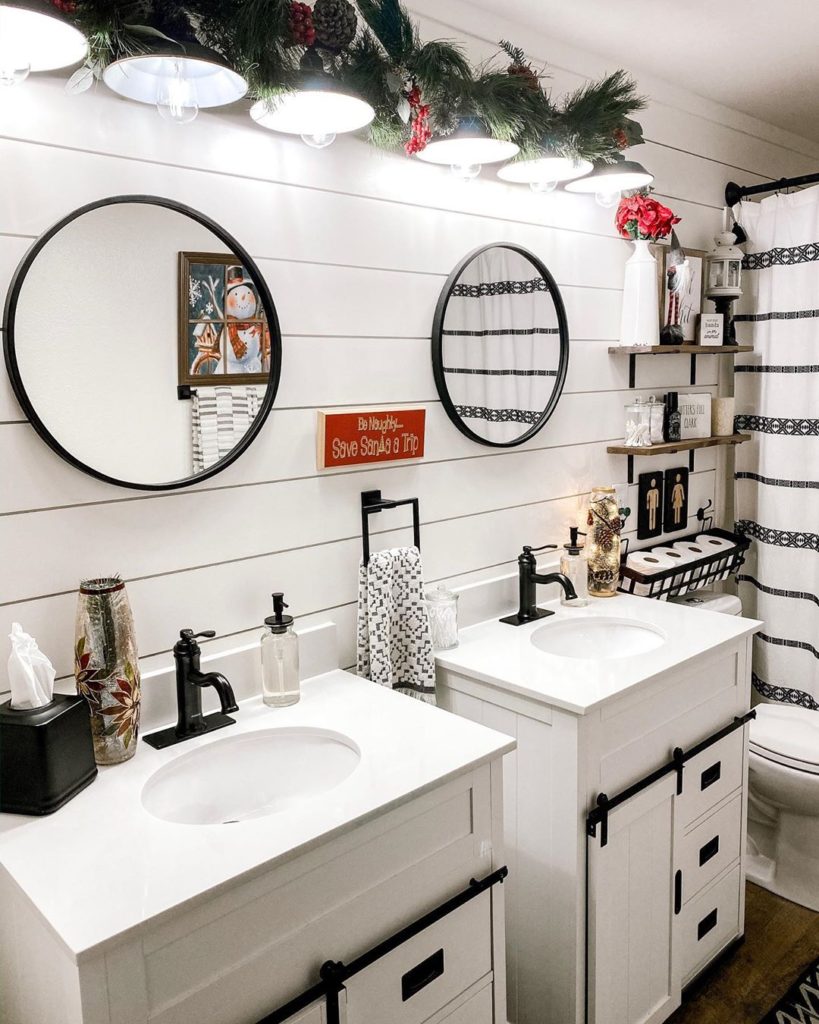 The more lights you add to a space the larger it will appear. This farmhouse bathroom makes great use of this by maximizing the amount of wall lights. A small wall mirror is used to keep the wall space open. Black accents are seen throughout the bathroom and tie it together.
Modern Mid-Century With Black and White Wall Paper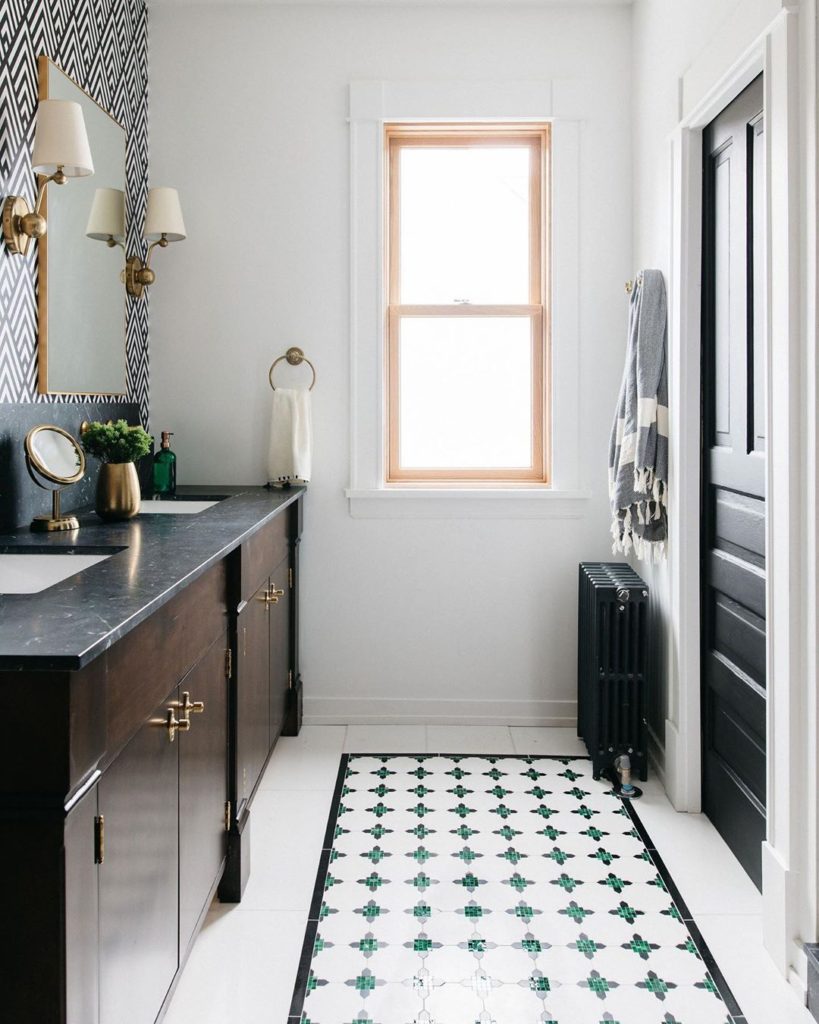 A fun black and white wallpaper adds pizzaz and intrigue to this bathroom. Light colors will open the room up and dark features make it elegant. The window adds a soft natural glow and reflect off the emerald floor pattern. Having important features highlighted by light is a timeless trick.
Layering Neutral for a Coastal Look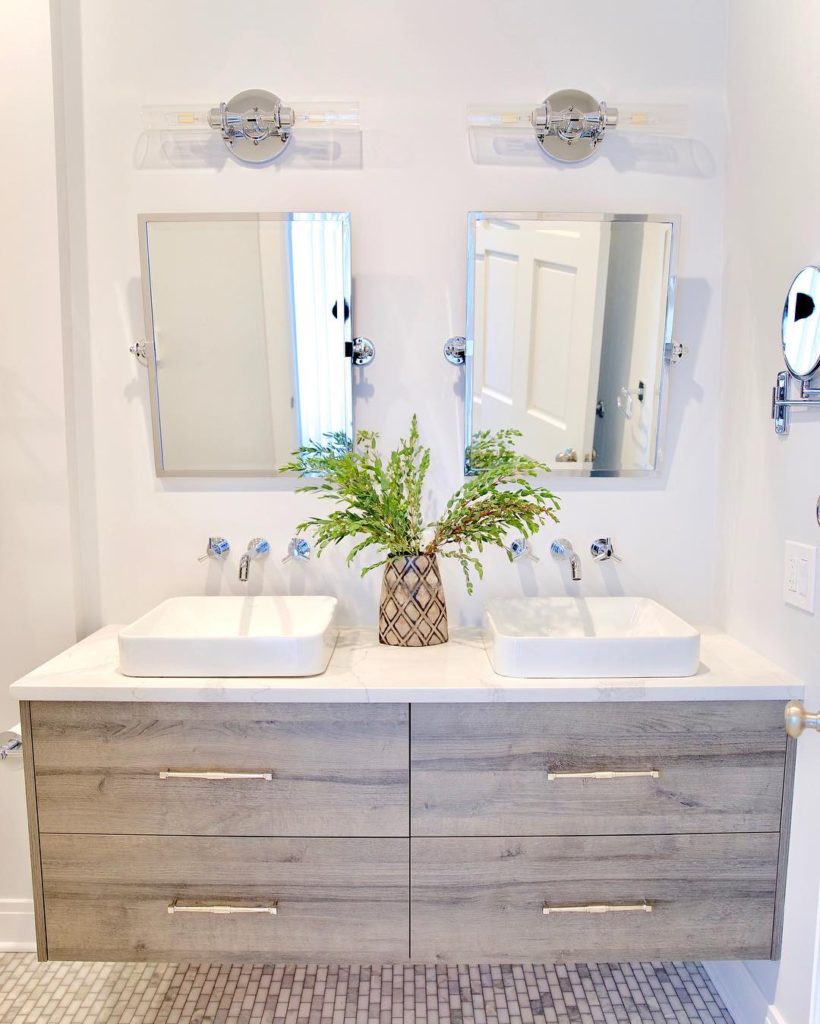 This bathroom layers neutral and gift an airy coastal and cool decor style. The light oak cabinets have a beachy vibe. The greenery adds a pop of color to a relaxing design. The unique chrome wall lights add a shimmer of intrigue.
Black Subway Tile with Gold Accents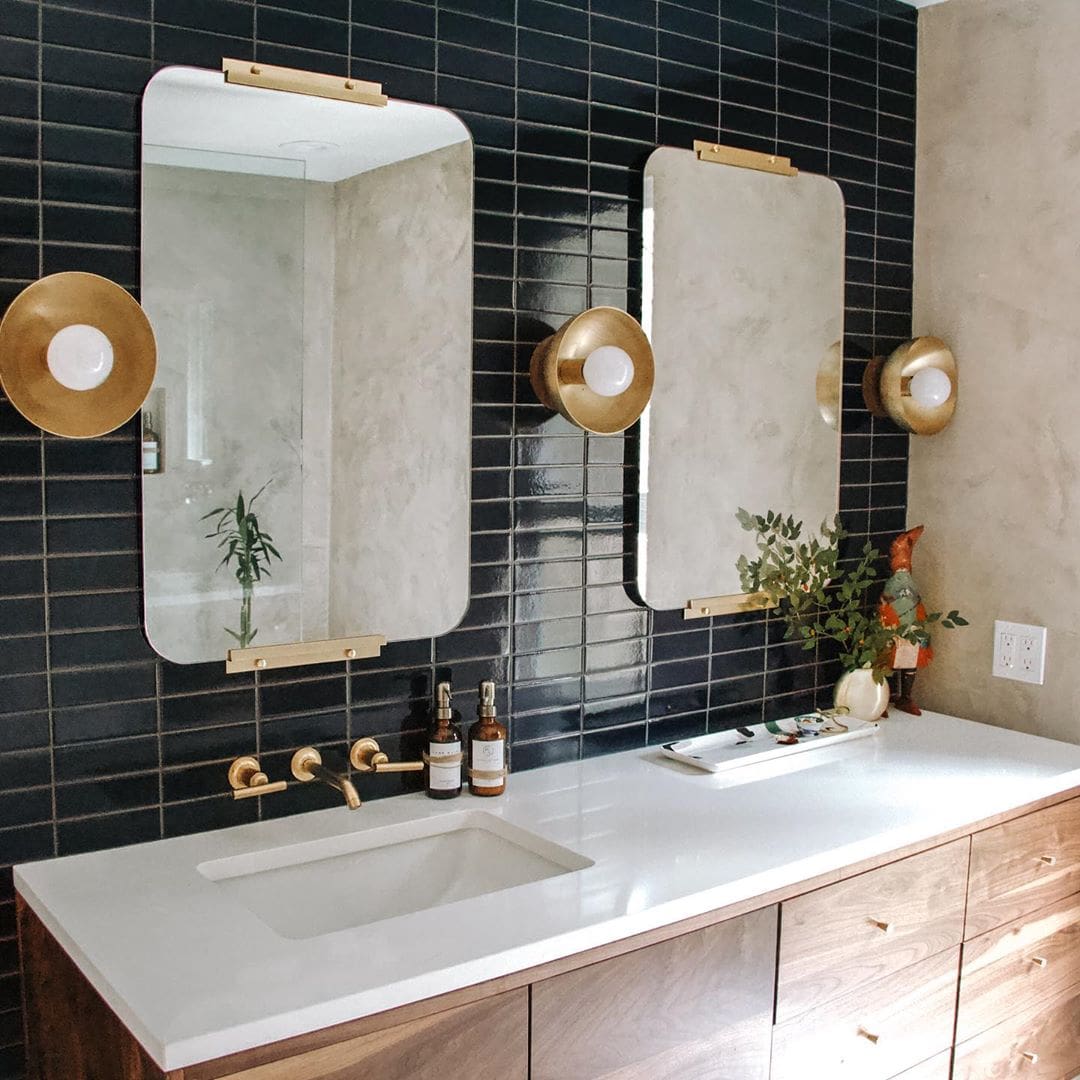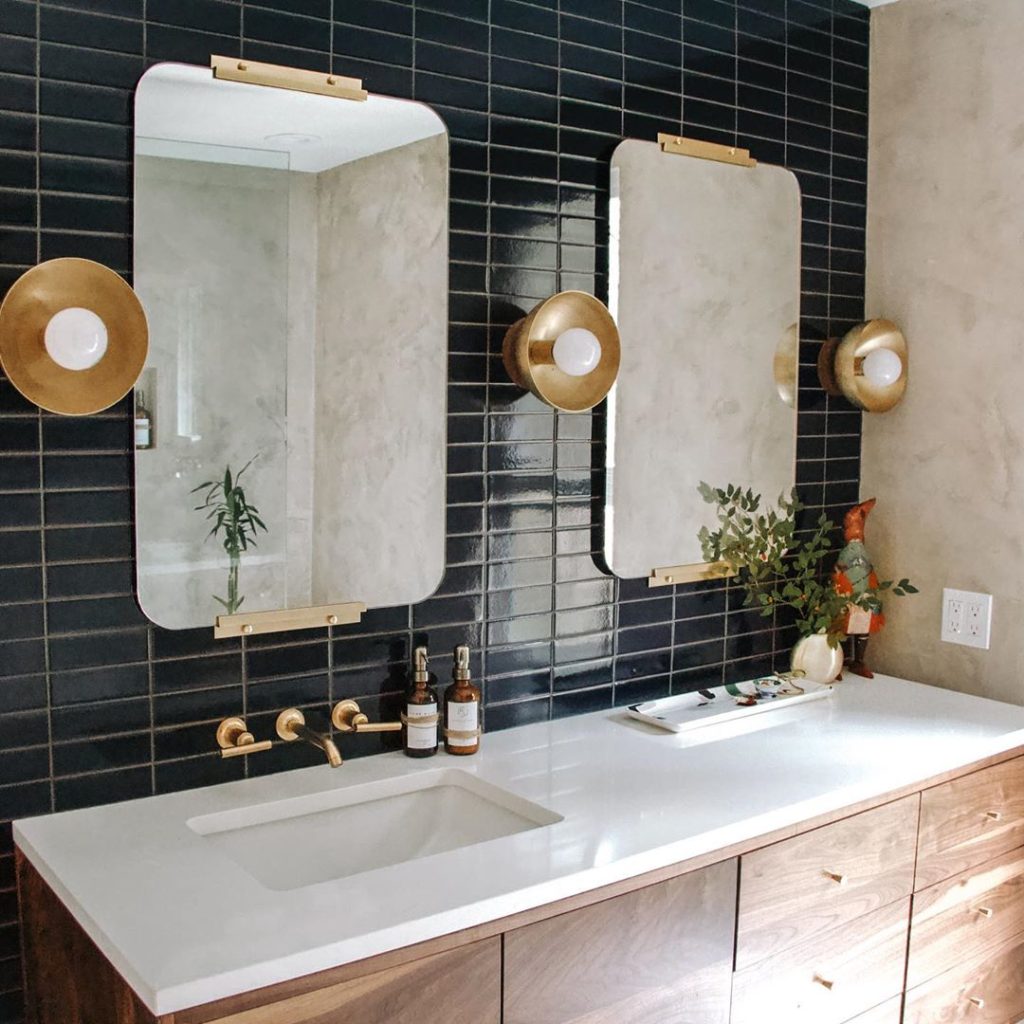 This modern mid-century style bathroom has elegant appeal with black subway tiles and gold accent. Black and gold are always a dynamic pair. It's kept clean with a stack subway tile instead of staggered.
Charcoal Hexagons with Scandanavian Vibes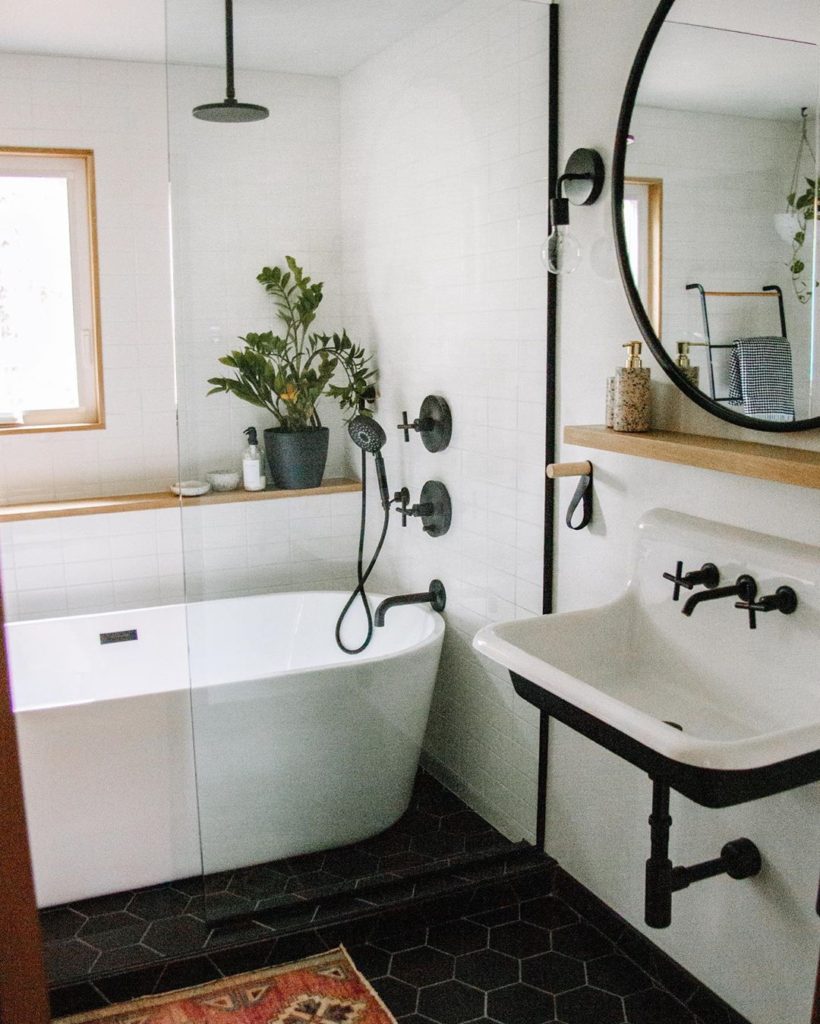 The trendy combo of charcoal hexagon floors with white subway tiles and white grout make this room beautiful and modern. The matte black fixtures are a staple in this decor style. This one leans more modern than farmhouse.
Two Chandeliers and an Area Rug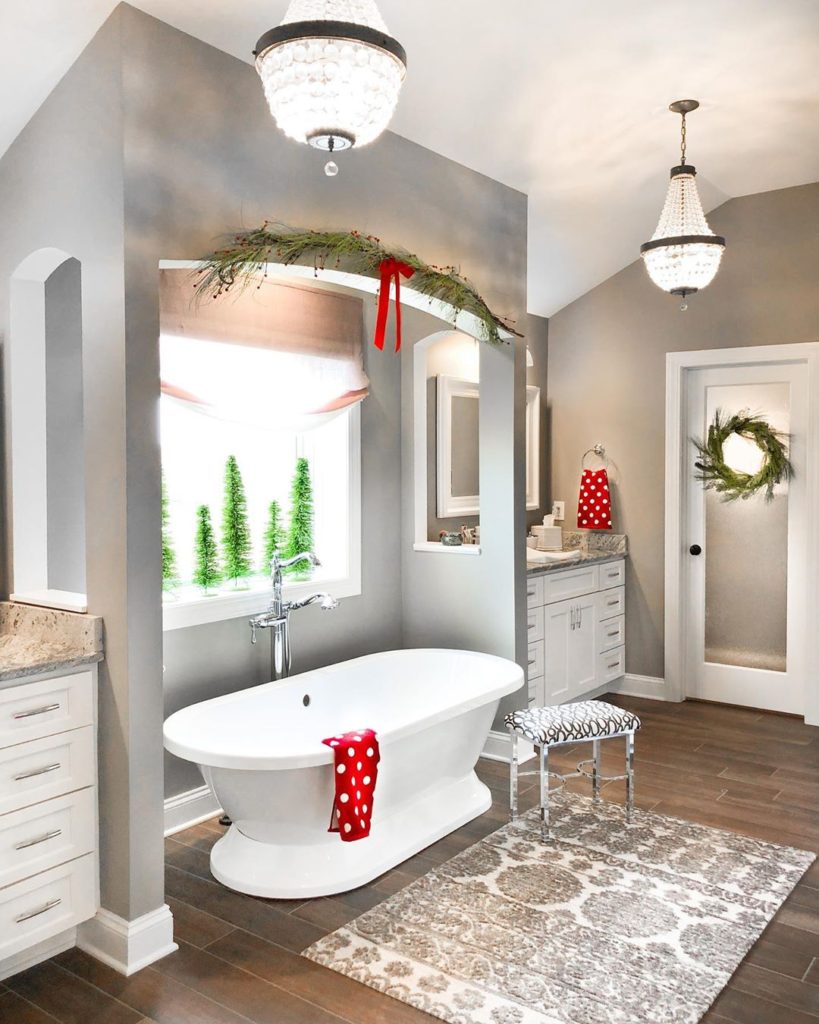 What's better than one chandelier? Two chandeliers. If your space allows it, this unique style will add regalness to your bathroom. As always, more lights means a more open appearance. The large area rug adds ample space to comfortable dry off.
A Shiplap Wall With Bright Wall Lights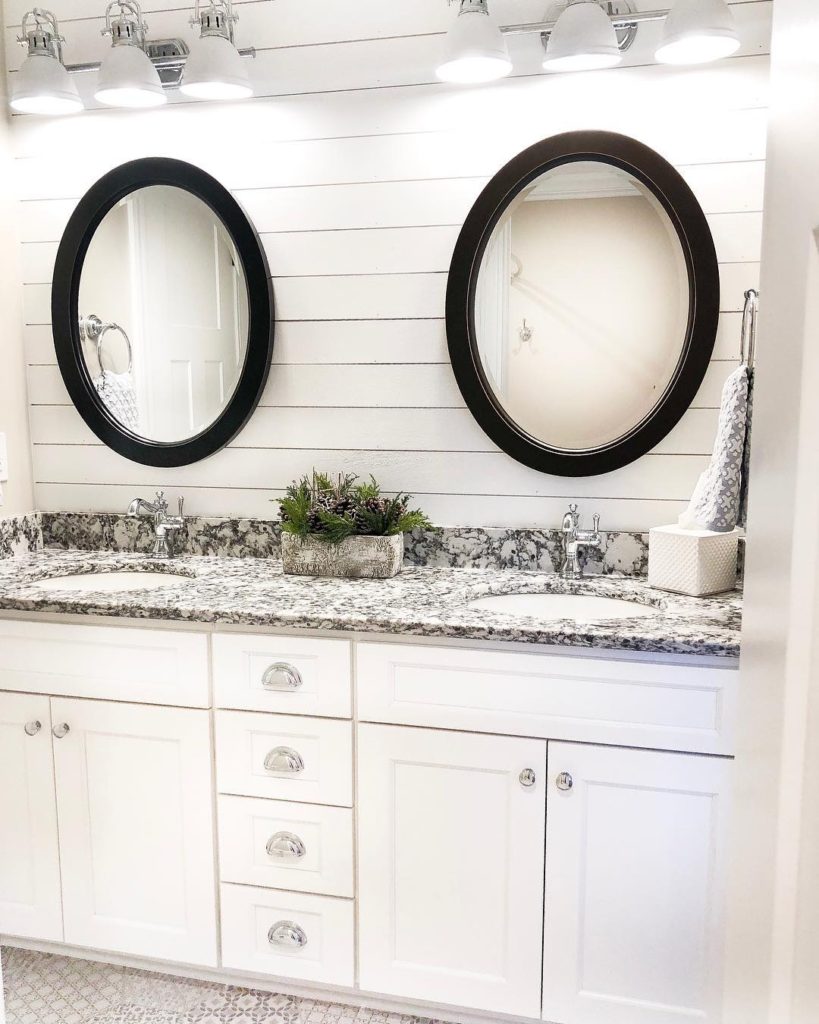 A shiplap wall adorned with black framed mirrors in this farmhouse style bathroom. The granite countertop adds texture and contrast. 3 bulb wall lights make it bright, open, and airy.
Make it a Jungle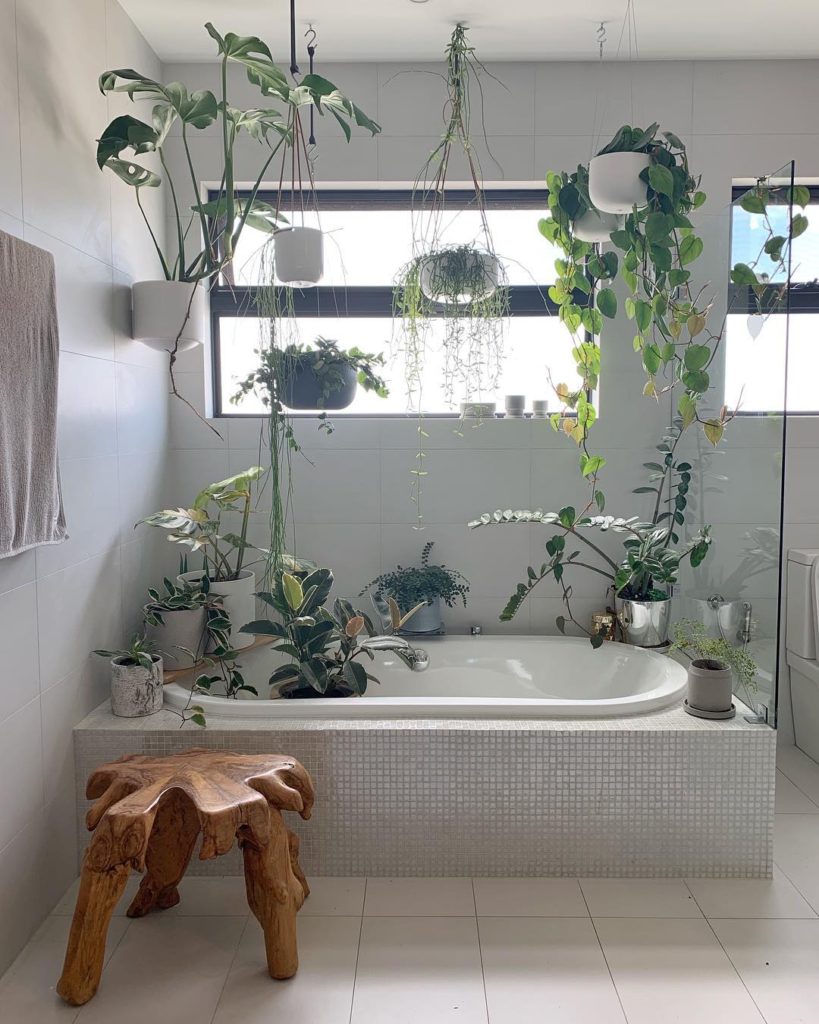 The moisture in a bathroom make it an ideal place for fun and fresh plants. A natural wood style stool playfully adds to the theme. Shimmery opulent tiles surrounded the tube adds contrast.
Rich & Elegant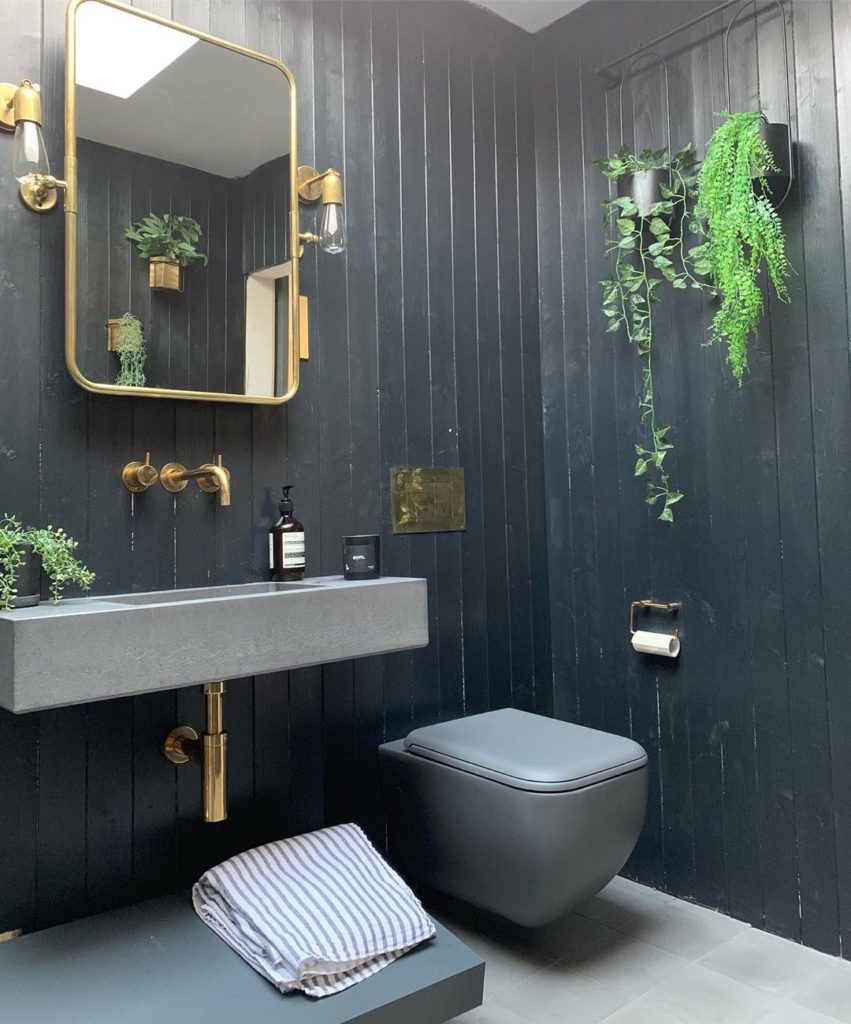 A charcoal gray toilet blends with the layers of gray in this bathroom. The gray floor it clean and the dark walls work with the bright sun from the skylight. In rooms with a lot of natural light, dark colors work well since they are opened up by the brightness.
Playful Pink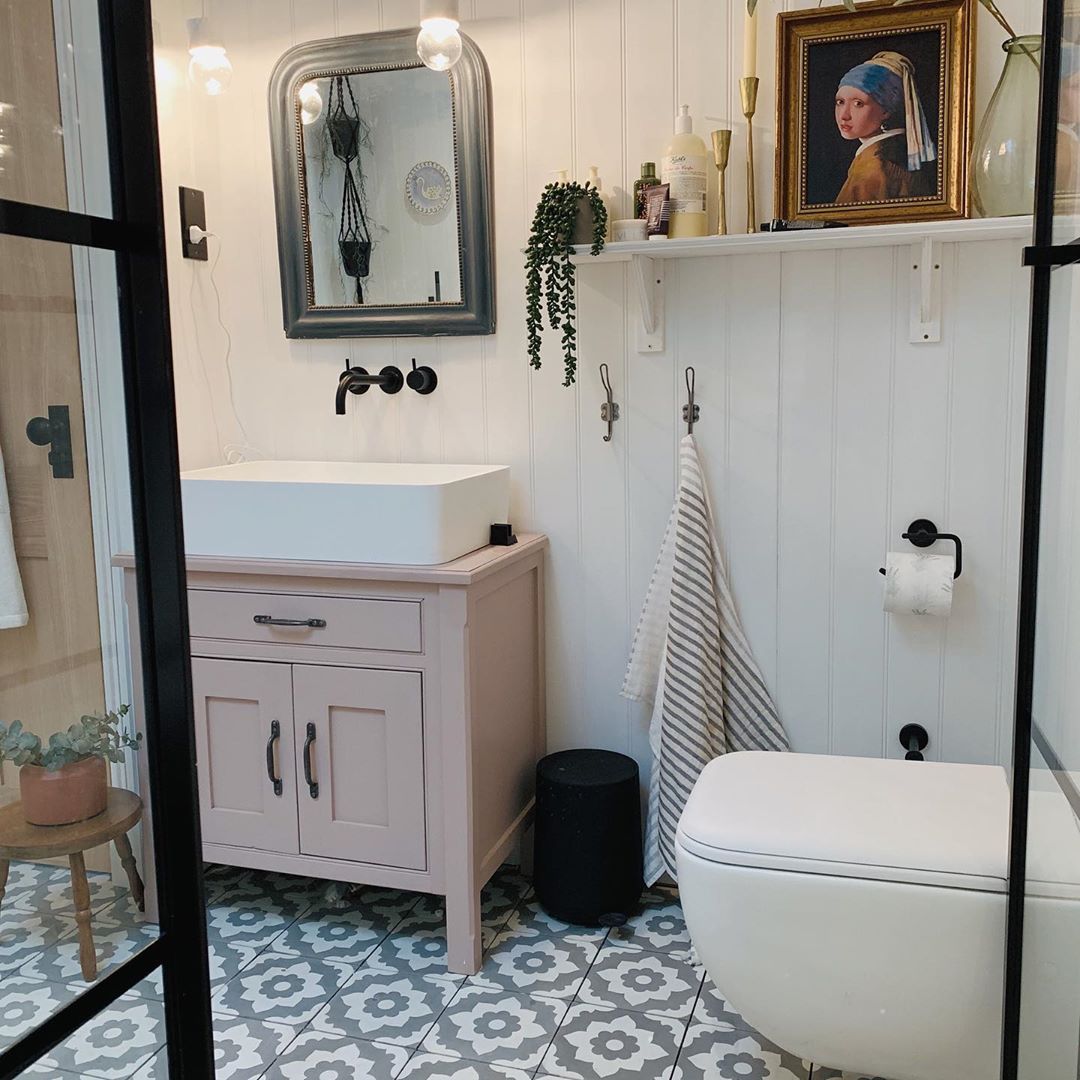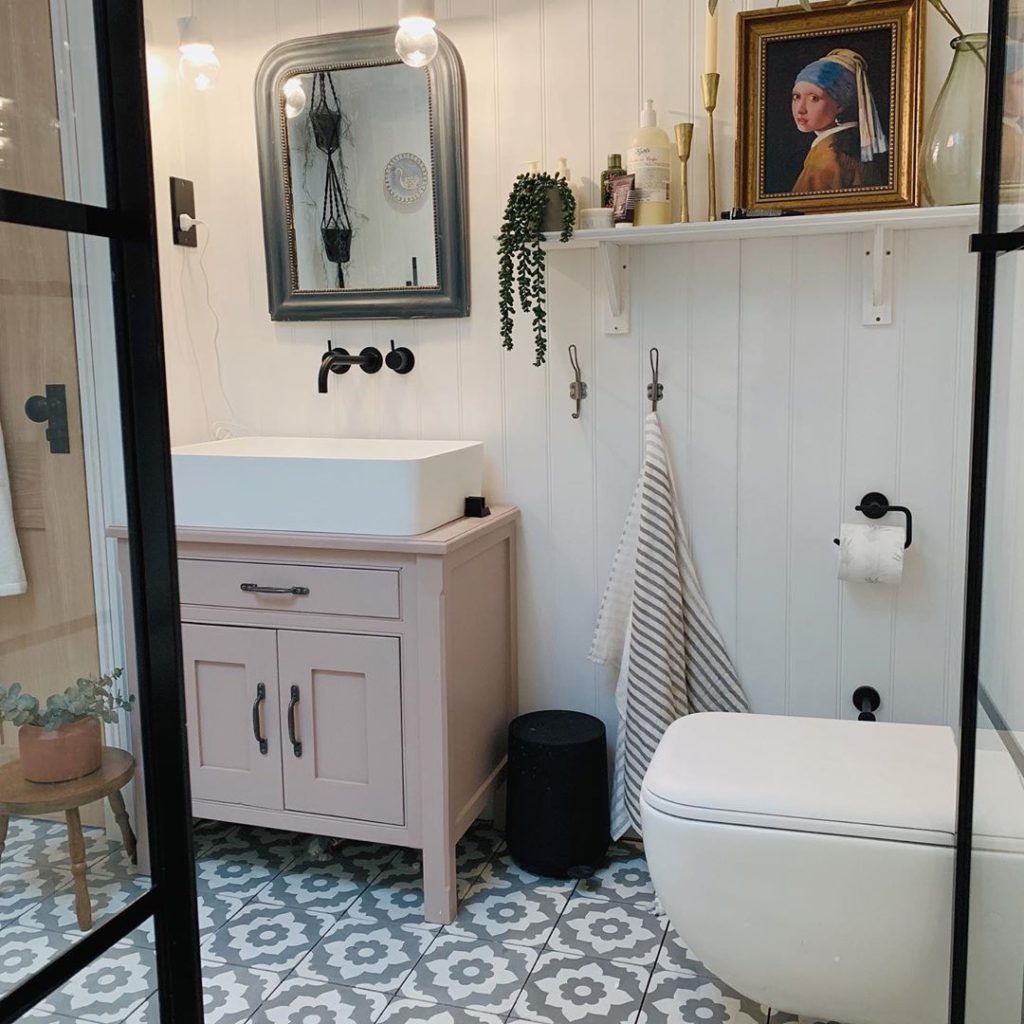 A playful pink vanity is fixed with a large open white sink. There are mosaic style gray tiles which work delightfully with pink. An antique frame gives this bathroom a shabby chic decor style. This is another great example of using hanging pendant lights in the bathroom.
Black Fixtures With Roof Lighting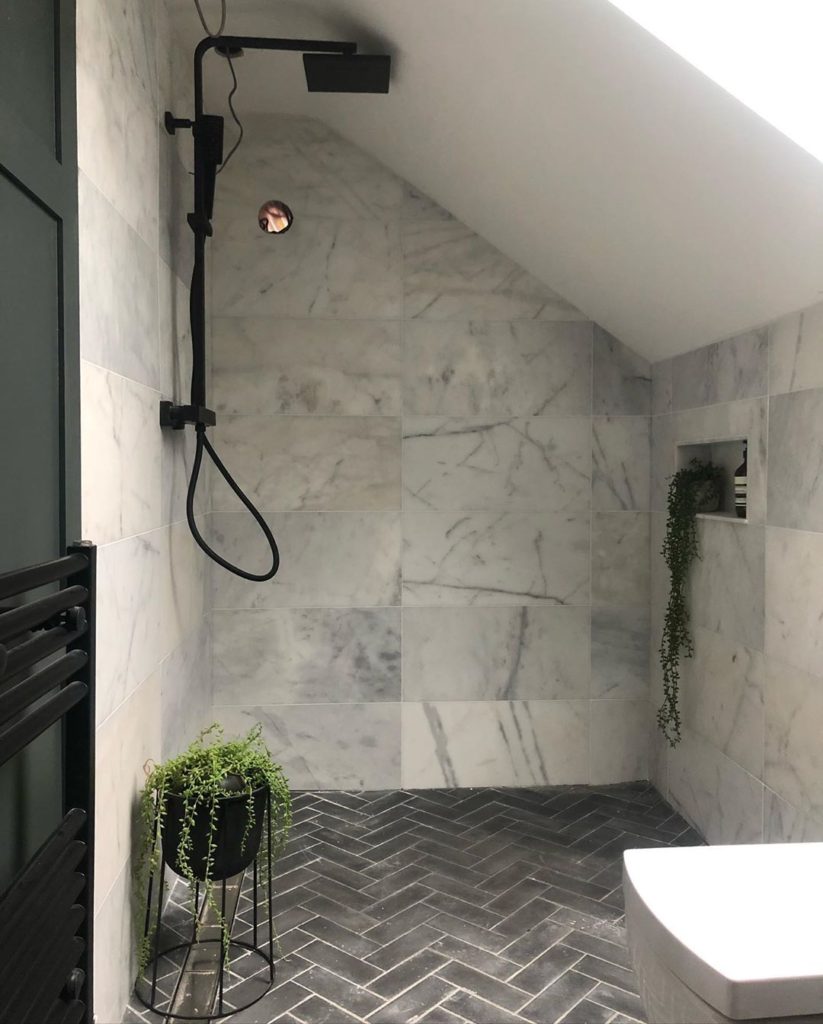 A skylight allows a bright openness to this space. The plants feed off of the natural moisture from the bathroom. A Matte black shower head contrasts the neutral gray and white color tones. The Marble tile on the walls make it a luxurious space.
Subway Tile, Jute, and Charcoal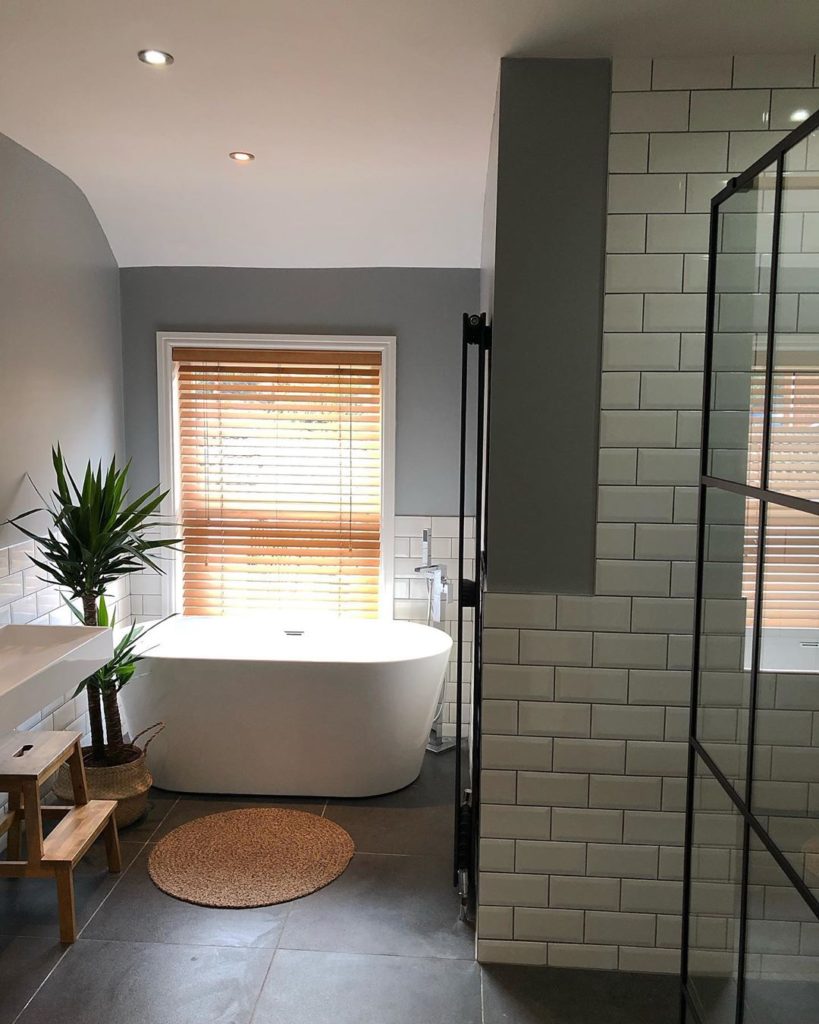 A classic pairing that always works are subway tiles, charcoal tile, jute, and matte black fixtures. This modern bathroom is kept low key and tranquil by half-open blinds. You keep some privacy while allowing the amount of light you prefer in.
You're now ready to take on lighting up your bathroom in the best way possible. Which bathroom lighting idea did you go with? Let us know in the comments below.
You Might Also Enjoy: