Imagine walking into a room where everything is properly organized and you have enough space to put everything in–one can dream. Well, let's make your dream a reality today and go over some great bathroom cabinet ideas that can make this happen.
A bathroom cabinet can mean different things to different people. There are bathroom medicine cabinets, large storage cabinets, and some refer to bathroom vanities as cabinets. Here I put together a bunch of gorgeous bathroom cabinets of all shapes and sizes to give you some inspo.
For every minute spent organizing, an hour is earned.
In This Article We'll Discuss
1. Cream White Cabinets With A Linen Closet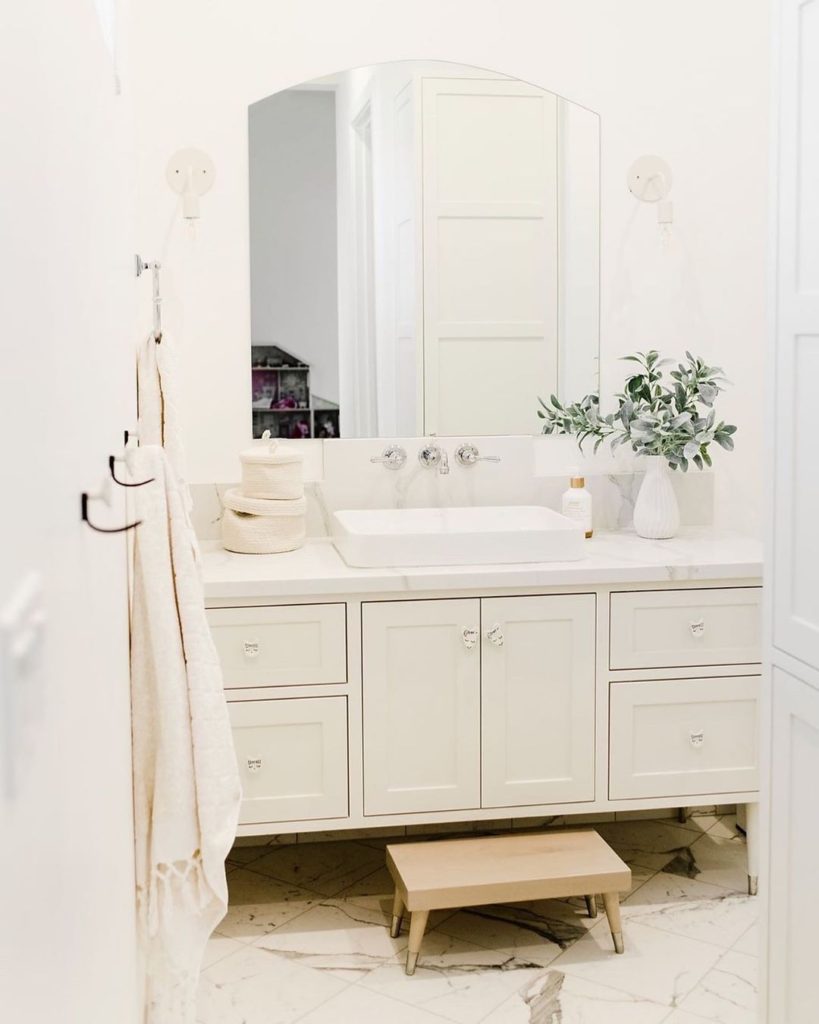 This home by @dlbdesign has enough storage space for the whole family. The vanity cabinets are spacious and the linen closet offers ample room and space to to organize everything end.
The cabinet handles offer a cute look for a kids space. Who says you can't have a style and kid approved bathroom at the same time?
2. A Rustic Farmhouse Bathroom With Modern Gray Cabinets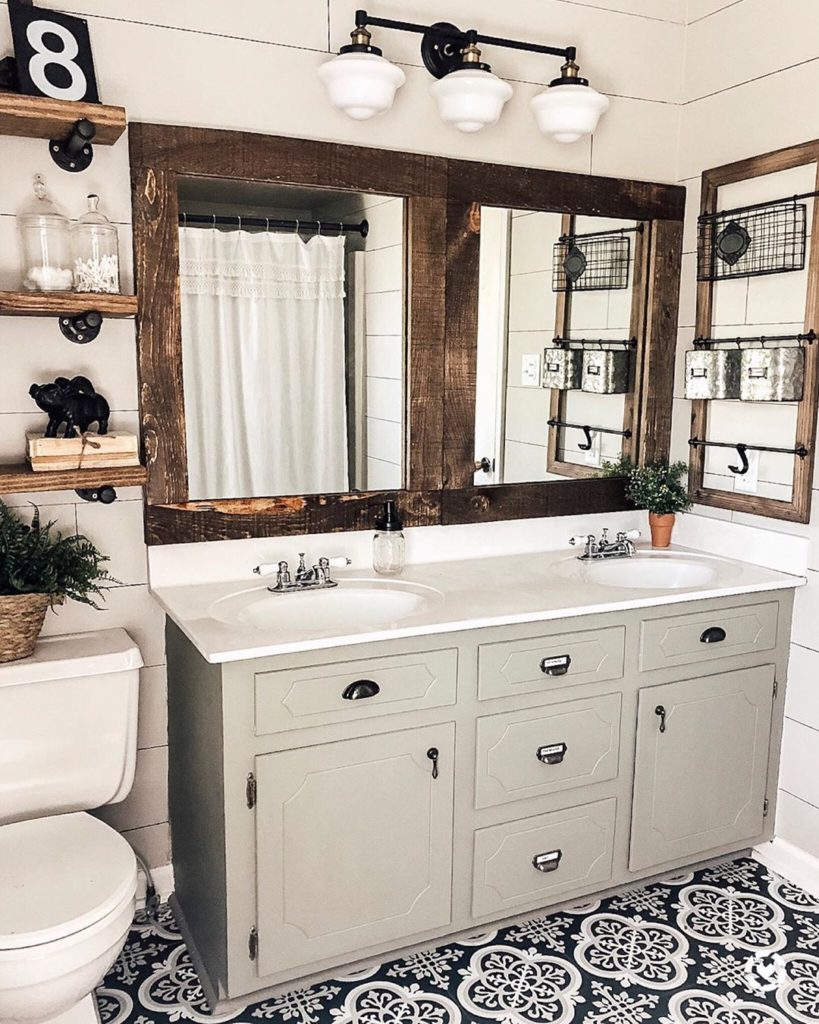 Being bold is something that this bathroom is not afraid to do and do oh so well. The white shiplap walls against the reclaimed wood used in the mirrors offers a nice country touch to this space.
The modern gray cabinets contrast enough but are still subtle so this space doesn't get overwhelmingly busy. Don't miss the pretty patterned mosaic tiles on the floor.
3. A SubtleAnd Modern Space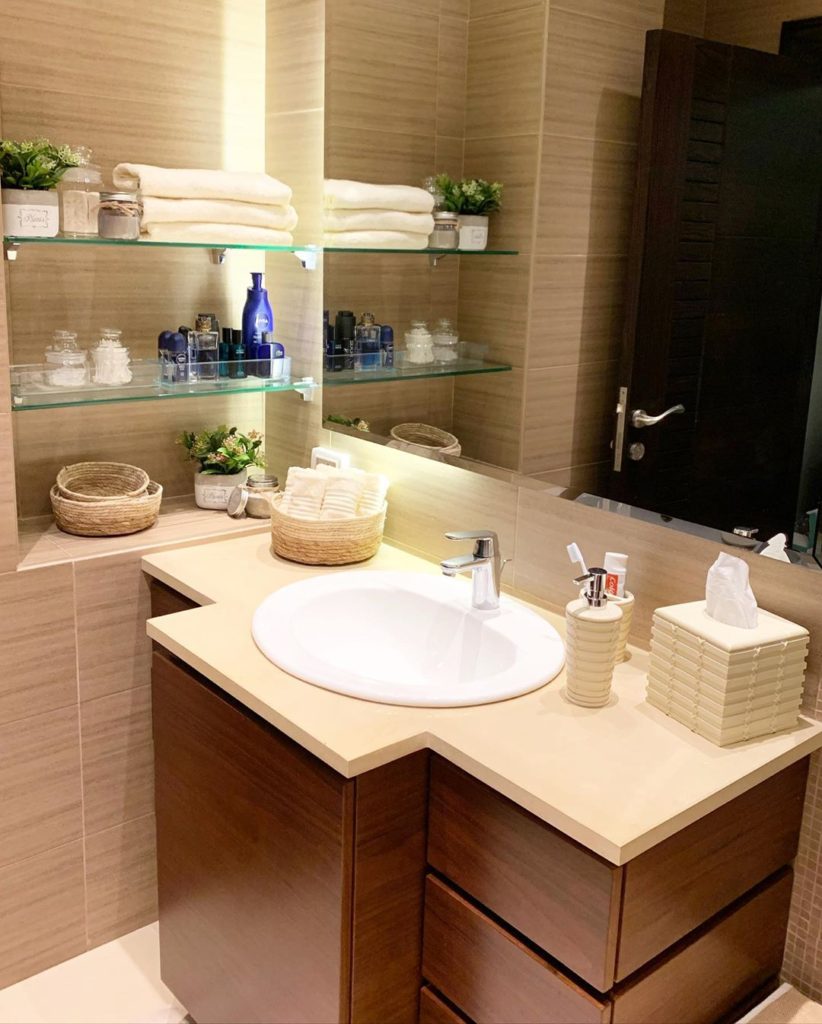 This unconventionally shape vanity adds much needed extra storage space in this bathroom. I'm a big fan of open shelving–especially built in shelving like the one used in this bathroom.
You don't always have to go with standard shaped furniture and this bathroom shows why. If storage space is important to you look for a vanity with cabinets that fit your need. Your borderline organization addiction will thank you.
4. A Modern His And Hers Space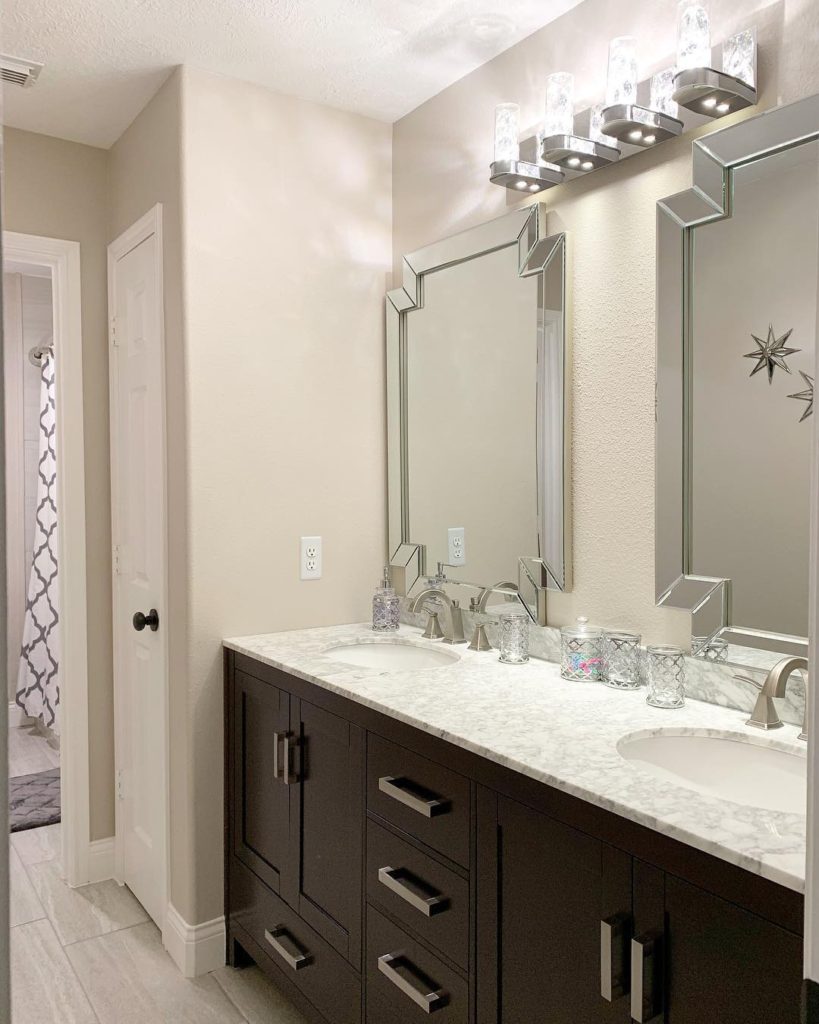 Sometimes our partners in life aren't the most organized, but hey we still love them. Just keep your stuff on your side of the bathroom and we will be fine.
A his and hers bathroom vanity offers extra cabinet space so everyone can keep their stuff on their own side and organized the way they like. Just keep it all hidden in the cabinets, please.
5. Floating Vanity, But Don't Forget To Use The Space Under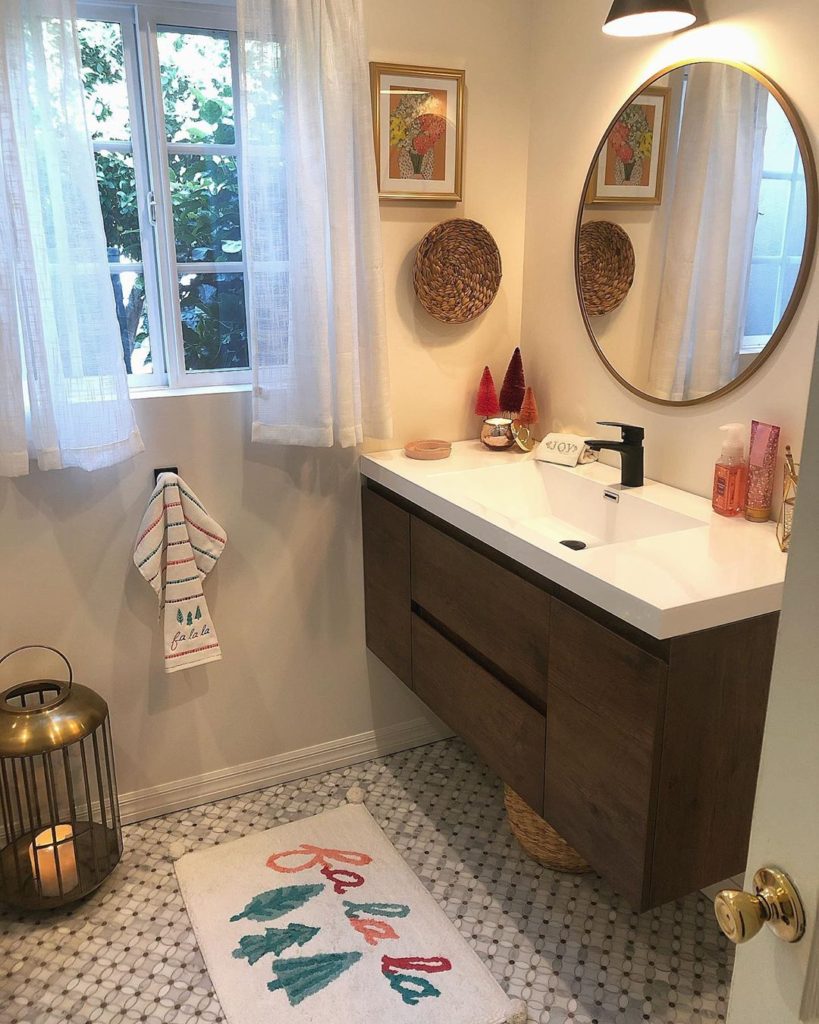 Just because your vanity has floating cabinets doesn't mean you can't still use the space underneath for storage. They're a great place for baskets and just like @lovelyy_chris has done here.
Floating vanities are also an easy way to make a space feel modern.
6. Rustic Farmhouse and Gray Cabinets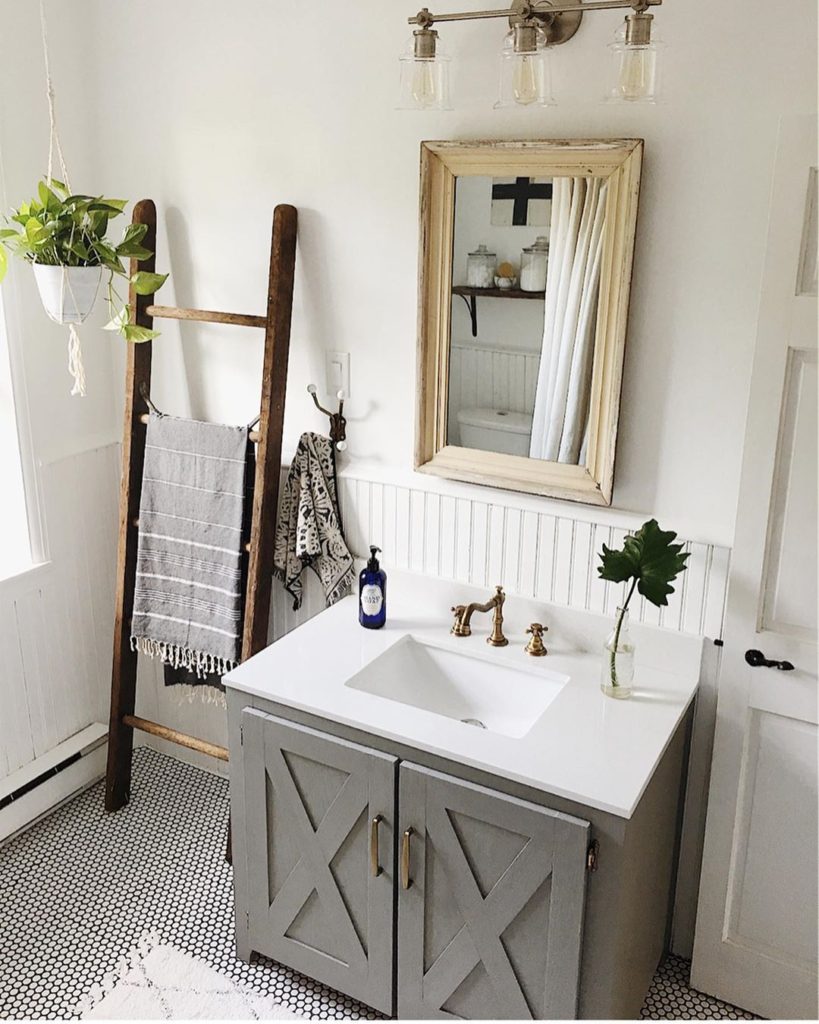 Farmhouse decor is so warm and inviting–just like this bathroom. The gray barn-door cabinets look great against the neutral shades in the rest of this bathroom.
7.His and Hers With Glam Marble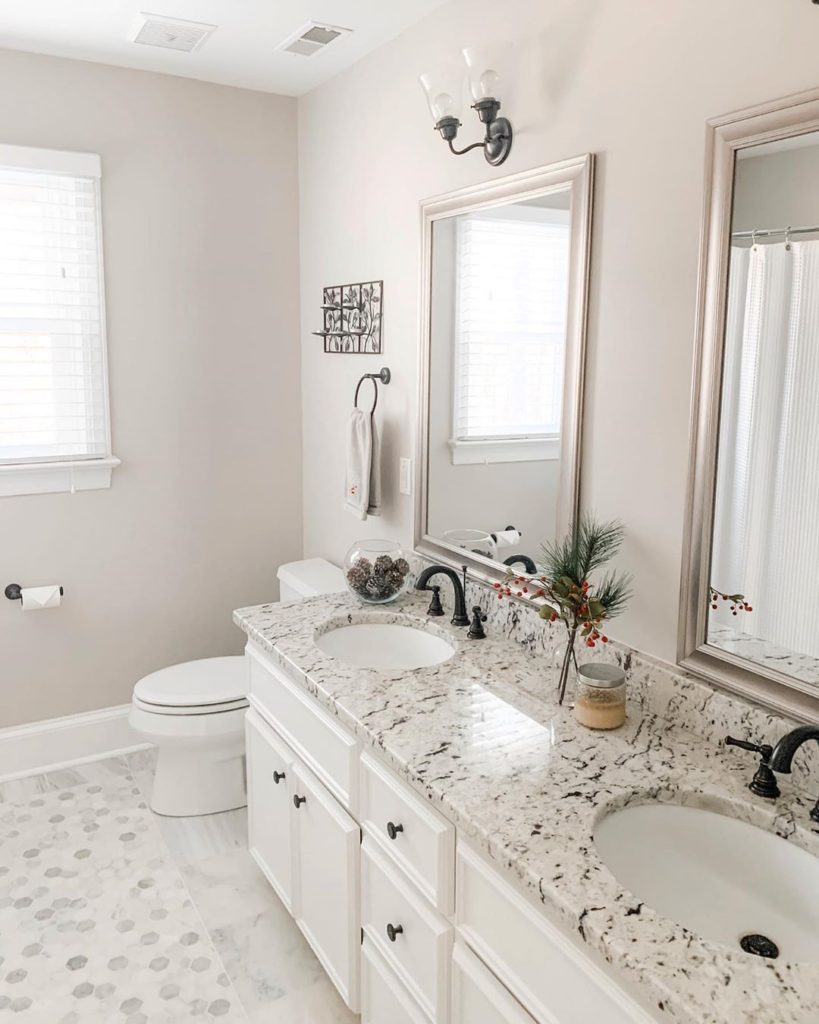 The white cabinets in this space look great with all the layered neutral colors in this space. Check out the contrast against the busy pattern of the marble countertop they give off.
8. A Large Cabinet in a Shiplap Space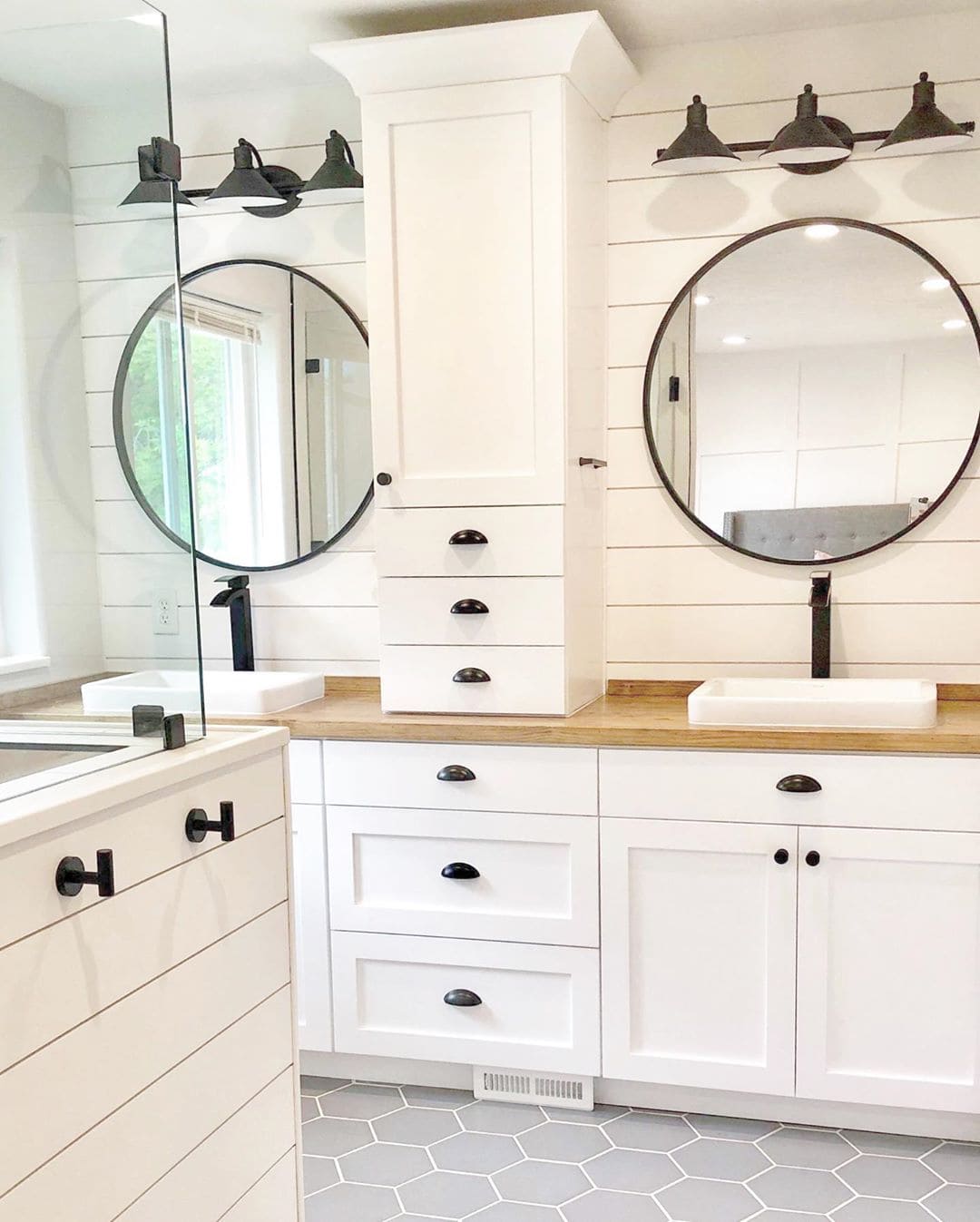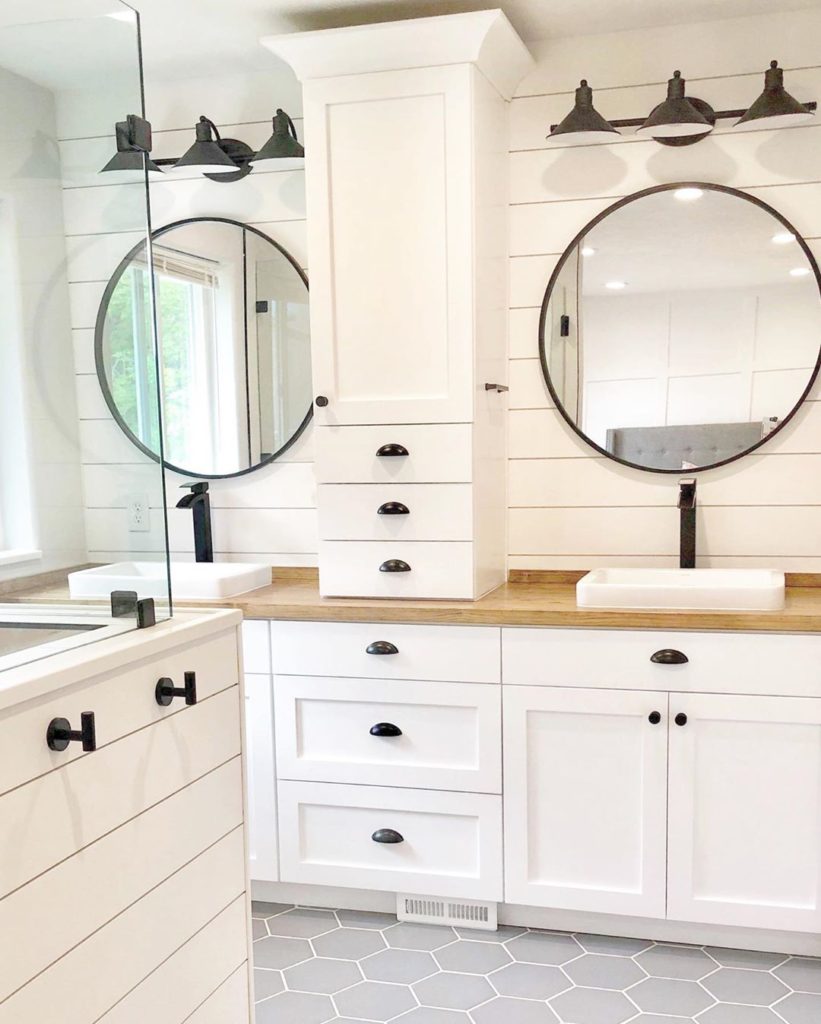 A great place to put a bathroom cabinet is right between a his and hers vanity. Everyone gets easy access to a large space.
The gray tile elegantly contrasts the soft whites use throughout the shiplap walls and cabinets.
9. The Ultimate Glam Station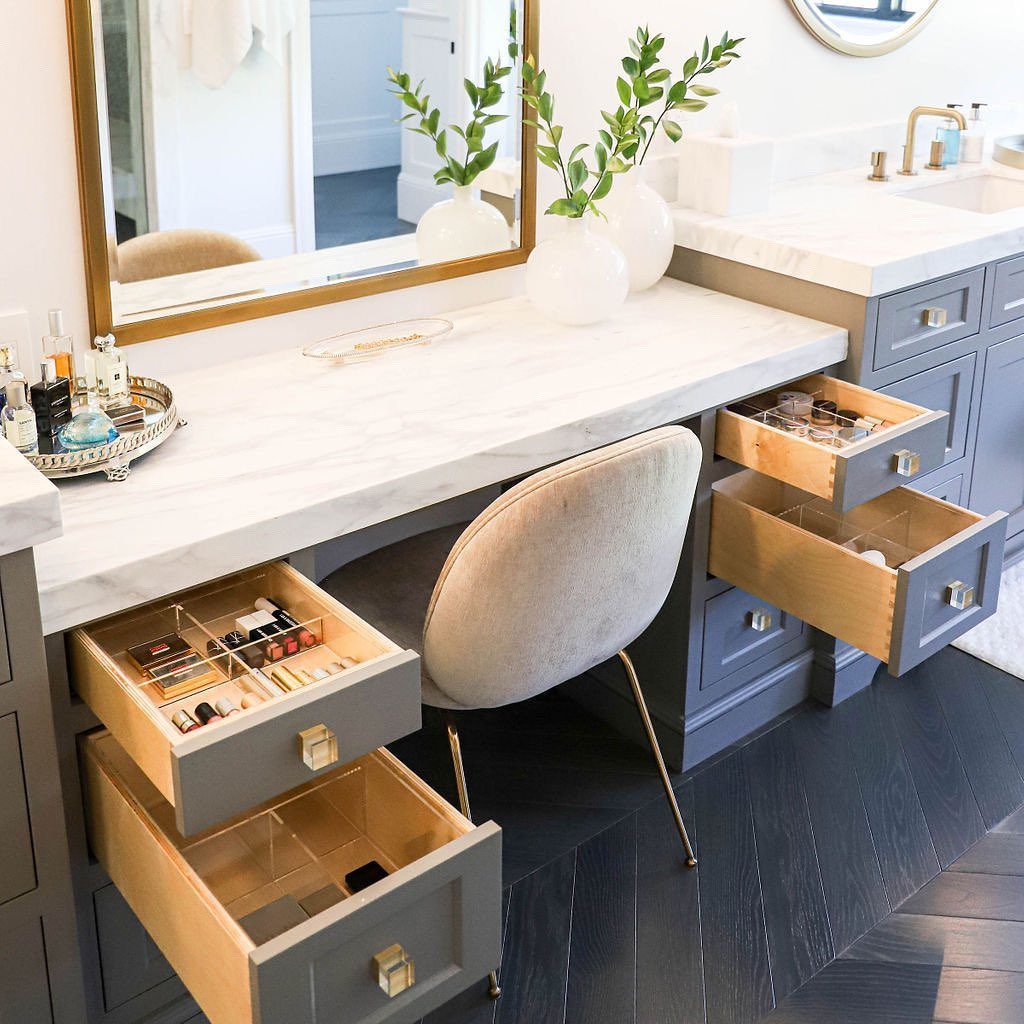 What better use of bathroom cabinets than to make a glam station? These acrylic separators in these cabinets make it super easy and convenient to get organized.
10. A Space White Vanity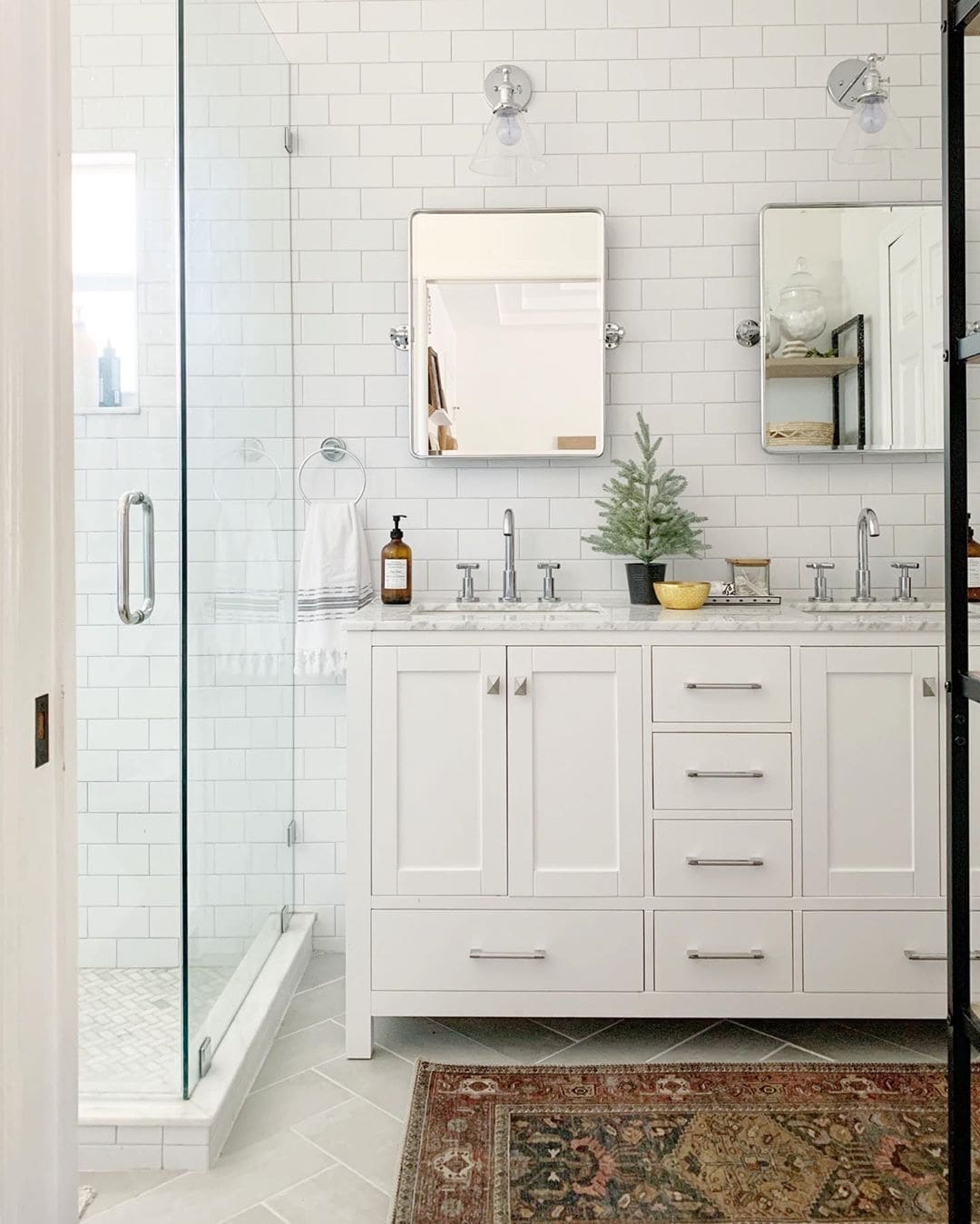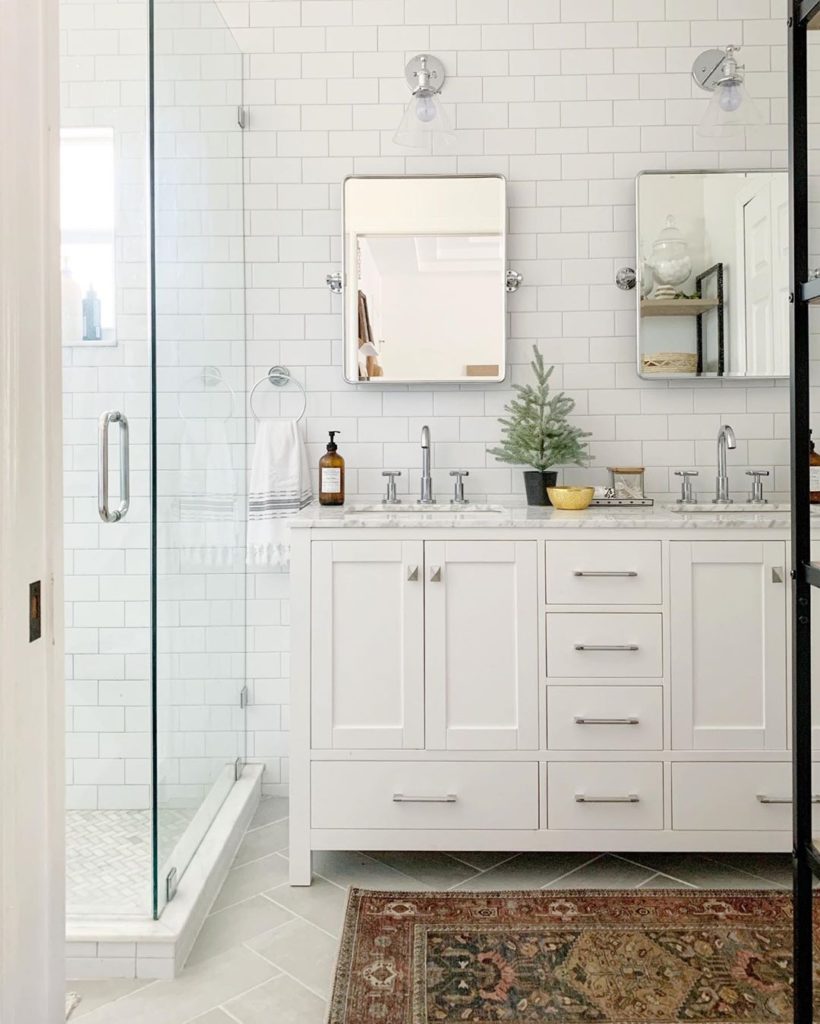 I really enjoy the look of subway tile white a light grout. It's relaxed but still lends that extra bit of texture to really make a space feel complete.
The white cabinets stand out against it. Check out how much space these have for storage.
11. Farmhouse Style White Shutter Cabinets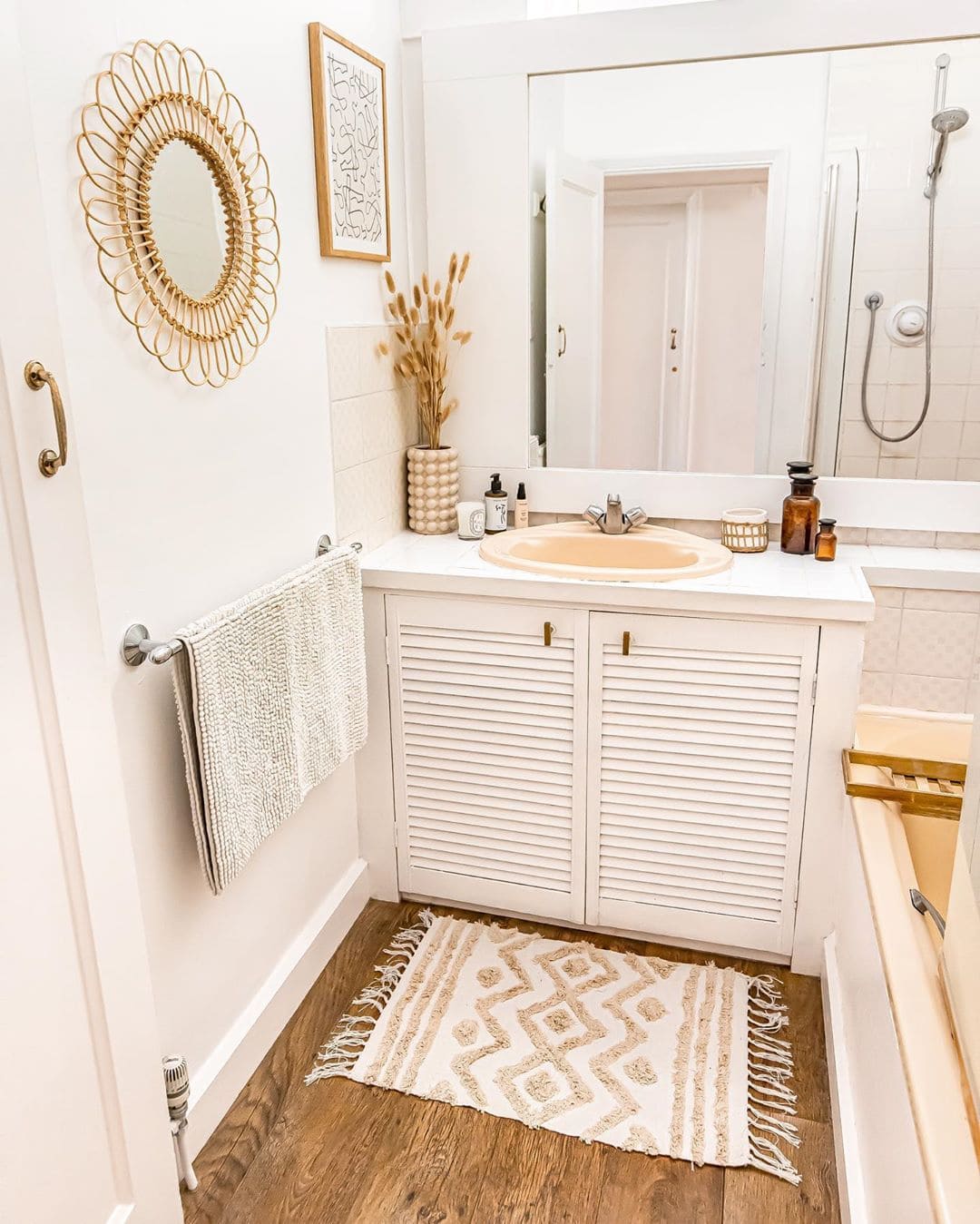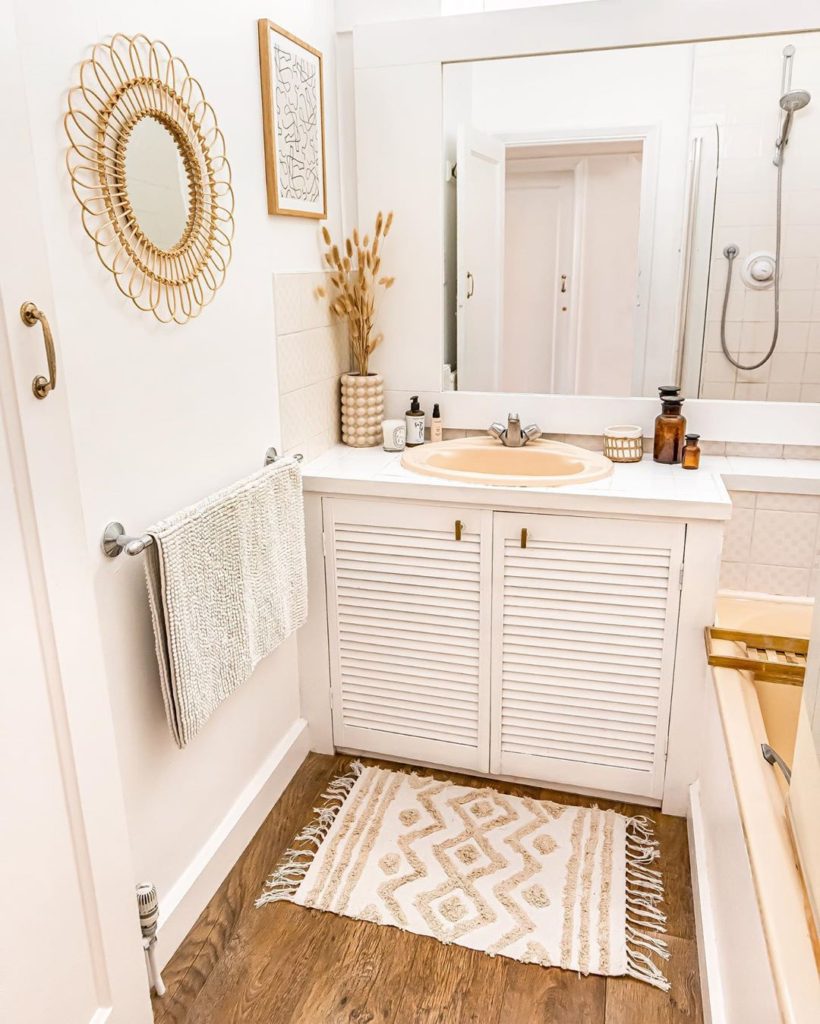 A small bathroom space comes alive with homey, organic details. Cabinets with shutter style doors add to the variety of interesting textures seen here. Shutters are always a good choice for a farmhouse or cottage style interior.
The different elements in this bathroom are united by a color palette of warm neutrals like white, cream, and sand. Touches of natural gold echo throughout the space, from the cabinet handles to the sunburst mirror frame.
12. Wood Cabinets with a Modernist Edge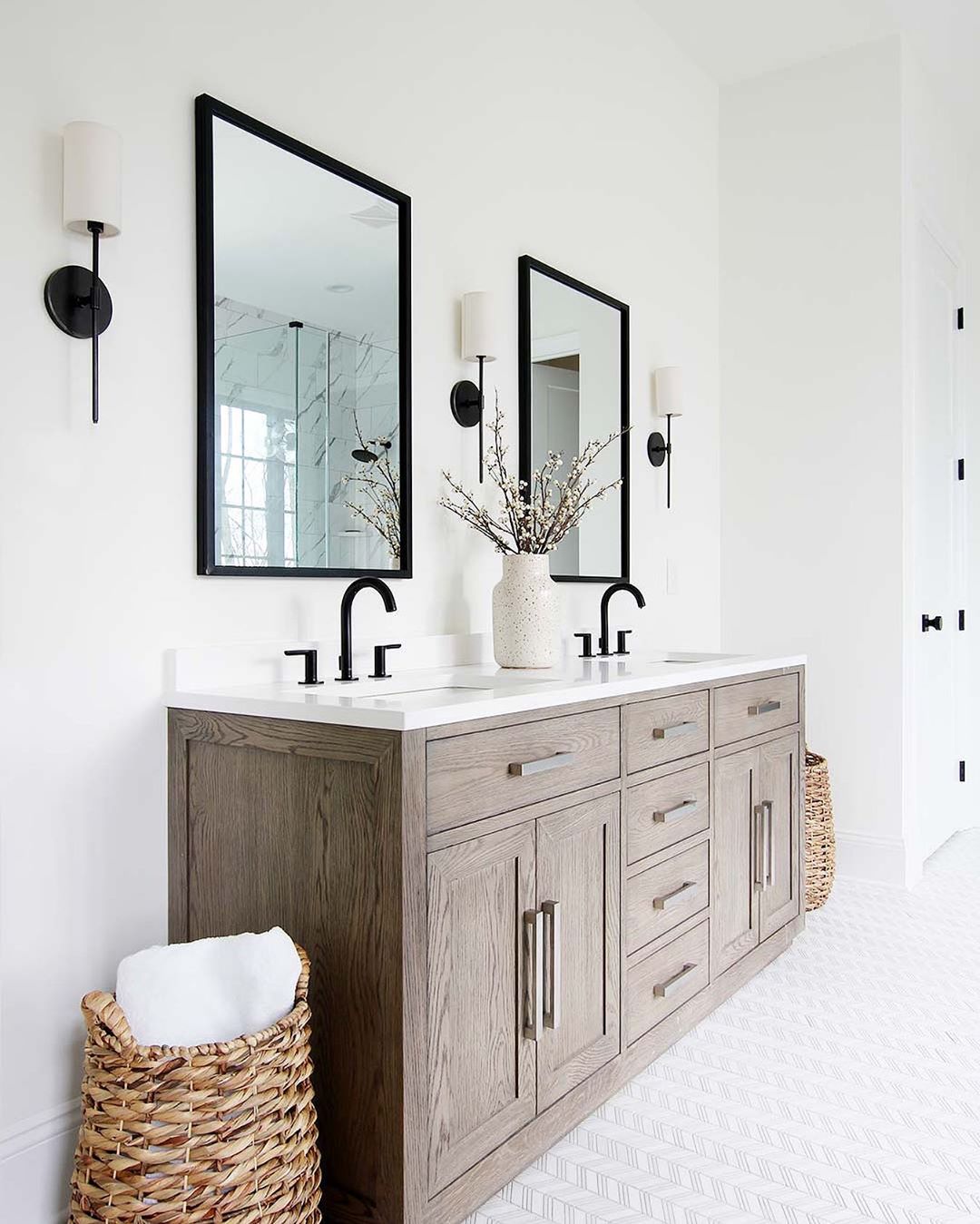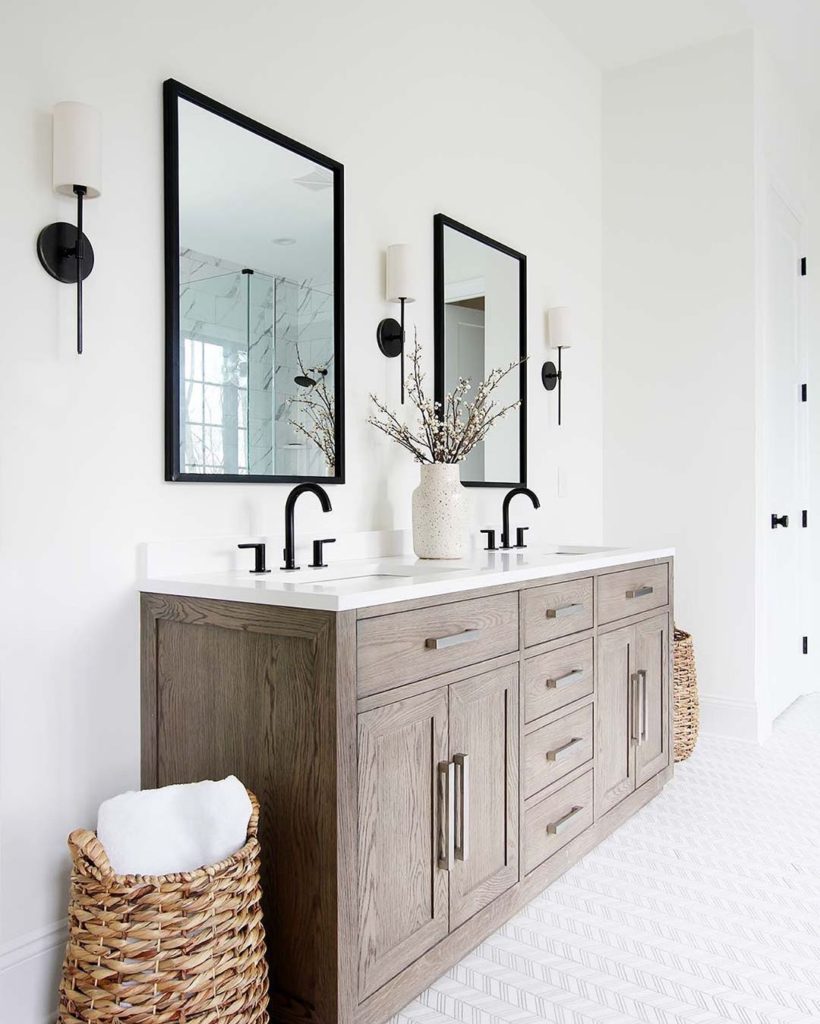 In a large, airy bathroom, you have plenty of space to mix classic with modern. On one hand, you have the stark white walls and the precise geometry of identical rectangular mirrors and circular wall lamps.
Contrast that with large woven baskets and a spray of flowers in a jug. The cabinets follow suit. Their clean lines and industrial metal bar pulls offset an irregular wood grain.
13. Quirky Chic Mismatched Space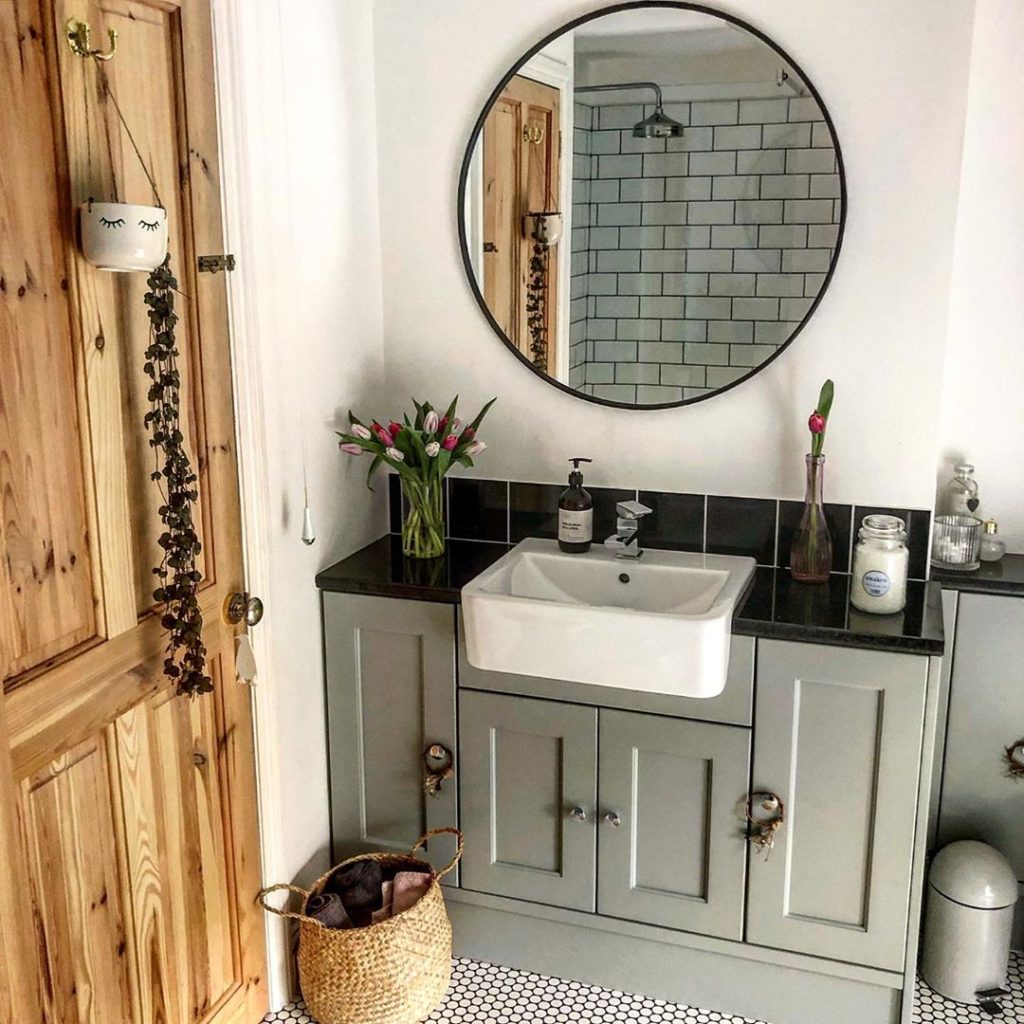 "Cute" is not often a word we associate with bathrooms. But this setup–complete with tulips and an artsy hanging planter–is simply adorable. The trick is to mix and match. Dove gray cabinets support a glossy black counter and a white sink.
Don't forget about the small things. The tiny beehive floor tiles and miniature wreaths on the cabinet knobs are perfect details for fairy tale bathroom.
14. Spacious Double Sink Wood Cabinets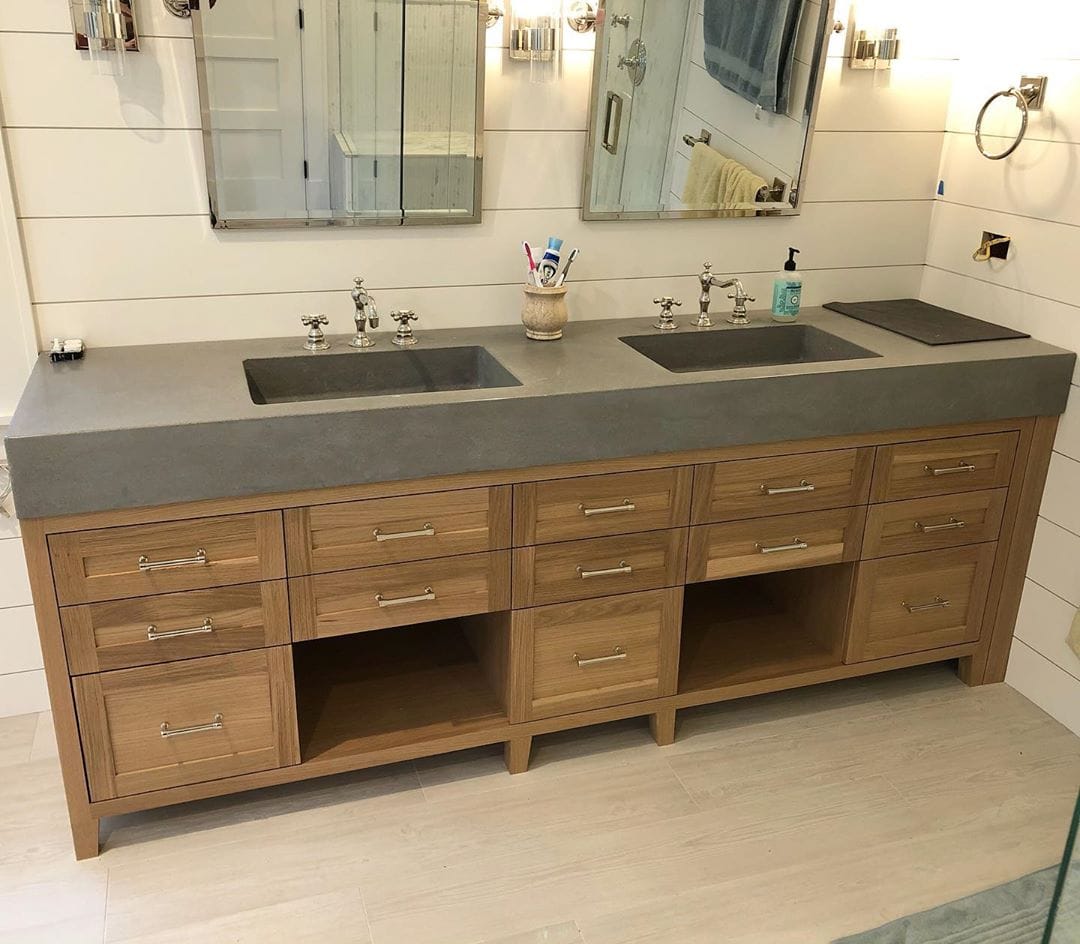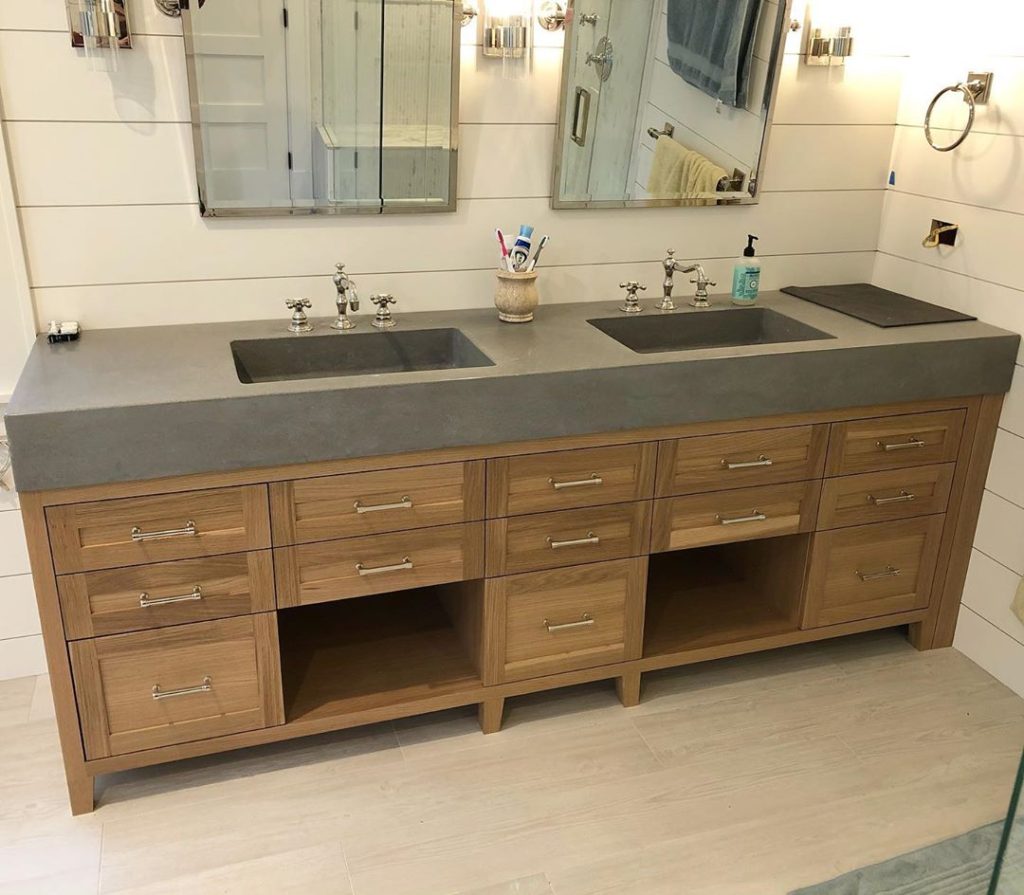 Big families, look no further. Just count the compartments on this expansive bathroom setup. Empty sections allow for even more storage beneath the wide, practical drawers.
We often color our bathrooms in shades of white or pale blue. But this refined light brown wood won't show stains as easily. It will retain its sophisticated appearance, emphasizing high quality craftsmanship.
15. Sleek Cabinets in Bohemian Bathroom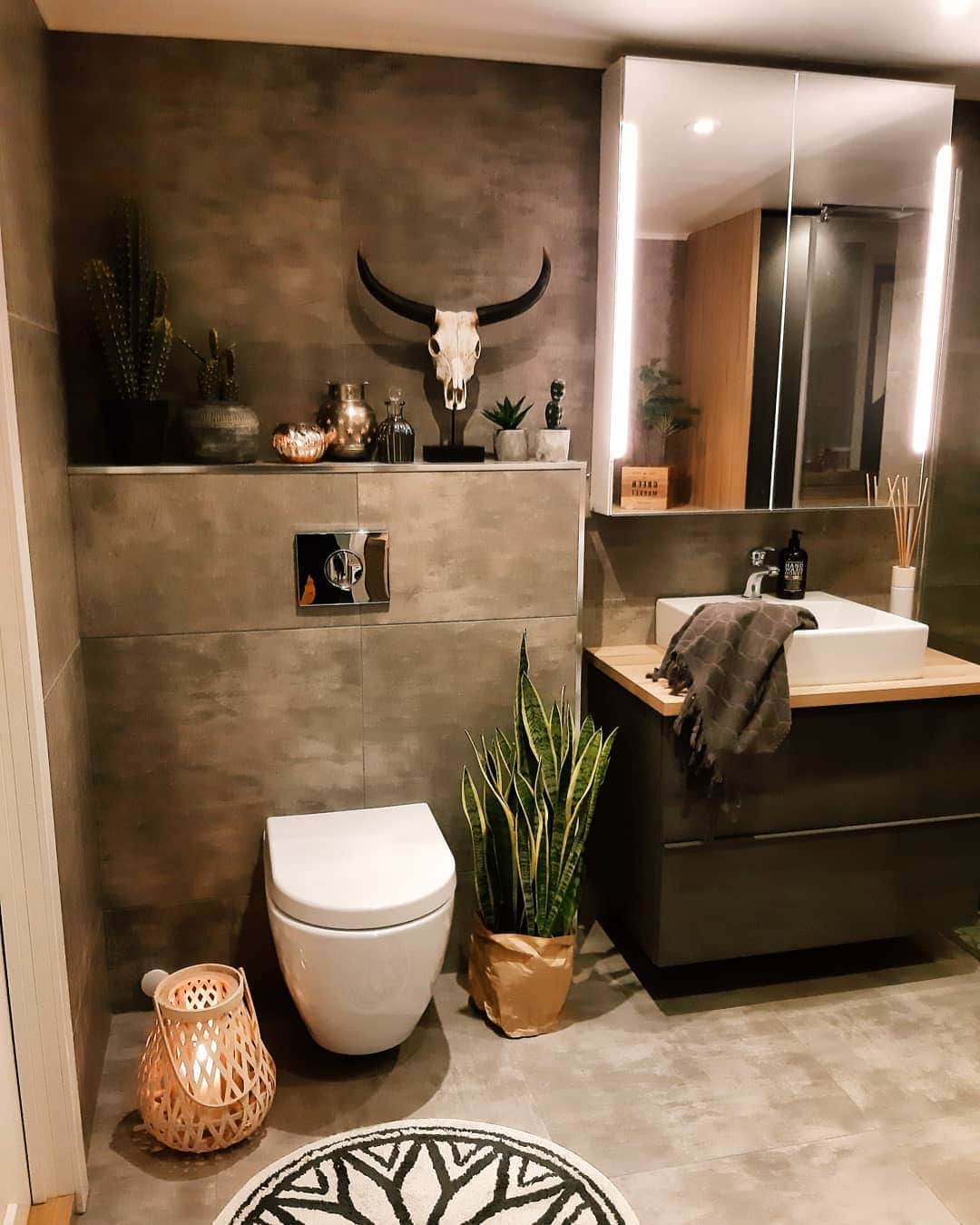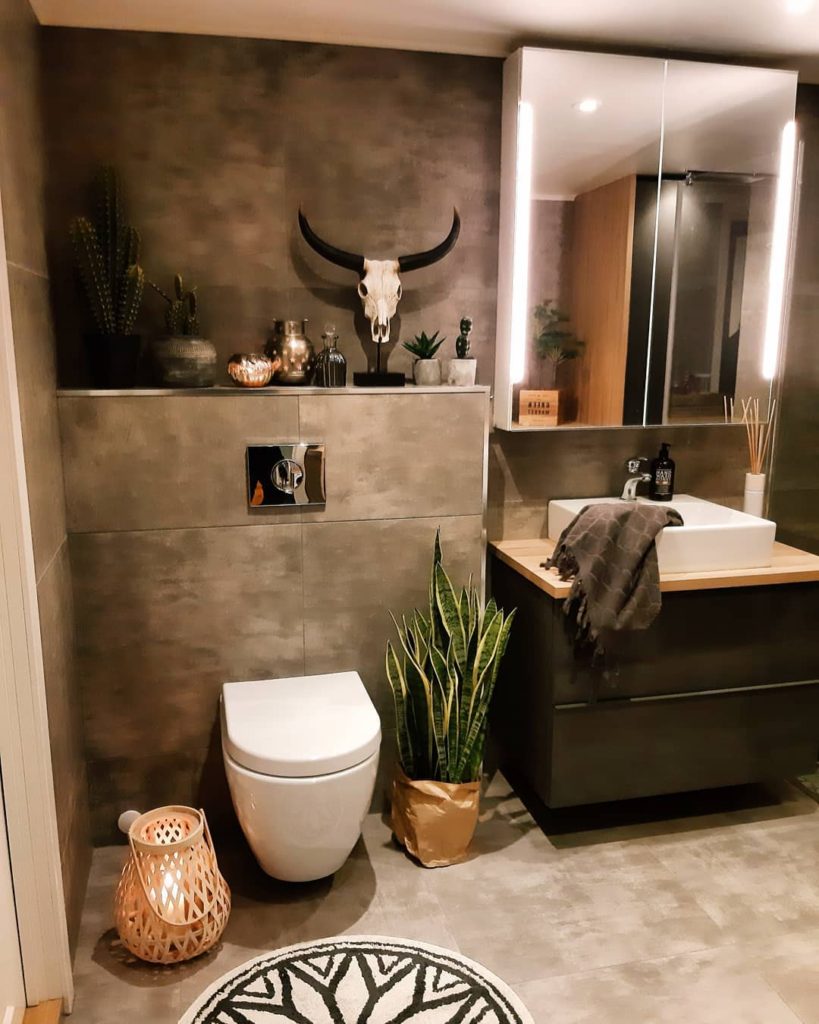 Bathroom design doesn't have to be boring. And it definitely doesn't have to be ocean-themed. This Southwestern desert futurist vibe is undeniably unique. Under the trendy vessel sink, the black drawers are practically invisible, creating the uber-modern illusion of a seamless cube.
The shape of the cabinet fits with the general "flow" of the room for a visually pleasing effect. Of course, the cacti and neon lights don't hurt.
16. Elegant White Cabinets with Wardrobe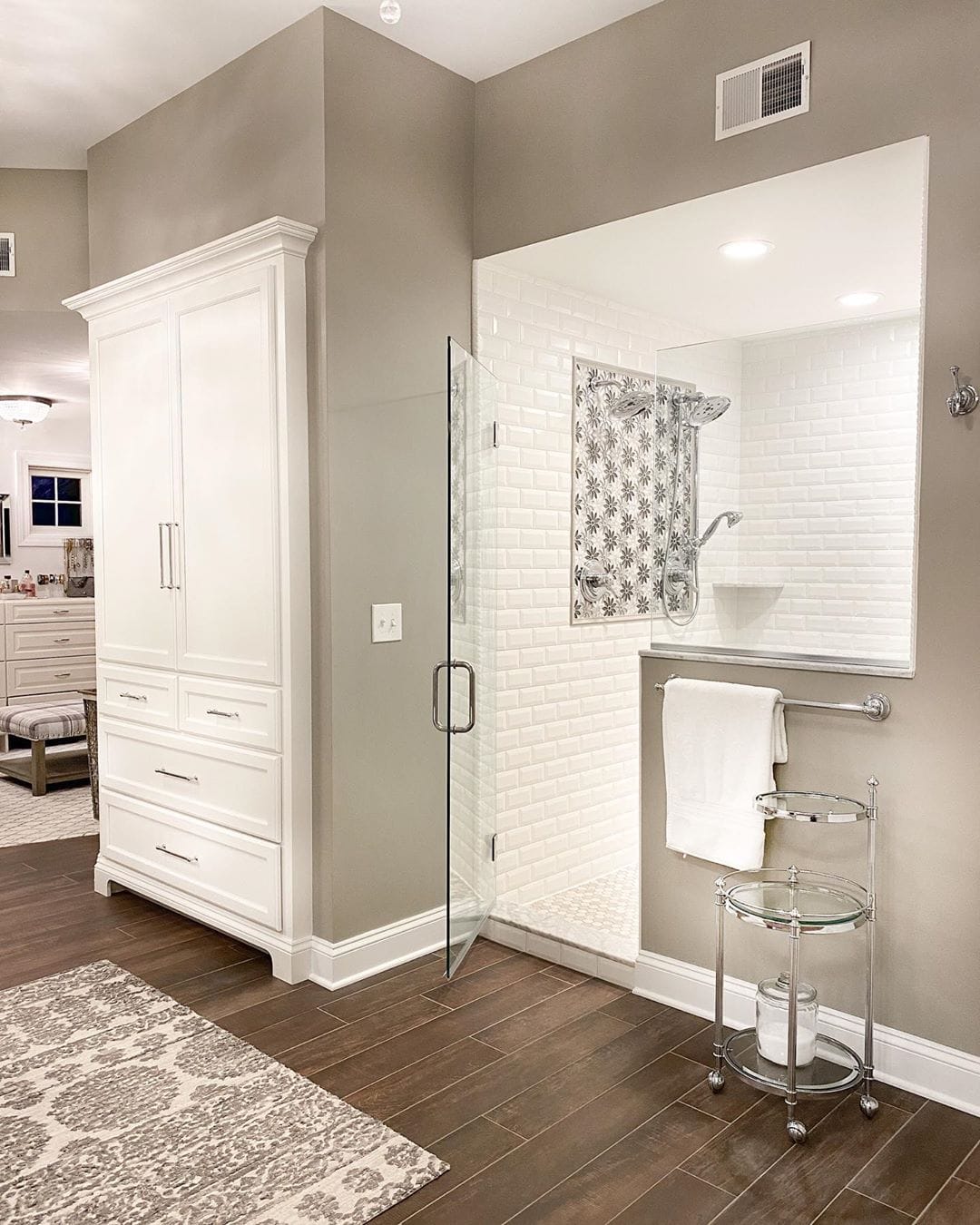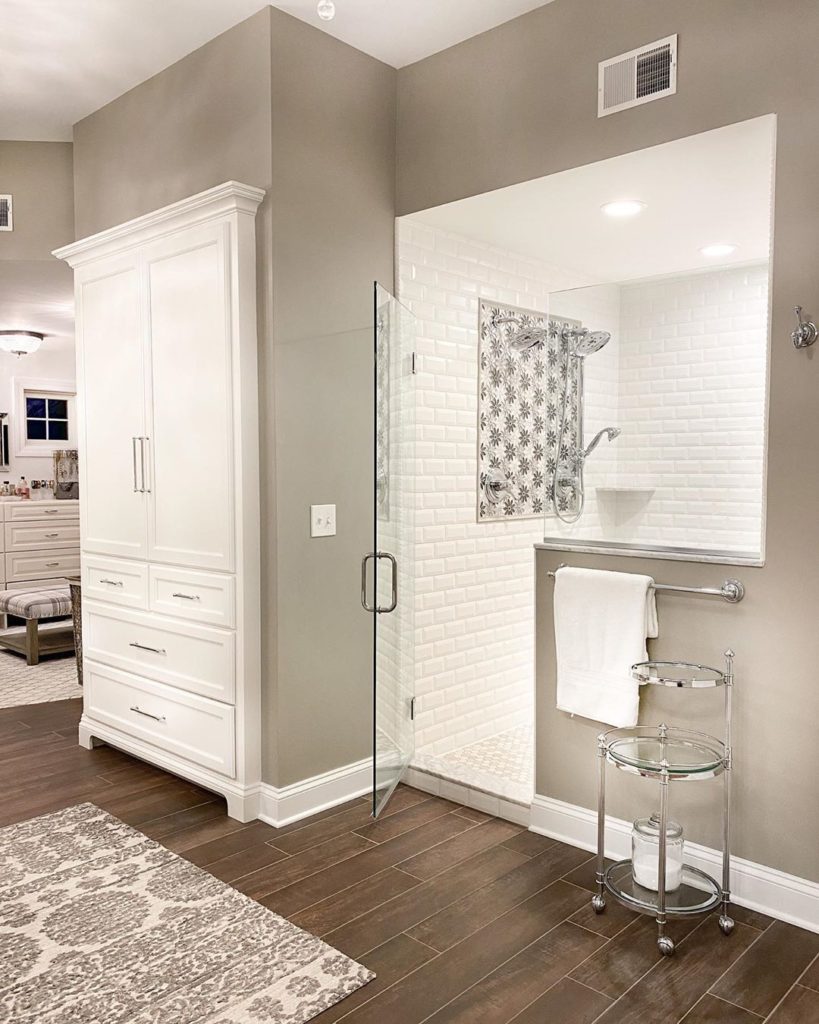 Sometimes the sophistication of bedroom decor translates easily to the bathroom. Take this tall, stylish set of built-in drawers. It includes a wardrobe-style cabinet at the top. But the true genius of this setup is how the cabinet blends into the wall trim. The crisp white also matches the shower's brick interior.
It complements the gray walls and silver accents. An old-fashioned style cabinet like this one gives your bathroom a dose of southern charm.
17. Tall Vintage Style Wooden Armoire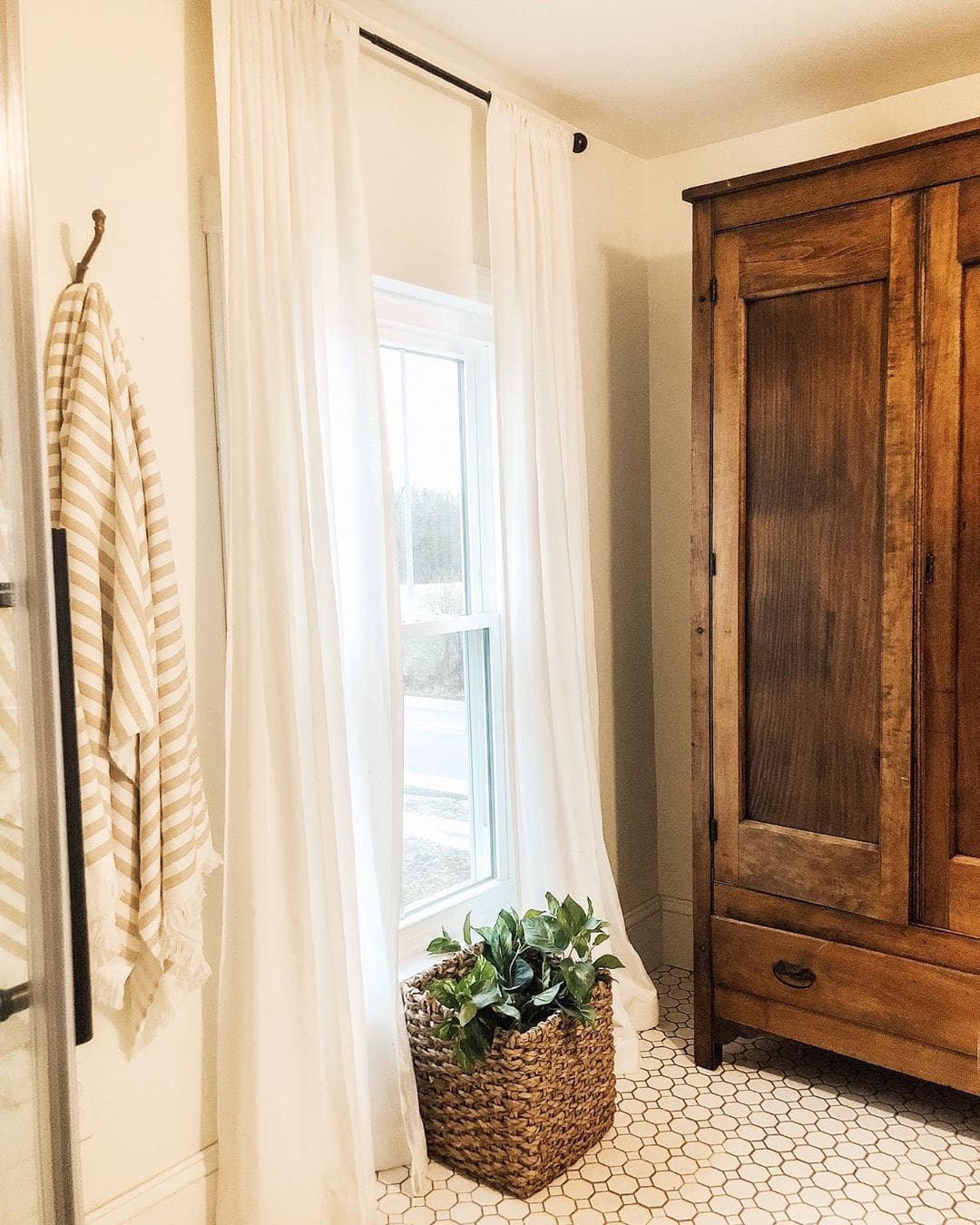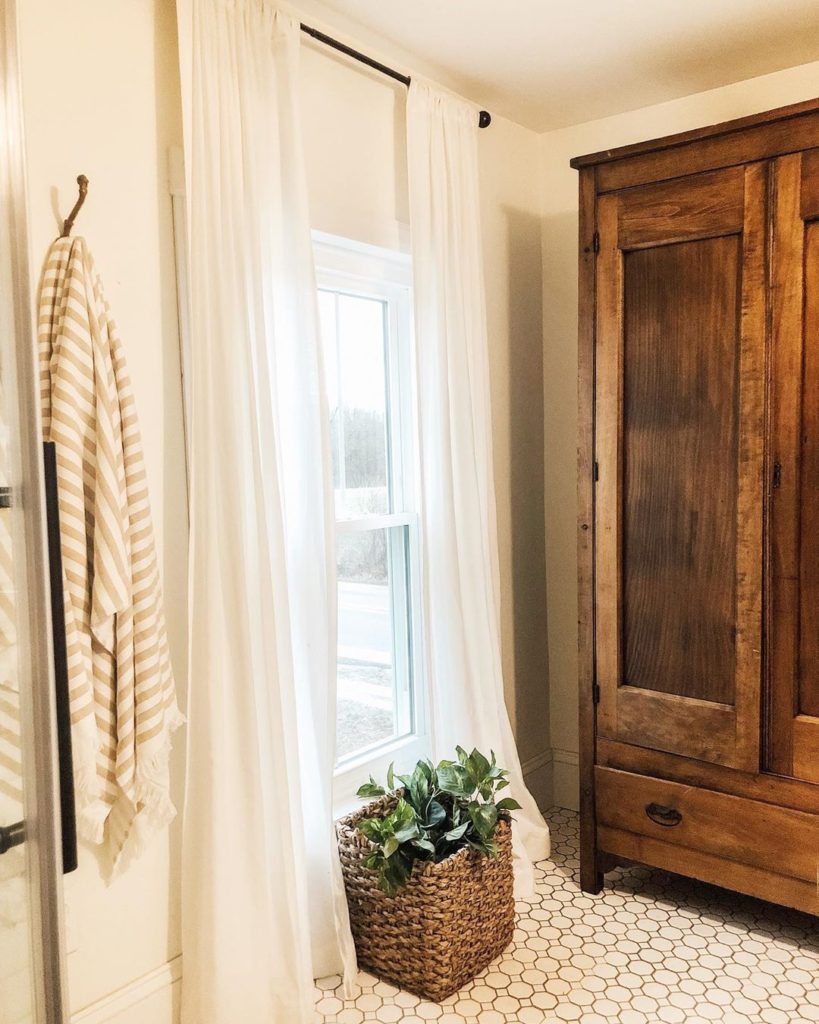 We often treat bathrooms as purely utilitarian places. We may put less effort into designing a truly beautiful space in which to brush our teeth. But bathrooms can be whimsical, too. The washroom could be the perfect home for a striking piece of furniture.
This vintage freestanding wardrobe offers a lot of vertical storage space. It doesn't look cumbersome in the cream-colored bathroom. Long, gauzy white curtains add to the throwback appeal.
18. Clean Simple White Vanity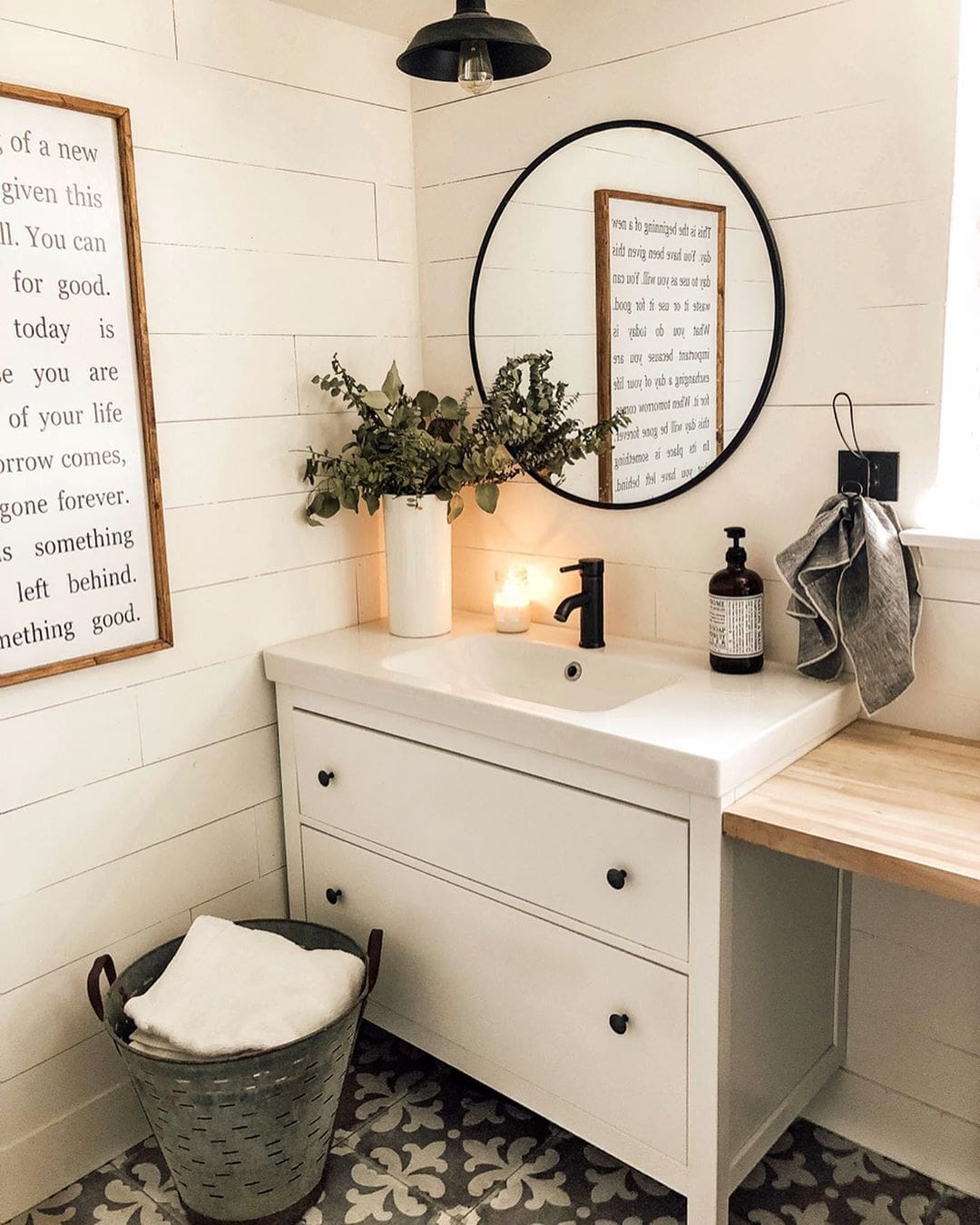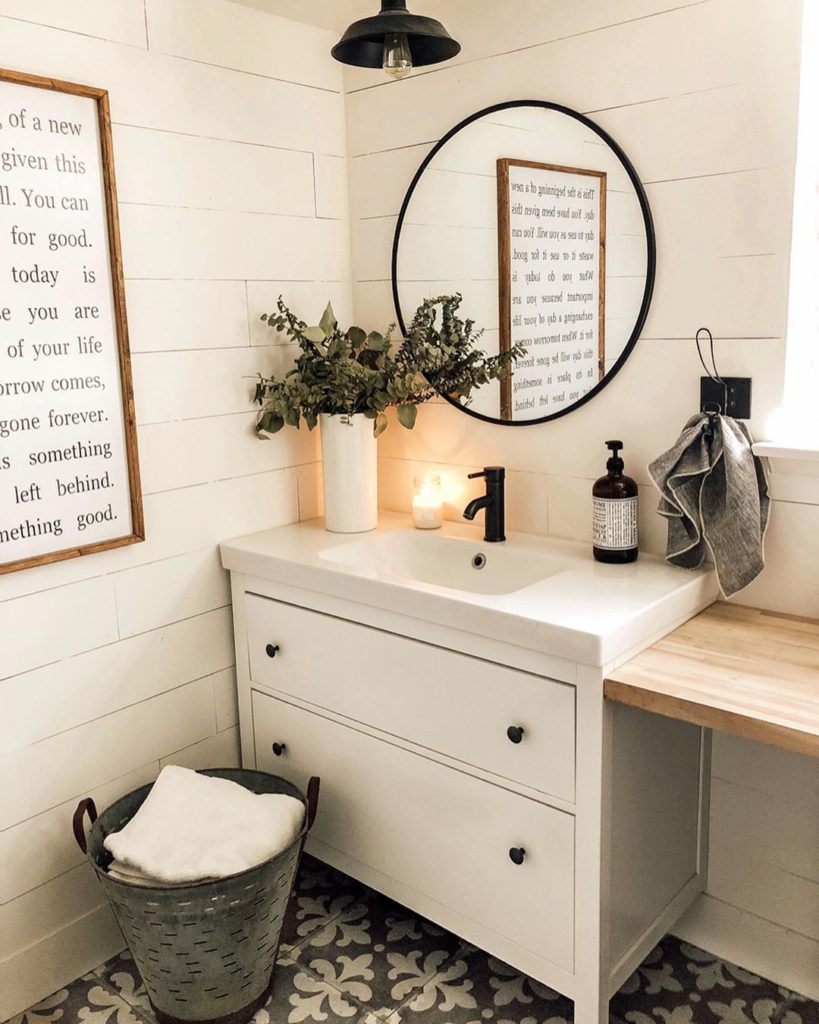 The essence of the modern farmhouse trend is simplicity. White shiplap on the walls. A bare metal faucet and mirror frame. A candle in a Mason jar. A readable quote framed in simple wood. Everything facilitates a sun-filled, calming space.
These cabinets are wonderfully understated. Sometimes two large drawers are all you need. The white color harmonizes with the walls and sink. This minimalist vanity is anything but vain.
19. Black Cabinets Look Luxe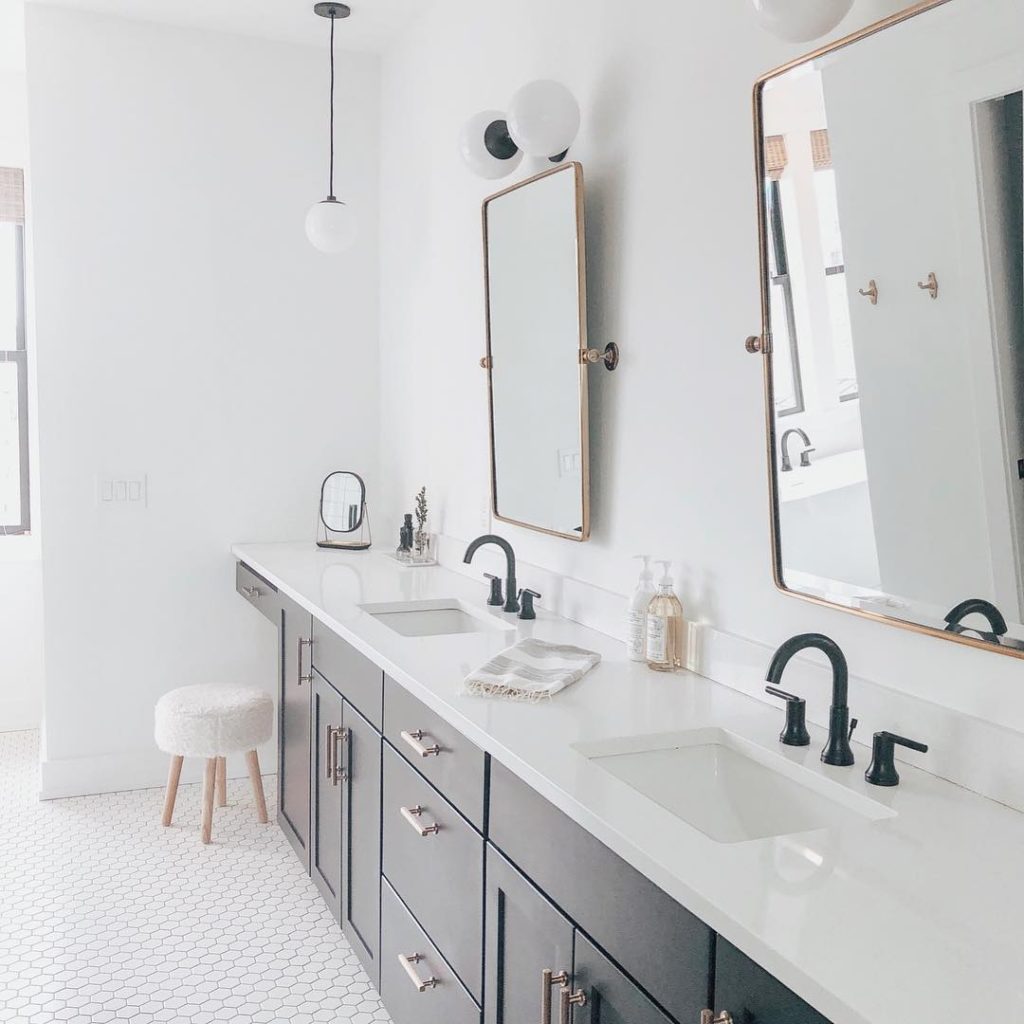 Black cabinets elevate the appearance of this double sink vanity. Because the rest of the room is pure white, the satiny black drawers pop. Golden drawer handles match the elegantly rounded mirror frames. These subtle nods to glamour do not overwhelm the space.
People flock to black furniture because it conceals mess. But it also looks luxurious, especially when placed in an all white room.
20. White Cabinets in Mixed Material Space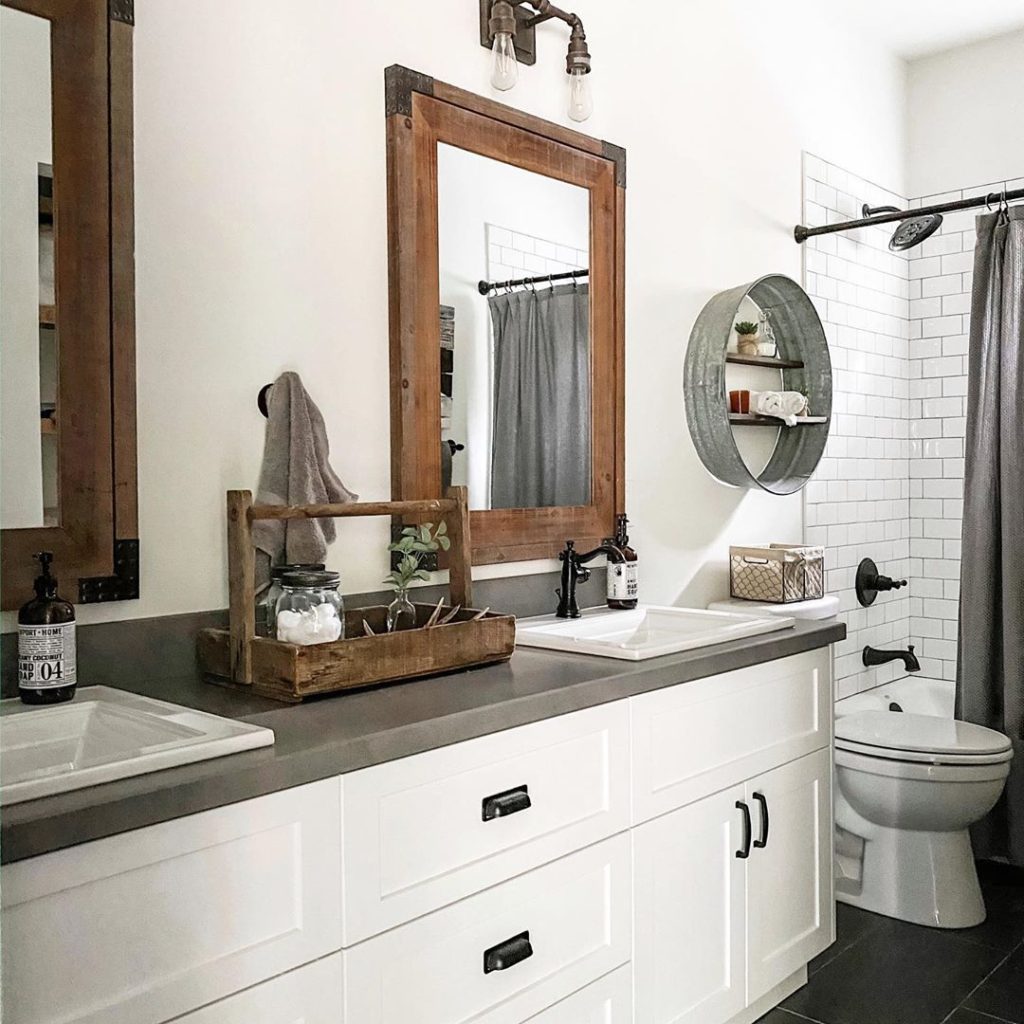 White is a nice basis on which to build a bathroom. The white cabinets, walls, and shower are the foundation of the modern washroom. Add interest with rugged wood mirror frames and industrial-style wall lamps. From the shower bricks to the galvanized steel shelves, a range of rough-hewn textures can coexist on a white background.
21. Swanky Dark Wood with Gold Accents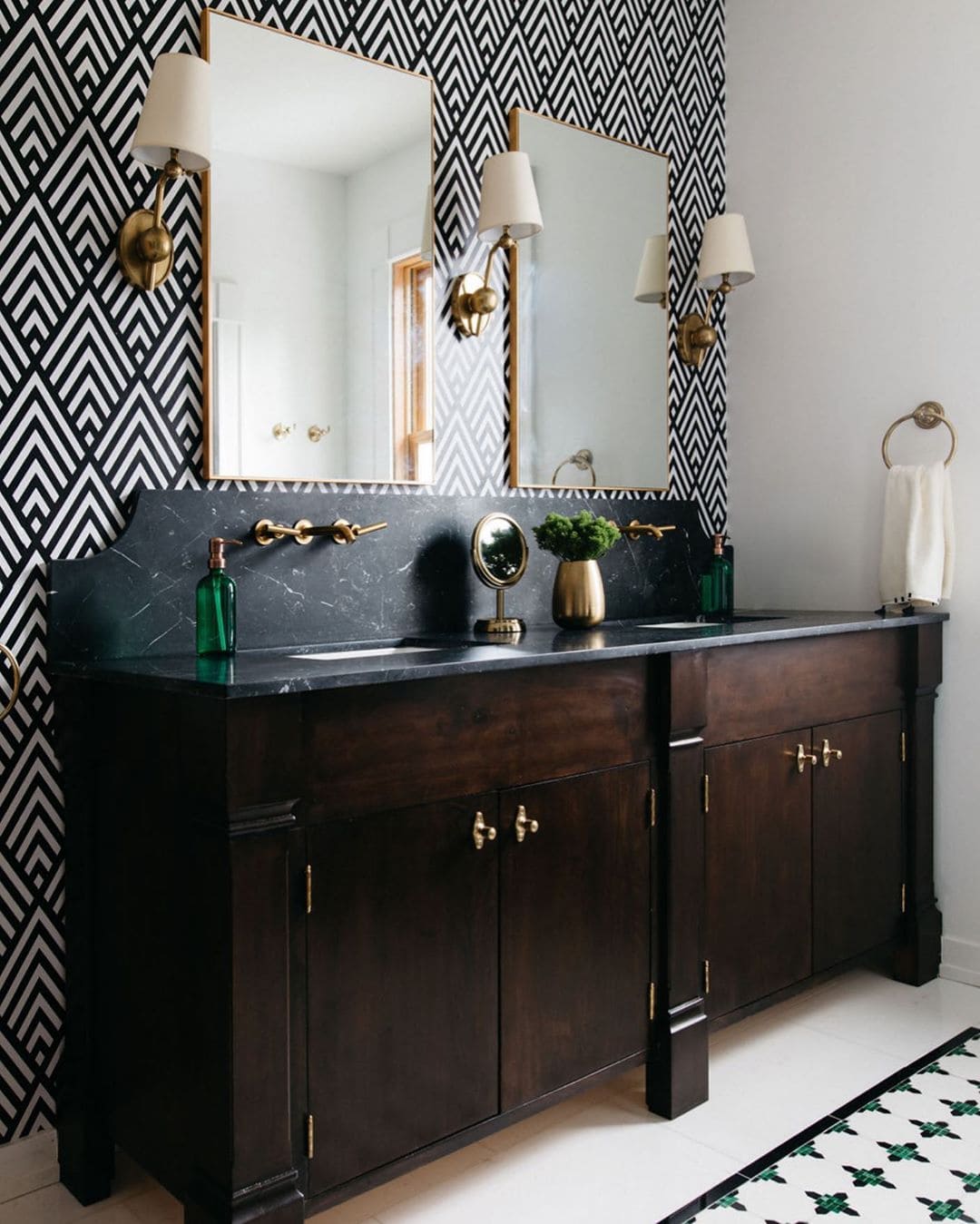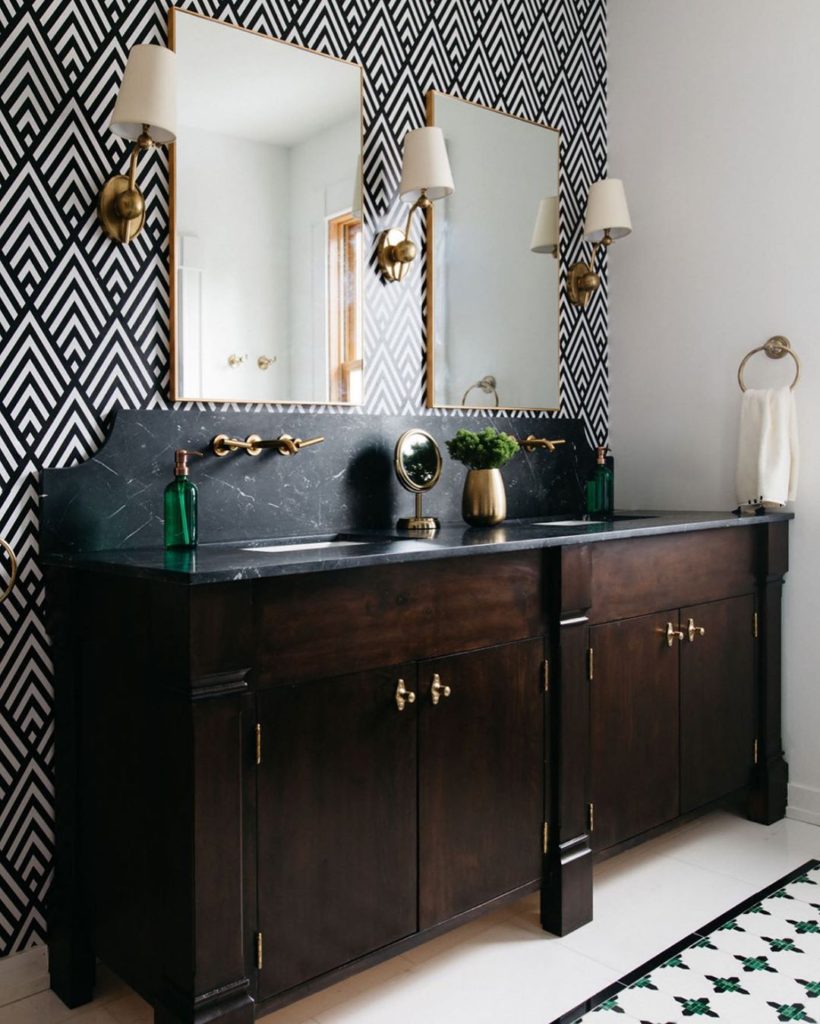 This bathroom exudes mid-century tropical glam. A dark wood double sink vanity looks like a million bucks beneath a marble counter top. With its pillar-like legs and rich, deep brown color, this vanity has the beauty of an antique.
It complements the black designs on the Art Deco-style accent wall behind it. Little touches of gold are scattered throughout. The result is a bathroom that looks artistic but unpretentious.
22. Making the Most of a Narrow Space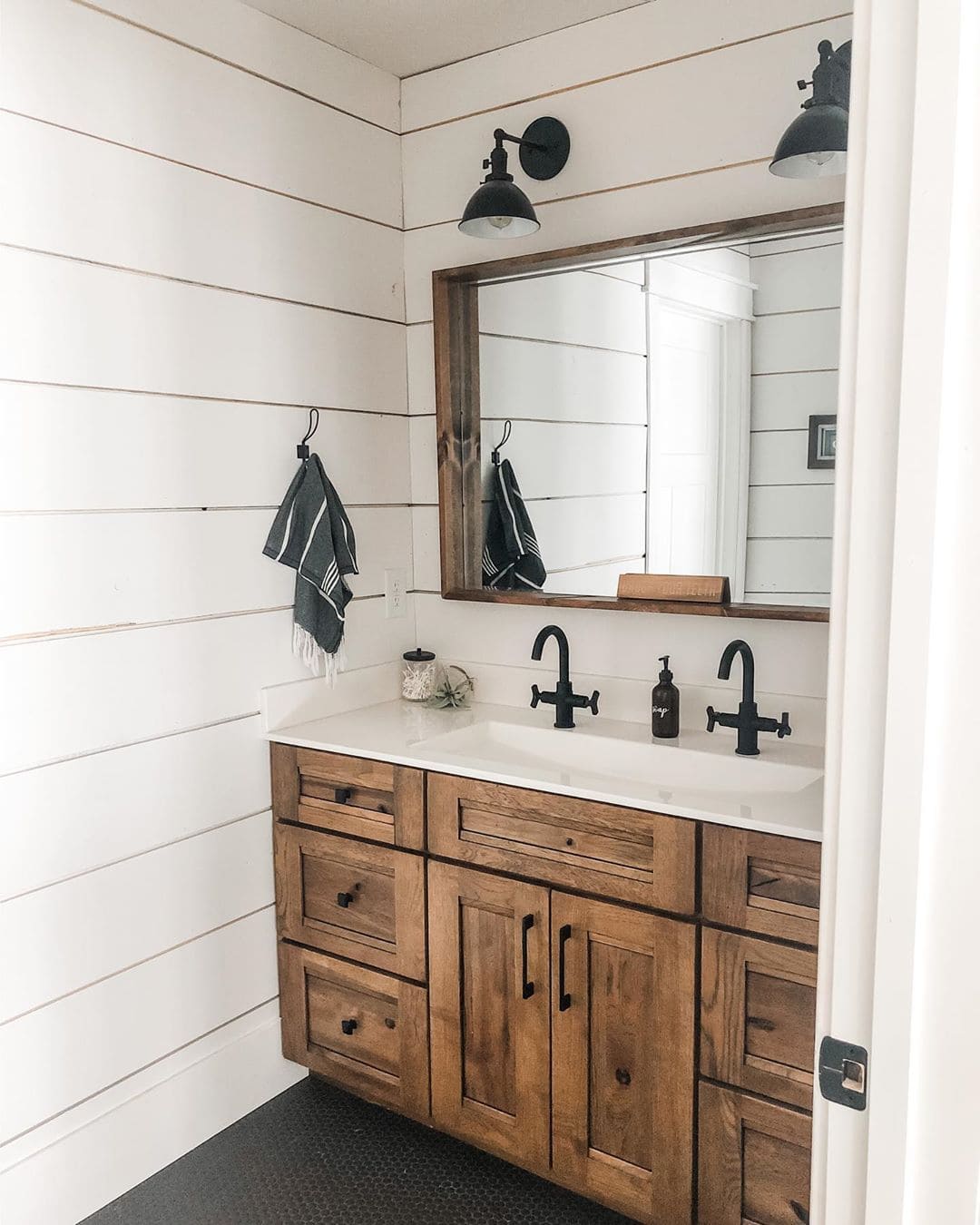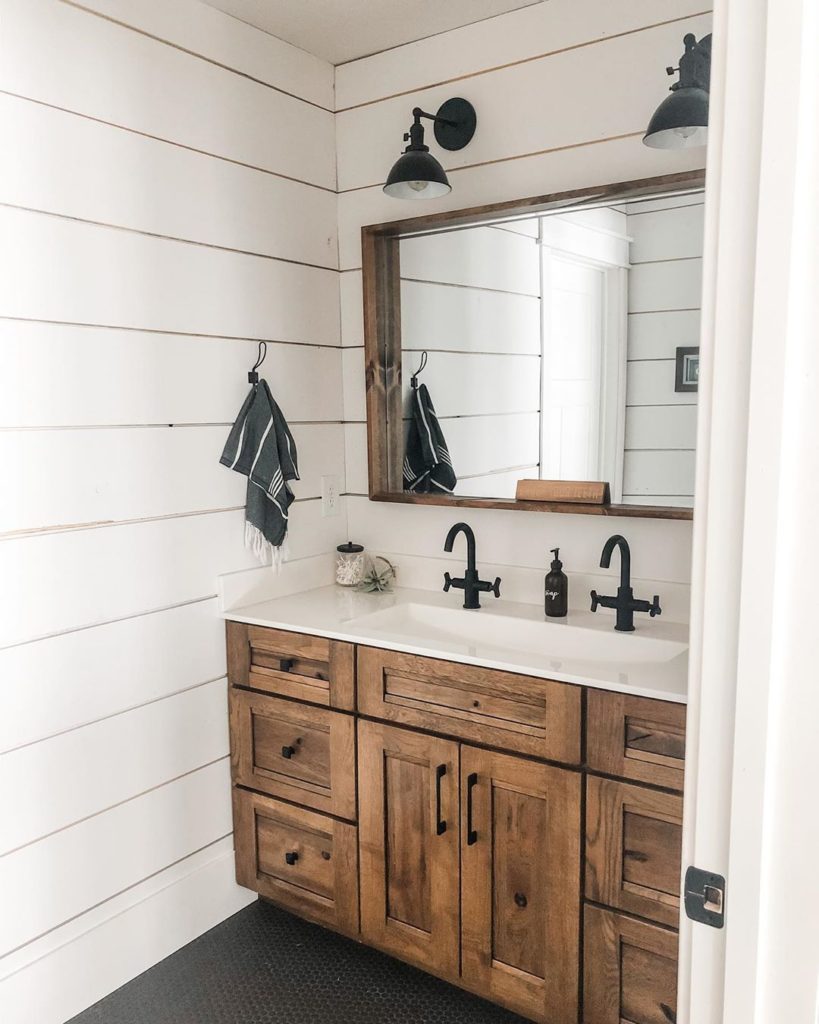 In a small area, the cabinets may dominate an entire wall. But that's not a bad thing. Cabinets made of farmhouse-friendly wood play up the cozy factor. Meanwhile white walls and a large mirror subtly make the room feel bigger. All of the wood and metal elements are coordinated. This keeps the space from looking crowded and chaotic.
23. Minimalist Monochromatic Bathroom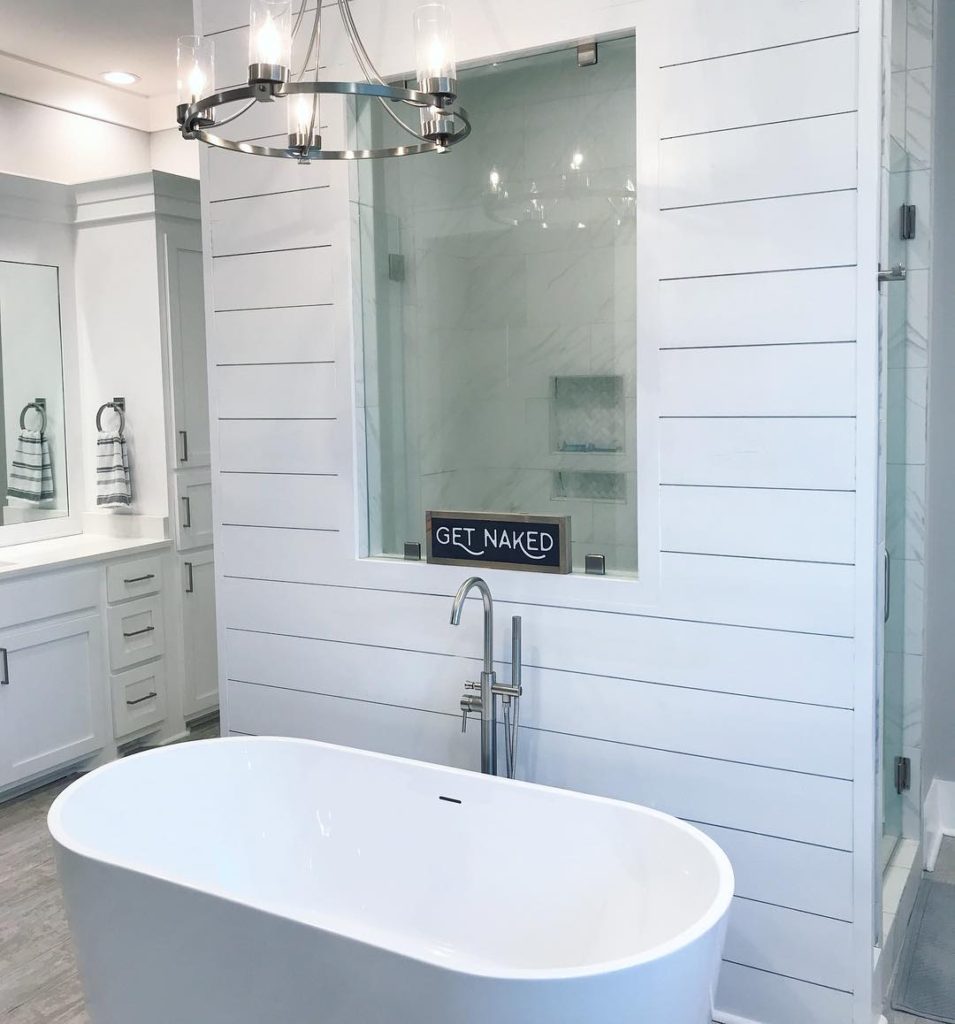 There's a reason we'll always love an all-white bathroom. It suggests cleanliness and simplicity. The monochromatic environment feels peaceful. And it suits a wide variety of interior design trends. This bathroom, for example, combines cottage charm with modern glamour. Cabinets and drawers of various sizes offer a range of storage options.
Their uniform white color lets them blend into the background as the shiplap wall and chrome chandelier take center stage.
24. Chest of Drawers with Character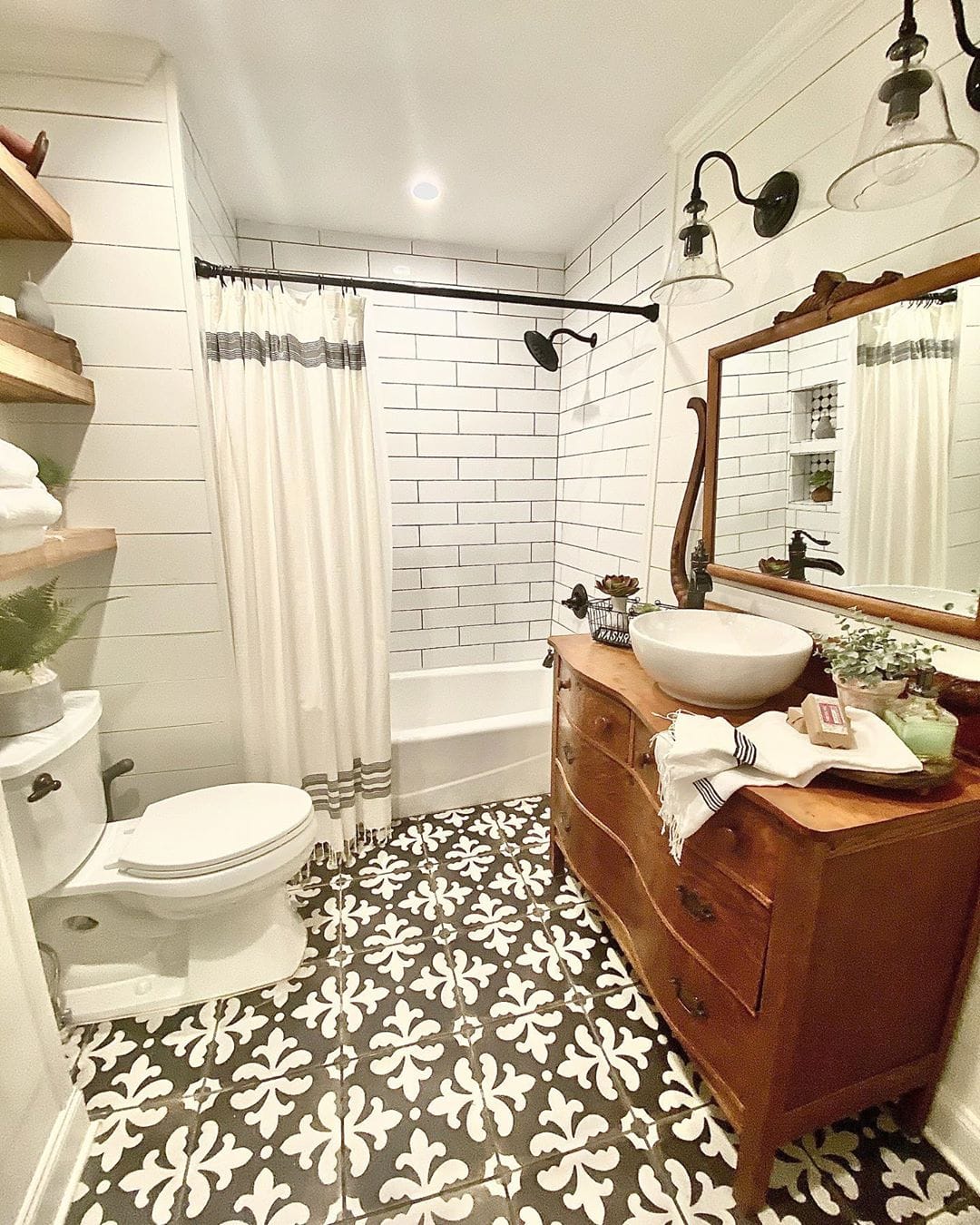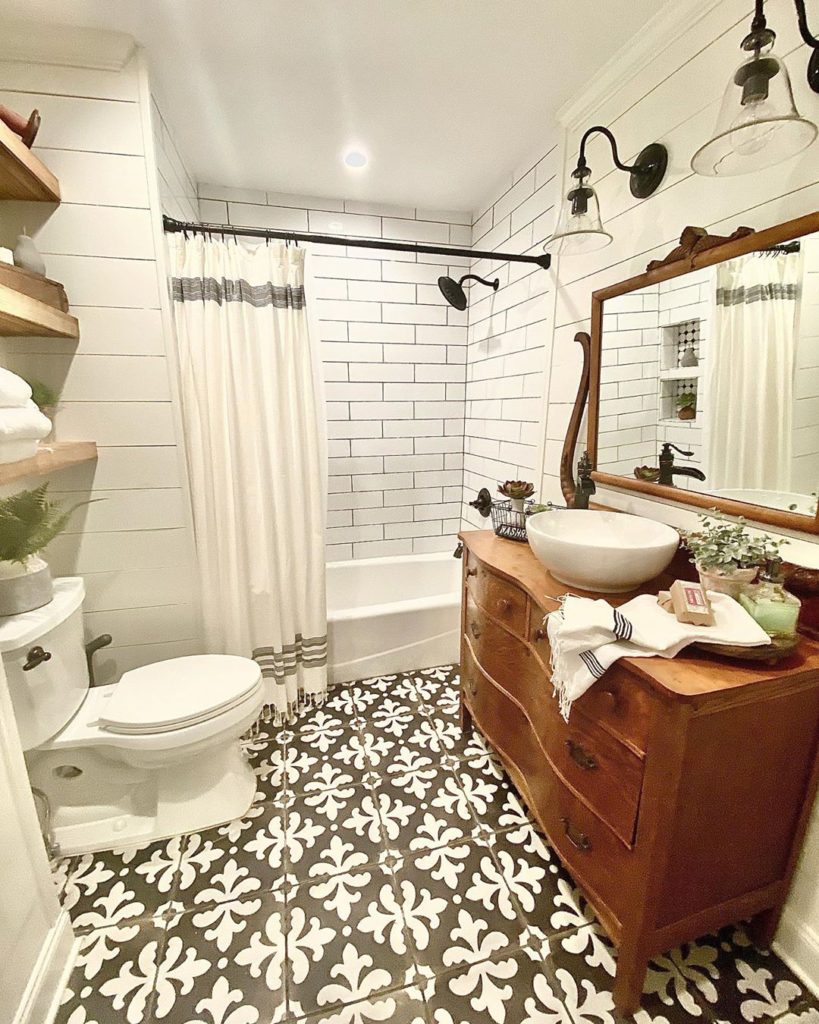 It pays to think outside the box. Many people would place this classic old chest of drawers (with attached mirror!) in the bedroom. But in this bohemian bathroom, the chest offers drawer space as well as shabby chic charm.
It transforms the simple bowl-shaped vessel sink into an eye-catching piece. And unlike sleek, glossy vanities, this wooden bureau is a natural platform for various potted plants.
25. Charcoal Cabinets Offset White Marble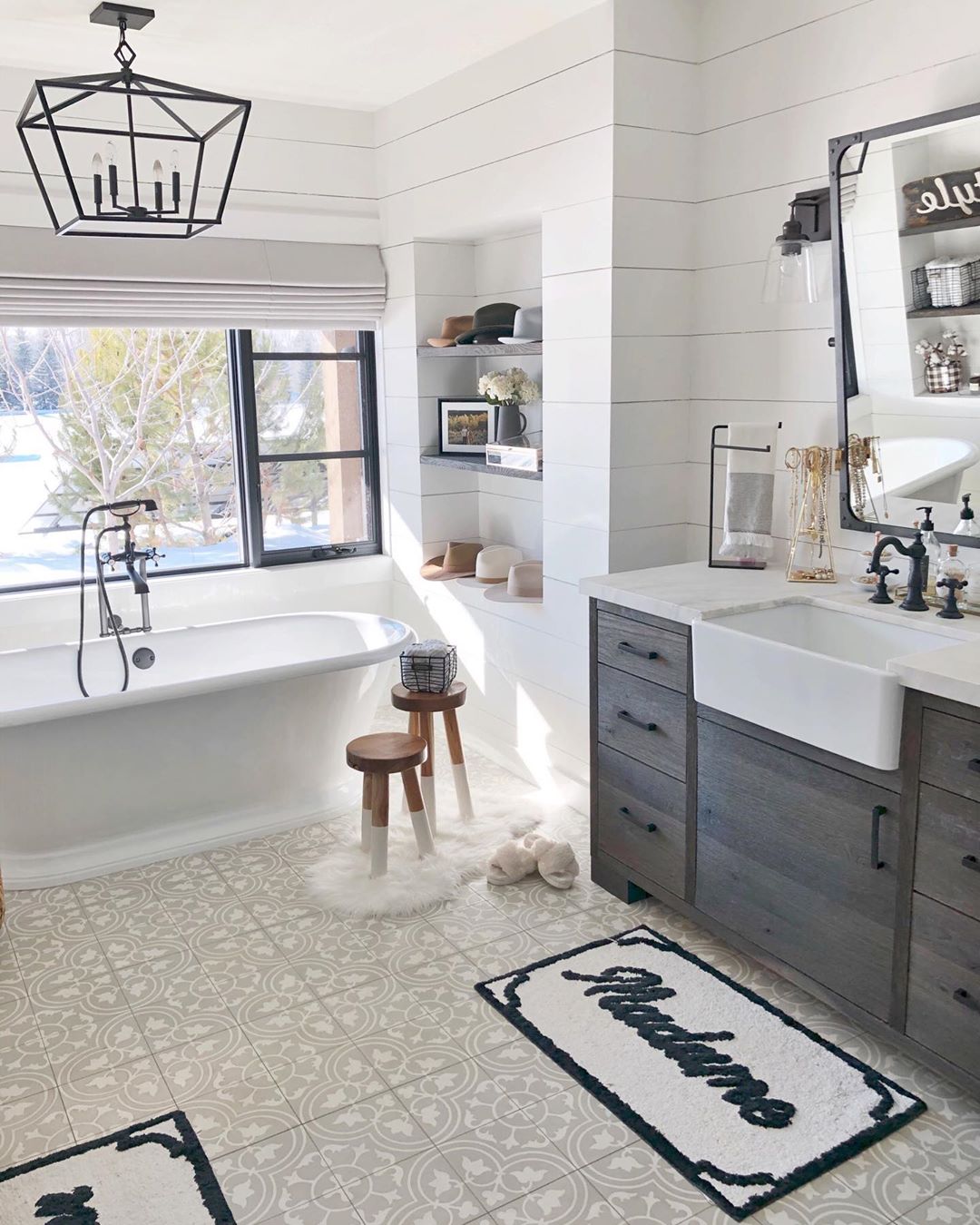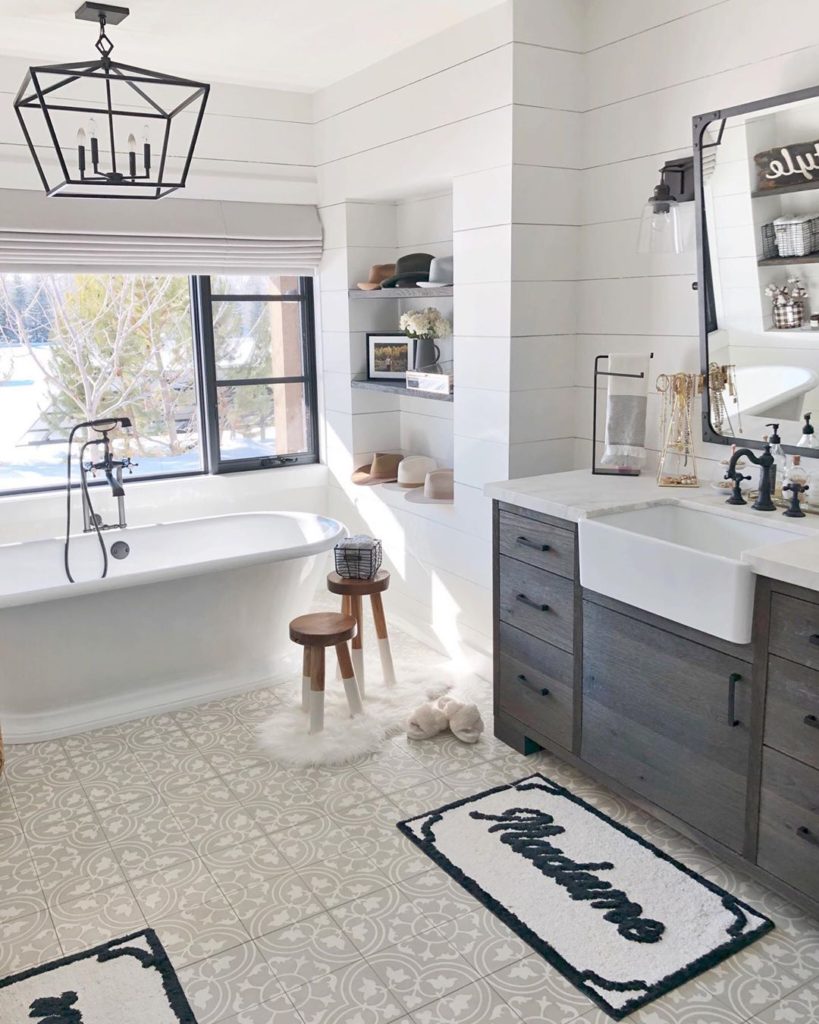 In a bathroom flooded with natural light, it's important to choose some darker pieces to keep the room from being surgically bright. This vanity boasts an alluring dark gray wood stain. The hue fits with the white marble counter as well as the lighter gray design on the floor tiles.
Cabinets and drawers are smoothly contoured around a deep basin sink for a shape that's both pretty and practical.
26. Contemporary Off-White Cabinet Space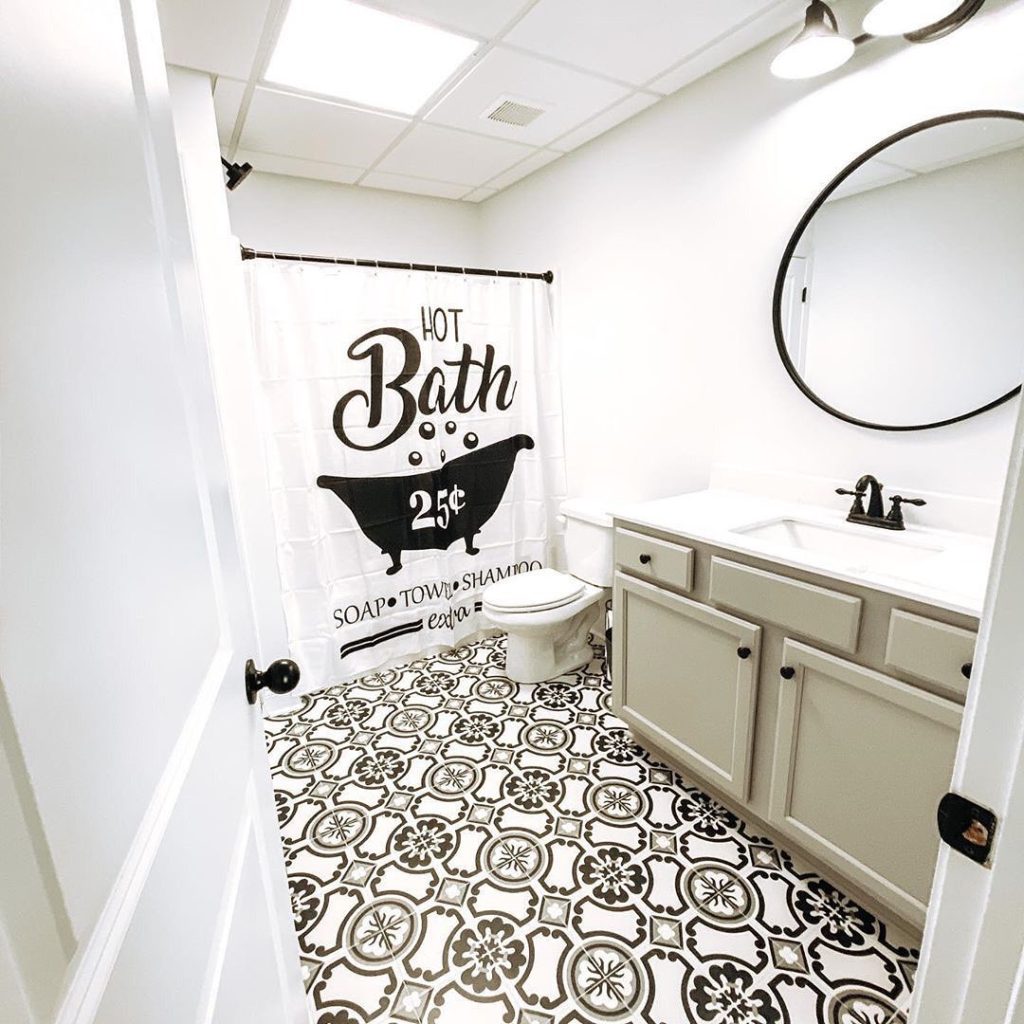 Who says you can't have a conversation piece in the bathroom? A quirky shower curtain draws the eye in this lengthy space. Big, bold tiles are a good choice for a larger room.
A simple set of cabinets won't be distracting. They continue the neutral color scheme without looking too busy.
27. French Country Home Vibes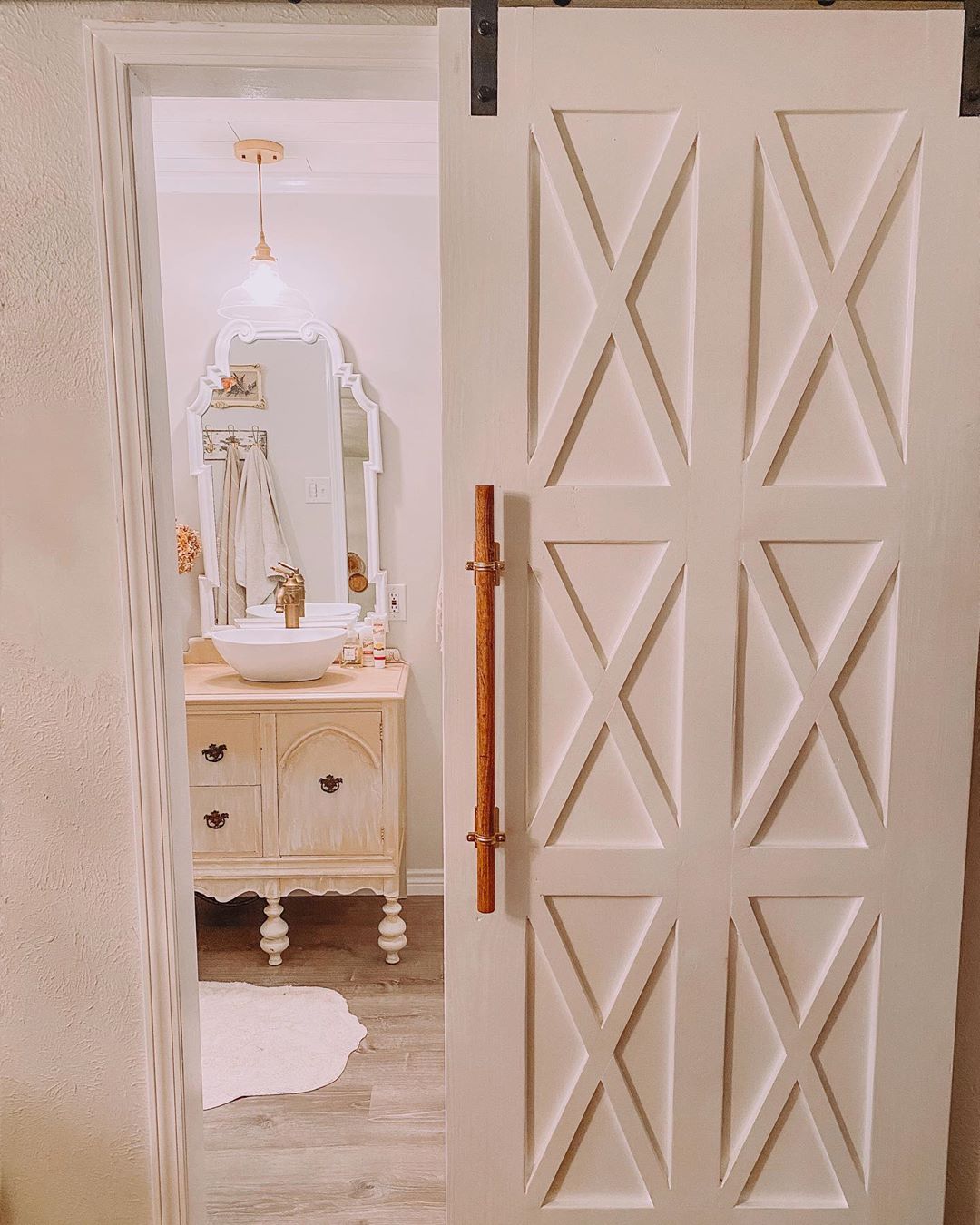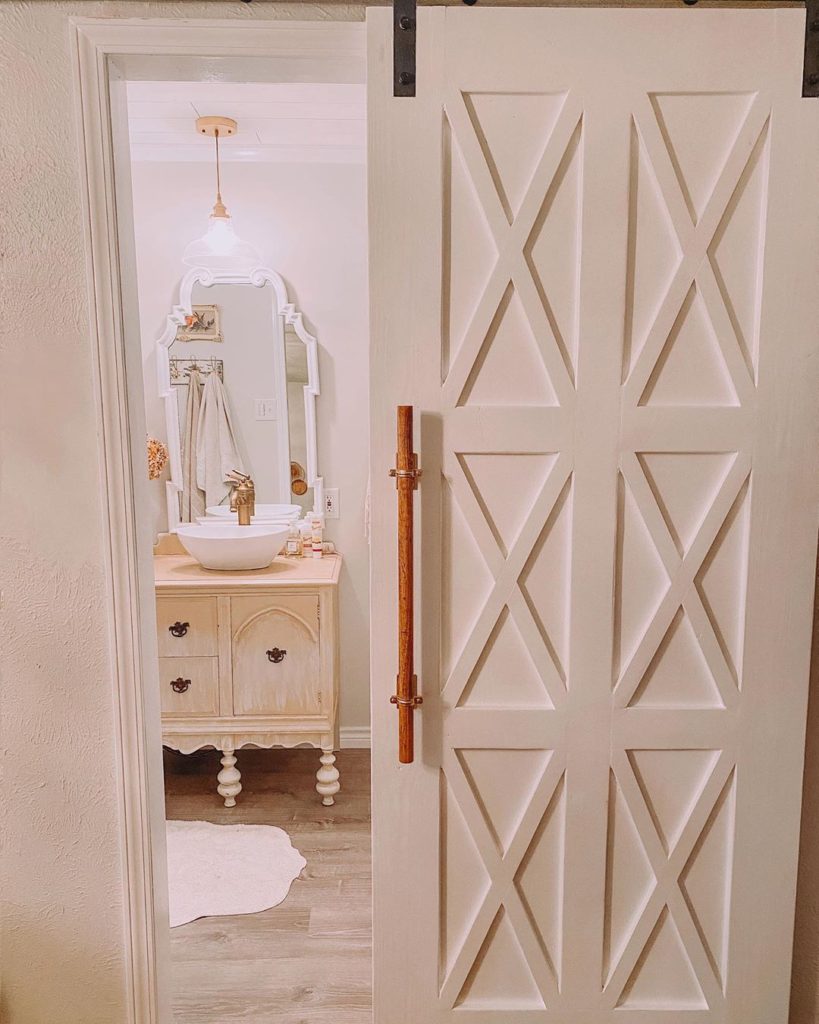 This petite vanity is très chic. It exemplifies the French style–fashionable, but not fussy. Whites, creams, and warm peachy-pink tones coexist in a room fit for a single person.
A small bathroom is a nice place to experiment with unusual shapes, like the ornamental mirror and the spiral legs on the cabinets. This ultra-femme washroom wouldn't be out of place in the French Riviera.
28. A Fresh, Bright Bathroom Space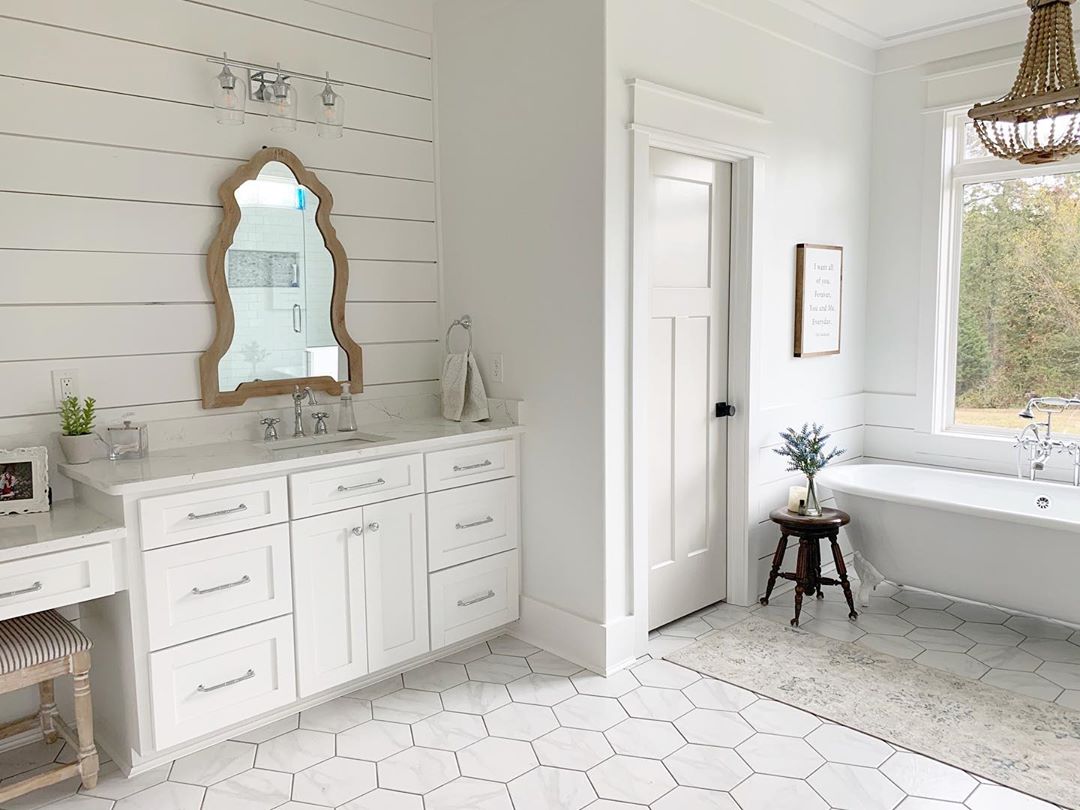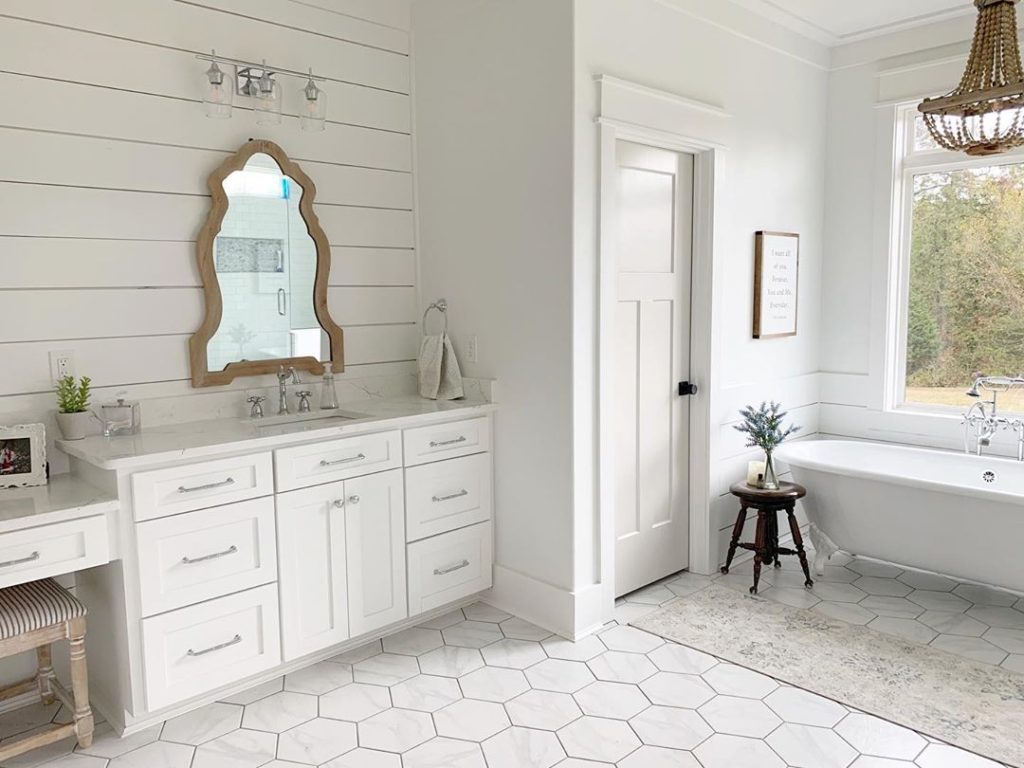 With the rising popularity of open floor plans and whitewashed walls, more and more people are embracing blank space. This spacious bathroom suite echoes the trend. Different line patterns on the walls and floor add interest to the whiteness.
The cabinets are large enough to hold all your bathroom paraphernalia. But a fresh white-on-white color scheme soothes the frantic pace of morning routines. The bathroom becomes a refuge and a tranquil place to start your day.
29. Warm-Toned Wood Plus Accent Wall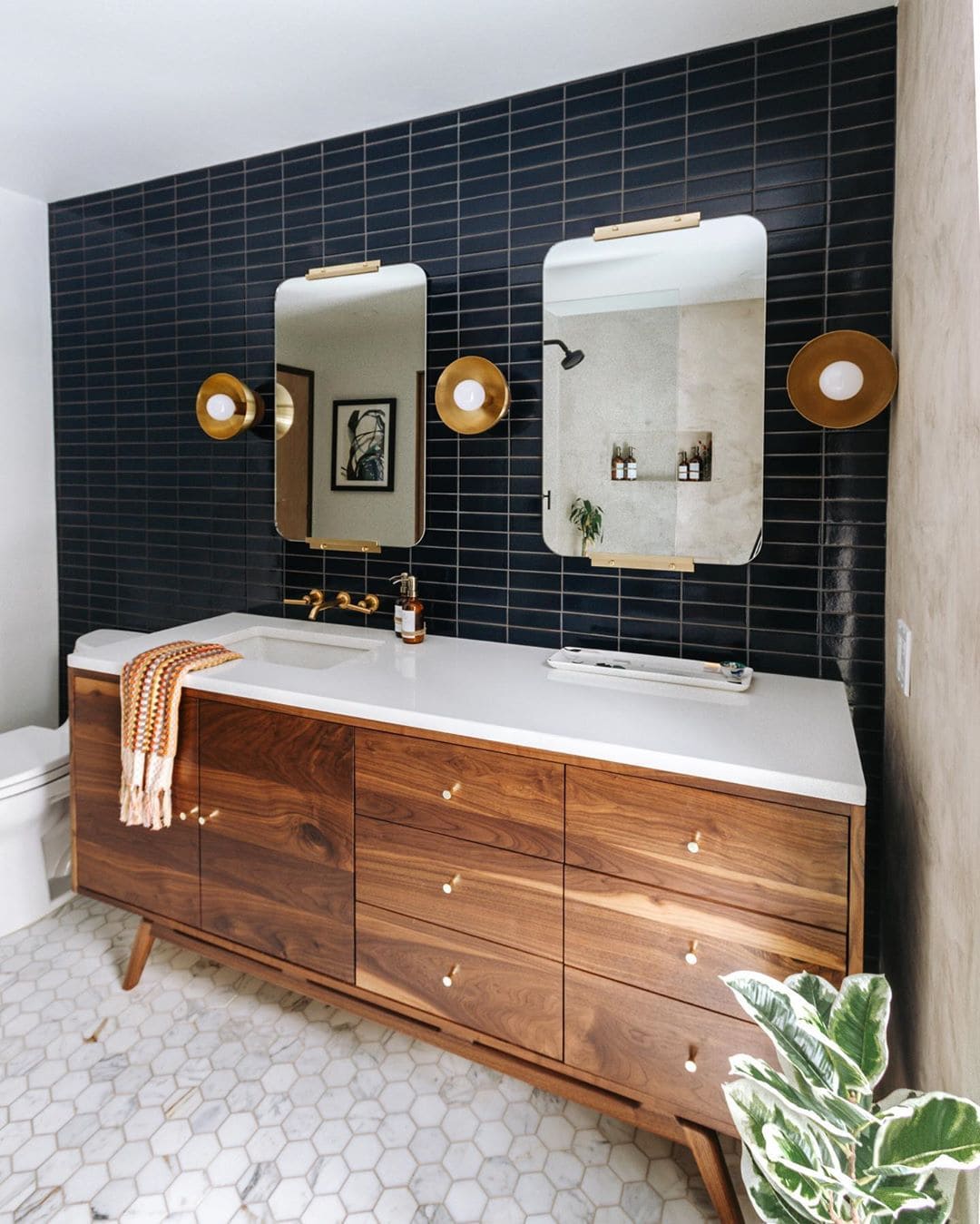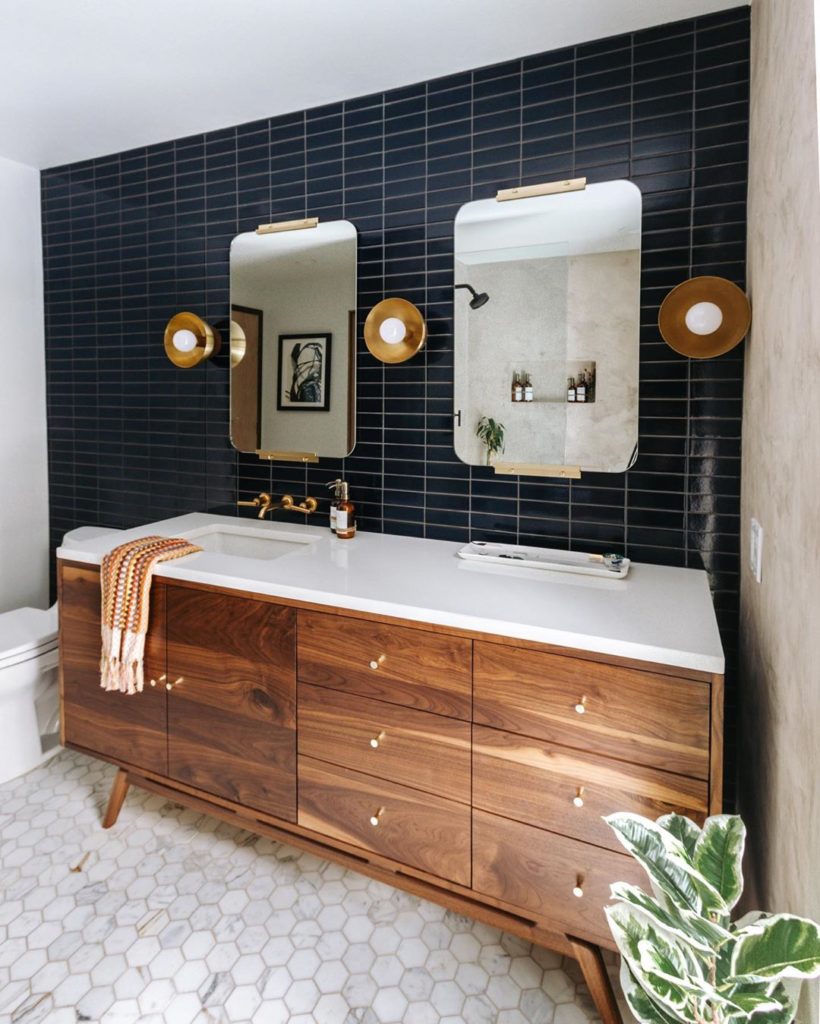 Some cabinets weren't built to blend in. Wide, clean-lined drawers show off a supple reddish wood with a gorgeous grain. The traditional double sink vanity is eschewed in favor of extra counter space. A dramatic accent wall of glossy black tiles highlights the craftsmanship of the cabinet.
Sharp rectangular drawers contrast with graceful round-edged mirrors.