Looking to freshen up your tub without a major remodel? A Bath Fitter tub may be a solution worth looking into.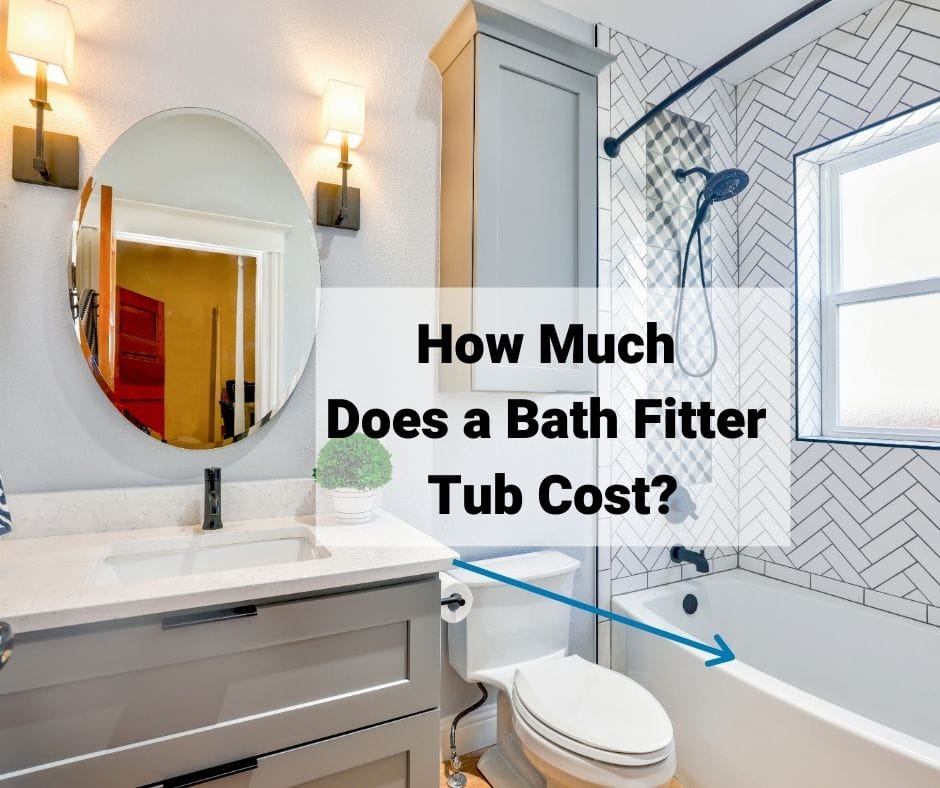 You can expect to pay between $700 to $1400 for a bath tubber tub. This is similar in cost to other acrylic tub liners. Keep in mind that you will need to take into account the cost for installation. If you pay someone to do this the cost get raise to $4,000 to $7,000 or more. Making this quite a costly project.
Standard tub replacements can cost over $6,000 depending on the parameters of your project. Not only that, but working with a contractor to renovate your bathroom could take several weeks!
A Bath Fitter tub is a quicker alternative to full tub replacements. These unique products can transform the look of your bathroom without all of the headaches.
So, how much does a Bath Fitter tub cost?
In This Article We'll Discuss
What is a Bath Fitter Tub?
To get a good understanding of what a Bath Fitter tub will cost, you have to understand what makes these tubs different.
Despite the popularity of the name, Bath Fitter refers to a specific company rather than a product. The Bath Fitter company has a history that dates back nearly 30 years. The brand began in Canada and has quickly spread throughout the United States. 
Bath Fitter offers custom tub liners and installation services. Contrary to popular belief, a Bath Fitter tub doesn't involve replacing your existing tub at all! Instead, you're getting a new tub liner.
The structural aspects of your existing tub remain the same. But, the exposed finish looks brand-new.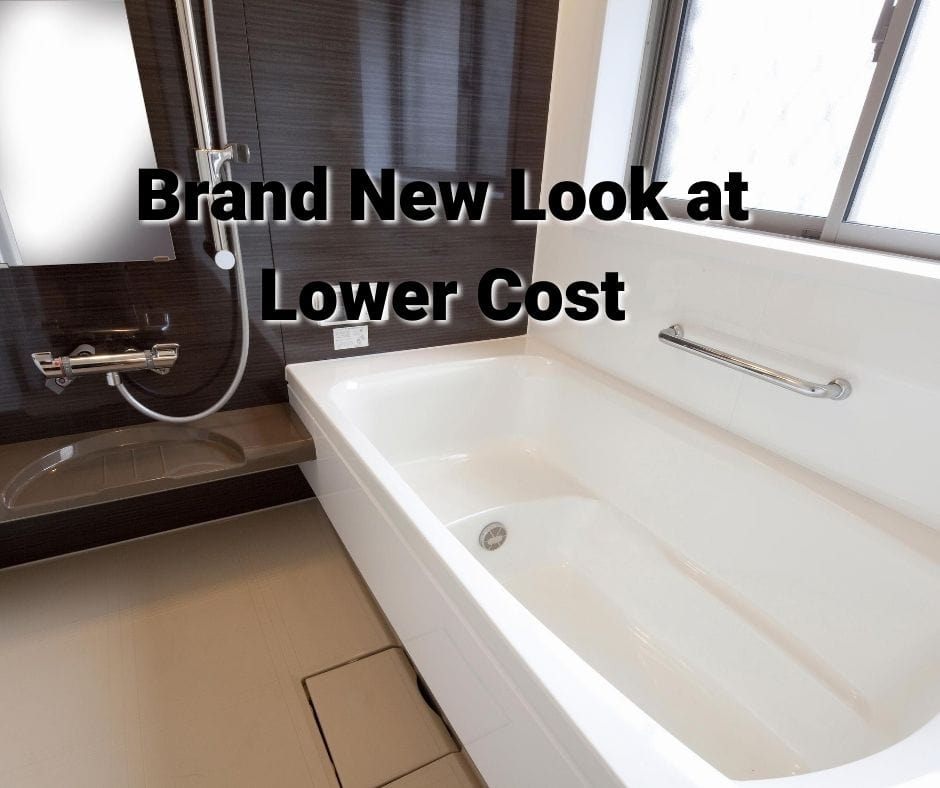 Bath Fitter Tubs are solid pieces of acrylic. PVC vinyl liners are available, too. But, they tend to create a plastic-like finish that doesn't last as long as acrylic.
Acrylic is the material of choice for most applications because it offers a smooth finish that can last a lifetime.Furthermore, it's pliable enough to create a water-tight seal.
To create your new liner, manufacturers mold a single piece of acrylic to match the exact contours of your existing tub. This new tub shell fits over your current fixture, providing a seamless finish.
Bath Fitter can also take care of your tub surround to create a cohesive look for your bathroom.
What is the Installation Process Like for Bath Fitters Tubs?
The unique thing about Bath Fitter tubs is that everything is custom. Liners must fit perfectly onto your existing tub to avoid cracks and structural issues.
To ensure that you're getting the right liner, installation professionals will take measurements. Usually, they will use precise laser tools to make sure that every curve is just right.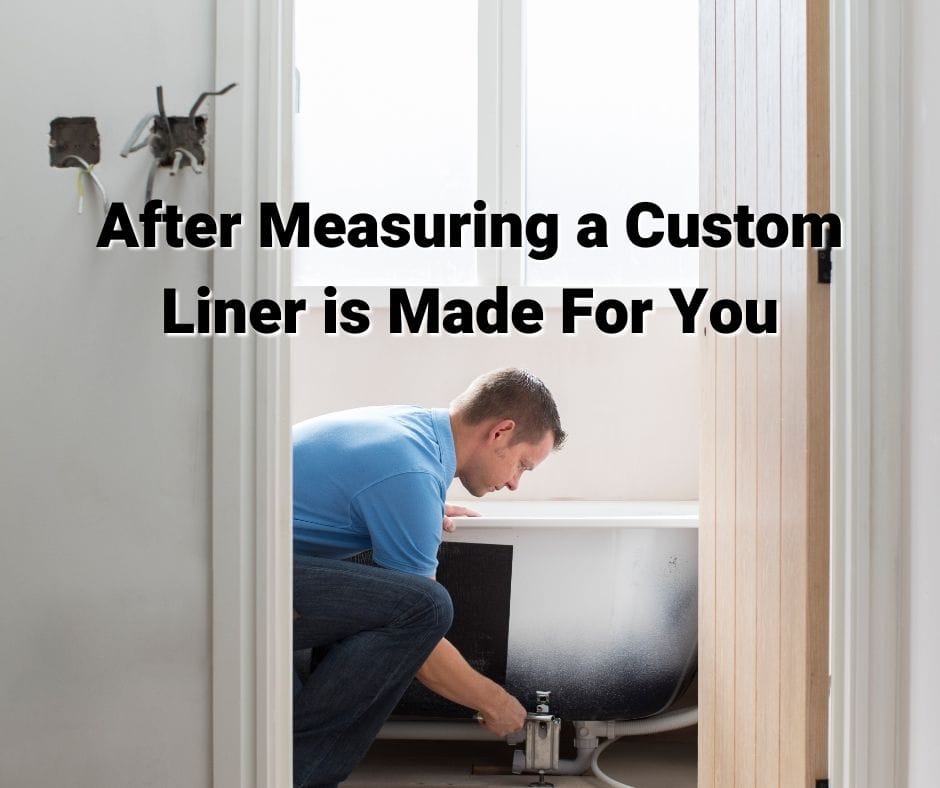 After that, Bath Fitter's manufacturers create your custom liner off-site. This is what makes Bath Fitter tubs so efficient. You don't have to deal with a partially renovated bathroom or spare materials lying around.
Of course, you can also choose from a sizable collection of styles and colors. You'll also have the chance to make your tub more functional with extra storage and accessories.
When the liner is ready, Bath Fitter professionals can return to your home and install it in as little as one day! The team will get rid of your old hardware, install new accessories and surrounds, and drop your liner right in. It's a simple process with impressive results.
How Much Does a Bath Fitter Tub Cost?
Bath Fitter tub costs vary quite a bit depending on your needs. Prices can go up with different colors and styles. If you choose to install accessories or a matching tub surround, you can expect to pay even more.
The truth is that there's no way to know how much a new liner will cost without a quote. Luckily, Bath Fitter does offer free in-home consultations. During your consultation, you can select your options and get a quote, which is valid for a year.
While there's no way to check exact costs, we can take a look at some average prices.
On average, bathtub liners cost between $850 and $1,400. That is without installation or accessories. Even with just the liner alone, you're going to see some price differences based on the material you choose.
PVC vinyl is more cost-efficient. In most cases, these liners are going to cost you several hundred dollars less than acrylic. But as we mentioned earlier, it has a shorter lifespan than the acrylic that Bath Fitters uses.
When you start factoring in surrounds and installation costs, you can expect to spend anywhere between $1,721 and $5,267. The national average is in the ballpark of $3,420.
Can You Save with a DIY Installation?
To put it simply: there's no way to install a Bath Fitter tub on your own. The company simply does not provide that option. The reason for this is the customized nature of the install.
Tubs from Bath Fitter made to fit the exact size and shape of your tub. Getting a liner that doesn't fit snugly on your existing tub puts you at risk for cracks and water damage.
Bath Fitters takes care of the entire process for you to ensure that your tub doesn't have any water issues. This includes measuring your tub. It doesn't matter whether you have a basic builder tub or something a bit more intricate, Bath Fitters can create a liner that works.
It is possible to install a liner on your own. But, you can't do that with a Bath Fitters tub. Professional installations only!
Is a Bath Fitter Tub Worth It?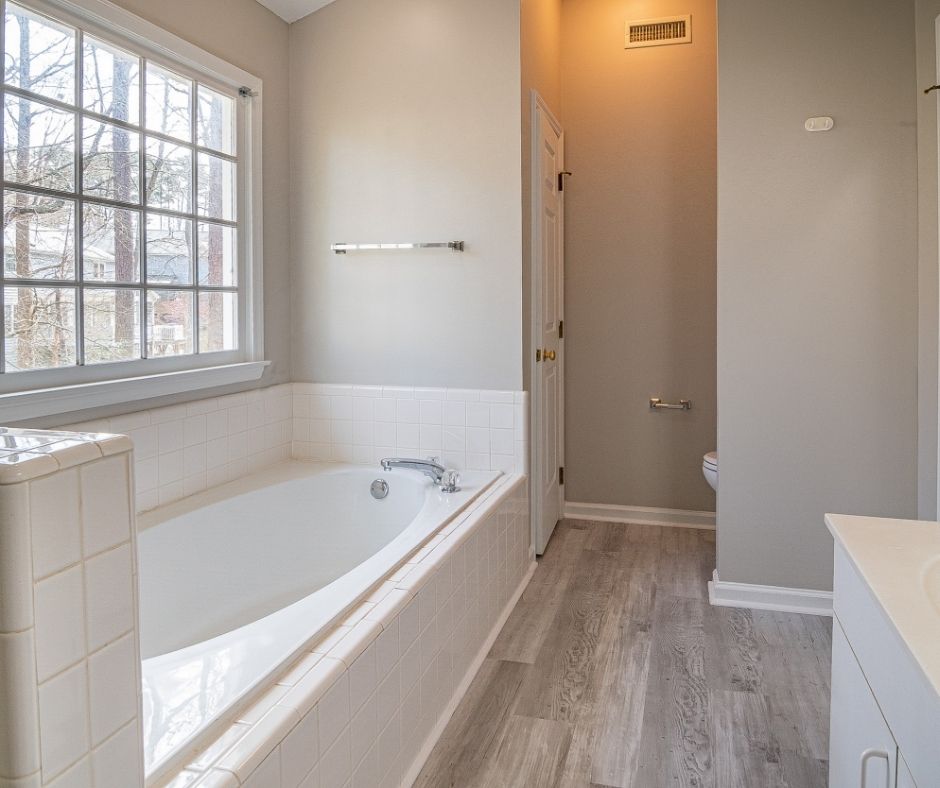 Installing a Bath Fitter tub isn't the most cost-efficient remodeling option out there. It falls somewhere between refinishing and full tub replacement. So why choose a Bath Fitter tub over your other options?
Here are some advantages and disadvantages to mull over before you decide that a Bath Fitter tub is right for you.
Pros:
If you've seen Bath Fitter's commercials, you're likely already familiar with the benefits! Bath Fitter offers a simple and quicky way to get a new tub.
When compared to full replacements, you're saving a significant amount of time and money. 
Think about all of the costs that come with redoing a bathroom. You have to remove the old fixture, demolish the surround, pay for new tiles, and so much more. All of that adds up.
With a Bath Fitter tub, you don't have to worry about any of that. These tubs cover the existing work. If you're installing a new surround, it'll cover up your old tiles, too. You don't have to do any demolition! Instead, professionals can get the job done quicker and cheaper.
Bath Fitter tubs are usually much easier to maintain, too. Everything from the surrounds to the tub liner itself is molded out of a single piece of acrylic. That means no grout lines or difficult-to-reach cleaning spots!
For peace of mind, Bath Fitters even offers a lifetime warranty on its products. That's not something you often get with standard tubs.
While Bath Fitter tubs may not be the cheapest way to remodel your bathroom, the convenience is well worth the extra costs. You can get a brand-new tub in only a fraction of the time as a full remodel. Who doesn't want that?
Cons:
Despite all of the good they bring to the table, Bath Fitter tubs aren't for everyone.
These liners are not foolproof. They can experience damage just like anything else. However, damage can be a lot more serious with a liner.
With improper installation, the liner can easily crack. Water can also get behind seams or through poorly cured caulk. When this happens, the water will create a "squishy" feel underfoot.
Depending on the severity of the leak, you may also experience water damage!
Another thing to think about is how it will affect the resale value of your home. Obviously, covering up an ugly bathtub is better than doing nothing at all!
But, a Bath Fitter tub isn't going to have the same impact on the value of the bathroom like real tile would. With a true tile surround, you can recoup a significant amount of what you spent. That's not the case with a plastic surround or liner.
Bath Fitter Tub Alternatives
Bath Fitter tubs aren't your only way to get a brand-new look in your bathroom! There are several other options that deserve your consideration.
Other Tub Liner Companies
Bath Fitter might be synonymous with tub liners, but it's certainly not the only company you can go to. Other big-name brands like ReBath, Miracle Method, Home Depot, and more offer the same type of service as Bath Fitter.
Many independent bathroom contractors can order custom liners and get the job done for you as well. Shop around and get quotes from different companies! You may find more options or better pricing than Bath Fitter.
Full Tub Replacement
Replacing your entire tub can be expensive. This is especially true when you factor in labor, materials, hardware, and demolition. All in, you're looking at significant renovation costs.
That said, it may be worth it if you want something a bit more permanent. With a full tub replacement, you have endless options for style and materials.
Refinishing
Finally, you could always refinish your tub. Refinishing is much more affordable than full tub replacements or liners.
When you refinish a tub, you're reglazing it. The process covers up any physical damage and masks stains. Plus, it creates a smooth new finish.
You can hire a contractor to take care of refinishing for you. Or, you can do it yourself!
Here's a suitable refinishing kit that's perfect for DIYers. It's a thick epoxy coating that can completely transform your tub. After some basic preparation work, all you have to do is combine the ingredients and apply the mixture to the tub.
It's a simple solution that has a big impact on the look of your tub!
You don't have to settle for an ugly tub! A new Bath Fitter liner can transform the look of your bathroom quickly and efficiently.
If you want a solution that's even more affordable and DIY friendly, check out this refinishing kit from Refinished Bath Solutions.
Still have questions about the costs associated with getting a new Bath Fitter tub liner? Leave them in the comments below!
Pricing can vary based on the parameters of your project, but the average that most homeowners spend is around $3,400. For less than the price of a full replacement, you can get a tub that looks brand new!