If you are suffering from arthritis or a back injury, standing up from a seated chair may prove difficult. This is where quality lift recliners like the Ashley Yandel Power Lift Recliner come in handy. Lift recliner chairs come fitted with a powered lift feature that pushes the chair to help you stand up easily, without putting pressure on your knees or back.
One of the best in the market is the Yandel Power Lift recliner, manufactured by Ashley Furniture.
Ashley Yandel Specifications
Dimensions: 40" L x 35" W x 42.5" H
Seat height: 20"
Seat width: 19"
Fully reclined length: 69"
Fully reclined height: 32.63"
Distance from recliner to wall: 16"
Arm height: 25.88"
Distance between arms: 19"
Style: Rustic
Material: Soft faux-leather-looking upholstery
Weight limit: 300 pounds
Chair weight: 139 pounds
Design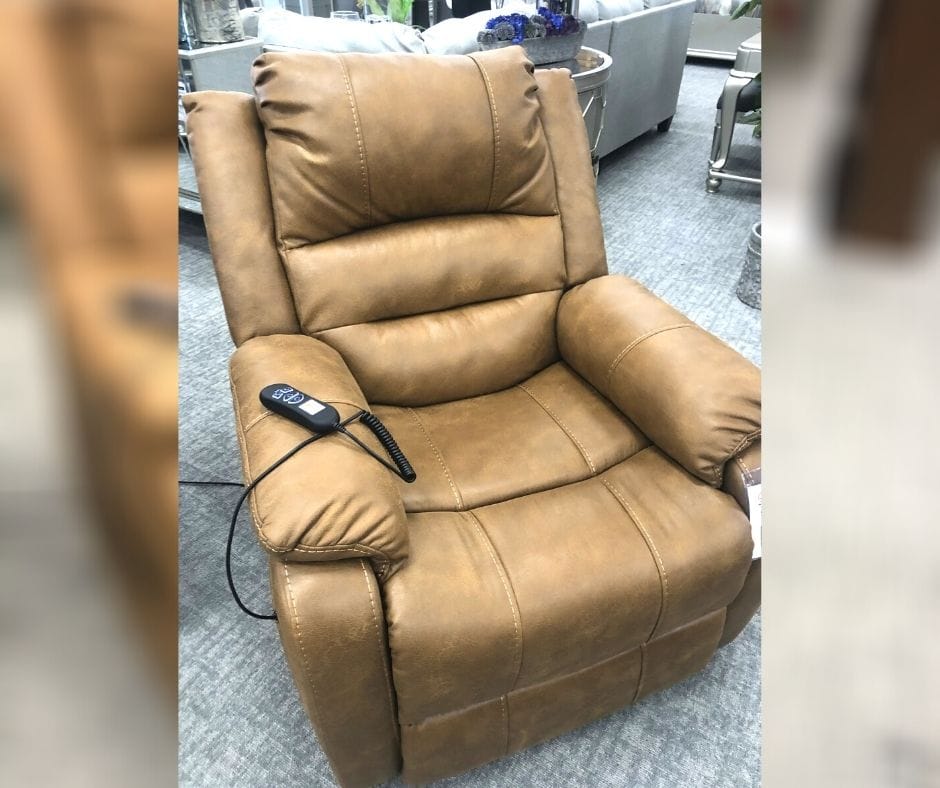 We went to our local Ashley furniture store to check out the Yandel recliner and see if it lived up to the hype.
The Ashley Yandel Power lift recliner is part of the signature range from Ashley Furniture, with a durable yet comfortable build that makes this an excellent long term investment.
This chair is specifically designed for individuals that weigh 300 pounds or less, and who may be experiencing mobility issues and looking for something that can help them achieve a level of independence.
In terms of aesthetics, this chair looks fantastic and will fit in well with most home decor. This is truly a chair that is as comfortable as it looks – available in both black and brown, it adds a luxurious feel to any room with its classic design.
For the price, it is one of the best electric recliners in the market, offering a variety of features you would struggle to find elsewhere.
With this power lifter recliner, you get to enjoy both style and functionality.
Features:
Power Recline
The Yandel recliner is equipped with a wired remote for convenience and complete control over your seating position. With just the press of a button, the chair tilts, reclines and can lift you to a stand, without placing stress on your back. The footrest is also maneuverable, allowing you to elevate your legs for the ultimate comfortable experience.
Testing the power recliner on the Yandel power recliner we found it to feel sturdy, smooth and reliable.
One thing that might annoy some is the fact that the remote lacks preset seating positions. Similar models will allow you to store your preferred recline so you can return to it at the push of a button, which this chair lacks.
Material
The Yandel is undoubtedly an elegant recliner, and wouldn't look out of place in a mid-city apartment or high-flyers office.
However, the bonded leather is a deal-breaker if you are after durability. It is prone to fading and peeling and shows signs of wear and tear more quickly than fabric. It lacks the durability, strength and suppleness offered by full-grain leather.
Comfort
Those with mobility issues want a chair that not only looks good but is also amazingly comfortable. Crafted from faux leather upholstery, this chair feels soft and offers exceptional comfort when you sit on it. Plus, it is equipped with a high back and thick cushions for added comfort. The protruding lower back section provides excellent lumbar support, making it ideal for seniors and the disabled.
Being an oversized chair, it has a generous capacity, and it can comfortably accommodate users up to 300 pounds. Something else that we love is the fact that the seatback can recline and the footrest can rise to a position that would allow you to sneak in a nap.
However, we don't recommend this chair if you are planning to use it for long hours. The fact that it is crafted from bonded leather makes it less breathable. Therefore, spending a lot of time in the chair could make you feel uncomfortably hot and sweaty.
Storage
Are you looking for a lift recliner chair that allows you to store away your belongings with ease? If so, you will be pleased to know that Ashley Yandel Power lift chair comes with adequate storage space. Each side of the chair comes with a roomy pocket that is designed to hold things like books, magazines, and electronic devices, allowing you to keep them at arms reach.
Backup Power
Another outstanding feature of this chair is the battery backup system, which is an incredibly useful function of this chair considering its price. The backup system makes it possible for you to lift yourself out of the chair, even during a power failure.
Although this feature may not appear useful to most, if you are someone who would be unable to get out of a chair without the lift function, it becomes an essential addition.
This feature provides welcome relief for families who may have elderly loved ones living alone.
Assembly
When you purchase a lift chair, the last thing you want is to spend hours assembling it. However, this is not the case with Ashely Yandel Power Lift Recliner since it comes with straightforward instructions that will enable you to get the chair ready in hours.
The chair comes mostly pre-assembled, and when it arrives, all you need to do is to hook up the backup battery system. As an added bonus, it comes with all the tools required for assembly.
Warranty
When it comes to the peace of mind, this powered recliner comes with a 1-year warranty – another reason why we think this is a great purchase.
The warranty is backed by the manufacturer, who will offer to put right any issues up to one year from purchase.
Pros and Cons of the Ashley Yandel Recliner
Pros:
Classic and attractive aesthetic
Remarkably sturdy
Backup power system
Requires minimal assembly and takes little time to put together
Ability to tilt forward and backward
Lift feature makes it ideal for elderly/those with mobility issues
Cons:
On the heavier side
Faux leather which is less breathable
Where to Buy Ashley Yandel Power Lift Recliner?
Ashley lift recliner is sold at numerous online stores including Amazon, or second-hand outlets such as eBay and Craigslist. You can also purchase this power chair offline in local furniture stores.
Ashley Yandel Power Lift Recliner Alternatives
Ashley Furniture's power recliner chair offers an excellent list of features, making it incredible value for money.
However, we are a big believer in helping our customers understand all their available options before purchase. After all, there may be other options in the market that possess the same or better qualities in terms of functionality, comfort and durability.
Here are three alternatives to the Ashley Yandel Recliner that you may want to consider.
The Mcombo power lift recliner is specifically designed for the elderly and those who are on the taller side. One thing that sets this recliner apart is that it comes with a beautiful massage function, featuring 8 vibrating pulse points across the full-body, which run on 9 vibration modes and 5 intensities.
The massage modes can easily be set on a timer for 10, 20 or 30 minutes. Plus, you can turn on the heated mode for an even more relaxing experience.
Unlike the Ashley model, this chair is specifically designed for big and tall individuals. It can accommodate a weight capacity of 320 pounds and has a seating area of 18.7" W x 22.8" D.
This chair may also be a great alternative if cup holders and USB charging ports matter to you. Each armrest includes a cup holder to keep your beverage within reach.
There are also dual side pockets and dual USB outlets that can charge your iPad and iPhone.
If you are in the market for a recliner featuring genuine leather, then the Irene House Dual Motor recliner chair may be an excellent alternative to the Yandel.
Crafted from genuine leather, this chair is exceptionally soft to the touch, making it extremely comfortable. Better yet, the leather is waterproof and can be cleaned with ease.
The chair features sturdy construction, thanks to its high-quality metal frame. It is strong enough to accommodate individuals weighing up to 300 pounds. It also has an infinite position lock, allowing you to recline to nearly any level.
However, this chair may not be suitable for larger individuals. It has a 20-inch seating section and measures 41" H x 31" W x 36" D. If you are on the bigger side, you may feel a little 'trapped' and therefore, not very comfortable.
CANMOV is a heavy-duty recliner chair that makes an ideal choice for the elderly. This chair is averaged-sized and features an anti-skid fabric that ensures the safety of the elderly and individuals with mobility issues. In addition, the fabric is durable and easy to clean.
If you are after comfort, then you will undoubtedly love this chair. Unlike the Ashley Yandel Power lift chair, it is overstuffed for extra levels of plushness. However, just like the Ashley, it includes a high back, thick cushion to enhance your comfort when seated.
Conclusion
The Ashley Yandel Power Lift recliner is perfect for elderly users or people with mobility issues, who may have trouble getting up from a seated position. It is designed to do the work for you by providing you with assistance so you can stand with ease and achieve independence.
This chair is an excellent option if you are after a modern and comfortable recliner chair that comes in at an attractive price point.
[hfe_template id='7376′]