Some people's idea of a skirted table is the piece of furniture they see at grandma's house where she serves her homemade cookies. Others believe they're only suitable for certain decors and outlandish styles. But, there's more to skirted tables than an antique piece in an older person's living room. Which brings up the question: are skirted tables out of style?
The skirted table has a classic design and is still an essential part of different interior design styles. It's no longer limited to traditional themes. This timeless piece has made an appearance everywhere from the White House and European chateaus, to suburban homes and even small apartments.
Despite keeping a low profile and even disappearing for a while, the skirted table always makes a comeback.
In This Article We'll Discuss
Are Skirted Tables Out of Style?
When you think of the skirted table and its layered fabrics, the possibilities of incorporating it in different styles and themes become only too obvious. Just consider the different types of fabrics, textures, patterns, and colors you can drape on your humble round or square table to transform it into a classy piece. All you have to do is take that piece of furniture and place it in a large entryway.
Now you have a polished and stylish look without trying too hard. Most importantly, skirted tables are quite cost-effective. The table itself doesn't have to be an antique piece or even made of expensive materials.
What matters is the textile itself. The fabric is what gives the skirted table its charm and value.
But, it's not just its aesthetic qualities that make squirted tables such a staple of many design ideas. It's also a convenient hiding place to keep your stuff out of the prying eyes. You can think of it as an accessible spot to store your things and keep clutter out of the way.
In addition, you can always replace the fabric whenever you feel like changing the look of your room. The table underneath remains hidden so you won't have to change it.
In short, the skirted table is a budget-effective and easy way to give the room a new look whenever you need it. For all these reasons, skirted tables are never out of style.
How to Incorporate Skirted Tables Into Home Decor
The key to incorporating a skirted table into home decor is to pay extra attention to the fabric that drapes the table itself. Although you can pick textiles and materials that match or complement the surrounding design, there's a lot more you can do to get the most out of your skirted table.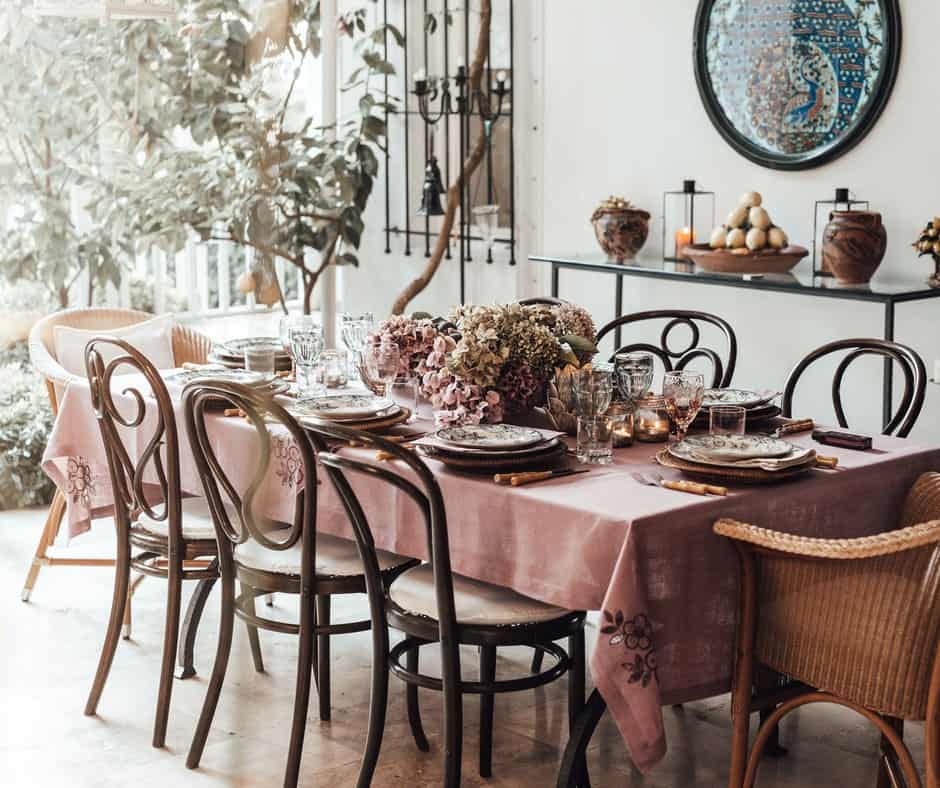 Here are a few ideas to get you started:
Drum Skirted Table
This style of skirted table requires a little more work than just draping a piece of cloth over and around the table. You'll need to tailor the fabric so that it fits neatly around the contour of the table. No flaps or flowing fabric cascading around the table. This is a taught and well-designed shape that fits the table like a glove.
Pleated Round Skirted Table
This is another style that requires some sewing and customizing. And, it only works with a round table shape. With a unique style, you space the pleats around the table to give it more style and class. You can even get creative with the pleats and add your own flair to them to create a personalized skirted table.
Rectangular Skirted Table
Consoles or rectangular tables have a more formal look than round ones. Still, you can cut down that formality and give the table a lively demeanor with the right fabric. And, while the material, texture, and colors are important, you still need to ensure the fabric fits around the corners of the table snugly. We recommend using pleats to bring a soft touch to the angular table.
Other Ideas
Cloth is not the only way you can make your skirted table the focal point in the room. You can also accessorize the table and add other items on and around it. When it comes to skirted tables, there are no rules other than common sense and aesthetics. Here are a few ideas to get your creative juices flowing:
Glass Top: A glass top immediately turns your antique-looking skirted table into a stylish and timeless piece. Make sure the glass is ⅜ inches thick and is cut to fit the top of the table. For safety, get the edges beveled and smoothed out to prevent accidents and injuries.
Hem Bands: To make the cloth stand out, add a band around the hem. The band shouldn't be more than one to two inches thick, and you can place it either immediately over the hem or a couple inches up. Use either contrasting or complementing colors to accent the patterns of the fabric.
Pleats: While pleats themselves have high decorative values, you can get even more creative with them with a simple trick. Use a different fabric with the inside panels of the pleats to add more color variety and break an otherwise dull color.
Layers: Much like curtains and drapes, the more layered the cloth of the skirted table, the more luxurious and expansive it looks. Use fabrics of different materials and textures to get the desired effect here. Make sure the top cloth is shorter than the flowing bottom one.
When Were Skirted Tables in Style?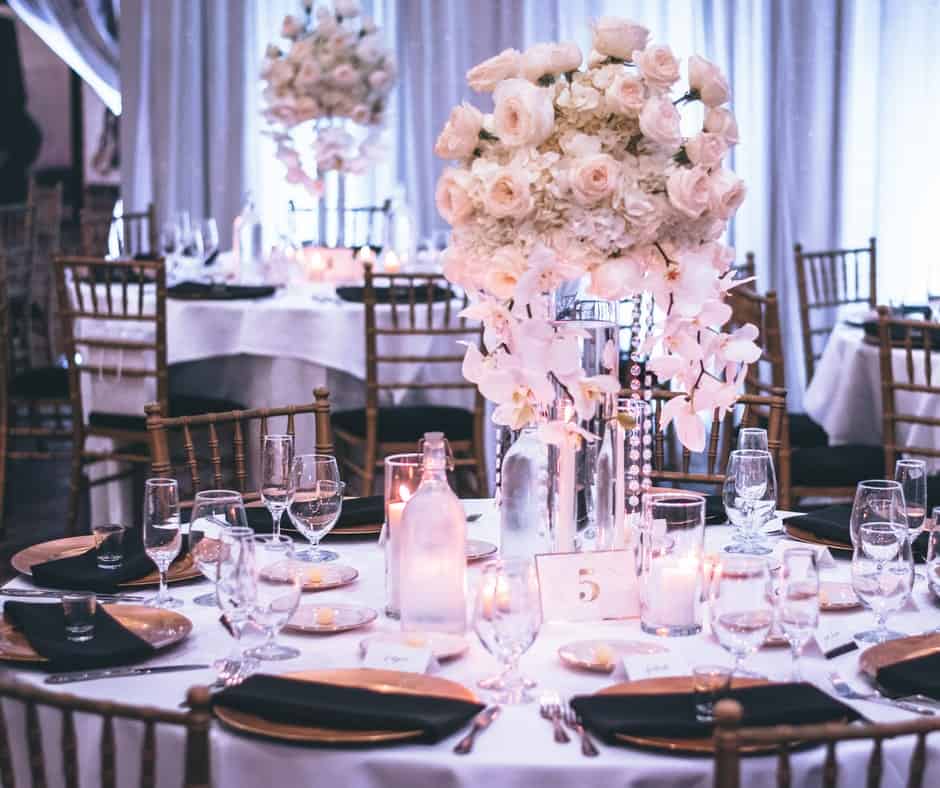 Since their inception, skirted tables have been popular with all different styles and home decor designs. There were times when the tables seemed to fade, but they have always come back.
Rather than being a fad, you can add a skirted table to your home with confidence. When you get tired of its look, change the fabric or design to freshen up the room without changing the table itself.
Why Do We Skirt a Table?
When you have a room full of angular furniture, adding a round skirted table can cut down on all of those hard angles.
You can use any table you have at home as a skirted table.
If you don't like the look of the table, its design, or its material, you can drape it with a piece of cloth and get a new and fresh look.
The fabric can be changed and cleaned regularly to keep the neat look of the room, which is a lot easier than treating a scratched or chipped table.
You can use a skirted table as an accessible hiding spot to store everything that's cluttering your room. If you need it, just reach under the skirt.
Skirted tables are a cost-effective way to change the look of the room and add a splash of bright colors without having to redecorate the whole room.
Use it as an opportunity to add little touches and patterns to complement the rest of the pieces of furniture in the room.
They are easy to maintain, customize, and overhaul even if you don't have a sewing machine or any sewing skills.
Conclusion
Skirted tables are timeless pieces that will always look stylish in your home. Besides their aesthetic values, skirted tables can also serve as hiding spots to keep your stuff out of the way and declutter the room. Since they don't cost much, you can repurpose any table or console at home into a skirted table.